Your muscles are on fire, you feel sluggish and you're trying to get your heart to simmer back down to its normal pace; however, your mud-stained mug is cheesing real big. For one reason or another, the feeling of completing an obstacle course race is wholly satisfying. Maybe it's because you pushed yourself passed the intimidating edge to discover monstrous willpower or maybe its because you crushed a goal you've been chipping away at for quite some time, but crossing that finish line after the last obstacle gives you an unrivaled feeling of serenity. Mud runs give people at the gym something to train for.
Now, getting through it is a whole different story, especially if it's your first time trying to tackle one. Right this second, we're not going to get into how to train for an obstacle course because it truly depends on which one you'll be signing up for. From the Spartan Race to the Mud Run, different obstacle races will present unique challenges, so we're going to focus on what many people don't always consider very carefully: the gear. Of course, you could just throw on an old t-shirt, some shorts and old running shoes, but if you want to give yourself every single advantage to genuinely do your very best, then you'll need a particular set of apparel.
Before we move forward, you have to know that sometimes you'll lose items making your way through these insane mud runs. So, you just have to keep in mind that the gear you buy may get drowned in mud never to be seen again. However, getting the appropriate gear to do the job right is highly recommended. You could use a screwdriver to hammer in some nails, but it would be very inefficient, not to mention a pain. Less is more when you're doing obstacle course runs, so we'll cover just the essentials: trail shoes, compression shirts, form-fitting shorts, moisture wicking socks and gloves.
Leave The Cotton Apparel At Home
A Brief Disclaimer
Before we get into the nitty gritty, lets take some time to discuss downsides of wearing cotton apparel, as well as the advantages of more breathable synthetics. Wearing cotton apparel for the Spartan Race and other mud runs is a rookie move. Although cotton is a fantastic material, it's horrible for obstacle races because you'll definitely get wet and it holds water very well. This means you'll feel heavier, leading to the obstacles sapping your energy faster. Cotton also loses its form, which can make it a nuisance. Stick to breathable, synthetic fabric and you'll feel much more mobile and lighter when you're doing a mud run. Synthetic fiber clothing will hug your body, but won't absorb liquid and won't snag on random objects.
When you're browsing the market for obstacle run shoes, you want to go for lightweight trail shoes that have an aggressive tread that won't lose traction in muddy terrain, have solid drainage, as well as excellent support. We know that you're tempted to wear some old sneakers, but that will turn your fun experience into a nightmare pretty quickly. Don't worry about getting a nice pair of new shoes dirty because they'll clean up well and do their job for many marathons and races to come. One more thing: don't duct tape your shoes. It really won't help your shoes stay on any better than laces and will create slick spots that will dilute your traction. Here are a few rugged obstacle course kicks to consider:
Inov-8 Mudclaw 300
Theses beastly shoes are all about providing you with the ultimate grip, as it has 8mm studs to claw into the muddy terrain and a multidirectional stud pattern that allows mud to get released from the outsole quickly. They also have a 'Dual-C' mix of medium sticky and hard stick rubbers, keeping the studs strong to help you stomp through several mud runs. For protection against stones and debris, there's a rand that wraps around the shoe's upper and toe bumper.
Reebok All Terrain Super 3.0
Constructed for muddy trails and off-road terrain, these heavy-duty Reeboks have 'ROPEPRO' mid-foot teeth that bite into the Earth and give you a nice grip on rope climbs. It also has a compression molded EVA midsole for support, along with H20 drain technology to get rid of water quickly. Although they are tough, their seamless ripstop and mesh upper are lightweight and very breathable. They also have rock guard and toe bumpers for protection from annoying debris.
New Balance Hierro V3 Fresh Foam
New Balance's trail-running shoes are ready for rugged conditions, yet they're comfy, as they're built with a 'Fresh Foam' foundation and 'HypoSkin' technology that adapts to the shape of your feet for ideal movement. Although they're not waterproof, these shoes can give you an unwavering hold in muddy terrain, thanks to New Balance's 'Vibram MegaGrip' outsole. They even have superior toe protection, for those times when you scramble to clear a more complicated Spartan Race obstacle.
Compression Shirts
Strong And Snug
Yeah, going shirtless is an option, but you're better off wearing a compression shirt or Dri-Fit top. Most races will start early in the morning, so you want a compression shirt that will keep your body heat in and your muscles loose while you're immersed in muddy waters. It also provides some protection from scratches or burns that you could potentially get throughout the mud run course. Dri-fit, moisture-wicking compression tops will also enhance your range of motion so you can dominate each obstacle in your path.
Bayleaf Cool Dry Compression Shirt
With this compression shirt covering your back, you'll have a breathable, soft, moisture-wicking cover up to help you endure the muddy activities. The four needle flat seam helps to minimize irritation and chafing and the ergonomic fit will allow for a superior range of motion for those obstacles that will test your flexibility. This compression shirt, made from Polyester and Elastane, is a tight fit, so order a size up if you want a little more breathing room.
Under Armour HeatGear Compression Shirt
Under Armour's compression shirt has a signature second-skin fit, HeatGear fabric to keep your muscles warm, and stretch-mesh underarm panels for efficient ventilation. Its four-way stretch construction helps you seamlessly move in every direction and the material wicks like lightning, keeping you focused on that finish line. Although it might not help too much in a mud run, it also has anti-odor technology.
MudGear Race Jersey V3
According to MudGear, this is the ideal obstacle course race jersey. It has a fitted custom poly blend, highly breathable wicking material with convenient drainage and highly durable flat-lock stitching that makes it a strong option. This mud run gear also has a honeycomb 4-way stretch technology that hugs your skin, but naturally moves with it, breathing with you. MudGear's performance shirt is Spartan Race tested.
Form-fitting Shorts
Go with the flow
Mud runs like the Spartan Race will have you crawling under barbed wire, going through brush and even jumping over flames, so you'll need some form-fitting shorts that will stay on the whole way through. You can also wear spandex shorts, some lightweight, flexible run shorts or hybrid compression running shorts for the best of both worlds. Check out a few of our recommendations for obstacles race bottoms:
Nike 2-in-1 Flex Stride Running Shorts
Combining running tights and running shorts into one convenient package, you'll be set to plow through the mud run obstacles. These hybrid shorts have a single, snug waistband, mesh fabric along the inseam and gussets to allow heat to escape, 'Dri-FIT Technology' to keep you as dry as possible out in the field and strategically placed vents for the best breathability. And, if you truly need to carry your essentials through a mud run, or need to carry them during training, which is more reasonable, there's a zippered pocket with a vapor barrier and an elastic loop for your keys.
Patagonia Nine Trails Shorts
Put together using 91% recycled polyester and 9% spandex stretch-woven blend, these lightweight trail shorts will help you move comfortably through each field activity. Its shell fabric is treated with DWR (durable water repellent) finish and 'Polygiene' permanent odor control for a chafe-free feel. In addition, it has a 'miDori bioSoft' double knit for superior wicking and softness, as well as two large zippered pockets to store some goods after you wash off after crossing that finish line.
OCR Gear 2-in-1 Obstacle Racing Shorts
Here's another compression and running shorts combination, but this one incorporates elastane to allow for your natural movement. The inner compression shorts help to support your muscles and stabilize each stride you take and the mesh panels make sure you're not bogged down by too much sweat. Like any quality pair of obstacle run shorts, they have a moisture-wicking technology to keep you cool so that you can punch through to the end, listening to your favorite finish line jam. At the back of the shorts, you'll find four energy pockets for easy access as well.
Moisture Wicking Socks
Damp is Better Than Soaked
Many racers out there will overlook the importance of a good pair of socks, so don't be one of them. Your feet are bound to get wet, so go for wool or moisture wicking socks and decrease your chances of getting blisters, souvenirs no one wants to walk away with. The perfect pair will hug your feet so that they won't slide around when they're soaked on the Spartan Race course.
Brooks Glycerin Ultimate Cushion Running Socks
Made in the USA, these runnings socks are made from 61% polyester, 32% nylon, 5% olefin and 2% spandex for comfort and performance. They're made with a 'DriLayer' quick-drying yarn and are also treated to keep odors down to a minimum. For support, they have an achilles tab to prevent slippage, an upper mesh zone to be lighter and ultra plush underfoot cushioning, in order to stay true to its name.
Drymax Run Hyper Thin Mini Crew Socks
According to Drymax, these socks are made from a mix of materials, including olefin and polyester, that make them better than wool in terms of being durable and comfortable. It also has an 'Anti-Blister System' to prevent blisters before they start forming by helping your feet stay dry. For the perfect fit, it's designed with '3D Advanced Fit,' which involves special 3D foot models for a personalized fit.
Darn Tough Vertex Micro Crew Ultra-Light Cushion Socks
Darn Tough states that their Vertex Micro Crew Ultra-Light socks are one of the lightest on the planet, while still providing an ample amount of cushioning. Constructed through fine gauge knitting of Merino Wool and Nylon, these fast-wicking socks are ready for any weather. These socks also have 'True Seamless' fusion, making for a super smooth, invisible feel. You can also take comfort in knowing that these socks are guaranteed for life.
There will be some activities in your run that will be easier to handle with a convenient pair of gloves, such as climbing ropes or carrying cinder blocks. It's really better to have them and not need them than to need them and come up with empty pockets. Some racers will wear them throughout the whole course and some only use them for specific mud run activities, so you'll just have to feel it out. Make sure the gloves you choose fit well and have plenty of grip.
Mad Grip F100 Palm Gloves
Combining a knit glove, made from cotton, nylon and spandex, with a 100% 'Thermoplastic Rubber' palm makes for a gorilla grip. They aren't waterproof, but they do have seamless cushioning that helps to prevent blisters and even hand fatigue, making them perfect for those upper-strength obstacles. Compared to nitrite or rubber dipped gloves, these Mad Grip palm gloves take the cake.
Mechanix Wear M-Pact Gloves
Although they are bulky with a 'Thermoplastic Rubber' knuckle guard and full-length fingertip protection, they do decrease the risk of impact and pinching injuries out there in the mud. The dual-layer internal fingertip reinforces the index finger and thumb for further support, making them very functional for obstacle course runs. The D30 palm padding does its job well in absorbing and dissolving impact energy, in case you slip and fall or have to grab hold of a bar at the last second.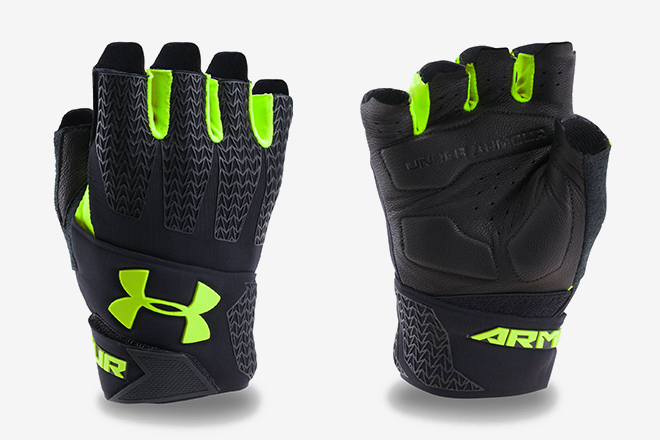 Under Armour ClutchFit Resistor
Utilizing 'UA ClutchFit' technology, these gloves will feel like a second skin. The palm is made from genuine goat skin leather and there is logically placed padding throughout for extra protection and grip control. For a great fit, they have elastic wristbands and adjustable straps so they'll stay on when they're needed. They even have perforations in the palm of the glove for better breathability.
12 Best Rock Climbing Gyms In America
So, you've got the gear for the mud run you'll be training for. Now it's time to build some upper-body strength and one of the best ways to do so is rock climbing. Check out our picks for some of the best rock climbing gyms in America.