It's difficult to say when whisky (or whiskey, if you're from the States) first emerged, as there aren't a whole lot of trustworthy historical sources on the matter. The likeliest story, however, is that it first emerged around the 1400s in Scotland, despite the fact that distillation was discovered centuries prior. There's a simple explanation for this: historically, people have distilled spirits with available resources of the land around them.
In Scotland, wine-worthy grapes simply don't grow as they do in Italy. Instead, early Scots used ingredients like fermented grain (originally malted barley, but rye and wheat were introduced around the 1800s), peat moss, etc. Thus, scotch and the greater whiskey category were born thanks to early monks, medicine men, and (most interestingly) barbers. Today, there are a number of noteworthy Scottish distilleries in existence that have been around for literally hundreds of years — you might even call them institutions. We've rounded up 15 of the absolute best that every whisky lover should visit at some point in their lifetime.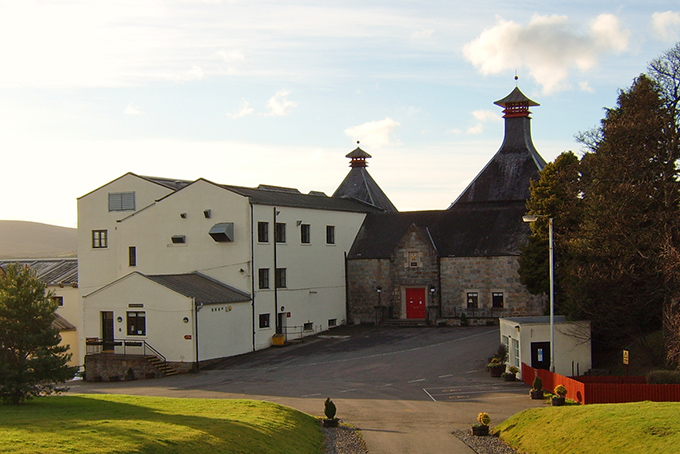 Cardhu Distillery
While all of these noteworthy distilleries have interesting and unique stories, Cardhu's is special for one specific reason: it was the very first to be pioneered by a woman. So the story goes, John and Helen Cumming laid claim to the future distillery's Speyside farmland way back in 1811 and began distilling shortly thereafter. As they were distilling without a license, John Cumming was convicted thrice of the crime — although Helen was the one actually doing the work. Eventually, they got their license and expanded their business — thanks in no small part to the help of George Smith, the founder of Glenlivet, who first bought and distributed their whisky. As time went by, the distillery kept growing and growing, having trouble keeping up with demand. Eventually, in the wake of the whiskey market crash in 1898, ownership shifted to John Walker & Sons — yes, the namesake of Johnnie Walker. Today, the distillery is still in operation, shipping whisky all around the world. But you can get an inside look at their operation by taking one of their available tours that range from 40 minutes to an hour and a quarter (including a tasting of up to six single malt scotches).
EST: 1824
Region: Speyside
Location: Aberlour
The Dalmore Distillery
According to the Dalmore, their legacy dates back long before whisky was even an idea. More specifically, it was in 1263 that the Chief of the Clan Mackenzie saved King Alexander III from a charging stag. As a thank you, Alexander gave Clan Mackenzie the right to use the 12 pointed Royal stag emblem (what would become the Dalmore icon) on their coat of arms. There are two things that set The Dalmore apart from the competition. Firstly, they established a relationship with sherry house González Byass over a century ago — giving them access to exclusive Matusalem oloroso sherry casks that imbue a number of their spirits with unique character and flavor profiles. Secondly, they employ iconic master distiller Richard Paterson — who hand selects the casks used in The Dalmore's aging process. Founded by Alexander Matheson, their distillery sits on the beautiful shores of the Cromarty Firth, making a visit to this distillery as much about the scotch as it is about the landscape.
EST: 1839
Region: Highlands
Location: Alness
Dewar's Aberfeldy Distillery
Planned as early as 1896 by the sons of John Dewar, the Aberfeldy Distillery is the only scotch distillery built by the Dewar family. As you likely already know, Dewar's is one of the most famous distilleries in the world. But that doesn't mean they've lost touch with their roots. In fact, that's one of the reasons the Aberfeldy Distillery is so important to the brand — it's a connection that allows them to reflect on from whence they came. Backed up against an ideal water source — The Pitilie Burn river which runs past the distillery into The River Tay — the Aberfeldy still uses said water in their distilling to this day and even still has a decommissioned steam engine onsite that dates back to the railroad that ran between Aberfeldy and Perth. However, the personal connection is even deeper than that, as the distillery is located just three miles from the birthplace of John Dewar. While the distillery has progressed into the modern day, their processes are still as pure as they were back when the facilities were first built. And you can see it all for yourself if you head there and take a tour.
EST: 1846
Region: Highlands
Location: Aberfeldy
Edradour Distillery
As has likely become apparent, there are a lot of massive, world-famous distilleries in Scotland with gargantuan production facilities. However, bigger doesn't always mean better. In fact, one of the best scotch distilleries in the entirety of the country is also one of the smallest. Once holding the title of "smallest scotch distillery in Scotland" — a distinction that now belongs to Strathearn, founded in 2013 — Edradour is a tiny operation out of the heart of Highland Perthshire that's been open since 1825. There are a couple of reasons this minuscule distillery has survived for so long, despite mounting competition from around the world. For starters, they craft their whisky with the utmost care and love — making each bottle both important and special. The second reason is that their friendliness, transparency, and the intimacy of their tours have kept people coming back to visit time and time again. Beloved by people from around the world, including whiskey writer Iain Banks, this cozy scotch maker should top the list of places to visit for anyone who appreciates a personal touch.
EST: 1825
Region: Highlands
Location: Pitlochry
Glenfarclas Distillery
Founded in 1836, Glenfarclas is not the oldest distillery in Scotland nor the Speyside region. But it was one of the first to welcome the public with open arms, opening up one of the country's first dedicated visitor's centers in 1973. And that makes them special because, not only do they make some of the best whiskey in the world, but they're also amongst the most approachable and amicable when it comes to people who want to check out their operation. For six generations, this distillery has been run by the same family, the Grants, making it one of the few in existence that's still owned and operated by the descendants of the founder. That also says a wealth about how they run their business, as they're dedicated to crafting their whisky in the same manner as their founder — with the utmost care and love. After 150 years, Glenfarclas stands amongst the greatest scotch-making brands in the world, not just because their spirits are good, but because they're dedicated to the preservation of the craft and welcoming all those who wish to play even the smallest part in that endeavor.
EST: 1836
Region: Speyside
Location: Ballindalloch
The Glenfiddich Distillery
If you've ever confused Glenfiddich with any of the other similarly-named distilleries in Scotland, there's no reason to feel bad. In fact, some of the similarities go even deeper than that. For instance, like Glenfarclas, Glenfiddich is a family-owned distillery that dates back over 100 years (to 1886, to be exact). The family that owns it, interestingly, is also named Grant — although this one was started by a William Grant, rather than John. What sets Glenfiddich apart, however, is that William Grant literally built the original distillery, alongside his seven sons and two daughters, with his own two hands. Galic for "Valley of the Deer," Glenfiddich was built through passion, determination, and a desire to craft the "best dram in the valley" — and if you ask whisky experts around the world, at least a few of them will tell you they achieved that goal. Today, the distillery is still independently run by the descendants of William Grant and they craft every single drop of their scotch with love and passion.
EST: 1886
Region: Speyside
Location: Dufftown
The Glenlivet Distillery
In 1824, this distillery's founder, George Smith, was granted the very first legal license to distill spirits in the valley through which the river Livet flows — which is the literal translation of the Gaelic name of both the area and distillery, Glenlivet. Favored by people around the world and once the preferred scotch of King George IV of the United Kingdom, Glenlivet can be credited as the distillery that set the standard for what would come to be known as Speyside whisky. In fact, back in 1884, the distillery fought and won the exclusive rights to use the name 'Glenlivet' on their single malt scotch. Today, the once-rugged land they call their home is still as beautiful as ever and makes for one of the best whisky experiences in the world. And while they have a fully-fleshed out visitor's center, their own onsite coffee house, and tours you can take, the best experience to be had at the distillery might just be in the brand's private, hidden Library. But if you want to partake, you'll have to become a Guardian of The Glenlivet by signing up beforehand on their site.
EST: 1824
Region: Speyside
Location: Castleton Of Blairfindy
Glenmorangie Distillery
As you might imagine, many Scottish distilleries take great pride in their own personal history, as well as the history of their country. But Glenmorangie took that even further through their emblem. You see, the intricate tracery was actually inspired by Hilton of Cadboll Stone — one of the most significant early-European sculptures made by the Picts, a confederation of northern and eastern Scots during the late Iron Age and early Medieval Period. If you think that dedication to the past plays into how they treat their spirits, you'd be exactly right. You see, national pride — to the folks at Glenmorangie — is synonymous with good distilling practices. They're not just making hooch, they're crafting an experience, a story to be shared with the world. In fact, pursuing the creation of the perfect whisky is practically their mission statement. They manage this through a unique combination of the tallest stills in Scotland, casks that are only ever used twice, and an extended maturation process for all of their offerings.
EST: 1843
Region: Highlands
Location: Tain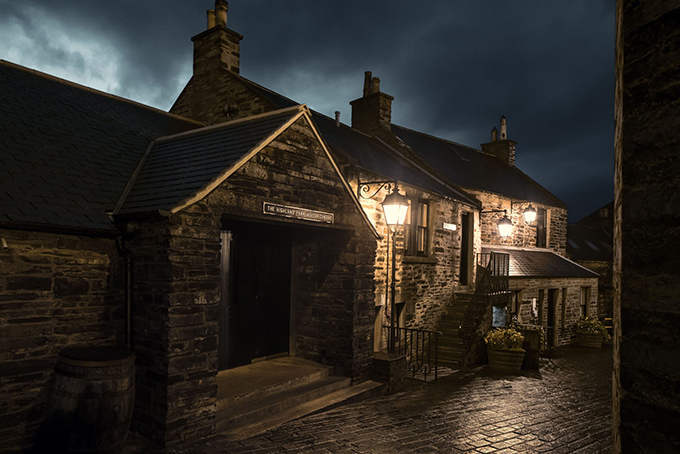 Highland Park Distillery
Found in the sometimes harsh and remote archipelago of Orkney, Highland Park holds the title of the furthest northern distillery in all of Scotland. And the beautifully brutal landscape is reason enough to give them a visit. But the fact that they distill a wide variety of top-tier whisky is certainly an added bonus. What's more, Highland Park's brand history is perhaps as or more unique than the locale in which they craft their spirits. You see, the folks that make their offerings are descendants of actual Viking warriors — hence the Norse iconography that adorns their bottles. And if you want to learn all about it from the people themselves, they offer five tours of varying length and price that will detail everything you could ever hope or want to know. And, as long as you're over 18, you'll get to try out some whisky in the process.
EST: 1798
Region: Highlands
Location: Kirkwall
Isle Of Arran Distillery
Isolated from the Scottish mainland by the cold waters of the northern Atlantic, the Isle of Arran was once a place not of hearty commonfolk, but rather ne'er-do-wells. The thing is, one of the primary "wrongdoings" of those criminals was, believe it or not, distilling whisky without a license. Known colloquially as "Little Scotland," the Isle of Arran is almost a microcosm of the rest of the country's landscape — lending uniqueness to their spirit-making ingredients not found elsewhere. A relatively new company, this is the only working distillery on the Isle of Arran, which is reason enough to go check it out — especially when considering the individuality of their offerings. They're also very visitor friendly, with multiple awards granted to their Visitor Center and available tours. For an experience unlike any other and some scotch to match, don't pass this one up.
EST: 1994
Region: Islands
Location: Lochranza
Lagavulin Distillery
If we were solely concerned with the landscape surrounding a given distillery, Lagavulin — situated about as close as possible to the edge of Lagavulin Bay on the southern coast of Islay — would take home top marks, every time. Of course, if we were only concerned with the quality of their spirits, Lagavulin would still make the list. And this combination of excellence in their craft and the beauty of their facility and its locale make Lagavulin exceedingly special, even amongst a slew of scotch-making giants. Offering a quartet of tours, availability to visitors year-round, and a wide variety of special events (like the Music & Malt festival) there are few places more worth visiting in all of Scotland. What's even cooler is that, if you want to check out their operation but you can't make it out there yourself, you can even tour the grounds and the facilities through Google Maps. It's not the same as being there — and you can't get tasters of scotch after — but it's a neat feature nonetheless.
EST: 1816
Region: Islay
Location: Lagavulin
Laphroaig Distillery
Like Lagavulin, Laphroaig is also backed up against the water on the southern coast of Islay — the island famous for producing some of the best scotch in the world. In fact, they're only about a mile apart from one another. As you might imagine, the similarities go even deeper than that, including the fact that Laphroaig also makes exceptional Islay scotch that's beloved around the world. One of their defining differences, however, is that Laphroaig offers a greater number of tours and experiences — with 11 options listed on their site ranging from a simple tasting at their lounge to those that are a good deal more in-depth, like a 2.5-hour buffet rounded out with a trio of exceptional Laphroaig drams of whisky. As you might imagine, this calendar is also rotating — meaning there are different events depending upon when you choose to visit. If you want a solid fix of history, beautiful landscapes, an ocean breeze, and superb spirits, you can't go wrong here.
EST: 1815
Region: Islay
Location: Port Ellen
The Macallan Distillery
While they've been in operation for nearly two centuries, The Macallan just recently opened a brand-new, state-of-the-art facility that puts just about every other distillery to shame in regards to its beautifully modern design, up-to-date tech (like the use of solar power and biofuels), and a library of offerings that's a sight to behold in itself. And don't worry, in spite of their embracement of modern power, they still make their whisky in the traditional manner — including an absurd level of care and love put into every drop. Perhaps nowhere else in the world is there a more magnificent synergy of traditional values and methods with forward-looking technologies and efforts at conservation — at least in the whisky world. Equal parts an eco-paradise, modern marvel, and scotch theme park, the Macallan has built a monument to everything whisky was, is, and should be. And if you're ever lucky enough to see it for yourself, it's an experience you'll surely remember for the rest of your life.
EST: 1824
Region: Speyside
Location: Craigellachie
Strathisla Distillery
If you want to learn about the connection between Scotland, scotch, and the history that intertwines them, then there might not be a better place to find out all about it than the oldest distillery in the Scottish Highlands. Founded in 1786, this distillery — which just happens to be the spiritual home of Chivas Regal — is almost as old as the United States and was actually originally called the Milltown Distillery. As you might imagine, over 230 years of constant operation also comes with a good deal of history — including a few near-disasters like a devastating fire, a malt mill explosion, the imprisonment of the owner on charges of fraud, and more. And while their story and location in the heart of Scotland's most densely-populated whisky region is enough to make this distillery worth visiting, it wouldn't mean much if their scotch wasn't any good. But it is — it is very, very good. Frugal with their peat and known for an abundance of fruity notes, Strathisla will not disappoint.
EST: 1786
Region: Speyside
Location: Keith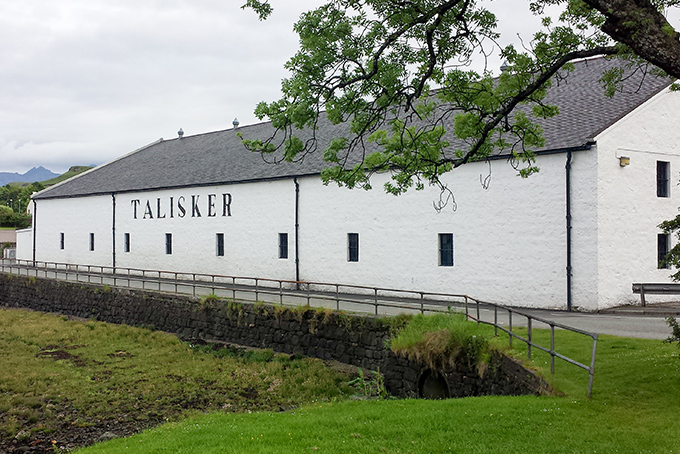 Talisker Distillery
Most of the distilleries on this list are at least somewhat nearby other, similar distilleries — whether they're in Speyside, the greater Highlands, Islay, or otherwise. But sometimes, to get a true, one-of-a-kind experience, you have to go somewhere a bit more remote and removed from the rest of the whisky industry. That's where Talisker comes into play. This distillery is found on the western side of the Isle of Skye. In fact, it's the oldest distillery in operation on the island. There are a couple of benefits to this locale that differentiates it from the rest. For starters, it's easier to get an intimate look into their operation, because they're off the beaten path. Secondly, their rugged and windswept home gives their scotch offerings some very unique flavor profiles. And just in case you think it's a bunch of hooey, they've also won a number of notable awards for their spirits. Those are just a few of the reasons Talisker should be on your bucket list.
EST: 1830
Region: Islands
Location: Carbost
What's The Difference: Whiskey vs. Whisky
To some, the difference is just a single letter. To others, it's a far different and much more impactful distinction. Find out why on our guide to the difference between whiskey and whisky.