In order to feel alive, sometimes you have to break away from your comfort zone and dance along the edge of sanity, taunting the Grim Reaper. Pain wakes you up to a more profound mindset where your mundane, everyday worries have the volume turned down. Extreme activities, such as ultramarathons, are a form of therapy that puts life into perspective.
A standard full marathon is 26.2 miles of hard work and dedication, but this list is going extreme with races that go beyond the norm, heading into the territory of suffering and self-discovery. In compiling this list of the toughest races in the world, we chose insane ultramarathons that are flat out brutal, making us cringe. These races are only for insane athletes who are ready to face incredible ascents and descents, hellish terrain, unbearable distances, and killer temperatures. You have to be a special type of monster to even consider running any of the races on this list. We definitely wouldn't wish this type of torture on anyone, but we admire those who have the guts to sign up.
Primer
Checking Your Fitness Level
If you're insane enough to sign up for one of these extreme marathons, we highly recommend you speak with your primary physician first. These ultimate races aren't for everyone, so you need to be absolutely sure you're willing and able to withstand the torture. If you just so happen to get the green light from your doctor, make sure you train safely to prepare yourself for the worst. We even recommend a personal trainer to help you prepare for one of these soul-crushing events. Also, you'll want to stay away from the races requiring a special invitation. For all those brave souls who are attempting one of these ultramarathons, we wish you the very best of luck.
The Barkley Marathons
In about 30 years of The Barkley Marathons, only 15 people have finished this incredible test of athletic ability and mental prowess. The almost cult-like ultramarathon is based on the historic 1977 prison escape of James Earl Ray, the assassin of Martin Luther King Jr. It's a secretive race held in a tiny town in Tennessee where the course is ever-changing. Only 35 runners are accepted each year and the application process is a closely guarded secret. The mysterious race must be finished in under 60 hours and comes to a total of 100 miles. Race bib number one is always reserved for the person crowned least likely to finish one lap and is considered a "human sacrifice." Yes, this is the weirdest race on the list.
Miles: 100
Location: Tennessee
Andes Race Chaski Challenge
Limited to 100 runners, this 100K is the first ultramarathon to be held in Cusco, Peru. It takes place in the Sacred Valley of the Incas and pays tribute to the Incas' long-distance runners who had to carry messages and orders to other towns and villages. The Andes Race The Chaski Challenge was made for mountain runners, so we advise you not to attempt this vertical run if your knees have trouble keeping you stable. Yes, you will run through picturesque settings and will be surrounded by incredible landscapes, but the real beauty of this ultramarathon is the finish line.
Miles: 63
Location: Huaran, Peru
The Munga Trail
Facing the treacherous terrain of South Africa, this 250-mile ultra covers a challenging route through the indigenous forest and plantations. You'll be running from Belfast to Blyde River Canyon, which is the third largest canyon on the planet. Push your limits with one of the toughest races in the world, relying on your GPS navigation skills and endurance. If you complete the seemingly impossible race, you'll go home with some hardware to remind you what you're made of. If biking is more your preference, there's a similar bike race called the Munga MTB you can give a shot if you feel like getting off your couch and doing something truly epic. Oh, and if you get first place, you receive about $3,500 in prize money.
Miles: 250
Location: Belfast, South Africa
Ultra-Trail du Mont-Blanc
Travel around Mont Blanc through France, Italy, and Switzerland in the Ultra-Trail du Mont-Blanc (UTMB) and conquer 100 miles of beautiful scenery while your back and joints burn to reach the glorious finish line. You'll also have the pleasure of climbing 30,000 feet of technical terrain before biting into that medal for the finisher photo. The UTMB attracts about 2,500 runners every year and many of them are international professionals, so you might want to try a few 50-mile events to warm up for one of the toughest races in the world if you've only conquered standard marathons.
Miles: 100
Location: France and Italy
Hurt100
For an ultramarathon to be called Hurt100, it has to deliver the pain — boy does this race sound agonizing on the body. Taking place in Hawaii, this race is 100 miles of mostly single-track trails through the semi-tropical rainforest. There are 20 points on the trail where you'll have to get wet and cross streams. In addition to the occasional watery obstacle, you'll be dealing with blood-sucking bugs, humid weather, and a 36-hour clock to beat. Sure, you'll probably hit a wall or two along the way if this is your first 100-mile race, but at least you'll be surrounded by lush greenery and will be able to live the island life after you've earned your medal.
Miles: 100.5
Location: Honolulu, Hawaii
Hardrock100
Taking place in Southern Colorado's San Juan Range, the Hardrock100 is 100.5 miles of pain and triumph. You'll be facing 33,050 feet of climbing with an average elevation of 11,000 feet. You'll be crossing the ghost town of Sherman before reaching the summit of Handies Peak, which is the highest point on the course at 14,048 feet. When you're all done with the ultramarathon, you're prompted to kiss the "Hardrock," which is a photo of a ram's head painted on a large stone mining debris block. The ultramarathon is dedicated to the memory of the settling miners who constructed the mining trails where most of the race takes place. The Hardrock100 is the centerpiece of the Rocky Mountain Slam, which is an award you get if you finish this race and four others in the Rocky Mountains. Only 145 applicants are accepted for each event.
Miles: 100.5
Location: Silverton, Colorado
Western States Endurance Run
The Western States Endurance Run is the world's oldest and most prestigious American 100-mile ultra. It starts in Squaw Valley, California close to the site of the 1960 Winter Olympics. In order to finish the run, you'll have to survive an 18,000-foot ascent and a 23,000-foot descent before you hit the finish line at Placer High School in Auburn. With temperatures breaking past 100 degrees and a 30-mile stretch of canyon, you definitely have your work cut out for you. In some instances, you'll have to run through snowy trails and then deal with the blazing sun in the next section, challenging your body to adapt quickly. Once you start, you'll have 30 hours to conquer the West Coast beast.
Miles: 100
Location: Squaw Valley, California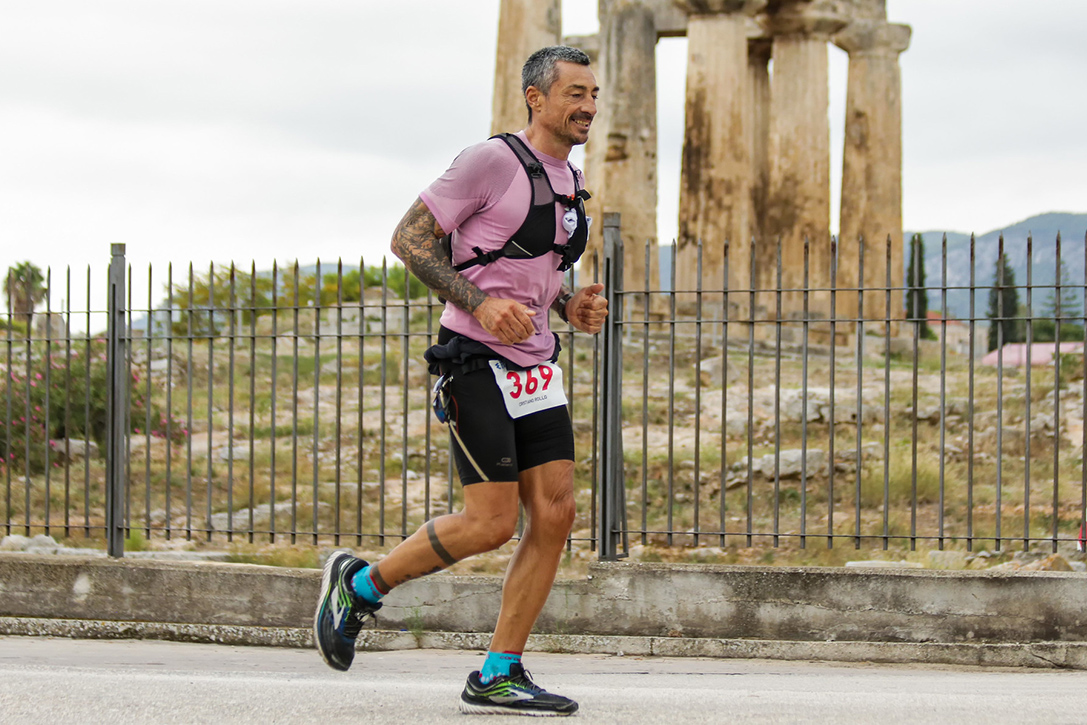 Spartathlon
It doesn't get more epic than running an ultramarathon in Athens, Greece and channeling your inner Spartan warrior. The Spartathlon was created by British RAF Wing Commander John Foden, who is a student of ancient Greek history. While Foden was Herodotus' narration of ancient long-distance runner Pheidippides, he wondered if modern man could cover the ground from Athens to Sparta, leading to the Spartathlon in 1984. The endurance race is a 155-mile practice of technique and heart, ending with a 1,200-meter ascent up Mt. Parthenon under the night sky. You'll be testing your stride on a tarmac road, trails, and mountain footpaths with only 36 hours to finish the course before you face elimination.
Miles: 155
Location: Athens, Greece
Iditarod Trail 1000 Invitational
The Iditarod Trail Invitational 1000 (ITI) is one of the longest and toughest races in the world that takes place during the winter. Set in Knik, Alaska, this will-testing marathon will have you facing temperatures ranging from -50°F to 35°F, rain, gale-force winds, blizzards, mud, waist-deep snow, and more. The race is only for experienced, intrepid athletes, which means you can't sign up on a whim. In order to compete, you must complete the ITI 350 and demonstrate your expert winter survival and self-reliance skills in the Alaskan wild. Only the most qualified applicants are accepted for this extreme challenge. Competitors must carry all their own survival gear to make it through this unforgiving frozen wonderland.
Miles: 1,000
Location: Knik, Alaska
The Jungle Marathon
According to the creators of The Jungle Marathon, this event is the world's most terrifying adventure. Set in the intimidating Amazon Jungle in Brazil, this 125-mile ultra requires you to withstand 99% humidity and creatures lurking in all directions, including anacondas and piranhas. You'll be running through the dense jungle, crossing rivers, making your way through dark, ominous caves, and trekking through swamps. When you sign up, you'll be trained by special forces instructors for six days before being plunged into the sinister jungle to fend for yourself with a compass, map, and compulsory kit. If you don't get to the finish line in six days, you don't get the praise.
Miles: 125
Location: Amazon Jungle, Brazil
6633 Arctic Ultra
For the 6633 Arctic Ultra, there are three different routes: the tame 120-mile version, one that's over 120 miles, and the 380-mile death sentence. You'll start at the Yukon Eagle Plains and finish on the banks of the Arctic Ocean at Tuktoyaktuk if you're tackling the 380-mile route. You'll enjoy going through the beautiful Arctic Circle and have to withstand heavy winds and temperatures as low as -30° F. In the past decade, there have only been 37 finishers of the 350+ miles version of the race. According to 6633 Arctic Ultra, this endurance event is the coldest and windiest of its kind on the planet. Even if you're willing to train diligently, ease your mind, and give 110%, this will still be an aggravating journey that will feel like a post-apocalyptic movie. If you have fun dealing with blood-sucking insects, humid weather, and insanity, this ultra is specially made for you.
Miles: 383
Location: Yukon Eagle Plains, Canada
Enduroman Arch 2 Arc
If you thought a standard triathlon is hard enough, check out the Enduroman nightmare. This is a 290-mile triathlon, consisting of an 87-mile run from London's Marble Arch to Dover, 181-mile bike ride from Calais to the Arc de Triomphe in Paris, and a 22-mile swim in the English Channel. The Enduroman Arch 2 Arc challenge connects two wondrous cities via this grueling triathlon where the average finish time is 100 hours. Since the end of the 2018 season, only 34 talented athletes have completed the ultramarathon. If you plan on attempting this menacing triathlon, make sure to reach out to the expert staff at Enduroman for any questions or logistics concerning the obstacles or course.
Miles: 290
Location: London, England
Marathon Des Sables
Dropping you right in the middle of the Sahara Desert, this 7-day multi-stage race covers a whopping 150 miles, testing your willpower the entire way through. Battle the extreme Morocco heat and unforgiving sand dunes all while rucking your own gear and fighting off hallucinations during the energy-sapping journey to test your might. You'll only have one day of rest and recovery over the 6-day course of the race. Founder Patrick Bauer walked 217 miles through the Sahara Desert with
just what he had on his back in 1986 and turned it into the Marathon Des Sables.
Miles: 150
Location: Sahara Desert, Africa
The Patagonian Expedition Race
Substitute the typical marathon road with every hardcore terrain you can think of from the jungle floor of the Amazon to the ridge lines in Wales and you have The Patagonian Expedition Race. Trek through glaciers, rivers, swampland, and forest with your squad of four. It's not just about putting one foot in front of the other either, as your team is required to know various survival skills, like map-reading and first-aid. The Patagonian Expedition Race route changes every year but it totals around 500 miles on average. You'll have a 10-day window to finish the course and you won't know the general route until 24 hours before the start time.
Miles: 500
Location: Patagonia, South America
Badwater 135
According to Badwater, this sole-destroying marathon is the world's toughest foot race. You'll have 48 hours to conquer this race, starting at Death Valley and ending at the finish on Mt. Whitney. The average temperature is a scorching 120 degrees and you'll be dealing with an 8,000-foot ascent before you cross the finish line and grab the Badwater 135 belt buckle. You may have your entry fee reimbursed if you raise $7,500 or more for the Challenged Athletes Foundation, which is an official charity of Badwater 135. Prior to applying, you need to complete one of the following: Badwater 135 and one other notable ultramarathon, three races of at least 100 continuous miles, or the Brazil 135+.
Miles: 135
Location: Death Valley, California
15 Best Fitness Recovery Products
If you manage to survive one of the toughest races in the world, you'll need to refresh your body. Check out our picks for the best fitness recovery products and bring your health back to 100%.