Not knowing how to cook is like not knowing how to navigate the internet these days. You should feel comfortable in your kitchen and know your cookware intimately to create hearty meals that can provide you with sustenance to fuel your body and mind. And there's no single tool in the chef's arsenal that's more important or beloved than the kitchen knife.
The kitchen warrants an array of knives to prepare a variety of foods. It's not enough to build a collection of kitchen knives and call it a day. Each type of blade has a specific purpose, and we're here to help you learn about each one. Keep in mind, reading this piece won't make you a kitchen knife expert, but it certainly will elevate your knowledge about them. Our ultimate guide to kitchen knives will undoubtedly sharpen your skills in the kitchen and open up doors to easier cooking methods and an expanded repertoire of recipes from every corner of the globe.
Our guide is meant to help you familiarize yourself with the basic kitchen knives you'll need for everyday home chef artistry. However, it will not make you an expert on how to use each knife. Please take every precaution in using the different types of kitchen blades in this guide. Handle every blade in the kitchen with the utmost care and focus on the smoothness of your action rather than the speed of your cut.
Grabbing a chef's knife to fillet a fish is like using a screwdriver to hammer in a nail. You may be able to carry out the task, but it will be a messy affair that can lead to bloody fingers. Knowing exactly how each basic kitchen knife works is imperative. So let's cut to the chase and start your crash course in primary kitchen knives.
Boning Knife
If you need to separate meat from the bone, a boning knife is your surgical tool of choice for the galley. They are anywhere between 3 to 8 inches in length, with blade widths that vary slightly. There are different types of blades for a boning knife: flexi, semi-flexi, and stiff. The most popular type of boning knife is the stiff blade since it provides the most accurate cut. You can also use a boning knife to fillet fish and peel or trim vegetables.
Enso HD Boning Knife
Handcrafted in Seki City, Japan, the Enso HD Boning Knife is made with 37 layers of Damascus stainless steel with a VG-10 core and a hammered finish. The black canvas micarta handle with a stainless steel bolster provides a firm grip for the 6-inch blade. With a slender shape, the blade allows you to follow the contour of the bones closely. And the HD Boning Knife comes with a lifetime warranty.
Zwilling Pro Flexible Boning Knife
According to Zwilling, their Pro Flexible Boning Knife is the most user-friendly blade available on the market. It's forged from a single piece of special formula high-carbon stainless steel that's ice-hardened to stay sharp longer. The 5.5-inch blade has a laser-controlled edge for the ideal cutting angle and incredible sharpness. Backed by 280 years of knife-making experience, this kitchen cutter is a must-have.
Chef's Knife
The chef's knife is the workhorse of your kitchen blade collection. Usually, the knife's design has a broad blade tapering up to a point, which allows you to sway it back and forth for mincing food. It typically measures anywhere between 6 to 12 inches in length. A longer chef's knife will allow you to slice faster and more efficiently. However, if you have smaller hands, a shorter chef's knife will be easier to handle. The chef's blade can be used for just about any task from slicing steaks to dicing tomatoes. Your knife set should definitely include this blade variant.
Sharp Edge Bunka Black Japanese Chef Knife
Manufactured at the Yoshida Hamono smithery in Japan, the Bunka Black Japanese Chef Knife is a work of art. It's made with sturdy ZDP-189 steel and a traditional Japanese walnut handle with an octagon shape to fit nicely in the grip of both left and right-handed users. The 7.5-inch blade has long-lasting sharpness, capturing Japanese culture while being efficient for handling Western cuisine. With a flexible structure, well-designed blade belly to handle any cut length, a flat backside, and slender tip, this knife is a multi-talented tool.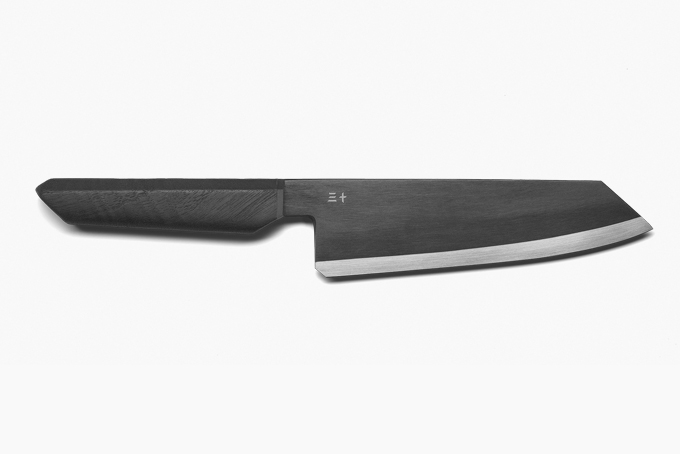 Hinoki S1 Gyuto Chef's Knife
The 7.1-inch Hinoki S1 Gyuto Chef's Knife has a blade hand-forged from White Steel 1, which is the metal most similar to tamahagane steel that was used in crafting traditional Japanese swords. For a unique aesthetic, the S1 Gyuto is rendered in matte black using a secret technique only known by a handful of bladesmiths. The handle of the S1 Gyuto is lightweight and tactile with hand-carved hardwoods crowned by a blackened steel bolster. Perfectly balanced, this chef's knife will serve you well to help you conjure up feasts for a lifetime.
Cleaver Knife
Known as the "butcher's knife," the cleaver knife is the pulverizer of the bunch. It's a heavy-set blade made to cut through thick meat without breaking a sweat. It's usually anywhere between 6 to 12 inches in length with a thick spine for more power upon impact. The power cutter can chop through meat with bones, as well as hard materials like pumpkin or squash. This wide, bull-dozing blade will make preparing meat a breeze. The thickness of a cleaver's blade will vary, depending on its intended use.
Dexter Russell Traditional Cleaver
Made in the USA, the 7-inch Dexter Russell Traditional Cleaver is made with high-carbon steel to power through a variety of meat, including lamb, pork, and beef. Built to be hammered into thick food, this cleaver utilizes a unique edge geometry for clean cuts. It also has a polished Rosewood handle with brass compression rivets that will stand the test of time. Just make sure your chopping block is strong enough to withstand this knife's strength.
Svord Carcass Splitter Cleaver
With a whopping 28.75-inch total length, the full-tang Svord Carcass Splitter Cleaver seems to be made for warriors. It has an 11-inch blade built using 8670 carbon steel for incredible edge retention and durability. For style and functionality, it has a riveted Black Micarta handle, so you can get a grip on this monster when you're ripping meat in two using one single blow. Although this cleaver will cost you more than a pretty penny, it will definitely be the center of attention in your kitchen.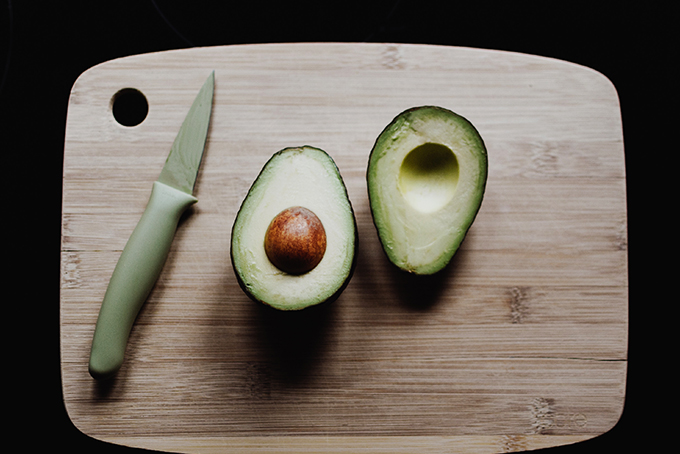 Paring Knife
Built with a 3-to-4-inch blade, a paring knife is a small cutting tool made for precision work. The knife has a very sharp tip, allowing it to cut and peel vegetables and fruits with ease. You'll be able to make garnishes for your food and cocktails or use it to trim away excess fat. There are a variety of paring knives, which are named after their shapes, such as the sheep's foot, spear point, and bird's beak models. The paring knife is simply a blade to make finishing touches.
Wusthof Pro Paring Knife
Constructed to withstand the daily grind of commercial kitchens, the Wusthof Pro Paring Knife is the ideal model for aspiring home chefs. The 3.5-inch knife is made with high-carbon stainless steel and a special handle with an inner core and a non-slip grip for excellent stability. To allow for extended use, the handle is also ergonomically shaped for ideal comfort no matter what you're slicing up. And it's NSF (National Sanitation Foundation) certified, meeting the high standards of professional kitchens.
Victorinox Swiss Army Forged Paring Knife
Whether you're slicing apples or chopping onions, the Victorinox Swiss Army Forged Paring Knife will assist you in getting the job done with no issues. The knife has a smooth 4-inch blade with a polyoxymethylene handle for superior comfort. Its elegant design and ergonomic construction makes for a reliable compact tool in the kitchen for small jobs. The forged knife is also balanced perfectly for a natural cutting motion and peeling action so you can prepare your food the right way.
Santoku Knife
Santoku translates to "three virtues," referring to dicing, slicing, and mincing. It is the Japanese version of the Western-style chef's knife, but it's still a tool you can benefit from having in your kitchen knife set. This knife is shorter and thinner than a chef's knife and has a flat blade, which means it's not ideal for rocking on a cutting board. It's often built with a hollow edge, allowing it to cut through meat and sticky food with more accuracy and less tearing. For chefs with smaller hands, this lighter blade is usually preferred.
Victorinox Swiss Army Classic Santoku Knife
The Victorinox Swiss Army Classic Santoku Knife is an all-purpose blade that excels at slicing and dicing due to its lightweight, 6.7-inch blade. It has a fluted edge and a fantastic balance to be a true chef knife substitute. For a sure grip when cutting up a storm in the kitchen, its handle is made from thermoplastic elastomers. Your hand will wrap comfortably around the handle, making your vegetable chopping duties a breeze.
Zelite Infinity Santoku Knife
This aesthetically stunning santoku knife is designed for minimal slicing resistance. Its 7-inch blade is created from AUS10 super steel with 67 layers of high-carbon stainless steel for immense durability, and liquid nitrogen tempering for long-lasting performance. It also has a hollow grind blade for non-stick capabilities and a beautiful Damascus pattern. The Zelite Infinity also features a rounded G10 handle that's triple riveted to the full-tang blade.
Steak Knife
The telling name of this knife says it all. These knives can be used in the kitchen to slice meat, fish, or even cut salads. However, steak knives can also be used at the dinner table so you can slice up your finely grilled and marinated steak into heavenly pieces of flavor chunks. Steak knives usually have serrated edges. Yes, there are non-serrated versions, but the models with sawtooth edges are more efficient tools. Also, serrated steak knives can stay sharp for a longer period of time before you have to hone them.
Messermeister Avanta Steak Knife
Crafted from high-end German steel, the Messermeister Avanta Steak Knife is rust-resistant and sharp enough to slice through a thick serving of tomahawk steak. The one-piece forged 5-inch blade has a curved tip for an effortlessly slicing motion. You can choose the handle material: sandblasted stainless steel, traditional triple rivet POM, or pakkawood. It also comes with a lifetime warranty for material and manufacturer defects.
Cangshan S Series Steak Knife
With a slim profile, bold angles, and smooth curves, this dynamic blade is made for aspiring chefs. This Cangshan knife has a 5-inch blade made with high-alloy X50Cr15MoV steel to cut through the thickets portions of juicy steak. The NSF-approved knife is serrated for efficient cutting action and balanced for optimal comfort. Whether you're creating a feast in the kitchen or devouring one at the dinner table, the Cangshan S Series Steak Knives will come in handy.
Utility Knife
If the chef's knife is the captain of the ship, the utility knife is definitely the first mate. In general, it measures between 4 and 7 inches in length and is either straight or serrated. You can use a utility knife for smaller cutting, slicing, and dicing jobs that a chef's knife can't tackle. In order to be flexible when cutting food, the utility knife has a scalloped edge. The blade comes in handy when you're preparing vegetables and sandwich meat, which is why it's occasionally referred to as the "sandwich knife." It's the perfect assistant to the primary cook's cutter and another all-arounder in your food domain.
Wusthof Serrated Utility Knife
The precision-forged 5-inch Wusthof Serrated Utility Knife is a classic full-tang option built from high-carbon stainless steel. It has a durable handle made from polyoxymethylene to ensure a comfortable, stable grip when you slice away, as well as a full bolster and finger guard for your safety. The blade also has a serrated edge, enabling it to slice smoothly through difficult food, such as soft vegetables, fruit, and bread. It's a middle child knife built for accuracy and control when you're working your culinary magic.
Masahiro Utility Knife
The full-tang Masahiro Utility Knife is made with proprietary MBS-26 high-carbon stainless steel, which is treated by three stages of sub-zero treatment, quenching, and tempering until the steel reaches a superior hardness level. It has an 80/20 asymmetrical design with 80% of its edge ground on the right side and 20% ground on the left side, making it perfect for right-handed chefs. The 6-inch blade has a heat, solvent, and moisture-resistant handle with a three-rivet design for long-lasting reliability. It's also bacteria-resistant, making the knife a hygienic option for daily use.
Primer: How To Sharpen Your Knife
Now that you have basic knowledge of the primary knives used in a kitchen, it's time to further your blade education. Check out our guide on how to sharpen your knife to keep your kitchen cutters working efficiently for decades to come.