Whether working from home or sitting in the office, odds are you're staring at a computer monitor for a solid 6 to 8 hours a day. While this is what the workforce has evolved to, it's not what our bodies are programmed for — specifically, not what our neck and shoulders are programmed for. With that in mind, a monitor stand is one of the most integral products in any workspace. And, like any other item you can find, some options outweigh the others.
There are two integral reasons to consider when choosing a monitor stand for your desk: additional height and optimized space. Working in a messy space can make work even more stressful than it has to be, and we all know the trials and tribulations of cranking your neck down to get some work done. So, to help make your computer user-friendlier, our guide covers the best monitor stands for enhanced ergonomics.
Best Monitor Stands
The Starter Pick

Simple Houseware Metal Desk Monitor Stand

The Best Drawer Stand

Ikea Elloven Monitor Stand

The Best Stand for Ports

Satechi Type-C Aluminum Monitor Stand

The Best Stand for Storage

West Elm Uprise Monitor Stand

The Best Wood Stand

Compustands Wood Monitor Stand

The Best Plastic Stand

Room&Board Arcana Monitor Stand

The Best American-Made Stand

Artifox Large Stand

The Best iMac Stand

Twelve South HiRise Pro

The Premium Pick

Grovemade Wood Monitor Stand
why should you use a monitor stand?
Organization: Whenever you lift a piece of furniture, you receive additional clearance on top of the gift of easier access. And so, the same applies to buying a monitor riser for your desk. Depending on which option you think is best suited for your workspace, there is typically a(n) open (or storage) space to help you tuck supplies, chargers, and gadgets in an organized fashion. Working in a cluttered environment can get strenuous, so do yourself a favor by cleaning things up a bit.
Ergonomics: As time goes on, you'll realize the most beneficial factor of buying a monitor stand is enhanced ergonomics. After all, dipping your neck to stare at your screen all day is not what our bodies are built to do, so the impact that this adjusted height has on your neck and shoulders will help you get through the workday more healthily. In addition, it will relieve eye strain, as your eyes will zone on the center of the monitor as opposed to its bottom half. On that note, for the desktop users who have not experienced any of these concerns, we recommend getting one just as soon as people who do. — at the end of the day, precaution is better than cure.
what to look for
Material: The most common materials for a monitor stand are plastic, wood, and metal. You really can't go wrong with any of these materials, as they're all durable, but you should try to grab a stand that matches your desk (or at least goes with it a little bit).
Size: The size you should get will depend mostly on the size of your desk and monitor. After that, consider how much storage/space you would like under the stand.
Monitor Type: Some stands will be specifically designed for certain ecosystems (like Apple, for example). While you can still use these with other tech, it's best to use them for the tech they're designed for (unless they're a hybrid).
SIMPLE HOUSEWARE METAL DESK MONITOR STAND
Pros
Two shelves
Solid amount of storage for the price
Cons
A bit small for larger desks
The Starter: Like the brand's name insists, this is an ideal starter option that keeps things simple. The mesh-metal crafted riser features a handy sliding drawer that can hold your letters, hard drives, and more. In addition, it has a quartet of roomy side pockets to keep post-it notes, pens, and other office supplies in order. Most importantly, it measures just under 6" high.
Material: Metal
Size: 11.5″D x 16.75″W x 5.8″H
Type: All
Ikea Elloven Monitor Stand
Pros
Made from bamboo
Comes assembled
The Best Drawer Stand: IKEA's handsome ELLOVEN collection provides well-designed workspace pieces, which is why this monitor stand is worth picking up. It stands just below 4" high and has a spacious drawer with enough to hold anything from pens and notebooks to flash drives and calculators, allowing you to keep your desk space organized and easy to maneuver. Most of all, it is made using durable bamboo, so it's built to last.
Material: Bamboo
Size: 18.5″W x 10.25″D x 4″H
Type: All
Satechi Type-C Aluminum Monitor Stand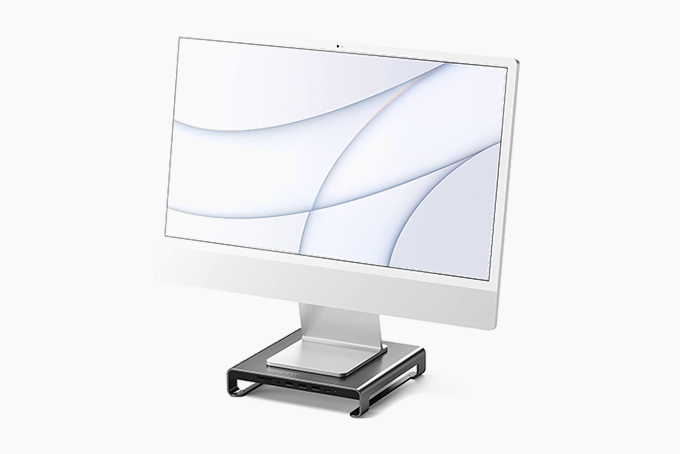 Pros
Ideal for iMacs
3 USB ports, SD slots, and an audio jack
Cons
Can't charge other devices
The Best Stand for Ports: Although Satechi's sleek Type-C monitor stand is small, it's remarkably functional and serves as far more than a stand. It has an array of built-in expansion ports that let you add USB-C or standard USB data. It is compatible with several Mac models, including the manufacturer's new Apple Studio Display.
Material: Aluminum
Size: 8.5 x 8.5 x 1.69 inches
Type: iMac
West Elm Uprise Monitor Stand
Pros
Can mount to the wall
Adjustable dividers
The Best Stand for Storage: You can always trust West Elm to have something fit to make any space look better. The furnisher's mid-century-inspired Uprise Monitor Stand can be mounted to the wall or used as an organizer, deeming it a versatile piece of equipment that will add some character to any desktop setup. It stands 4.25" high when placed on its side, providing you with additional clearance.
Material: Plywood
Size: 20″W x 9″D x 4.25″H
Type: All
Compustands Wood Monitor Stand
Pros
Made of sustainably sourced plywood
Supports a small business
Cons
Shipping can take a while
The Best Wood Stand: When you're shopping for anything that could be assembled by hand, it's always a great idea to check out what the artisanal craftsmen (and craftswomen) have to offer on Etsy. This well-designed monitor stand from CompuStands is made from sustainably sourced birch plywood and comes available in a range of colors, allowing you to customize your workspace to your liking. Most importantly, its small compartment can fit several gadgets and supplies, as well as a Mac Mini or Mac Studio. It comes in two different sizes, but each of them offers an additional 4" of height.
Material: Birch plywood
Size: 30L x 9W x 4H
Type: All, iMac
Room&Board Arcana Monitor Stand
Pros
Created by a father-daughter team
Sleek and minimal style
Cons
Not great for heavy monitors
The Best Plastic Stand: Room&Board's Arcana monitor riser is made of glossy, solid acrylic that's as sturdy as it is sleek. Its maximum measurements of 40" wide and 4" high make it the perfect choice for organizing any desk. Plus, it was crafted by a humble, father-daughter-owned company in Wisconsin that uses American-made materials.
Material: Acrylic
Size: 40″W x 10″D x 4″H
Type: All
Artifox Large Stand
Pros
No tools required for assembly
Very sturdy
Cons
May be too heavy for some
The Best American-Made Stand: This sleek, contemporary option will add an extra 4" to your workspace, but its streamlined craftsmanship is even more impressive. Artifox's Large Stand is made using powder-coated steel and your choice of walnut, white oak, or black oak, serving as a testament to thoughtful design and optimized room for your monitor, let alone other desktop gadgets and accessories.
Material: Your choice of wood
Size: L 31" x W 9" x H 4"
Type: All
Twelve South HiRise Pro
Pros
Can go high
Strong material construction
Plenty of storage
Cons
Magnets could be stronger
The Best iMac Stand: From chargers to iPhone cases, Twelve South is adept at crafting accessories to appease your gadget's every need, which is why its HiRise Pro is one of the best monitor stands on the market. It offers four different height configurations, allowing you to customize your monitor's angle as you see fit. With a maximum height of 8.5", it's no question that this is the most beneficial for your neck and shoulders. Plus, it's made using sleek gunmetal steel that's finished off with a smooth leather tray, serving as a great spot to rest your phone when you need to focus on work.
Material: Gunmetal steel and leather
Size: 10 x 9.75 x 8.5 inches
Type: iMac
Grovemade Wood Monitor Stand
Pros
Versatile
Plenty of options for customization
The Premium Pick: Grovemade's catalog of office accessories is some of the most impressive on the market. The brand's Wood Desk Shelf is handcrafted in Portland using high-quality materials like natural cork, American walnut, and Eastern Hardrock maple. The base configuration offers 4.5" inches of height and can support up to 50 pounds, so you can rest assured it has what it takes to hold your monitor and more.
Material: Your choice of wood and natural cork
Size: S-L (see site)
Type: All
The Best Laptop Stands for WFH
Laptop owners can also benefit from an additional height — in fact, they might need it even more. With that in mind, take a look at our guide to the best laptop stands.