Even if you live a pretty minimalist lifestyle, there's still a pretty good chance that there's a set of gear that you need to get you through each and every day — especially if you commute to and from your place of work. As such, you probably also need something in which you can haul that gear, both to keep it all organized and safe in your travels.
In that case, you're going to want a work bag to make that commute with you day-in and day-out. And while there's not a single bag that works for everyone, there are a number of options that are handsome and tough enough to survive the daily grind of all styles — be they a backpack, messenger bag, briefcase, or otherwise. We've gone through the trouble of rounding up our favorites in this collection of the 25 best work bags for men. Whatever your work life, there's something here for you.
Cargo Works MacBook EDC Kit
If your work kit is comprised primarily of smaller items — especially tech gear built by Apple — then you might be interested in Cargo Works' pared-down MacBook EDC Kit. This over-the-shoulder bag has enough space to fit up to the 13″ MacBook Pro but also features a sturdy 900D polyester exterior, a neoprene-lined internal compartment, and modular webbing — both inside and out. And yes, the exterior webbing is MOLLE-compatible. This bag is perfect for tech-savvy folks who are frequently on the go.
Timbuk2 Commute Messenger Bag 2.0
The messenger bag, especially more modernized and up-to-date versions, are one of the best bag styles for modern men who are frequently on-the-go. And Timbuk2's Commute 2.0 is an especially hard-working bag that goes perfectly with a lifestyle marked by hustle and bustle. It holds up to 15L of gear, weighs just 2.7 pounds, fits up to a 13″ laptop, has a water-resistant exterior, and has plenty of internal and external pouches and compartments for all your storage needs — including a water bottle pocket.
Bellroy Classic Backpack
Bellroy seems to have mastered the art of combining clean, minimalist styling with an impressive amount of capabilities in all of their offerings. Their bags are no exception to that expertise, as you can see in their Classic Backpack. This traditionally-formatted carrier holds up to 17L of gear — including up to a 15″ laptop computer — and has a number of internal organizational pockets and pouches to make keeping everything in order a snap. It's also built from sturdy polyester and leather and has one of the most well-styled exteriors of any backpack we've ever seen.
Peak Design Everyday Sling
As we mentioned earlier, messenger bags are perfect for those who require quick access and easy carrying; but some outshine their competition. The Peak Design Everyday Sling is one such bag. This 10L bag boasts a weatherproof canvas exterior, a flat-pack design, expandable pockets, and a reconfigurable modular interior that can be adjusted to suit your needs on-the-fly. If you consider yourself a travel photographer or you just like comprehensive organizational options, this messenger bag is just about perfect.
Mystery Ranch 3-Way Expandable Briefcase
While Mystery Ranch got their start in the outdoor space and still thrive in that arena to this day, they've done a pretty solid job of expanding their lineup to include bags that might be considered more city-going. That's the case here with their 3-Way Expandable Briefcase. With a bit more tactical styling than some of its competition, this bag can be carried like a messenger, briefcase, or backpack — all depending on your specific needs at the time. It can also hold an impressive 22L of gear, it has a padded 15″ laptop pocket, and it's expandable to an additional 5L. Perfect for business, travel, and more, this is a brilliant work bag if there ever was one.
Chrome Industries Bravo 2.0 Backpack
For those who are unfamiliar, Chrome Industries specializes in hauling solutions for urban cyclists. And that makes them uniquely qualified to make city-going work bags, like the Bravo 2.0 Backpack. The exterior of this carrier is made from abrasion-resistant 1050D nylon, has a waterproof truck tarpaulin liner, boasts a weatherproof rolltop closure, has a 15″ laptop pouch, and has space for up to 28L of gear. And if that's not enough to pique your interest, it also comes standard with a lifetime warranty. Essentially, Chrome Industries guarantees that this bag can survive all your urban adventures, and that makes it an excellent work bag.
Aer Duffel Pack 2
Not everyone is going to need a convertible bag that can haul up to 24.6L worth of gear. But for those who do, you'll be hard-pressed to find a better option than the Aer Duffel Pack 2. Not only is this minimalist bag beautifully-designed, but it's got an exterior crafted from water-resistant Cordura ballistic nylon, a huge variety of organizational compartments — including a ventilated shoe compartment if you need to swap your commuter sneakers for a nice pair of dress shoes — heavy-duty hardware, a 15.6″ laptop pouch, and so much more. And when you're not using it for work, this bag makes an absolutely superb travel pack, as well.
Filson Dryden Briefcase
While Filson is best known for their rugged, heritage-focused gear with a focus on the outdoors, their refined design language unsurprisingly has also paired beautifully into a range of office-friendly gear, as well. Their Dryden Briefcase is a perfect example of just that. This soft-sided work bag boasts an ultra-tough ballistic nylon construction with premium leather accents, has a double-layer base for added durability, features a padded 15″ laptop sleeve, and hauls up to 14L of gear. This bag is both rugged and refined in all the right ways.
Bellroy Tokyo Totepack
If you liked what you saw out of Bellroy's Classic Backpack, but you want something that's a bit more unique and versatile, the Tokyo Totepack might be more up your alley in regards to work bags. Featuring an effective capacity of 20L, this urban pack boasts a variety of pockets — including a large main compartment with internal pouches, a 15″ padded laptop sleeve, vertical front pockets, and more. It also boasts premium leather accents, nylon webbing grab handles, packable backpack straps, and a water-resistant exterior.
Topo Designs Commuter Briefcase
One of the best hybrid commuter bags out there, the Topo Designs Commuter Briefcase can be carried like a suitcase, over-the-shoulder, or even as a backpack — and all of its straps are either removable or packable, lending it plenty of versatility. This particular version is also constructed from Cordura ballistic nylon and premium Horween leather for handsomeness, durability, and even a measure of weatherproofing. It also has a 15″ laptop pocket, room for 15L of gear, has a luggage pass-through for easier traveling, and plenty of internal and external organizational options. Perhaps best of all, however, it was made in the USA.
Arktype Dashpack Mark II
Another USA-made pack, this one conforms a bit more to the traditional backpack style. That being said, it's also still an exceptional work bag — boasting a DWR-finished ballistic nylon exterior that's perfectly suited to the daily grind and will serve you well for years to come. And that's just the start of its very long list of features. Others include a 15L capacity, paracord zipper pulls, dual water bottle pouches, mil-spec expandable webbing, YKK Aquaguard zippers, high-density foam padding, a 13″ laptop pocket, and more.
J. Crew Boarding Pass NYC Flight Briefcase
J. Crew has been a top name in the men's style game for literal generations and they don't appear to be slowing down anytime soon. And so it should come as no surprise to discover that their Boarding Pass NYC Flight Briefcase is one of the best work bags for men around. Made in the USA, this handsome-as-hell hauler features a waterproof canvas exterior with high-end leather accents and straps, a multitude of internal and external pockets for better organization, a padded laptop sleeve, and it's available in two beautiful colorways — gray and brown or all-black.
Aer Tech Pack
Aer, as you may or may not have come to realizes, is one of the top names in stylish carry solutions for the modern man. As such, they offer a wide variety of bags — many of which are perfect for work in one way or another. Their Tech Pack is especially capable and handy when it comes to hauling — you guessed it — high-tech gear. While its beauty is apparent, the pared-down ballistic nylon exterior with its water-resistant coating hides away 16.2L of internal storage, a 15.6″ padded laptop pocket, a water bottle pocket, a small everyday carry quick-access pocket, and a structured design to keep everything in its place as it should be.
DSPTCH Gym/Work Bag
For many of us, a work bag does not simply go from home to the office and back — it also needs to get us to and from the gym most days. And that's where the DSPTCH Gym/Work Bag shines. This duffel bag can haul an impressive 23L of gear across a number of compartments — including a generous main compartment, as well as a separate ventilated shoe compartment for your workout sneakers. It's also made from weatherproof DWR-coated ballistic nylon, has a moisture-resistant pack cloth liner, and comes with its own lifetime guarantee. This hefty hauler isn't for everyone, but if you're a gym rat with a day job it's tough to beat.
Bradley Mountain Courier Briefcase
If you want a beautiful heirloom-level piece that's as stylish as it is capable, you might want to invest in the Bradley Mountain Courier Briefcase. Like all of their superb offerings, this bag is made entirely in their San Diego, California facility. It's built from gorgeous, weatherproof waxed duck canvas that is resistant to abrasions, punctures, and will age beautifully with use. It also features bridle leather handles, a shoulder strap, and accents for even more class. And it can house up to a 15″ laptop. If you like your gear with heritage looks and rock-solid construction, this is a stellar work bag.
Mission Workshop The Transit Arkiv Laptop Brief
A weatherproof laptop briefcase designed specifically around business and travel, the Mission Workshop Transit Arkiv is more than just a bag for all your work gear. It's a weatherproof, modular, ultra-tough hauler that can do a good deal more than its traditional brethren. And while this USA-made bag is perfect on its own, the modularity and compatibility with other bags make it even more versatile. Best of all, Mission Workshop is so confident in this bag's overall quality, they literally guarantee it forever.
Peak Design Everyday Backpack
For many people, the ideal work bag is one that offers versatility in spades. And you'll be hard-pressed to find an option better than the Peak Design Everyday Backpack if that's a concern of yours. That's because, while this bag has a fairly pared-down minimalist exterior, the inside boasts a 20L capacity that includes a 15″ laptop pocket, dual expandable side pockets, and a reconfigurable interior that can be customized to your daily needs. And that's all aided by a weatherproof exterior, making this an exceptional commuter pack.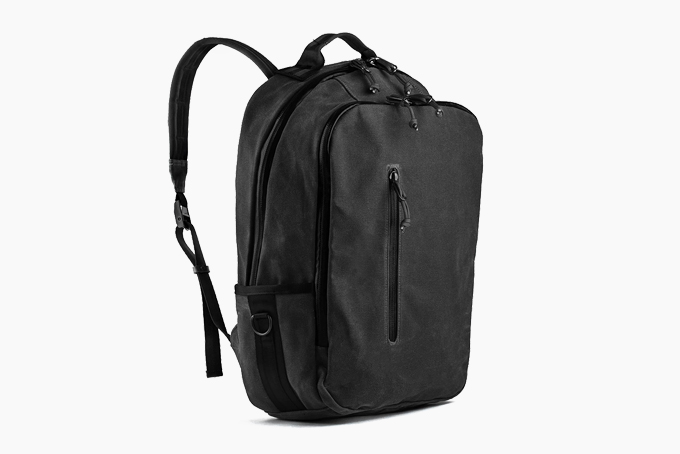 Defy Bags Bucktown Backpack
Titled after the Chicago neighborhood of the same name, Defy's Bucktown Backpack is perfect for city commuters for its ultra-tough water-resistant waxed canvas exterior, 23L capacity, blacked-out appearance, and 1000D Cordura lining. It also has a separate padded laptop compartment that fits computers up to 17 inches, water-resistant YKK zippers, seatbelt straps, and more. And, as if that's not enough to rank, it was also made entirely in the USA.
GORUCK GR1 Backpack
While its tactical-inspired styling might not be entirely friendly for everyone's workplace, there's no denying the versatility and durability of the GORUCK GR1 backpack. One of the toughest tactical bags ever built, this pack can literally survive through the apocalypse and keep right on going — especially when you consider the brand's lifetime SCARS program, which will help you fix any rips or tears. It also has a bombproof laptop pocket, MOLLE webbing on the exterior for modular attachments, 21L of storage space, and a good deal more.
WP Standard Vintage Leather Messenger Bag
If you think that WP Standard's Vintage Leather Messenger Bag looks a lot like a traditional mail carrier's pouch, you'd be spot on. In fact, it's made much in the same manner — from high-end leather available in three different color finishes. As such, this bag is perfect for daily commuters and can haul up to a 13″ MacBook, alongside all your other everyday carry gear and work supplies. It's not complicated, but it is remarkably handsome and ready for just about any urban adventure — and maybe a few that are a bit more off-the-map.
Mission Workshop The Rhake VX Laptop Backpack
Whether your place of work is just down the street, across town, or on the other side of the country, the Mission Workshop Rhake laptop backpack is undoubtedly a superb work bag for you. This particular version is made from ultra-tough, weatherproof VX-21 fabric — available in three striking colorways — and it can hold up to 22L of gear. It's also compatible with the brand's modular Arkiv system via dual exterior integrated rails. And the rolltop closure ensures that all your stuff will stay nice and dry, even if you're riding your bicycle through a downpour.
Killspencer Esquire Briefcase
If all-black-everything is something that speaks to you, especially if you appreciate untreated full-grain leather, then the Killspencer Esquire Briefcase is certain to rank amongst your favorite work bags on our list. The brand has gone to great pains to ensure the bag does justice to its construction materials, and there is, therefore, no treatment done to the leather besides the removal of hair. That means the end result is as pleasing to the eye as it is to the touch and it will last for years and years of usage. Of course, this bag also has plenty of storage for all your gear — including your laptop. And the mil-spec quick-release buckles are definitely a nice touch.
Shinola Computer Brief
A more modernized take on a traditional leather briefcase, Shinola's Computer Brief — as its name suggests — was built around its ability to haul a laptop computer. And while it excels at that task, it also has plenty of room for all your other everyday carry gear and tech items — like cables, battery packs, writing utensils, notebooks, and more. But it's also beautifully-constructed from full-grain leather for a traditional, handsome appearance. And it comes with sturdy metal hardware. Get one for yourself in your choice of brown or black.
Best Made Leather Briefcase
Best Made has only recently gotten into the leather goods industry, but their first foray is anything but disappointing. Case in point: their Leather Briefcase. Made to last for a literal lifetime or more, the exterior is made entirely out of 100% vegetable-tanned skirting leather, it features metal hardware and rivets, and it's constructed in full here in the USA. Like classic mail carrier bags, this beautiful piece will last for potential generations and it will look good from start to finish in doing so. And, of course, it can carry all your gear — up to 15L of it.
Hardgraft 2Unfold Laptop Bag
On the far end of the opulence spectrum, the Hardgraft 2Unfold Laptop Bag is one of the most high-end work haulers on the market — and it's got a superb construction and a gorgeous appearance to match. This is also one of the most unique bags on our list, as it sort of sits in-between a briefcase/messenger bag, backpack, and easy-hauling tote — boasting straps that allow it to be carried as such. It was also made specifically with organization in mind, especially if that includes a laptop computer and other high-tech gear. And the ultra-soft felt lining — a Hardgraft staple — is top-notch for all your delicate EDC and tech.
The 35 Best High Tech Office Essentials
In this day and age, most folks' jobs include some measure of technology — whether that's something as simple as email access or as complex as HTML coding. One way or another you'll probably need at least one of the items off of our guide to high-tech office essentials.