Every guy has had the walk of shame down to the front desk of the hotel to see if they have a razor, or the late-night run to the nearest gas station to be overcharged for some disposable piece of plastic that is going to leave your skin in tatters. This level of desperation can easily be avoided with a little planning and a proper shave kit. That's why guys should have a starter shave kit on hand, whether at home or afar, so that they're always prepared to look their best.
When it comes to getting a shaving kit, the key is to determine what your body needs to be capable of putting its best face forward. Some guys need the works when it comes to skincare, with moisturizers and cleansers to keep your mug bright and shiny. Other guys just need the basics: a straight razor and a strop on which to hone it. Every man is different, but every man can benefit from one of the best shaving kits for men in our guide.
The Best Shaving Kits
Best Budget Kit

Harry's Shaving Kit

Best Travel Kit

Proraso Travel Sized Shaving Kit

Best Starter Kit

Dollar Shave Club Shaving Kit

Best Kit for Sensitive Skin

Bevel Shave Kit

Best Safety Razor Kit

Parker 96R Safety Razor Shave Set

Best Hydrating Kit

Anthony The Perfect Shave Kit

Best Kit for Razor Owners

The Art of Shaving Sandalwood Full Size Kit

Best Premium Kit

Supply The SE Starter Kit
What's in a shaving kit?
A shaving kit will come with a selection of products that either complement your current razor (and thus, not coming with one) or provide you with everything you need. The kits that don't come with razors will still have cream, aftershave, and maybe a brush, so they're still useful as a one-stop solution, but the sets that include a razor are much better for those looking to try a new method of shaving or need something for travel.
What's the point of a shaving kit?
If you're traveling, or entering the shaving space for the first time, then a shaving kit with all of the essentials is a great choice. Keep in mind that some kits may not include a razor, so make sure the one you grab has one if you're a beginner. Alternatively, you could use your own razor, and we recommend a safety razor if you're in the market for one.
what to look for
Products: You want to know what you're getting, and while many kits include the usual suspects (cream/gel, aftershave, brush), they can vary slightly across different kits.
Blade Type: If the shaving kit does include a razor, it's important to know the bade type to understand what you're working with. Disposable razors will be the most common, but if you're ready to level up, then a straight or safety razor (with practice) can be a lot better (and more sustainable/cost-effective).
Harry's Shaving Kit
Pros
Choice of shaving cream or gel
Good for traveling
German-engineered razor
Cons
5 blade cartridges cause pulling on certain guy's stubble
Best Budget Kit: Harry's has become the new gold standard for hygiene and personal care equipment for men. The cartridges included in this pack, along with the razor handle, are all German-engineered for both providing a close shave and an ergonomic grip for a more comfortable experience. Made by Harry's in their personal factory and sold at a price that undercuts bigger brands who mass produce their stuff with inferior materials, this is a shaving kit that does it right, down to the natural materials in Harry's shaving cream. This is not just a shave kit, but an investment in a company whose philosophy is one of high quality, low prices, sustainability, and giving back.
Products: Razor handle, three blades, blade cover, shaving gel
Blade: Disposable
Proraso Travel Sized Shaving Kit
Pros
Reasonably priced
Soothing and moisturizing
Good for sensitive skin
Cons
Doesn't come with a razor
Best Travel Kit: This kit is perfect for razor owners and has all the tools you need from one of the most trusted names in classic shaving, Proraso. The shaving brush is made of real boar bristles and can do the job, and you're getting a refreshing pre-shave cream with eucalyptus and menthol. This is complemented with a thick shaving cream that also features the previous ingredients, along with glycerin to keep your skin slick and moisturized, making for an effortless shave. When you're done, you can apply the aftershave balm that has soothing ingredients like green tea and oatmeal to revitalize your skin.
Products: Pre-shave cream, shaving cream, aftershave, boar bristle brush
Blade: None
Dollar Shave Club Shaving Kit
Pros
Great value
Comes with a razor
Ergonomic and easy-to-use razor handle
Cons
Cost of replacements can add up
Best Starter Kit: Dollar Shave Club got started twelve years ago, and has become one of the premier delivery and subscription services for male grooming gear straight to your door. And this kit highlights the company's simple and accessible products, starting with the weighted ergonomic razor handle that comes ready to go with four replacement blade cartridges. Additionally, the included shaving cream is made with coconut oil and aloe juice to give you a smooth and refreshing shave.
Products: Razor handle, four blades, shaving cream
Blade: Disposable
Bevel Shave Kit
Pros
Comes with a safety razor
Great for those with thick/coarse hair
Helps prevent razor bumps
Best Kit for Sensitive Skin: Bevel is a black-owned men's grooming label that understands effective products can be made with stuff that doesn't harm your skin. You're getting all that and more in this kit because it comes with a real-deal safety razor and a shave brush, so you can get a traditional and close shave. This is bolstered by the pre-shave oil that ensures a smooth glide, and the post-shave balm that comforts your skin. They also offer a subscription, so if you love it the first time, you can set up a monthly shipment to keep the party going.
Products: Safety razor, 40 blades, shave brush, pre-shave oil, shaving cream, post-shave balm
Blade: Safety Razor
Parker 96R Safety Razor Shave Set
Pros
Knurling on razor handle
Classic look
Comes with a stand
Cons
Bristles on brush are badger hair (not animal friendly)
Best Safety Razor Kit: If you're thinking about getting into wet shaving, then this is how to start your new, old-school grooming off right. The razor is a classic butterfly safety style that any schmo can use without the slightest bit of background. Per the ideal way to perform a wet shave, the brush is true badger hair which is stiff enough to whip up a rich lather, but soft enough on your skin to prevent irritation during application. Employing a simple stand with a banker's lamp look, this set has a classic turn-of-the-century appearance that is completed with onyx-colored handles accented with chrome.
Products: Safety razor, badger hair shaving brush, stand
Blade: Safety razor
Anthony The Perfect Shave Kit
Pros
Comes with reusable dopp kit
Really nice aftershave
Comes with a face wash
Best Hydrating Kit: For guys who already have the whole razor rigamarole covered, there's this kit from Anthony Logistics. Instead of providing a cutting tool and shave brush, the intent here is to give your skin the best shaving experience possible. Starting off with their glycolic facial cleanser to clean the grime off your face, moving through the pre-shave oil for opening your pores, readying your skin for the act itself, then onto the rich, foamy shaving cream intended to hydrate as it raises your whiskers, and finishing off with a glorious aftershave balm, you'll become a daily shaver whether you need to or not.
Products: Face wash, pre-shave oil, shaving cream, aftershave balm
Blade: None
The Art of Shaving Sandalwood Full Size Kit
Pros
Nice sandalwood scent
Great for dry skin
Tested by dermatologists
Best Kit for Razor Owners: If you already have a trusty razor handy and are just looking for reliable products to elevate your routine, then this kit from The Art of Shaving is worth a look (especially if you're a fan of sandalwood). Every sandalwood product from this label is sustainably sourced from Western Australia's Gibson Desert, a region renowned for the oil quality of its sandalwood. So you're enjoying the natural calming, and nourishing properties of sandalwood in each of the products in this pack, which will keep your skin moisturized and healthy for years to come.
Products: Pre-shave oil, shaving cream, synthetic shaving brush, aftershave
Blade: None
Supply The SE Starter Kit
Pros
Lifetime warranty
Razor and brush are built to last
Good for those wanting to enter the space and to use the best
Best Premium Kit: This husband and wife-ran label had humble beginnings, starting back in 2015 after getting fed-up with products that weren't built to last, and is now one of the leading names in the industry crafting products with longevity in mind. And you're undoubtedly getting a long-lasting safety razor and synthetic brush in this kit, along with soothing shaving cream and aftershave to make for a complete set. Backing up the ethos of the brand, the razor also comes with a lifetime warranty.
Products: Safety razor, eight blades, shaving cream, aftershave, synthetic brush
Blade: Safety razor
The Best Electric Razors for Easy Shaving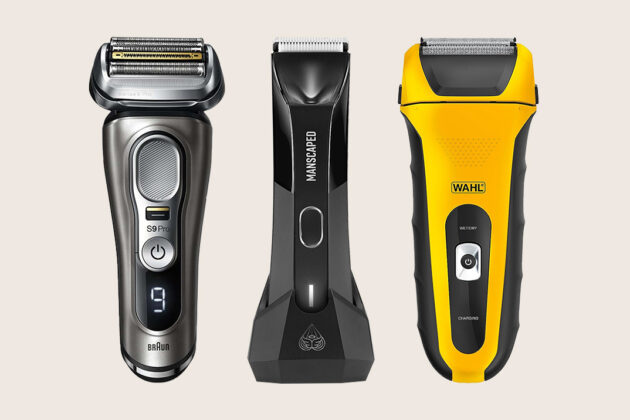 Shaving kits can be convenient, but electric razors are even more easy to use. And our best electric razors guide highlights some great picks.