Once you reach a certain age, you begin to appreciate the finer things in life. Whether it's picking up a luxury watch, a well-made pair of boots, or a quality bottle of scotch, you'll begin to find more enjoyment in superior products. And one area that most guys could benefit from upgrading is their furniture, namely, by investing in a great chair. A beautifully-designed, well-crafted chair will last you a lifetime if you take care of it, and there's no better area to seek out such a piece than in the world of mid-century modern design. The best mid-century modern chairs are timeless works of art that will elevate your space, your comfort, and your wellbeing.
One thing you'll notice when shopping for mid-century modern chairs is that there are a lot of knockoffs floating around. While furniture design sketches can be protected by copyright law, furniture that has been mass-produced based on that original design generally can't be. As a result, you will see much cheaper versions of probably every piece of furniture in this buyer's guide being shopped around under different names online. Regardless of your feelings on that practice, this guide will feature only the original, authorized versions of these iconic pieces out of respect for their designers and for the craftsmanship offered by their high-end manufacturers. So with that clarification out of the way, let's get into the best mid-century modern chairs to buy.
What Is Mid-Century Modern Design?
Despite The Name, It's A Timeless Style
The roots of mid-century modern design go back to the 1920s and 1930s, where it grew out of a combination of the International Style of architecture that was popular in post-WWI Western Europe, and the German Bauhaus school of design. The International Style was known for using simple lines, open spaces, and a lack of ornamentation in its designs, while the Bauhaus Movement strove to make design functional and bring art into everyday life. The mid-century modern movement, which peaked from the '40s to the '60s, essentially combined elements from these older movements at a time when the space age and atomic age had people everywhere excited about the promise of the future.
Mid-century modern design is marked by several attributes. One is its use of clean lines. Designs of the style tend to be expressed either in simple geometric or organic shapes, helping to aid in their timeless quality. The movement also was noted for a lack of decoration or embellishment. While classic styles emphasized opulence, MCM fused form with function and eliminated anything from the design that did not serve a clear purpose. Another forward-thinking part of MCM design was its innovative use of new materials like plastic, aluminum, and plywood, which would be shaped and combined in creative ways to bring furniture well into the 20th century. With the future looking bright in post-WWII America, modern design was seen as both fashionable and necessary, and a number of now-iconic designers were able to flourish in the time period.
Mid-Century Modern Designers
There's No Design Without Designers
Charles & Ray Eames: This American husband and wife are arguably the best-known designers of the era. They were known for their molded plywood and molded fiberglass creations, and their designs include the eponymously-named Eames Lounge Chair and Eames Molded Plastic Rocker.
Eero Saarinen: Finnish-American Saarinen was just as renowned for his work as an architect as he was for his furniture design. Known for his graceful flowing lines, Saarinen designs include the Gateway Arch in St. Louis and JFK International Airport's TWA Flight Center, as well as the Womb Chair and the Tulip Table and Chairs.
George Nelson: A prolific American designer, Nelson's decade spent with Herman Miller in the 1940s and '50s is credited with establishing the furniture manufacturer as one of the driving forces of modern design. A versatile designer of all types of furniture, Nelson's most iconic pieces include the Coconut Chair, Ball Clock, Platform Bench, and Bubble Lamp.
Hans Wegner: Referred to as the "King of Chairs", the Danish Wegner helped popularize the Danish modern style through the more than 500 chairs that he designed in his lifetime. A frequent user of wood, notable Wegner designs include the Shell Chair, the Papa Bear Chair, the Wishbone Chair, and the Round Chair — sometimes referred to simply as "The Chair."
Arne Jacobsen: The Danish Jacobsen was mainly an architect, but his few furniture designs were so impactful that they have ended up defining his legacy. A strong believer in the power of proper proportions, Jacobsen experimented with molding fiberglass in order to create new functional shapes in furniture, resulting in the iconic and distinctive Swan Chair and Egg Chair.
Harry Bertoia: Italian-American Bertoia was more of an experimental artist than a product designer, and that identity carried over into his furniture. Known for his work with metal rods, Bertoia incorporated the material into his art as well as his furniture. His welded metal "wire-frame" line of furniture is his legacy, with pieces that include the Bird Chair, Diamond Chair, Side Chair, and Asymmetric Chaise.
Panton Chair
Today, plastic is generally not considered the most luxurious or rarest material around. But in the mid-twentieth century, plastic was still new and relatively fancy. So when Verner Panton designed a chair that was made entirely out of a single piece of plastic — the first time such a chair had ever been made — people's minds were sufficiently blown. And the chair still looks great today. Although plastic may have lost some of its luster, the satisfying curves and gravity-defying stance of the Panton still turn heads well into the 21st century.
Year: 1967
Designer: Verner Panton for Vitra
Eames Molded Plastic Rocker
The roots of this chair couldn't be more modest, as the Eameses initially designed their plastic fiberglass armchair as an entrant in the Museum of Modern Art's International Competition of Low-Cost Furniture Design. But when paired with the optional rocker base, the chair took on an entirely new identity as the essential high-end piece of furniture for a nursery. The chair endures as a stylish must-have for nurseries today, but it also looks great in any room of the house — babies or no babies.
Year: 1948
Designer: Charles & Ray Eames for Herman Miller
Shell Chair
One innovative new material that shows up frequently in MCM furniture designs is molded plywood, which was a new technique at the time. This then-state-of-the-art tech is what enabled Wegner to engineer this deceptively simple three-leg chair. With its trademark smiling seat, curved back, and relaxed lounge stance, the Shell Chair is one of the more comfortable pieces of art you can have in your home. Available in countless finishes and fabrics, this makes for an excellent low-key statement piece for anyone who doesn't want anything too showy.
Year: 1963
Designer: Hans Wegner for Carl Hansen & Søn
Bird Chair
Among all of Bertoia's wire-based chairs, the Bird Chair is the most unique. Perhaps that's why it's also the most enduring. Bending metal rods into a beautiful form that was 100% functional, Bertoia created an extremely-sturdy, endlessly-usable, and effortlessly-comfortable art piece. Meant to exhibit an airy weightless quality, much like the Industrial Style, the Bird Chair easily blends into any space while, at the same, elevating the style quotient of its environment considerably.
Year: 1952
Designer: Harry Bertoia for Knoll
Coconut Chair
Although Nelson may have been known more for his work on clocks and storage units, Herman Miller's furniture renaissance man also crafted one timeless chair with the Coconut. With its shell base that looks like a slice from its eponymous fruit and its symmetrical tri-corner seat, the Coconut Chair still makes for a striking conversation piece today. But its radical form, unsurprisingly, served a distinct purpose, as the chair was crafted in such a way that people could sit in it any way they wanted.
Year: 1955
Designer: George Nelson for Herman Miller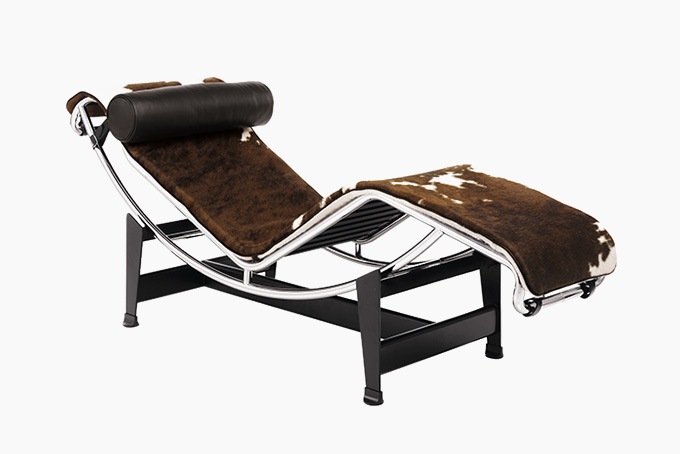 LC4 Chaise Lounge
One of the forerunners to mid-century modern chairs was this chaise lounge, designed by legendary architect and designer Le Corbusier, which paved the way for many of the chairs on this list. An early example of both the "form and function" ethos and drawing inspiration from organic forms, this lounge was designed to conform perfectly to the human body. Nicknamed "the Relaxing Machine," the LC4 does look more like a machine than a piece of furniture, with a design that still appears modern nearly a century after it first appeared.
Year: 1928
Designer: Le Corbusier for Thonet
Swan Chair
Even if you're not sure what mid-century modern design is, chances are that you can look at this chair and guess that it's MCM. Its organic flowing curves and playful design seem like they belong in the swinging sixties. But thanks to Jacobsen's revolutionary design that didn't use a single straight line, the forward-looking Swan Chair still fits in with any contemporary layout. With a swiveling base and slightly-reclined posture, the Swan chair presents itself as a hybrid between an office chair and a lounge chair, and no one would think you crazy if you used it for both.
Year: 1958
Designer: Arne Jacobsen for the SAS Royal Hotel in Copenhagen
Womb Chair & Ottoman
The Womb Chair has a pretty fascinating story behind it, as it was created by one iconic designer for another. Florence Knoll, the designer of arguably the most-recognizable MCM couch in the Knoll Sofa, asked Saarinen to come up with a chair that was like a "basket full of pillows" that she could curl up in. His response was this aptly-named icon that swaddles its inhabitants with supportive and comforting cushioning while still looking about a million times more stylish than any La-Z-Boy.
Year: 1946
Designer: Eero Saarinen for Knoll
Eames Lounge Chair & Ottoman
If you get just one MCM chair, make it this one. Arguably the most-iconic furniture design of the 20th century — it's part of MoMA's permanent collection — the Eames Lounge is still perhaps the most sought-after chair today. Designed to be a refuge from the strains of modern living, the Eameses looked to 19th-century club chairs and, of all things, a first baseman's mitt for inspiration. If you are serious about design, prestige, or even comfort (chiropractors still recommend this chair and ottoman for the near-perfect support it offers), then you need this well-deserved status symbol in your home.
Year: 1956
Designer: Charles & Ray Eames for Herman Miller
Platner Lounge Chair
Few MCM designers were able to mix materials more gracefully than Warren Platner. For his titular Knoll collection, the designer blended steel rods with a foam-padded and upholstered fiberglass shell, choosing to leave the entire frame exposed for maximum contrast. The industrial look somehow managed to maintain a warm and inviting presence, illustrating Platner's master of the craft. Today, the Platner Lounge remains incredibly stylish, further illustrating that good design always endures.
Year: 1966
Designer: Warren Platner for Knoll
Barcelona Chair
Right alongside Corbu and the LC4 is this fellow trailblazer from Ludwig Mies van der Rohe. Extremely simple in concept if not in execution, the Barcelona Chair was created to illustrate that less is more. By mounting a wide, rectangular, sharply-angled seat on a flowing metal x-frame, Mies created a beautiful form that was endlessly functional. Initially created for Spanish royalty, the chair maintains its luxury reputation today, as it still can be found in the lobbies of ritzy hotels and in upscale department stores.
Year: 1929
Designer: Ludwig Mies van der Rohe for the International Exposition of 1929
Corona Chair & Ottoman
There are MCM chairs that are meant to be low-key and blend in with any furniture style, like the Eames Rocker. This isn't one of them. The Corona Chair is a radical design that looks like it fell out of a spaceship. One of the better examples of space-age design, the Corona Chair has starred in many movies (several of them sci-fi), often stealing the scene from its human (or alien) co-stars. But as it's still an MCM piece, the chair's radical design wasn't just for looks. The chair was modeled after a human's spine and ribs, making the Corona just as comfortable as it is head-turning.
Year: 1964
Designer: Poul Volther for Erik Jorgensen
Ball Chair
Like the Corona Chair, this isn't a piece of furniture for fans of subtle designs. Another frequent star of sci-fi films and TV shows and an enduring symbol of the '60s, the Ball Chair might be a little dated compared to the rest of this list but it is undeniably fun. It is impossible to look at this chair and not smile, but again, its funky design also served a purpose. Designer Eero Aarnio needed a large chair and set out to make his own. Aiming for a simple design, he ended up going with the most basic shape there is and created an icon in the process.
Year: 1963
Designer: Eero Aarnio for the Cologne Furniture Fair of 1966
Egg Chair
Rounding out our trio of sci-fi-friendly movie star chairs is the Egg Chair. While it is impossible to sit in this chair and not feel a little bit like a Bond villain, once you get past the kitsch aspect, you are left with one heck of a chair. Molded by Jacobsen using a new-at-the-time technique, the Egg Chair's theatrical wings and hugging curves were meant to offer privacy in public spaces, as the chair was initially designed for hotel use. As a result, sitting in one of these majestic beasts gives you the feeling that you're in your own world, making it a wonderful sanctuary for the rushed lifestyles of today.
Year: 1958
Designer: Arne Jacobsen for the SAS Royal Hotel in Copenhagen
Papa Bear Chair
Although it may not be as iconic as the Eames Lounge or the Womb Chair, this has to be the King of MCM Chairs. From its enormous winged back to its outstretched arms to its seamless blend of sloping curves and sharp lines, the Papa Bear is a lounge chair that demands to be both seen and sat in. It's a statement piece, a comfy companion, and the centerpiece of any living space. This is a chair fit for a king (or a bear, apparently), and while it may be extremely expensive, its inviting nature and comforting presence might just be worth its enormous cost.
Year: 1951
Designer: Hans Wegner for PP Møbler
The 20 Best Side & End Tables For Your Home
A man can not live on chairs alone, and now that you've hopefully picked out your ideal MCM seat, you're going to need some other furniture to place around it. One of the most overlooked but frequently used pieces of furniture is the humble end table, and if you've never given much thought to what kind of end table you need, then have a look at our guide to the best side and end tables for your home.