It's high time we agree that grooming and self-care are not only important to how a man presents himself to the world, but they are also important to longevity and mental health. When you look better, you feel better, which has loads of benefits. For one, you'll exude more confidence, which will likely help you in both your personal and professional life. And, naturally, taking care of yourself will make you more attractive to others (we know you shouldn't gauge your worth by what others think of you, but still, we all want to look good). So, knowing the importance of a solid bathroom routine, we've come up with our guide to the best grooming products for men.
The Best Grooming Products
Best Comb

Kent Apsley Fine Tooth Comb

Best Deodorant

Bravo Sierra Deodorant

Best Bar Soap

Ursa Major Natural Bar Soap

Best Pomade

American Crew Pomade

Best Beard Wash

The Art of Shaving Beard Wash

Best Shampoo

Firsthand Supply Hydrating Hair Shampoo

Best Body Wash

Blu Atlas Body Wash

Best Face Mask

Jaxon Lane Bro Mask

Best SPF Protection

Supergoop! City Serum

Best Moisturizer

Aesop Camellia Nut Facial Hydrating Cream

Best Grooming Kit

Bespoke Post Medium Luxury Grooming Tool Kit

Best Electric Trimmer

Meridian The Complete Package

Best Dapp Kit

Bellroy Toiletry Kit

Best Electric Toothbrush

Philips Sonicare ExpertClean 7500

Best Fragrance

Tom Ford Oud Wood
how we select
There are a near-infinite amount of self-care and grooming products out there for men, and trying to find the right ones can be exhausting and overwhelming. We believe that the process of cleaning and grooming oneself should be about as simple and straightforward as possible. In that vein, we've curated a collection of superior products that are all deserving of a spot in your grooming routine, that we can stand by as enthusiasts in the men's grooming space with over ten years of hands-on experience. We also included mostly natural products that are better for your health and the environment.
What to look for
Ingredients: When it comes to skincare, using natural ingredients is important for maintaining the natural oils, barriers, and overall health of your skin. As the space has evolved, we now know that harsh ingredients like sulfates, phthalates, parabens, aluminum, and mineral oils can be harmful to our skin, so it's best to avoid any products that contain them. Natural ingredients like coconut and jojoba oil hydrate your skin and contain vitamins that can maintain and repair it.
Skin Type: Most products will have info explaining what skin type they work best on, so understand what your skin type is, and make sure to choose your grooming products accordingly. For those with dry skin, skincare products with hydrating ingredients will benefit you, and it's best to avoid anything that contains alcohol. If you struggle with oily skin, stay away from heavy/greasy products that can clog your pores, and exfoliate regularly.
Kent Apsley Fine Tooth Comb
Why It Made the Cut
A comb is one of the most essential tools in your grooming kit, and Kent is a legend in the space (making combs since the 1700s).
Best Comb: Combs provide more precision and uniformity than your fingers when styling your hair while also eliminating tangles and stimulating natural oils on your scalp. As far as combs are concerned, you can't get better or more iconic than Kent's fine-tooth comb. The brand has been making excellent combs since the 1770s, earning the recognition of the Royal Court of England, which makes sense given the quality of its products. Made of plant-based plastic and measuring in at just over 5″, this is the perfect comb to have on you for any last-second styling needs.
Material: Cellulose acetate
Size: 5.4″
Style: Fine-tooth
Bravo Sierra Deodorant
Why It Made the Cut
Smelling your best is made easy with Bravo Sierra's aluminum-free deodorant made with probiotics.
Best Deodorant: Just because it makes the stink go away doesn't mean it's good for you. Most deodorants on the market are loaded with metals like aluminum, and while its use in such products has never clinically been shown to cause health problems, many still feel safer avoiding it. So if you're looking for an all-natural alternative that really works and really smells great, then Bravo Sierra's deodorant is the pick for you. Aluminum-free, baking soda-free, and made with probiotics that kill odor-causing bacteria, this stick will keep you dry, clean, and smelling great all day.
Ingredients: Aloe, algae extract, jojoba oil, ginseng root extract
Scents: Six available
Aluminum Free?: Yes
Ursa Major Natural Bar Soap
Why It Made the Cut
Ursa Major crafts natural, cruelty-free products that are good for the planet and good for your skin, and this additive-free bar soap is no exception.
Best Bar Soap: Ursa Major's Morning Mojo soap bar has a ravenous following for its quality ingredients, crisp smell, and gentleness on the skin. This additive-free bar of soap has invigorating ingredients such as peppermint and coconut, exfoliating volcanic rock, and even moisturizes with shea. With an aromatic blend of peppermint, eucalyptus, rosemary, and grapefruit, the Morning Mojo soap bar is the paraben-free and cruelty-free soap you need to start your day on the right note.
Ingredients: Peppermint, coconut oil, shea butter, volcanic rock
Skin Type: All, dry
American Crew Pomade
Why It Made the Cut
American Crew is a trusted name in men's haircare and grooming, with a pomade that's simple yet effective.
Best Pomade: For 25 years, American Crew has been one of the biggest names in men's haircare products. Their iconic, minimalist label is instantly recognizable, and their products make lifelong customers. This pomade is not a miracle worker and won't hold your hair the way a spray might, but for those aiming for a textured, classic, casual look, you cannot go wrong here. The pomade has a medium hold to keep your hair pliable and easily washes out thanks to its water-soluble formula.
Ingredients: Water-based
Hair Type: All
Hold/Shine: Medium hold and high shine
The Art of Shaving Beard Wash
Why It Made the Cut
In order to maintain a healthy beard, regular washing is essential, and the Art of Shaving's beard wash will clean and condition with hydrating ingredients.
Best Beard Wash: Beards may be in vogue, but if you're not properly taking care of your facial hair, it's going to get stinky. Make sure your beard smells as good as it looks with The Art of Shaving's beard wash. It features ingredients like olive oil, jojoba seed oil, rosemary oil, eucalyptus oil, and even peppermint essential oil to rid your beard of any and all dirt and grime while also conditioning it to be soft to the touch and shiny. The aromatic blend of oils leaves your beard smelling fresh and vibrant, too.
Ingredients: Jojoba seed oil, rosemary oil, eucalyptus oil
Skin Type: Sensitive, all
Scent: Peppermint and eucalyptus
Firsthand Supply Hydrating Hair Shampoo
Why It Made the Cut
This is natural shampoo without any parabens or sulfates from Firsthand Supply, and each bottle is made completely of recycled materials.
Best Shampoo: The biggest shortcoming of your typical cheap shampoo is that it's loaded with parabens and sulfates which wreak havoc on your scalp and overall hair health. Fortunately, Firsthand Supply makes a bonafide, all-natural shampoo that will clean, balance, and strengthen your luscious locks. It's a no-sudd shampoo, so you know the ingredients are all-natural, with inclusions like aloe vera juice, grapeseed oil, and argan oil. To top things off, every bottle is made of 100% recycled materials, so it's as sustainable as it is effective.
Ingredients: Aloe vera juice, grapeseed oil, argan oil
Skin Type: Dry, all
Blu Atlas Body Wash
Why It Made the Cut
This all-natural body wash from Blu Atlas is
Best Body Wash: Blu Atlas is undeniably great and its body wash is recognized throughout the industry as one of the best on the market. It features an all-natural formula with nutrient-rich ingredients like green tea, sugar cane, and aloe vera for a deep, thorough clean that also moisturizes your skin. It also has coco-caprylate gel in it, which is proven to soften the skin. If you have dry skin or you're just in the market for an all-around body wash, you can't go wrong with Blu Atlas.
Ingredients: Green tea, sugar cane, aloe vera
Skin Type: Dry, all
Jaxon Lane Bro Mask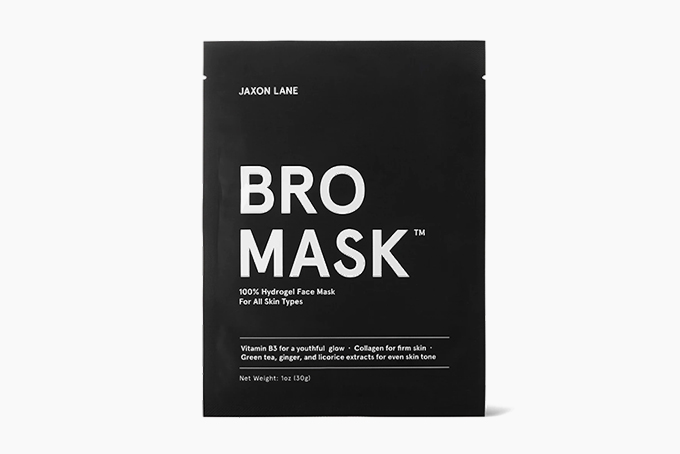 Why It Made the Cut
This hydrogel face mask is free of any harsh ingredients, and has plenty of vitamins that will will rejuvenate your skin.
Best Face Mask: The idea that wearing a hydrating face mask will make you less of a man is as close-minded as it is short-sighted. Thankfully, that paradigm is beginning to fade away, and we have companies like BRO MASK to thank for that. The masculine mask maker created a hydrogel face mask to lock in moisture, invigorate the skin, and heal wounds to make your face brighter, cleaner, and healthier. The masks have no parabens, phthalates, or sulfates and are packed with a ton of vitamins, minerals, botanicals, collagen, and antioxidants.
Ingredients: Collagen, vitamin B3, green tea
Skin Type: All
Count: 4
Supergoop! City Serum
Why It Made the Cut
Supergooop's SPF serum doesn't just protect you from the sun, it also has anti-aging properties and is reef safe.
Best SPF Protection: It's an unfortunate truth that the sun, while essential to life, does a number on your skin. UV radiation is the wrinkle-inducing and cancer-causing culprit in the sun's rays, which makes using a reliable sunscreen on a regular basis all the more important. As far as sunscreens are concerned, Supergoop!'s is second to none. Its City Serum sunscreen offers a non-greasy, non-comedogenic formula that's proven to protect your skin from UVA and UVB rays. Plus, it acts as an anti-aging moisturizer and is reef-safe, so it's as effective of a choice as it is a sustainable one.
Ingredients: Vitamin E, vitamin B5
SPF: 30
Features: Anti-aging
Aesop Camellia Nut Facial Hydrating Cream
Why It Made the Cut
One of the leaders in luxury skincare, Aesop comes through with a natural moisturizer that's great for dry skin.
Best Moisturizer: There aren't many skincare companies with the same kind of clout as AESOP. In particular, the luxury brand's Camellia Nut Facial Hydrating Cream is not only one of AESOP's best products, but it's also one of the best face creams on the market. It is packed full of all-natural, skin-fortifying ingredients like camellia nut extract, chamomile bud, and rosemary leaf that soothe, hydrate, and repair your skin. The company even tossed in some sandalwood for a luxurious yet subtle aroma.
Ingredients: Chamomile bud, sandalwood, rosemary leaf
Skin Type: All, dry, sensitive
Bespoke Post Medium Luxury Grooming Tool Kit
Why It Made the Cut
This comprehensive grooming kit from Bespoke Post comes in a vegan leather case and has enough tools to cover pretty much everything.
Best Grooming Kit: When it comes to grooming, the devil is in the details. While razors, creams, and soaps will cover most of your needs, there are still little things that you'll need tools for. To de-uni that brow, clip those nails, trim that cuticle, or scrape off that weird patch of skin you don't want people noticing, Bespoke Post offers a comprehensive grooming kit that will equip you with all the small-level tools. The twelve stainless steel tools come in a handsome brown leather case and will make taking care of your hands, feet, and face a breeze.
Material: Vegan leather
Contents: Nail clippers, toenail clipper, cuticle nipper, nail file, nail cleaning pusher, tweezers, scissors, ear pick, dead skin fork, acne needle, brush
Meridian The Complete Package
Why It Made the Cut
This all-around trimmer works both above and below the belt (and it's also waterproof).
Best Electric Trimmer: We've covered the face, nose, brows, and top of the head, but for some men, their grooming needs extend south of the collarbone and south of the beltline. For those guys, or anyone needing to tackle unruly hair in sensitive areas, we recommend Meridian's Complete Package. Cheeky name aside, this two-piece kit works wonders. Its trimmer boasts ceramic blades that don't pull, helping to ensure a clean, safe, and painless shave, while the spray leverages moringa seed extract, green tea extract, and ginkgo biloba nut extract to keep everything clean, dry, and smelling fresh.
Uses: Chest, Beard, Groin, Armpit
Features: Ceramic blades
Battery Life: 90 minutes
Bellroy Toiletry Kit
Why It Made the Cut
A water-resistant toiletry bag from Bellroy made of environmentally-certified leather and recycled fabric.
Best Dopp Kit: At some point, you are going to leave your home, which means you're going to have to take a good amount of these products with you. We recommend Bellroy's Dopp kit for all of your toiletry-transporting needs. It features a premium environmentally-certified leather and recycled fabric construction and water-resistant lining for easy cleaning. Inside, its toothbrush sleeve with magnetic closure will keep your brush safe, while its mesh-lined pockets allow for easy organizing.
Material: Leather
Size: 230 x 135 x 80mm
Features: Internal mesh pockets, toothbrush sleeve
Waterproof?: Water-resistant
Philips Sonicare ExpertClean 7500
Why It Made the Cut
An electric toothbrush gives your teeth a better clean, and the Phillips Sonicare lineup never disappoints.
Best Electric Toothbrush: You only get one set of chompers, so it's crucial to take care of them while you can. If there ever were a grooming or hygiene product to splurge on, it would be the Philips Sonicare ExpertClean 7500 toothbrush. This high-tech dental device has been one of the go-to toothbrushes for dentists for as long as it has been around. It removes up to ten times the amount of plaque that a normal toothbrush does, has four modes with three intensities, and even gives you a progress report on how you can improve your brushing habits. If all of that isn't enough, it comes with a UV sanitizer to eliminate any bacteria that are living in your brush.
Bristles: Medium
Features: Four modes, pressure sensor, replacement sensor
Tom Ford Oud Wood
Why It Made the Cut
The legendary Tom Ford's woodsy cologne thats perfect for the upcoming fall season.
Best Fragrance: If you had to have one fragrance for the rest of your life, you could do a whole lot worse than Tom Ford's Oud Wood. The scent evokes the feeling of walking through smoky woods, featuring a mix of sandalwood, rosewood, eastern spices, and amber, with the star of the show of course being the titular oud — one of the fragrance world's rarest and most-prized ingredients. Regardless of how many sensual, smoky woods you've visited lately, this eau de parfum is heralded as one of the best out there for its unique, sophisticated, and rich aroma.
Strength: EDP
Key Notes: Oud wood, sandalwood, Chinese pepper
The Best Shaving Kits for A Total Shave
Looking for more essentials in one spot? Our best shaving kits guide covers picks that have everything you need for the perfect shave.