If you're a guy who truly cares about the way you look, you're not going to the supermarket to buy your supplements. Let's face it, the pursuit of healthier skin, a more refined/Hygenic feel, and daily skincare products can be a bit of a buzzkill if you're looking for a quick, well-rounded way to knock out every aspect of your regimen at once. The deeper you dive into the world of topical treatment, the more you're going to catch on to the fact that there is no such thing as a "miracle product," which means that you're going to have to do some hard lifting to find out who, what, and why your next go-to formula is worth its weight in salt.
Since these things can get wildly out of hand, there are guys who have devoted their entire lives to the understanding of how we (and in turn, they) tick. What are the differences between men's hair, and women's hair? What makes our skin act in an entirely different way? What's needed to tame our own unique problems, conundrums, and complexities? Whether it's a scientific approach, or something a bit more natural, a handful of the world's foremost grooming companies have taken center stage when it comes to the healthy revitalization of our skin, hair, and spirit. Below, we've outlined a number of our favorite men's grooming companies and given you a brief look into why they're so renowned within the male-focused space.
Aesop
As one of the most prominent grooming companies to come out of Australia in the past 30 years, Aesop has fostered an undeniable reputation for its commitment to transparent production. Known for its widespread investigation (and implementation) of plant- and laboratory-based ingredients, the cutting-edge outfit has continuously raised the bar for customers looking to deviate from the large, corporate backings of the skin, body, and haircare realms. As such, the brand has been formulating some of the world's best grooming products since its conception in 1987, practicing safety, innovation, and most importantly, mindfulness. Pair those traits with some of the most appealing bottle designs in the space, and you've got a perfect formula for ever-increasing followership.
Anthony
Anthony may not be the oldest of the bunch, but the New York-based grooming company has certainly made its mark in the 20 short years that it's been around. It was founded by Anthony Sosnick in 2000, and after an extensive evaluation of the industry, it saw the opportunity to fill a niche that many product-based brands were shying away from — men's grooming. To capitalize on the lack of male-focused hair, body, and skincare products, Anthony took inspiration from the vast landscape of women's products that were available at the time, adapting them for use by men everywhere. As a result, the company began to trade in the unison of natural ingredients, laboratory-based breakthroughs, and botanical extracts, offering guys a "solution" to the problems that they'd been facing within the self-care industry during the time. Twenty years later, and the brand is still innovating on male-savvy supplementation — albeit, with a much larger following.
Baxter of California
Baxter of California has been helping guys with their most pressing skin, hair, and shave essentials since 1965, and with a legacy like that, you can expect nothing but the best. Each of the brand's products has been carefully crafted, devised, and curated, bringing a series of signature items to the forefront for guys who want to use what the pros use. Don't believe us? Each of the brand's premium products is tested day-in and day-out at its award-winning Baxter Finley Barber + Shop location in Los Angeles, where it's been put through the paces to ensure that it performs on par, every time. If you're looking for hair and skin care products that have been devised to capitalize on that old school, barbershop feel, then search no further.
Learn More: Baxter of California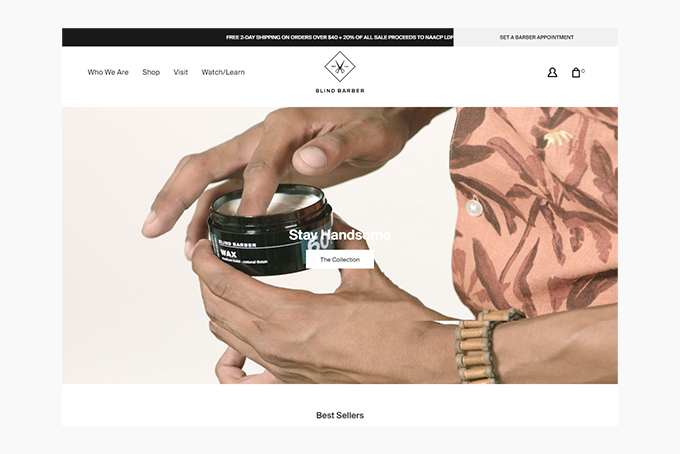 Blind Barber
Unlike a lot of the other brand's on our list, Blind Barber focuses on one thing, and one thing only: haircare. Whether it's the hair on your head, or the hair on your face, the outfit has you covered, thanks to their high-quality products. What started out as a small, two-chair operation in the heart of East Village in 2010, quickly became one of the most lauded grooming companies in the United States, with locations in Los Angeles, Miami, Chicago, Philadelphia, and others. Through it all, Blind Barber has remained committed to the community, referencing its early roots as a location for friends, family, haircuts, and kick-backs. In a world full of larger corporations looking to make a quick buck, it's refreshing to have original, hard-working folk — like those at Blind Barber — in the spotlight.
DECIEM NIOD
DECIEM NIOD, who? Regardless of the abnormal name, this amazing segment of DECIEM's beauty and wellness line is an integral aspect of the skincare industry. Instead of focusing on the same unoriginal formulations and products that are being copied, pasted, and remarketed under different brand names, NIOD focuses on the chemistry behind supplemental care — literally. Each of the brand's scientifically-formulated products belongs to a specially-crafted regimen, including a Core, Survival, and Support line. Within, unique balms, creams, spreads, and cleansers are offered, each with their own proprietary traits to help you nurture your skin back to perfect health. That being said, the company is still relatively young. It was founded in 2013, and since then, it's become one of the most talked-about participants in the grooming industry. Good (or bad), we're keeping an eye on their ever-evolving story.
Detroit Grooming Co.
Like Blind Barber, Detroit Grooming Co. is all about men's hair care and grooming products. Buying grooming essentials from bigger companies is all good and well, but if you're serious about the true upkeep of your treasured beard, mustache, or hair, you're going to want to stick with the guys who have been dealing with it for years. Their catalog is chock full of essential items, including combs, butters, oils, grooming kits, and hair care products, just to name a few. Following their initial launch, which focused primarily on the health and wellness of guys' facial hair, the brand has since expanded into the realms of personal care, skincare, and others, boasting a conscientious mission for value, quality, and sustainability, thanks to their flora/fauna-conscious ingredients.
Learn More: Detroit Grooming Co.
Fulton & Roark
Fulton & Roark began its long career as a fragrance-focused brand that placed men at its forefront. Its mission to create tried-and-true products that didn't smell cheap, perfume-like, or forgettable, was a noble one, and eventually, the brand's engineers would strike figurative gold. Following the introduction of their traditional, travel-friendly spray colognes in 2013, Fulton & Roark turned its attention to other aspects of the genre, developing various shaving products and formulas, as well as a widely-acclaimed body wash suite. For them, fragrance design became an obsession — a connection to the past, and a gateway to the memories that men would make at different points in their lives. Honestly, it's all a bit "over our heads," but if there aren't companies out there who dive deep into the minutia of transcendental grooming products, who will? For that, Fulton & Roark, we salute you.
Grown Alchemist
There are grooming companies that pride themselves on the creation of natural, non-invasive products, and there are companies that exist to push the envelope when it comes to innovation, creation, and advancement. Grown Alchemist, as you might surmise, is of the latter opinion, renouncing its adherence to the finely-placed boundaries of traditional skin, hair, and body care, in an effort to thrive. With science at its back, this unique outfit utilizes a thorough understanding of cellular renewal, nutrient metabolization, pharmacology, dermatology, genetics, and medicine to create something that can only be described as "revolutionary." That's not to say that the brand doesn't focus on the holistic application of its ingredients, however. To augment its interesting formulas, washes, and supplements, Grown Alchemist seeks to leverage the body's natural aging process in its endeavors, bringing a greater understanding of the intricacies of self-care.
Harry's
Harry's is a constant inclusion on many of our grooming-focused lists — and for good reason. Not only does the brand promote the best that the industry has to offer when it comes to shaving, complexion, shower, and hair care, but it's also one of our favorites for genre-savvy accessories. Each of the company's products is undeniably eye-catching, but for those who don't care much about the aesthetic qualities of their grooming items, never fear — it performs equally as good as it looks. From its earliest days, Harry's has maintained its never-ending mission to create the finest grooming items in the industry, thanks to its talented team of engineers, designers, craftsmen, and chemists, who place male-focused utility at the forefront. Don't believe us? Head over to their website to learn a little bit more about one of the most integral outfits in the men's grooming space.
Jack Henry
If you've ever asked yourself why you'd settle for less when applying your "favorite" facial creme, cleanser, or formula, then you'll fit right in with Jack Henry's target demographic. Don't worry, they came to that exact conclusion at one point. Instead of sitting back and accepting the fact that many of the grooming world's products were inefficient, ineffective, and potentially harmful, the brilliant minds behind this tasteful brand decided that it might be worth the effort to create something clean, simple, and trustworthy. So, that's what they set out to do. To achieve its mission, the brand opted to bypass the admittance of scientists, chemists, and other outside influences. Instead, they focused on hand-crafted skin, hair, and body products, while emphasizing natural ingredients that have been proven to benefit the body in a number of ways. If you're looking for a brand that doesn't care about all of the additional complexities while creating their unique, one-of-a-kind products, Jack Henry is your go-to.
Kelsen
When Kelsen burst onto the men's grooming scene, it made waves. That's not an understatement, considering it was co-founded by some of action sports' biggest names, including the likes of skateboarding's Curren Caples and Sean Malto, as well as professional surfers Mikey February, and Jack Freestone. Its mission? To provide guys everywhere with clean, organic products that are free of synthetics and fillers, promote natural scents, like the brand's chypre cedar, and rid the planet of harmful microplastics that find their way into our planet's waterways. On top of that, Kelsen is committed to the health and upkeep afforded by our world's oceans, introducing ingredients like organic kelp, sea holly, and sea rock fennel consciously-harvested from coasts in the most fruitful locales. Pair that with one of the best design terminologies in the industry, and you'll see why Kelsen has already made such a big impact in its short lifespan.
KEVIN.MURPHY
KEVIN.MURPHY might be one of the more egregious on our list, but when it comes to skincare, they've got what it takes to compete with the industry's finest. Each of the brand's well-formulated products boasts a commitment to performance, strength, and longevity, pairing a healthy understanding of the world's most utilized skincare and hair care products with a design-focused approach that's as eye-catching as they come. With a focus on environmental friendliness, natural, consciously-sourced ingredients, and high-profile inclusivity, KEVIN.MURPHY's talented engineers seek to strike the perfect balance between scientific knowledge and natural implementation. If you're one for fashionable, style-focused supplementation, this is the brand for you.
KOA
KOA believes that ideals are important, but practicing what you preach is something else entirely. Instead of flaunting the best products in the industry, and touting the most efficient processes to give its self-care essentials a leg up on the competition, it lets its products do the talking. Evaluated as a more effective and elegant approach to skincare, the brand's sustainable (and environmental) acuity is second to none, especially when it comes to functional, low-impact formulas like sunscreen, toner, cleanser, and moisturizer. There's also a smaller focus on innovative, scientific breakthroughs here. Instead, KOA wholeheartedly focuses on its Hawaiian and Japanese lineage, introducing natural ingredients like Kuku Nut, Giant Seaweed, and Yuzu into many of its life-enriching products.
Malin + Goetz
Malin & Goetz is yet another advocate for advancement and technology within the men's grooming space. One look at the company's well-manicured container, and you'll be able to tell that it doesn't mess around when it comes to the fostering of great-looking things, including your face, body, and hair. Each of the brand's products has been inundated with hydrating amino acids, botanically-derived fatty acids, and other sustainable ingredients, helping to minimize its carbon footprint, while keeping your skin moisturized and healthy. The most important part of M&G's mission, however, is its approach. Instead of boasting its roots as a luxury-focused skincare company, the brand takes a more unconventional route, focusing instead on uncomplicated formulas, intuitive systems, and simplified regimens that take the guesswork out of obtaining a healthier appearance.
Triumph & Disaster
We're rounding out our list with Triumph & Disaster — a company that prides itself on the pairing of science and nature. Without straying too far from either path, T&D's interesting line of products has been devised to strike the perfect balance between them, calling upon ingredients like the local (and indigenous) Horopito oil, Ponga fern, and Australian clay, all the way to more scientifically-renowned inclusions like Jojoba extract and Tamanu oil. That aside, the outfit has made numerous strides to maintain transparency with its consumer base, boasting one of the most respectful, natural, and sustainably-sourced reputations within the modern-day men's grooming space.
Learn More: Triumph & Disaster
The 15 Best Shampoos For Men
Keeping your locks and your scalp healthy is a really great first step toward properly managing your grooming routine. But you're not going to be able to manage that properly unless you pick up one of the best shampoos for men.