It doesn't take an expert jet-setter to know how inefficient and woefully misguided haphazardly tossing a loose assortment of toiletries into a larger suitcase is when traveling. Not only can grooming products hugely benefit from some basic storage and organization, but a separate carry solution also ensures that, should your toothpaste, beard oil, or shampoo open mid-trip, it won't seep into the rest of your travel bag's contents. For these reasons, dopp kits have increasingly become a bonafide travel staple, however, with so many different available models, it can be hard to even know where to begin when shopping. So, with this in mind, we've thoroughly scoured the space in order to highlight a handpicked array of the best dopp kits for travel.
The Best Dopp Kits For Travel
Best Eco-Friendly Pick

Bellroy Toiletry Kit

Best Overall Pick

Peak Design Wash Pouch

Best Ultra-Rugged Pick

DSPTCH Dopp Kit

Best All-Weather Pick

Aer Dopp Kit 2 X-Pac

Best Hanging/Suspended Pick

HEIMPLANET Carry Essentials Dopp Kit

Best Minimalist Pick

Tanner Goods Drifter Dopp Kit

Best USA-Made Dopp

KILLSPENCER Dopp/Folio 2.0
A Solid Toiletry Travel Companion
What Factors Should One Explore When Shopping For A Dopp Kit?
While on the surface, it may look like Dopp kits differ very little from model to model, however, the reality is that, there are actually a handful of finer points that should be taken into account when shopping for one. Below, we've broken down a few of the most crucial areas to think about before buying a new Dopp kit for travel.
Video Review: The 7 Best Dopp Kits
If you're looking to go deeper on the subject matter, be sure to check out our best dopp kits video on YouTube.
Primary Construction: Just like with regular backpacks or duffel bags, the overall quality and durability of a Dopp kit will primarily boil down to the materials used to craft its shell, as well as the construction technique — or techniques — used to piece that material together. While some manufacturers opt for ultra-rugged ballistic-grade shells, the truth here is that a Dopp really doesn't need to exhibit the same level of strength or durability as the larger travel bag or suitcase that it will be carried in — though it never hurts. While discussing shell materials, it's also worth mentioning that some Dopps have been further fortified through the addition of PU or DWR coatings.
Secondary Materials: Alongside a Dopp's shell construction, it's also worth exploring the material used for the shell's liner. Likewise, if a Dopp kit has internal pockets or dividers, it's also worth looking into the materials used for these items as well.
Hardware: In addition to primary and liner constructions, another area that hugely distinguishes the more premium Dopps on the market from their more budget-friendly counterparts is the type of hardware being used. This includes elements such as a Dopp's zipper tracks, along with any buckles, hardware, or additional attachment points it may have.
Size: While Dopp kits do tend to be fairly small — boasting just enough room to accommodate one's grooming essentials – they can nonetheless vary in size and shape. What's more, on top of offering Dopps in a variety of colors, some companies also sell the same Dopp kit in multiple sizes.
Waterproofing: While Dopp kits don't need to be able to withstand a complete submerging, they should be weather/water-resistant enough to shield the rest of your travel bag's contents from damage should a grooming product accidentally open or explode while in transit. On the flip side of the coin, this same ability typically affords Dopp kits the ability to also protect its contents from outside rain or moisture.
Integration: Though pretty much every Dopp kit on the market will fit into a regular backpack or piece of hard luggage, some have been designed specifically to be compatible with existing travel bags. Additionally, some Dopp kits feature elements such as MOLLE webbing that allow for easy attachment to all manner of other carry solutions.
Organization: A Dopp kit's job isn't merely to store all of your toiletries but also to provide organization — a task that's typically accomplished through the use of a series of pockets, slips, dividers, and loops for accommodating grooming supplies and other small items and travel essentials.
Selection & Testing Process
How & Why We Got Hands-On With These Particular Dopp Kits
The vast majority of the best Dopp kits on the market benefit from experience and knowhow their makers have obtained producing larger bags and carry solutions, so we began our search by first looking to some of our favorite backpack brands in order to get a sense of what was available. Once we'd reviewed this space, we started making our initial picks largely on the strength of each model's size, materials, and features and amenities. From there, we began honing in on more specific details such as each dopp's hardware and trim. Using these traits to guide our search, we then made our picks for the specific Dopp kits that we'd be testing.
Once getting each Dopp kit in hand, we began exploring in model in depth, examining every Dopp's construction, build quality, and overall fit and finish. From there, we kicked off the actual field-testing portion of our process in an effort to discover how each Dopp kit performed in the real world, looking into factors such as how well-designed each model's internal organizational amenities are, the level of waterproofing offered, if the Dopp includes an element that allows it to be hung or suspended. Long-term testing also lead us to uncover how easily each Dopp can be cleaned. Lastly, with access to a myriad of different Dopp kits during our testing process, we eventually began exploring how well these Dopps were able to lend themselves to other uses and applications — such as carrying tech essentials or pieces of EDC gear — as this shined a light on the level of versatility offered by each dopp (which also furthers said Dopps' value and bang for your buck).
Bellroy Toiletry Kit
Pros
Sustainably manufactured from eco-friendly materials
Has toothbrush sleeve w/ magnetic closure
Super easy to clean
Features water-resistant shell & liner
Great trim and fit & finish
Cons
Minimal internal organization amenities
Shell lacks durability of other Dopps on this list
Best Eco-Friendly Pick: Simple and streamlined, the Bellroy Toiletry Kit is a small, 8.6" x 5.11" x 2.75" Dopp that conceals a host of organizational amenities beneath its single full-length zipper track including several nylon loops, internal mesh pockets, and a toothbrush sleeve with a magnetic closure.
Boasting a flexible structure, the Toiletry Kit is crafted around a water-resistant, woven nylon shell that's 100% derived from recycled materials and paired with a water-resistant lining. Sold in black, bronze, navy, or slate color options, this item is decorated in a Bellroy logo patch and comes backed by a three-year warranty.
Shell Material: Recycled Woven Nylon
Volume: 1.9L
Peak Design Wash Pouch
Pros
Crafted around weatherproof DWR-Impregnated 200D nylon canvas shell
Has stowable aluminum hook for hanging
Features Burly #8 weatherproof UltraZip zippers reinforced w/ UHMPE threading
Backed by lifetime warranty
Loaded w/ pockets, slips, & organizational amenities
Cons
Unbalanced when hanging depending on how it's loaded
Best Overall Pick: The Peak Design Wash Pouch is an award-winning Dopp kit that boasts an incredibly calculated and intuitive design. Made from recycled materials, the Dopp features weatherproof #8 zippers and a waterproof shell made from a proprietary abrasion-resistant, DWR-impregnated 200-denier nylon.
Inside, this item features five interior silicone-coated mesh pockets, a pair of open storage spaces for larger items, a magnetically-sealed toothbrush pocket with a pull-out lining, and an interior zip pocket for smaller items. Additionally, the outside of the Dopp sports a stowable aluminum hook for hanging, an exterior grab handle, an external zipper-secured pocket, and zippers reinforced with UHMPE threading.
Shell Material: Recycled Weatherproof DWR-Impregnated 200D Nylon Canvas
Volume: 2.5L
DSPTCH Dopp Kit
Pros
Backed by lifetime warranty
Sold in 8 color options
Has multiple fully-divided compartments
Features integrated removable padded EDC valet tray
Designed specifically for short & long-term travel
Cons
Would benefit from waterproof zippers
Removable EDC tray is cool but superfluous for toiletries
Best Ultra-Rugged Pick: Backed by a lifetime warranty, the DSPTCH Dopp Kit is an incredibly durable, over-engineered take on a travel toiletry bag that's crafted from ballistic-grade nylon. Measuring 9″ x 4″ x 4", this Dopp's main compartment is equipped with numerous elastic organizers, a dual access mesh pocket, and a trio of elastic slots that were designed specifically for storing travel-sized liquids and containers.
Alongside its ultra-rugged shell construction, another feature that sets this model apart from other Dopps on the market is its removable padded valet tray, which provides a parking spot for all of your EDC even when jet-setting or on the road. Best of all, the DSPTCH Dopp kit is made entirely in America.
Shell Material: Ballistic-Grade Nylon
Volume: 2.3L
Aer Dopp Kit 2 X-Pac
Pros
Crafted around insanely rugged & 100% waterproof VX-42 sailcloth shell
Equipped w/ YKK AquaGuard zippers w/ custom Aer-branded pulls
Great organizational features
Water-resistant hi-viz orange liner makes finding contents a breeze
Also offered in 1,680D ballistic-nylon version
Cons
Side & back carry handles seem unnecessary
Exclusively offered in black colorway
Best All-Weather Pick: Tipping the scales at only half a pound while providing some 2.6 liters of internal storage space, the Aer Dopp Kit 2 X-Pac is another extremely well-thought-out and extremely hardwearing Dopp. This second-generation item is constructed around a ridiculously rugged Dimension-Polyant X-42 X-Pac sailcloth exterior shell before being outfitted with YKK AquaGuard zippers and a water-resistant high-visibility orange interior liner.
The interior of Aer's latest Dopp gets a dual compartment setup with a bevy of pockets and organizers and a toothbrush holder — though there's also a second exterior toothbrush holder. Other exterior highlights on this Dopp include ballistic nylon side and back carry handles, reflective zipper pulls, and a quick-access front pocket. Aer also produces a $49 version of its second-gen Dopp Kit with a 1,680-denier ballistic-grade CORDURA shell.
Shell Material: X-Pac VX-42
Volume: 2.6L
HEIMPLANET Carry Essentials Dopp Kit
Pros
Crafted around rugged yet eco-friendly dope-dyed DYECOSHELL
Features unparalleled internal organizational amenities
Includes built-in mini mirror
Utilizes suspendable unfolding dual-pocket three-panel design
Equipped w/ premium YKK Water-R zippers & aluminum hook Stellar fit & finish
Cons
Expensive price
Offers substantially less storage space than most other Dopp kits at just 1.5L
Best Hanging/Suspended Pick: Also known as the Taschen Carry, the HEIMPLANET Carry Essentials Dopp Kit is a high-end travel toiletry bag that's been designed to double as a tech and cable organizer. The Dopp is made from DYECOSHELL — an eco-friendly dope-dyed, PU-coated 800D x 650D nylon.
Boasting an unmistkably premium fit and finish, this Dopp also features a 300D x 150D fabric-dyed polyester lining as well as beefy and weatherproof YKK Water-R tracks that unzip, allowing the Dopp to open into three main sections. Each of these compartments contains a plethora of loops, slips, and mesh pockets. This Dopp also features a hanger system that allows it to grant access to all three compartments while suspended.
Shell Material: DYECOSHELL
Volume: 1.5L
Tanner Goods Drifter Dopp Kit
Pros
Produced by boutique brand in small batches
Boasts heirloom-quality craftsmanship
Made by hand
Features super-premium hardware & trim
Offers ample storage space at nearly 3-liters
Cons
Limited organizational amenities
Best Minimalist Pick: A high-end Dopp design brought to fruition using modern materials and old-world craftsmanship, the Tanner Goods Drifter Dopp Kit features a shell composed of a top-shelf amalgamation of DWR-coated black English Bridle leather and Konbu fabric — the latter of which is an ultra-lightweight yet rugged Japanese-made proprietary fabric that's spun from CORDURA fibers.
Inside, the Dopp gets a pair of interior organizational pockets while the shell's exterior has been decorated in black-anodized brass press-fit rivets, a button stud, and one of Tanner Goods' signature lanyards. Also currently offered in numerous waxed canvas variants, this Dopp is also designed in Portland, Oregon and handmade in León, Mexico.
Shell Material: Bridle leather & Konbu Fabric (Or Waxed Canvas)
Volume: 2.9L
KILLSPENCER Dopp/Folio 2.0
Pros
Can be unsnapped from Dopp into travel sleeve
Designed and handmade is Los Angeles
Equipped w/ top-shelf Swiss-made Riri zipper
Can fit small laptops & tablets like the 11" MacBook Air
Offered w/ optional custom monogram
Best USA-Made Dopp: The KILLSPENCER Dopp/Folio 2.0 is a classically-styled toiletry bag that hides a few contemporary tricks and features up its sleeve. Weighing just 1.5lbs, this Dopp is made in America from premium full-grain leather and boasts a waterproof white tarpaulin liner, a Swiss-made Riri zipper, Pull-The-Dot button snaps, and an interior slip pocket.
Interestingly, this Dopp also comes with an included tech folio that can accommodate tablets or smaller laptops such as the 11" MacBook Air. The top-notch level of craftsmanship on display and the overall fit and finish also help to further separate this spare-no-expense pick from other Dopp kits on the market.
Shell Material: Full-Grain Leather
Volume: 3.0L
The Rest
Supplementary Dopp Kit Selections
Topo Designs Dopp Kit
Produced in more than a dozen different colorways, the Topo Designs Dopp Kit is a minimalistic toiletry case with a vintage-inspired design. Offering three liters of internal real estate, this Dopp is constructed from a 1,000-denier nylon shell before being paired with a 400-denier coated nylon pack cloth liner (or a 210D recycled nylon lining on some color variants). This item also features a triangular self-standing shape that enables it to sit upright, thereby granting easier access to its main interior pocket. Other highlights on this model include heavy-duty YKK zippers with paracord hook and loop zipper pulls, webbing pull tabs, and a webbing wrist strap and handle loop combo.
Shell Material: 1,000D Nylon
Volume: 3.0L
Everlane Renew Catch-All Case
The Everlane ReNew Catch-All Case is a fashion-forward yet functional take on a Dopp, with a unique closure system that relies on a main zipper which can be rolled back when in transit then snapped down when in use. Made from recycled materials, the ReNew Catch-All Case features a shell and liner that are crafted from polyester with a fluorine-free water-resistant finish and colored using bluesign-approved dyes. On top of an exterior zippered pocket, the interior of this Dopp also boasts five drop-in pockets. Sold in a trio of color options, this item has also been bestowed with custom Everlane-branded metal zipper pulls. 
Shell Material: DWR-Coated Recycled Polyester
Volume: 3.0L
Timbuk2 Transit Dopp Kit
The Timbuk2 Transit Dopp Kit is an unmistakably modern interpretation of a Dopp with a sleek exterior design. This toiletry bag features a recycled nylon shell mated to a water-resistant lining. What's more, the Dopp has also been outfitted with a zipper guard-equipped main track, a flat interior pocket, and a webbing grab handle. Offering a whopping 4.9 liters of storage space, this Dopp kit also comes backed by a lifetime warranty.
Shell Material: Recycled Nylon
Volume: 4.9L
Mystery Ranch Spiff Kit
A fully-packable travel bag, the Mystery Ranch Spiff Kit is a lightweight yet adventure-ready Dopp that boasts two liters of storage space while weighing just 0.3lbs. This impressive volume-to-weight ratio is owed to the use of a shell made from a 210-denier Hitra ROBIC Nylon 6 square grid ripstop. It doesn't end there, however, as this Dopp kit also sports a full liner, a #8 YKK main zipper, #5 YKK interior zippers, side handles, a deployable swivel hook, overlapping vertical and horizontal elastic loops, a bevy of internal mesh pockets, and divided zippered pockets with both a layered internal division and an elastic loop. Mystery Ranch also produces a much larger, 6.3-liter version of the Spiff Kit.
Shell Material: 210D Hitra Robic Nylon
Volume: 2.0L (or 6.3L)
Billykirk No. 258 Standard Issue Toiletry Bag
The Billykirk No. 258 Standard Issue Toiletry Bag is a retro-inspired Dopp that's modeled after vintage military gear. Made in New Jersey, the Dopp starts with a 10.10oz waxed canvas shell before being paired with a vegetable-tanned full-grain leather bottom and a water-resistant nylon lining. Rounding out this Dopp is a Billykirk logo patch, a nylon zipper with a metal pull, and a tubular webbing handle. Weighing in at only 0.3lbs, this item is also produced in six different colors.
Shell Material: 10.10oz Waxed Canvas & Full-Grain Leather
Volume: 2.1L
The Best Travel Backpacks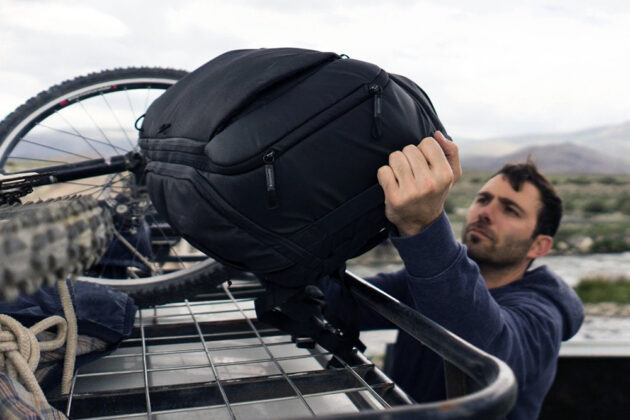 Don't yet have a primary travel storage solution? Then be sure to check out our guide to the best travel backpacks for a handpicked list of more than a dozen of the latest and greatest flight-ready packs.