When you're enjoying the great outdoors, sometimes a shower just isn't in the cards. Enter the modern body wipes, the ultimate in one-stop mobile grooming. In addition to leaving you feeling refreshed and renewing your appearance, using body wipes also hugely helps to eliminate odors, strip away dirt and grime, and unclog pores, amongst numerous other benefits.
While several highly reputable companies have unveiled fairly game-changing wipes over the last few years, an even larger number of cheaper knock-offs have entered the market in a bid to cash in on the current trend, making it all the more difficult to distinguish the genuinely worthwhile offerings from their lesser-quality imitations. So, with this in mind, we've generated this guide to the best body wipes for camping, and we'll also be delving into the purpose of modern body wipes and the main areas to consider when shopping.
The Best Camping Body Wipes
Best Budget Wipes

Sea to Summit Wilderness Wipes

Best Cooling Wipes

Duke Cannon Cold Shower Cooling Towels

Best Hydrating Wipes

Bravo Sierra Antibacterial Body Wipes

Best Thick Wipes

Combat Wipes Commando Outdoor Wipes

Best Natural Wipes

HIKI Body Wipes

Best Vegan Wipes

YUNI Shower Sheets

Best US-Made Wipes

Anthony Shower Sheets
why should you use body wipes while camping?
In the same way that deodorant and cologne shouldn't serve as outright replacements for showering, body wipes are intended to be used as temporary fill-ins for bathing. Instead, body wipes allow for a rapid means of sanitizing and cleaning sweat and body odor from your arms, chest, ribs, back, and armpits. While this is less effective than a traditional shower, it requires only a fraction of the time and can be done in any bathroom stall or behind any tree. While you're camping, it can be hard to track down a shower, and if you can, sometimes they aren't exactly the most inviting. Body wipes can not only keep germs at bay and your body clean, but they can also be used to clean other gear as they usually have antibacterial properties. They're also easy to travel with, and many picks on our guide feature individually wrapped wipes that make it even easier.
Are body wipes sustainable?
Though moist towelettes and body wipes have existed for decades, the segment has traditionally been less-than-environmentally-friendly, to put it mildly. With the majority of older offerings in this space often being non-flushable and non-biodegradable, once used, they often wind up in landfills. Recognizing the inherent lack of sustainability in this space, a growing number of manufacturers have developed their own face and body wipes that are objectively better for the environment.
Completely biodegradable body wipes account for a larger and larger portion of the market, making it even easier for the consumer to find a product that's less harsh on the environment. Furthermore, there's also been an increased push for face and body wipes that are entirely free of harsh chemicals that aren't good for you or the planet. In short, if you plan on incorporating body wipes into your everyday routine, you really should consider using a more environmentally friendly option, as even semi-daily usage very quickly adds up over time.
What to look for
Use: Different manufacturers develop and engineer their body wipes with specific uses in mind, and as such certain body wipes will be much more conducive to some situations than others. If you plan on using body wipes as a quick refresher after working out then you will likely want to consider investing in some body wipes with antibacterial properties. Likewise, if you plan on utilizing body wipes in lieu of showering for a day or two while off the grid or camping in the backwoods, you'll almost certainly want to opt for biodegradable wipes that can safely be buried along with other waste. Our guide will be focusing on wipes that are best for camping, but this information is still useful to have when shopping around.
Ingredients: The next area to consider is the ingredients used. While pretty much all body wipes will consist of moistened clothes, the liquid formula said clothes are soaked in hugely varies from company to company in terms of additives and ingredients. On top of steering clear from aluminum (like antiperspirants), parabens, and other nasty chemicals, it's worth keeping an eye out for supplementary ingredients such as aloe vera, and vitamins C, D, and E. Some body wipes offer a bit more utility with formulas that allow for exfoliation or moisturizing in addition to clearing away sweat and grime. There's also the option of fragrance-infused body wipes, as well as non-scented offerings.
Size: Modern men's body wipes also come in different sizes, and use various constructions, textures, and patterns. These attributes are typically purpose-engineered to best lend themselves to a specific use or application, with camping wipes usually being larger, and sometimes bestowed with a textured pattern that helps to bust up dirt and grime and clear away any pore-clogging contaminants or debris.
Sea to Summit Wilderness Wipes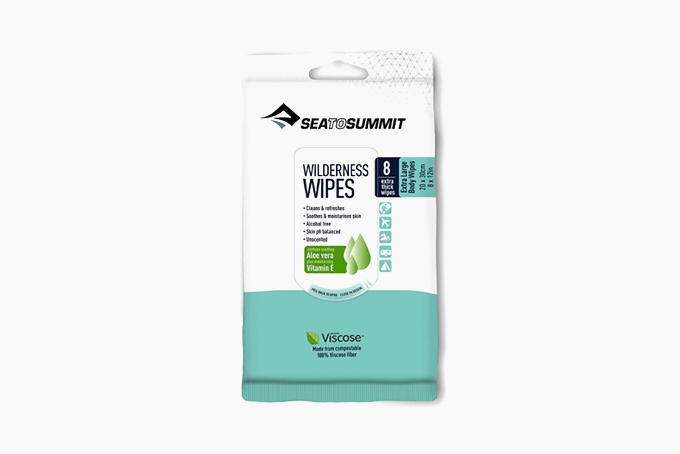 Pros
pH balanced
Entirely compostable
Super thick
Cons
On the heavy side, so they'll add weight to your pack
Best Budget Wipes: Originally established back in 1984 by a pair of Australian mountaineers and adventurers, Sea to Summit was created in response to the existing market not producing the outdoor gear that Sea to Summit's founders wanted, so they set out to make it themselves. And such is the case with Sea to Summit's apply-named Wilderness Wipes. Made from an extra-thick viscose non-woven fiber, these rinse-free wipes were specifically designed to strip away sweat, dirt, grime, and odor-causing bacteria. Fully pH balanced, these wipes are also infused with aloe vera and vitamin E to keep your skin its healthiest, even when off-grid for extended periods. On top of being gentle on your skin, Sea to Summit's wipes are also equally gentle on the planet, with the wipes being entirely compostable. And, in addition to the standard 6" x 8" packs, the Australian outfit also produces a jumbo-sized 12" x 8" version sold in packs of eight
Ingredients: Aloe vera, vitamin E,
Sizes: 6″ x 8″, 12 "x 8"
Count: 8
Duke Cannon Cold Shower Cooling Towels
Pros
Refreshing clean
Developed alongside a military advisory panel
Good for soothing irritation
Best Cooling Wipes: It really is hard to go wrong with any product made by the Duke Cannon Supply Co., and the brand's Cold Shower Body wipes are far from an exception. These hardwearing wipes were developed in conjunction with Duke Cannon's military advisory panel and were born out of feedback from soldiers stationed in remote locales with limited access to running water. In response, Duke Cannon formulated a body wipe made for use in the field that contains menthol, aloe, and jojoba, which come together to collectively leave skin feeling cool, tingly, and refreshed. Offered in packs of 25, Duke Cannon also offers its Cold Shower body wipes via a regular monthly subscription service where the sheets are shipped to your door every four weeks at a 10% discount.
Ingredients: Glycerin, oat, menthol, aloe, jojoba
Size: 7″ x 9″
Count: 15
Bravo Sierra Antibacterial Body Wipes
Pros
Kills 99.99% of germs
Extra thick
Made with ingredients that moisturize your skin
Best Hydrating Wipes: Though they do come at a slightly steeper MSRP, Bravo Sierra's Antibacterial Body Wipes are unequivocally one of the finest grooming wipes that money can buy. In an effort to offer the most complete cleaning experience possible, Bravo Sierra's wipes are broken into two separate items. The first is a "Solid Cleanser" that's meant to wash your hands, face, body, and even hair, while the second consists of an antibacterial wipe that finishes the job via a sanitizing formula that uses Benzalkonium Chloride in place of alcohol as its active ingredient. Furthermore, the generous size of these wipes also helps to maximize their efficacy, while the individually wrapped nature of this offering makes it ideal for use just about anywhere, whether traveling or just working the daily grind.
Ingredients: Benzalkonium chloride, aloe, glycerin, ginseng extract
Size: Not listed
Count: 10
Combat Wipes Commando Outdoor Wipes
Pros
Vegan and biodegradable
Easy to grab wipes
Tested by soldiers
Best Thick Wipes: Backed by 15 years of military and outdoor experience, the Combat Wipes' Commando Black is a rugged, extra-thick wipe designed specifically for use in the backwoods. Made from 100% natural Rayon fibers, these wipes are bestowed with a unique textured pattern that helps to strip dirt and sweat from the skin. Additionally, these blacked-out wipes are also vegan-friendly, and fragrance and alcohol-free. Vitamin E and aloe vera help soothe skin and keep it properly moisturized until your next real shower while the thickness and texture of the clothes prevent it from shredding or leaving behind bits when wiping over stubble or body hair. Because these wipes are 100% biodegradable and completely free of any synthetic materials, they can be buried at camp along with compost or human waste.
Ingredients: Vitamin E, aloe vera
Size: 7.1″ x 8.3″
Count: 25
HIKI Body Wipes
Pros
Plant-based formula
Biodegradable
Cruelty-free
Best Natural Wipes: A high-end body wipe that ticks just about every box one could hope for, the Hiki Body Wipes offer highly calculated, individually wrapped "showers on the go." Completely devoid of synthetic fragrances, these clinically-tested wipes are vegan-friendly, and slightly larger than the average body wipe at 7" x 10". Safe on all skin types, the Hiki wipes are moistened with an odor-neutralizing and nourishing formula containing a host of therapeutic ingredients such as witch hazel, cucumber fruit extract, willow bark extract, coconut fruit extract, rosemary leaf oil, lavender oil, orange peel oil, and leaf water lactobacillus. And, because these wipes are completely compostable and biodegradable, they can be used and tossed just about anywhere, whether in the heart of a major metropolitan area or deep in the backcountry.
Ingredients: Witch hazel, cucumber fruit, willow bark, coconut fruit, lavender, orange peel
Size: 7″ x 10″
Count: 12
YUNI Shower Sheets
Pros
Biodegradable construction
Antimicrobial
Vegan and cruelty-free
Cons
Leaves a bit of residue after using
Best Vegan Wipes: Another thoroughly modern cleaning wipe, this time from a high-end beauty and grooming outfit, the YUNI Body Wipes offer the ideal blend of utility with a wipe that cleanses, refreshes, cools, and sanitizes through the use of a gentle, naturally-antimicrobial neem extract. Additional therapeutic qualities are afforded through ingredients such as apple fruit extract, bitter orange extract, peppermint oil, lavender oil, lemon extract, rosemary leaf oil, sage, aloe vera, cucumber extract, ginseng root extract, and green tea and white tea leaf extracts, amongst a myriad of other noteworthy supplements. On top of also being entirely free from any and all parabens, this product is also completely organic, never tested on animals, and vegan-friendly.
Ingredients: Aloe, green tea, peppermint oil, lavender oil, ginseng root
Size: 10″ x 12″
Count: 12
Anthony Shower Sheets
Pros
Tested by dermatologists
Free from any harsh chemicals
Tested for allergies
Individually packaged
Best US-Made Wipes: As one of HiConsumption's all-time favorite grooming brands, we've long been singing the praises of Anthony and its top-notch goods, and the company's Shower Sheets are just one more reason to hold the brand in such esteem. Generously sized at 9" x 12.5", these body wipes don't contain any alcohol, parabens, phthalates, GMOs, DEA, triclosan, or gluten, are allergy and dermatologist-tested, cruelty-free, and are made with a formula with active ingredients including exfoliating glycolic acid exfoliates, conditioning vitamin E, soothing and hydrating aloe vera and jojoba seed oil hydrate, and refreshing peppermint oil which also doubles as a natural antiseptic. Made in Israel, each pack comes with one dozen individually wrapped sheets, affording you the ability to instantly freshen up, regardless of where you find yourself.
Ingredients: Vitamin E, aloe vera, jojoba oil, peppermint oil
Size: 9″ x 12.5″
Count: 12
The Best Men's Face Wipes for Your Skin
Now that you've gotten yourself acquainted with today's latest and greatest men's body wipes, why not check out our complimentary guide to the best face wipes for men?