Roughly a decade ago, Allen Choi found himself needing a do-it-all daily use bag that could go straight from home to the office to the gym. Unsatisfied with the available bags on the market, Choi opted to design his own game-changing backpack that was launched through a Kickstarter campaign in 2014 — a project that would ultimately lead to the inception of the Aer brand. Since that time, Aer has steadily introduced an ever-growing and ever-evolving range of ultra-capable bags that are engineered from the ground up for specific uses.
One such item is the San Francisco label's latest Travel Pack. Keeping in line with the company's MO, this third-generation bag is highly calculated, crafted from a spare-no-expense array of materials, and loaded with features that were clearly born out of years of real-world experience and daily-field testing — both at home and abroad. And while there's absolutely no denying the high-end nature or premium quality of the bag, it can still be difficult to judge whether or not the backpack's features and construction justify its $249 MSRP. So, with this in mind, we've opted to explore the latest version of this purpose-built travel pack firsthand, putting its features and build quality to the test in this hands-on review of the Aer Travel Pack 3.
Aer Travel Pack History
Three Generations Of Perfecting Travel Packs
Meticulously developed to be something of the ultimate travel bag, the original first-generation Aer Travel Pack first debuted in 2017. Also launched via a wildly successful crowdfunding campaign, this initial model would eventually be phased out in favor of the even more capable Travel Pack 2 in late 2018. Fast forward to 2022, and after hundreds — if not thousands — of feedback notes from the public, and tens of thousands of miles of international globetrotting, Aer has finally debuted the highly-anticipated successor to its second-gen model with the heavily-revised Travel Pack 3.
First Impressions
Surface-Level Observations
Right out of the box, Aer's third-generation Travel Pack boasts a premium quality that the user can easily feel, looking even more attractive and well-built in person with its subtle waterproof zippers, ample reinforcements, blacked-out hardware, and ballistic-grade weaved construction. Aesthetically, the backpack sports an incredibly minimalistic design that's made all the more impressive by how thoroughly utilitarian it manages to be.
And, while it's abundantly clear that every element of this bag has been thoroughly considered and streamlined, with an inherent purpose behind each feature, its bevy of zipper tracks can be a little confusing at first — though this issue quickly goes away after becoming better acquainted with the bag over the first day or two of use/ownership.
Quality Constructions
Only The Best Materials
Like its predecessor, the Aer Travel Pack 3 features a shell that's crafted from insanely-rugged 1,680-denier CORDURA. This bluesign-approved, ballistic-grade exterior has been matched by an array of equally premium components such as Duraflex hardware, Hypalon label tags, and waterproof YKK zippers equipped with Hypalon and custom Aer-branded pulls. The backpack's main compartment has also been treated to a smooth ripstop liner while its dedicated electronics and tech compartments (i.e. the bag's laptop sleeve and smartphone pocket) have been treated to thick padding trimmed in ultra-soft fleece linings. Sitting beneath a plush, breathable, foam-lined back panel is an internal frame sheet. This internal frame chassis system provides the bag with a semi-rigid structure, enabling it to stand up on its own when packed while also affording additional support.
Third-Generation Design
Third Time's A Charm
Though the newest version of the Travel Pack looks remarkably similar to its first- and second-generation predecessors, the backpack has actually been bestowed with a slew of tweaks and updates that make for an even more capable travel bag. Hugely benefitting from ample customer feedback as well as Aer's own field-testing, the Travel Pack 3 retains the previous gens' Lay-flat main compartment, though loses its dedicated shoe compartment. Other revisions include an improved compression design, the addition of all-new load lifters that bolster comfort and fit, and a hidden smart tracker pocket for accommodating Apple AirTags, Tiles, or other smart tracking devices.
And, while it still measures 21.5" in length, the bag's width has been shortened by half an inch (down to 13" from 13.5") and its depth has increased by the same amount (going from the 8.5" to 9"). These revised dimensions also result in more volume, with the Travel Pack 3 boasting 35 liters of real estate versus the 2's 33 liters. The gen-three is also slightly heavier, now tipping the scales at 4.2lbs — up from 3.7.
External Design & Equipment
Minimalist Yet Complex
Despite its incredibly spartan exterior design, the outside of the Track Pack 3's shell actually packs a surprising amount of attachment points and cleverly-integrated features. This includes a pair of D-rings supplemented by a series of loops on the backpack's two shoulder straps, a luggage handle pass-through, an integrated zippered expandable water bottle sleeve, and a redesigned compression strap setup that sees the gen-two bag's plastic buckles jettisoned in favor of FIDLOCK-style magnetic fasteners. This same magnetic coupling fastener is also used to secure the sternum strap that connects the two shoulder straps. There are also heavily-reinforced grab handles at the top of the bag and on either side, as well as an additional grab handle tucked into the back panel between its padding. Lastly, Aer also produces a removable hip belt with built-in zippered pockets — though this item is sold separately.
Internal Storage & Organization
It's What's On The Inside That Counts
Aer's Travel Pack 3 has been further streamlined for easy one-bag travel. Carry-on-friendly, this backpack features a luggage-style lay-flat main compartment that sits beneath a front secondary compartment that's outfitted with a generous bevy of organizers, sleeves, and zippered compartments — both of which are secured via lockable waterproof zippers.
Also designed with ample versatility in mind, the third-gen Travel Pack sports a plethora of supplementary pockets and compartments such as a padded and suspended laptop sleeve that can simultaneously accommodate a smart tablet and a notebook of up to 16", and a padded and fleece-lined easy-access smartphone pocket. Opposite the bag's expandable water bottle pocket is yet another quick-access pocket, meant for storing passports, wallets, and other small essentials.
Verdict
Final Thoughts On A Brilliant Pack
Overall, after the time we spent putting this bag through its paces, we went from liking Aer's latest Travel Pack to loving it. While building on an already industry-leading design is admittedly a monumental task, Choi and the rest of the team over at Aer have managed to do exactly that. A wonderful blend of minimalist form meeting highly-utilitarian function, the newest iteration of this backpack boasts a myriad of incredibly intuitive features that were very clearly derived from real-world travel experience. And, while we honestly have absolutely no idea how Aer will do it, the continued evolution of this award-winning bag makes us extremely excited to eventually get our hands on the inevitable fourth generation of the Travel Pack.
The 15 Best Travel Backpacks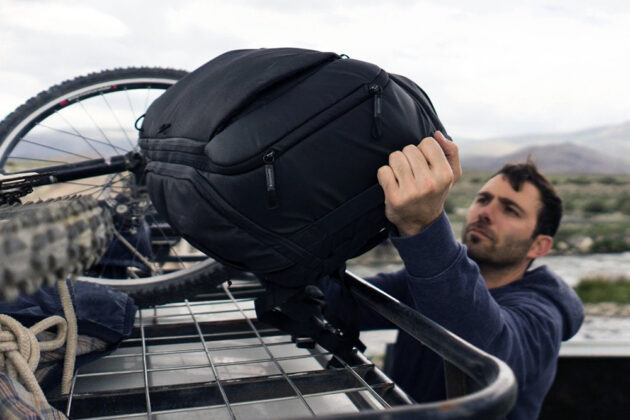 While Aer's third-generation Travel Pack is undeniably one of the very finest travel-specific bags that money can buy, there are other options in this space that are worthy of your consideration. To help shine a light on the latest and greatest the industry has to offer, we've handpicked this curated list of the best travel backpacks.