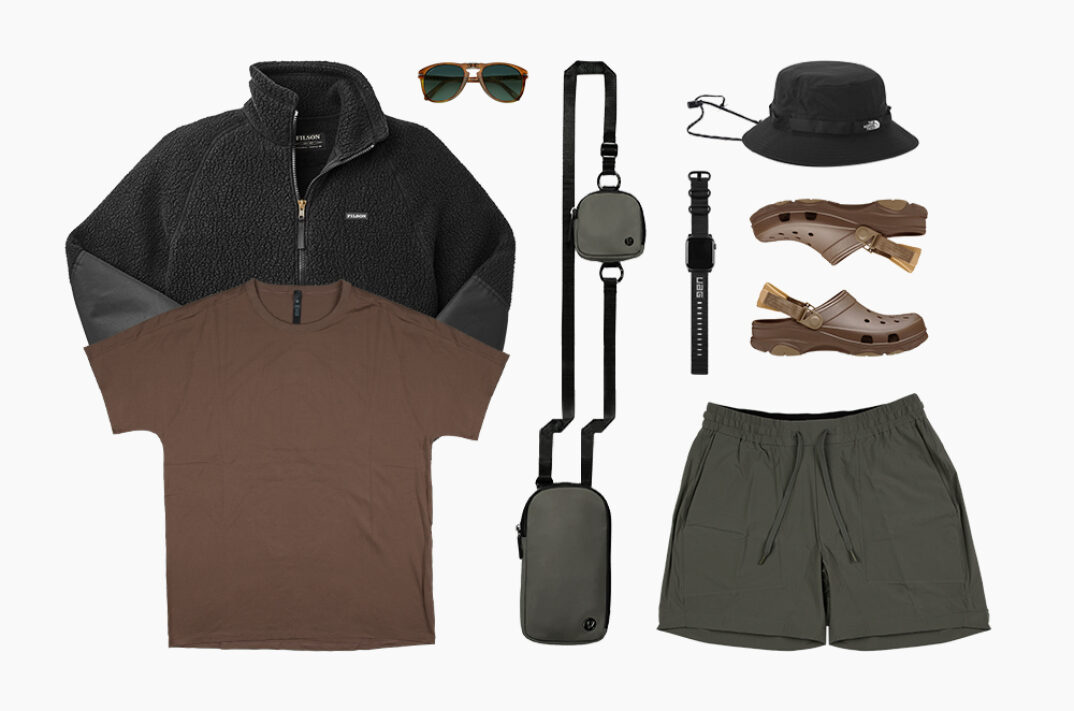 Presented by

The Southern California deserts are as unforgiving as they are beautiful and mysterious. As such, it should come as no surprise that they've been flocked to by outdoorsmen, artists, musicians, and tourists alike — the latter of which visit in a much more temporary manner. The colors and climate of these locales have also had an influence on fashion and style, and it's this connection that has inspired the gear and apparel loadout you see here today.
You don't have to be a desert rat to appreciate sand, saguaros, and sagebrush — and you certainly don't have to live in the desert to imbue your wardrobe with a southwestern color palette, as evidenced by the following collection of clothing and everyday carry accessories. Better still, this loadout looks exactly as great as it functions, and each piece is certainly worth your hard-earned dollars — whether you want to wear it in the comfort of your own home, out and about on the town, or anywhere else, really. Without further ado, this is our Joshua Tree-inspired style guide.
lululemon Bowline Short Stretch Ripstop
Not only are these athletically-inclined shorts durable and weatherproof — thanks to their lightweight, stretchy ripstop nylon construction and water-repellent finish — but they're also comfortable and stylish enough for all-day wear, even outside of exercise-focused contexts. And they even come in six different smart colorways, so you can pick out the ones that fit your style best.
The North Face Class V Brimmer Bucket Hat
Perfect for sunny, summer adventures, The North Face's Class V Brimmer Bucket hat offers plenty of protection from those UV rays, comes with its own integrated FlashDry sweatband to keep the perspiration from rolling down your face, and was built from machine-washable 100% nylon.
UAG NATO ECO Apple Watch Strap
Inspired by classic NATO straps but designed for use with Apple's increasingly popular, industry-standard smartwatch, this strap was actually crafted from materials made out of recycled water bottles. And if you're worried about what to do with it when you're done, it also has recyclable stainless steel hardware. Of course, the biggest benefits are that it looks great and offers plenty of adventure-ready durability.
Crocs All Terrain Clog
Combining the comfort of a slip-on/slide with the off-road capabilities of a hiking boot, Crocs' All Terrain Clog truly is the best of both worlds. That includes features like a fully-molded Croslite foam upper for all-day comfort, an adjustable webbing heel strap for security across especially challenging terrain, and antimicrobial properties.
lululemon Modular Phone Crossbody Bag
Ideal for stashing a small complement of everyday carry gear to be utilized by persons on the go, lululemon's Modular Phone Crossbody Bag is a next-gen sling bag offering style, substance, and modular versatility. It comes with two organizational pods — one for the gear you want to keep close-at-hand and another to organize the rest of your less-frequently used carry — that are both water-repellent and durable. And it can be had in seven different colorways.
lululemon The Fundamental Oversized T-Shirt
Turns out, something as simple as the t-shirt can still be improved upon. Case in point: lululemon's Fundamental Oversized T-Shirt, which is what happens when (in the brand's own words) "tech and comfort collide." This ultra-comfy, cotton-soft garment is quick-drying, has added Lycra fabric for some extra stretch and shape retention, and it's abrasion-resistant. This isn't your daddy's raggedy old cotton t-shirt; it's the t-shirt shirt of the future.
Filson Sherpa Fleece Jacket
People know that the desert gets hot, but it also has a habit of getting unbearably cold at times, especially after the sun has dipped over the horizon. If you want to stay warm while remaining stylish around the campfire, you can't go wrong with Filson's Sherpa Fleece Jacket with its warmth-retaining Polartec Thermal Pro polyester fleece construction, nylon-reinforced forearms, and machine-washability.
Persol 714SM Steve McQueen Sunglasses
For a pair of sunglasses to lay claim to the name of the King of Cool himself, they'd have to be pretty spectacular, right? Well, Persol's folding 714SM Steve McQueen Sunglasses don't just pay proper tribute to the late, great actor — they're one of the best pairs of timeless, stylish shades we've ever seen. And if you're not happy with the standard options, there's an even more up-spec version that comes with platinum-plated lenses for a little extra ultra-luxe oomph.