There's a prevailing idea that your everyday carry should somehow be a kind of pre-determined set — that everything should go together in style, purpose, intent, etc. The fact of the matter is, however, people don't work that way and neither should your gear. Rather, you should cater your daily loadout to a number of sometimes seemingly-disjointed criteria — like where you're headed, what you're planning to do, what obstacles you may face, and even what you might be wearing on a given day.
As such, there's a fairly good likelihood that your gear won't really "go together" at all — even if it does suit your exact requirements and desires. But here's the real secret: it doesn't matter. You should base your carry on your own experiences and wants — not the sometimes flippant standards of an unseen industry. Carry what you want, when you want, how you want. And if you're really worried about it all matching, you can always just pick out gear that's black, as is the case with this month's guide to the best EDC gear on Gallantry.
Arktype RMK Paracord Quick-Release Keychain
Free up your pocket real estate while giving yourself unfettered access to all of your keys and keychain tools by adding Arktype's RMK Paracord Quick-Release Keychain to your EDC loadout. With a two-piece design that includes a rifle-style clip, 550 paracord, and a neodymium rare earth magnet, this USA-made carabiner alternative is perfect for those who want both quick access and security out of their EDC.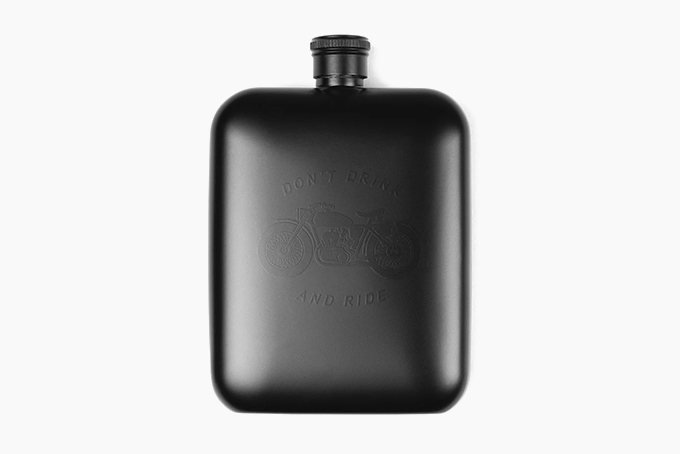 Izola Don't Drink & Ride Moto Flask
Built from food-safe stainless steel and finished in matte black, you can never go wrong with stashing your favorite spirit in this 6oz leakproof screw-top flask. Just remember, as the flask says itself, "Don't Drink & Ride." Save the imbibing for the relaxation after you're at your final destination.
Aer Cable Kit 2
Most people have a handful of gear they need to bring with them wherever they go. Some folks, especially in the tech sector, might have more than can fit in an everyday carry loadout and, therefore, your pants pockets. But that doesn't mean you immediately have to grab a cumbersome backpack, so long as you've got the Aer Cable Kit 2. This dopp-like kit can hold all your pocketable tech, cables, accessories, and more without weighing you down too much. And it certainly helps that it is built from ballistic Cordura nylon and DWR polycarbonate polyurethane-coated nylon.
WESN Microblade Titanium Keychain Knife
The very definition of "tiny-but-mighty," the WESN Microblade Titanium Keychain Knife is perfect for those that want full-sized cutting power but don't have the ability to carry a full-sized folding knife. And while it's definitely small enough to fit on a keychain, its AUS-8 steel and grade 5 titanium construction ensure it's tough enough to stand up to all sorts of punishment.
Tactile Turn Aluminum Click Pen
Though handwriting is a dying art, there are those of us that still recognize its value. If you're one of us, you'll likely also appreciate Tactile Turn's rugged and handsome Aluminum Click Pen. This handy EDC pen was made in the USA, has a titanium clicker mechanism, and fits most ink refills — although it comes with a popular Pilot G2.
Nomad Base Station Hub Edition
With Qi wireless charging becoming more and more standard, getting a desktop charger that uses the technology is quickly becoming a necessity. But few look and function as well as the Nomad Base Station Hub Edition you see here. While its leather and aluminum exterior look superb, the best part of this device is hidden inside: it can simultaneously charge up to four wireless devices at a time. And that includes Apple's iPhones and AirPods.
Leatherman Surge Multi-Tool
Leatherman has been making some of the best folding multi-tools since the company's inception back in the early 1980s. And their Surge is no exception — in fact, it's more like proof of their continued dominance. Not only does this 420HC device look spectacular, but it packs a whopping 21 built-in tools that range from knife and saw blades to pliers and even a diamond-coated file. And the brand is so confident in its quality, that they slapped it with a 25-year warranty.
Code of Bell X-Pak Sling Bag
Combining streetwear style with security, speediness, and durability, the Code of Bell X-Pak Sling Bag is one of the best modern everyday carry packs around. Not only is it built from ultra-tough Cordura ballistic nylon and Dimension Polyant VX Series X-Pac fabric, but it's also expandable from 11 to 23 liters, has numerous pouches and pockets (both inside and out) for organization, and it even has dedicated space for up to a 13″ laptop or tablet.
MWC GG-W-113 Vietnam Limited Edition Watch
MWC's GG-W-113 Vietnam Limited Edition Watch isn't called that by accident. Rather, it's actually a spot-on recreation of the actual timepiece given to American infantrymen during the Vietnam War. However, this one has some improvements over the original — like a modern self-winding automatic movement and a PVD-coated black steel case. Boasting both style and historical significance, this is a spectacular watch to add to any wardrobe.
Olight X7R Marauder Flashlight
With a maximum output of 12,000 lumens, the Olight X7R Marauder Flashlight is more like a portable star than a torch. On top of its incredible illumination, it's also IPX7 waterproof, can run for a maximum of 30 days straight, and has a number of lighting modes for all your needs. Best of all, it's USB rechargeable — offering up years and years of usage without the need for expensive battery replacements.
Scoured: The Best EDC Gear On Gallantry - April 2020
If you prefer a bit more rustic than tactical or you're looking for some urban commuter gear with a touch of heirloom-quality styling, you may be drawn to last month's guide to the best EDC gear on Gallantry.