'Tis the season, etcetera! In case it's not abundantly clear, with Thanksgiving well behind us and Christmas looming on the horizon, the holidays are here in full swing. And while we certainly encourage each and every one of you to find gifts to give to those you love, we also want to encourage you to take a little time and spend a bit of money on yourself. If you're like us, that most often means getting your hands on some new gear.
In the spirit of the season and with plenty of gusto, we've wrangled up some of our favorite red and green pieces of gear from the pages of Gallantry and collected them here for you to pine over (and perhaps pick up). Whether you're still waiting on that perfect last-minute present for your closest friends and/or family or you've just decided that now is the time to treat yourself, you can't go wrong with these handsome, reliable, and well-built holiday-themed offerings.
MecArmy Illuminex-4S Keychain Flashlight
Holding the title of the world's smallest micro USB-rechargeable flashlight, MecArmy's anodized aluminum Illuminex-4S is an exemplification of the phrase "tiny but mighty." You see, while it measures up smaller than the size of your average pinky finger, it boasts a whopping 130 lumens of output for up to six hours straight of runtime. Not only that, but it also recharges fully in just an hour, operates with a simple twist, and is even IPX8 waterproof — meaning it can survive depths of up to two meters.
Armatus Vita Kydex Travel Wallet
For those who are unaware, Kydex is pretty much a miracle material — it's lightweight, waterproof, abrasion and puncture resistant, and is otherwise practically indestructible without being metallic. It's this mil-spec material that makes the Armatus Vita Travel wallet so formidable. And it helps that the snap button closure is also up to military standards, not to mention the whole thing being made in the USA. Large enough to fit your passport, pen, tickets, and other miscellaneous papers, this is one of the most impressive travel wallets ever made.
Victorinox Cadet Swiss Army Knife
Remarkably close in its format to the original Swiss Army Knife, the Victorinox Cadet is more than just an ultra-useful multi-tool — it's an everyday carry legend. Featuring the brand's signature textured Alox handle scales, this pocketable folding device boasts nine built-in functions that range from a knife blade, to a bottle and can opener, to screwdrivers, and so much more. And all the inserts are made from sturdy and reliable stainless steel, so you know you can count on this 3.3″ pocket toolbox for years to come.
Orbitkey 2.0 Canvas Key Organizer
Your average keyring is a decent way to keep all your keys organized, but it doesn't do much to keep them compact, quiet, or to stop them from tearing up the inside of your pockets. The Orbitkey 2.0 key organizer, on the other hand, manages all of those things marvelously. This one, made from a beautiful cloth canvas, can hold up to seven normal sized keys, comes with a fob attachment point, has an integrated locking mechanism, and even comes with a removable bottle opener tool. It's time to ditch the old standard key ring and opt for something that's a lot more functional and far better looking.
Izola Classic Stainless Steel Flask
About as classic as any piece of everyday carry gear, the flask has been a staple item for literal centuries. And while we definitely realize there's an appropriate time and place for such an item, we're still firm believers that everyone should own one. This one, for instance, is built from food safe and BPA-free stainless steel, has a leakproof screw-top closure, holds up to six ounces of your liquid of choice (be it whiskey, gin, or even water), and it comes with a grippy canvas sleeve for easy carrying.
The Ridge Aluminum Wallet + Money Clip
The Ridge offers a full suite of impressive minimalist wallets, but one of our favorites is still their flagship aluminum option — especially now that it comes in an olive drab colorway. Available with either a money clip or cash strap, this front pocket wallet can hold up to 12 cards, blocks RFID signals, and even includes its own Torx driver to allow for easy and speedy maintenance. There are a lot of really exceptional pared-down cash and card carriers, but this one is still most definitely near the top of the heap in regards to capacity, quality, and functionality.
Leatherman Skeletool RX Multi-Tool
Specifically designed to be a pared-down and speedy folding multi-tool for first responders and emergency personnel, Leatherman's Skeletool RX is an altogether impressive lightweight everyday carry marvel. And a bit part of what makes it so great is its balance of functionality — seven built-in tools that range from pliers, to wire cutters, to a serrated knife blade — and small size — it weighs just five ounces and folds down to only four inches in length. You don't have to be an EMT to carry this tool, but it's an excellent thing to have in an emergency, nonetheless.
Benchmade 318 Proper Knife
Few things have stood the test of time, from an everyday carry standpoint, like the slipjoint knife — which is helped by the fact that superb makers, like Benchmade, keep producing worthwhile ones. Their 318 Proper Knife may not have a lock of which to speak, but it more than makes up for it with its beautiful appearance and superb materials. It's clip point blade is made from CPMS30V steel and it's mated to a gorgeous and durable G10 handle. Of course, like all their offerings, it's also made in the USA and comes with a lifetime guarantee.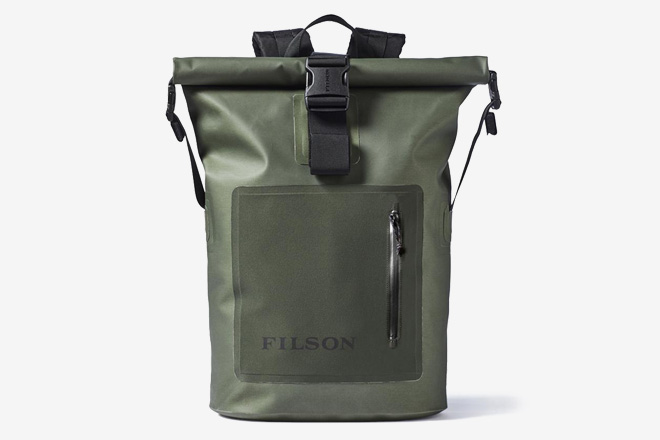 Filson Dry Backpack
Not everybody needs a backpack that can keep its contents dry while completely submerged. Then again, Filson didn't make their Dry Backpack for the faint of heart; they made it for the adventurers, explorers, and outdoor dynamos. Of course, its PU-coated 840D nylon exterior with a watertight roll-top closure wouldn't mean much on its own — which is why they made it with 28-liters of internal storage space, added on an external zippered pocket for small items, equipped it with high-density plastic hardware, and added in EVA foam back padding for extra comfort for long days of carry. If you're going to go ford a river, make sure you stash your stuff in this bag first.
Techne Instruments Harrier 386 Watch
Originally designed in 2013 for French anti-gang brigades, this super-beautiful field watch is now available for public consumption, and that's pretty excellent for all your horological fanboys out there. But it's not just looks (or a really cool story), this wearable timepiece also boasts a reliable Miyota quartz movement, an aeronautical-grade aluminum case, Super Luminova markings for low light visibility, and even has a hack feature. Pair that with its 50m water resistance, anti-magnetic internal mounting, and nylon strap and this is a trustworthy and stlish watch through and through.
Scoured: The Best Gear On Gallantry - November 2018
Even if red and green aren't really your thing, there's still plenty of variety to be had. In fact, last month's Gallantry Scoured Guide features a beautiful loadout of black and gold gear.