Thanks to the advent of seatbelts, crumple zones, and increasingly effective airbag systems — not to mention electronic driver aids like lane-keep assist, traction control, forward collision avoidance, and blind spot-detection — cars have become increasingly safe. And while every contemporary production model is required to pass an extensive number of increasingly strident safety and crash tests before being made available to the public, there are a handful of automobiles with an even greater focus on overall safety, going far beyond what's legally required in a bid to deliver the safest and most protective offerings possible.
While one would be forgiven for thinking a particular marque or class of vehicle consistently boasts the best safety ratings across the board, the reality is that the safest rides with the most impressive scores — as determined by the Euro NCAP (European New Car Assessment Program), the National Highway Traffic Safety Administration (NHTSA), and IIHS (Insurance Institute for Highway Safety) — come from a host of different vehicle styles, from family-friendly SUVs to two-door sports cars to best-selling pickup models. And it's this crop of vehicles that'll we'll be highlighting today in this guide to the safest cars you can currently buy on showroom floors.
Playing It Safe
Why Modern Vehicle Safety Is So Important
It doesn't take an expert to know that automotive safety is incredibly important — and in some cases can be the literal difference between life and death. With that said, we'd argue that car safety is more important now than ever before, as average production models have steadily become faster and increasingly powerful, requiring more advanced systems and a greater degree of safety to keep these newfound levels of performance in check — very much including electric vehicles which afford unparalleled amounts of instantly-accessible torque.
Because so many of us routinely travel by car without incident, it can be easy to lose sight of the fact that you're careening down the road in a rolling multi-ton machine that can succumb to all manner of hazards or accidents. And, unfortunately, it only takes being momentarily distracted at the wrong time for your daily commute to turn into a multi-car pileup — or worse. Add to this the fact that modern vehicles still have to share the road and contend with older, ultra-heavy steel-bodied cars, and you should start to get a sense of why vehicle safety is so wildly important.
Safe Car Criteria
The Forces Behind Vehicle Safety Ratings
Cars undergo a slew of various safety and crash tests in order to achieve an overall score. The IIHS breaks safety capabilities down into two distinctive categories: crashworthiness and crash avoidance, with the former determining how well a vehicle handles a collision or impact and the latter denoting a car's maneuverability, braking, and overall ability to get out of a potentially sticky situation — such as the famous Moose (or "VDA") swerve test. This latter area also now includes the technology that a vehicle is equipped with that can assist in mitigating the likelihood of a crash and/or lessening the severity should one occur.
By referencing data and ratings collected from the IIHS — and NHTSA — we've poured over the organizations' picks for new cars that have achieved either an IIHS Top Safety Pick, or the outfit's even more impressive Top Safety Pick+ award. Below, we've rounded up our choices for the best new production models that have managed to secure either of these two highly-coveted safety ratings. Rather than merely counting down the cars with the highest possible ratings, we've scoured the IIHS lists to hand-pick a more diverse selection of vehicles from across a myriad of different styles and classes that all share IIHS Top Safety or Top Safety Pick+ ratings.
Disclaimer: All engine and power figures shown reflect the car or platform's base model option.
Hyundai Veloster
Peppy, fuel-efficient, and most importantly, bestowed with an IIHS Top Safety Pick rating, the Hyundai Veloster is a fun car that's sold at an affordable price point. Despite its sub-$20,000 price tag, the Veloster still comes loaded with forward collision avoidance and lane-keeping assist systems, as well as stability control, seatbelt pre-tensioners, a high beam assist system, and front, side, and overhead airbags. Hyundai also makes a turbocharged 275hp N-spec Veloster (seen here) — which is available with a manual transmission — that offers genuinely impressive and incredibly sporty performance.
IIHS Rating: Top Safety Pick
Engine: 2.0L Inline-Four
Power: 147HP & 132FT-LBS
Kia K5
Prior to releasing its K5, Kia boldly claimed that this new car would be able to go toe-to-toe with, and even outperform, BMW's 3 Series. And the Korean company has managed to do exactly that, with faster acceleration, more torque and horsepower, and a quicker time through a slalom course. On top of its impressive performance — especially considering its sub-$25,000 MSRP — the K5 is absolutely brimming with cutting-edge safety features in its suite of Kia Drive Wise safety systems such as electronic stability control, driver attention warning, tire pressure monitoring, automatic emergency braking, lane-keeping and following assists, and forward collision warning, just to name a few — all of which come standard, though Kia also offers eight additional optional safety systems.
IIHS Rating: Top Safety Pick+
Engine: Turbocharged 1.6L Inline-Four
Power: 180HP & 195FT-LBS
Honda Accord
For drivers that want something safe, practical, reliable, and efficient — and are interested in something a little better-optioned than the Civic — the Japanese auto brand's Accord has long been a go-to choice since its debut in '76. Boasting an IIHS Top Safety Pick+ rating, the latest Accord is equipped with the full suite of Honda Sensing Safety and Driver-Assistive Technologies. This means advanced amenities like traffic sign recognition, adaptive cruise control, lane-keeping assist, collision mitigation braking, a road departure mitigation system, and lane departure and forward collision warnings — again, all of which come as standard fare.
IIHS Rating: Top Safety Pick+
Engine: Turbocharged 1.5L Inline-Four
Power: 192HP & 192FT-LBS
Subaru Outback
Since its release in '94, the Subaru Outback has been praised for its durability, safety, and off-road-readiness in its stock form — traits that have only amplified with each new generation. Alongside boasting a brilliantly engineered all-wheel-drive system and 8.7″ of ground clearance, the latest (2022) Outback is constructed around a high-strength steel platform that ensures top-notch safety and crash test ratings — an area further helped along by the model's eight airbags and height-adjustable head restraints that are present on every seat. Scoring a 5-Star Overall Vehicle Score from the NHTSA as well as an IIHS Top Safety Pick+ rating, Subaru also offers the Outback with an available turbocharged 2.4-liter powertrain option.
IIHS Rating: Top Safety Pick+
Engine: 2.5L Flat-Four
Power: 182HP & 176FT-LBS
Ford Bronco
Another off-road-friendly turnkey package with an IIHS Top Safety Pick+ rating, Ford's new Bronco platform may have a vintage-inspired appearance, though underneath the surface this newly-resurrected ride is cutting-edge through and through. The base model Bronco gets pre-collision warning and automatic emergency braking systems and a dual-stage airbag system, plus lane-keep assist, cross-traffic alerts, automatic high-beams, a rearview camera, roll stability control, and Ford's new Co-Pilot360 system that can send an SOS signal in the event of a crash.
IIHS Rating: Top Safety Pick+
Engine: Turbocharged 2.3L Inline-Four
Power: 275HP & 315FT-LBS
Ford F-150
Ford's F Series represents America's best-selling pickup truck range — and by a significant margin, moving more than 160,000 units more than the runner-up — for a myriad of reasons. Alongside their versatility, durability, dependability, and overall ability to serve as a reliable workhorse while still lending themselves to daily driving duties, these trucks also boast top-of-the-line safety ratings, very much including the Michigan marque's ever-popular IIHS Top Safety Pick-rated F-150. Built around a fully-boxed steel frame paired with an equally high-strength military-grade aluminum-alloy body, the F-150 features best-in-class payload and towing ratings, continuous-controlled damping, onboard scales, Ford's hands-free BLUECRUISE feature, second-generation active park assist, and Ford's Co-Pilot360 system.
IIHS Rating: Top Safety Pick
Engine: 3.3L V-6
Power: 290HP & 265FT-LBS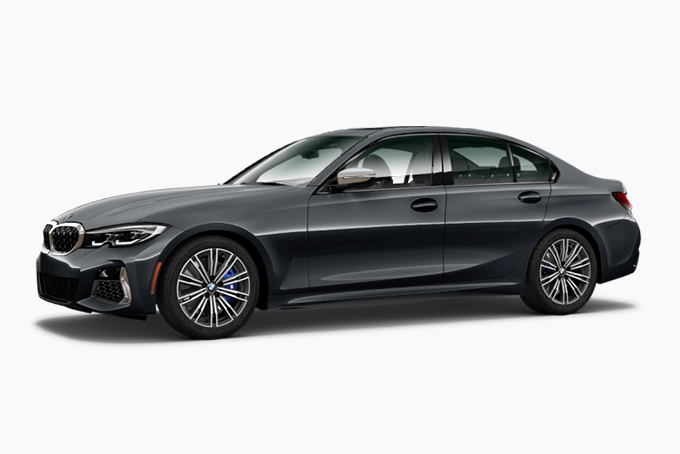 BMW 3 Series
An absolute pleasure to pilot while still making for a practical and comfortable daily driver, BMW's 3 Series is nothing short of an automotive icon. The German-engineered model offers the Bavarian brand's typical high-performance driving capabilities, while still coming loaded with state-of-the-art standard safety features including driver, passenger, side, and front and rear head airbags, automatic brake assist, electronic stability control, blind spot detection monitoring, traction control, self-adjusting headlights supplemented via DRLs, and lane-keeping assist and departure warnings.
IIHS Rating: Top Safety Pick
Engine: Turbocharged 2.0L Four-Cylinder
Power: 255HP & 295FT-LBS
Volvo XC60
Selected as an IIHS Top Safety Pick+ and awarded with a five-star rating from the NHTSA, the Volvo XC60 is a luxurious SUV with solid performance in a wildly safe and well-constructed package. The XC60 actually boasts a near-identical list of standard safety features to the 3 Series with an automatic brake assist system, lane-keeping assist and departure warnings, DRL-equipped auto-adjusting LED headlights, electronic stability control, a blind spot warning system, advanced traction control, and a full set of driver, passenger, side, and front and rear head airbags. These Volvos can also be leased new for only $599 a month (for 36 months with $4,350 down).
IIHS Rating: Top Safety Pick+
Engine:  Turbocharged 2.0L Inline-Four
Power: 250HP & 258FT-LBS
Tesla Model 3
Tesla produces some of the most cutting-edge and state-of-the-art cars currently out on the road, and the brand's Model 3 is far from an exception. The base version of the Model 3 — the Standard Plus spec — offers a more than 260-mile range, a 5.3-second 0-60mph time, 23 cubic feet of cargo space, a massive 15″ touchscreen display, and a UV-protected glass roof. On the safety end, the Model 3 utilizes an ultra-advanced 360-degree smart detection system that relies on a dozen ultrasonic sensors embedded throughout the car, giving the system a 250-meter (820′) range. What's more, the Model 3 also earned perfect 5-star scores from the NHTSA for rollover, rear seat, front seat, passenger, and driver crash tests, while also being an IIHS Top Safety Pick+.
IIHS Rating: Top Safety Pick+
Engine: Single IPM-SynRM Motor
Power: 283HP & 307FT-LBS
Ford Mustang Mach-E
The Mach-E is one of Ford's latest and most technologically advanced offerings, and as such comes with a host of high-tech safety features and systems. This includes an automatic emergency braking system and adaptive cruise control — the latter of which can restart itself from a complete stop — though, for drivers wanting the safest and most cutting-edge version of the Mach-E, Ford also offers an optional hands-free driving system. The American automaker also produces markedly higher-specced variants of the muscle car-inspired crossover, at the top of which is the 480-hp Mach-E GT Performance version which is capable of 0-60mph runs in less than 3.2 seconds.
IIHS Rating: Top Safety Pick
Engine: Permanent Magnet Synchronous Motor
Power: 266HP & 317FT-LBS
Audi A5 Sportback
The Audi A5 Sportback is a luxury two-door model that's equally at home whether on city streets or winding country roads. On top of being an objectively sporty ride, the A5 also gets a long list of impressive safety and tech features like driver and passenger, side, and knee airbags, Audi park assist, stolen vehicle tracking, ABS and driveline traction control, seatbelt pre-tensioners, all-LED lighting (including DRLS), and connectivity to Audi connect CARE. Alongside the even higher-performance S5, Audi also gives customers a host of thoroughly premium optional features such as built-in GPS navigation, paddle-shifters, a first aid kit, blind spot detection, adaptive cruise control, a heads-up display, a 19-speaker Bang & Olufsen sound system, and lots more.
IIHS Rating: Top Safety Pick
Engine: Turbocharged 2.0L Inline-Four
Power: 201HP & 236FT-LBS
Audi e-tron Sportback
Audi's e-tron Sportback isn't just a tremendously safe model — boasting a perfect five-star overall score from the NHTSA, as well as being an IIHS Top Safety Pick+ — it's also one of our favorite new all-electric cars currently in production, as it boasts performance capabilities that are on par with, if not better than, some of its petrol-powered counterparts — the top-of-the-line e-tron Sportback GT even more so. Additionally, the car also includes all of the cutting-edge safety features and bells and whistles that one would expect from a premium European EV including a robust suite of front, side, and rear airbags, brake assist, electronic stability and traction control systems, blind spot monitoring, auto-leveling headlights, lane-keep assist and departure warnings, and a cross-traffic alert system.
IIHS Rating: Top Safety Pick+
Engine: Dual Electric Motors
Power: 355HP & 414FT-LBS
The 20 Best Electric Cars You Can Buy
Want to check out an additional selection of noteworthy new production models? Then be sure to cruise on over to our guide to the best electric cars you can buy for 20 of the greatest battery-powered rides currently available on showroom floors.