Very little comes close to the experience of piloting an open-cockpit personal vehicle on the open water. With a sensation comparable to that of a motorcycle, coupled with the aquatic locale, jet skis provide an incredibly unique style of thrills. From the outside looking in, it can be difficult to distinguish the different styles and genres of personal watercraft (or PWC) currently available, let alone the complexities from within each respective class. So, with this in mind, we've scanned the latest and greatest within the product space to bring you this guide to the best jet skis.
Originally released in the early 1970s, personal watercraft are known by a variety of names, though the majority of the generic terms used are in fact, specific brand names, such as Kawasaki's "Jet Ski," Polaris Industries' "Sea-Doo," or Yamaha's "Wave Runner"—just like Cleanex is to tissue paper of Xerox is to copiers. Whatever you opt to call them, these water-going vehicles are mainly divided into two genres: stand-up; and sit-down. As the name suggests, the former is piloted while standing while the latter is helmed from a saddle.
The Best Jet Skis At A Glance
Best Value Pick

Sea-Doo SPARK TRIXX

Best Stand-Up Pick

Yamaha SuperJet

Best Lite Recreational Pick

Yamaha EX Limited

Best Performance Pick

Kawasaki Jet Ski Ultra 310LX-S

Best Luxury Pick

Yamaha FX Limited SVHO

Best Recreational Pick

Taiga Motors Orca Performance Carbon

Best Exotic Pick

Strand-Craft V8 Wet Rod

Best EV Pick

Tarform Raye

Honorable Mention

MANSORY Black Marlin 550
Floating Class Wars
The Four Main Types Of PWC
Though literally dozens of different models and sub-models are currently in production, personal watercraft models can usually be divided into four main categories.
Lite Recreational: The newest style to grace the PWC world, Lite Recreational models pair lightweight hulls with minimalistic bodywork and small but punchy engines that collectively make for pure water-going hooligan machines, capable of pulling wheelies and candles all day. Their relatively diminutive form and engines do mean this class doesn't fare particularly well in rough waters.
Recreational: This class is one step up from the Lite Rec class, and as such comes with bolstered performance and several other amenities that make for a more comfortable ride. While these aren't ultra-high-performance vessels, they still tend to pump out north of 100hp, are good for speeds of around 50mph, and routinely come equipped with features like braking and reverse.
Performance: As per the name, these are industry-leading machines, capable of freeway speeds, and typically outfitted with numerous noteworthy features as standard. Performance models also sit towards the top of the spec sheets, though unsurprisingly come at a substantially higher price point their than Lite Rec and Rec counterparts. There's also the offshoot "Sport" class.
Luxury: For those that want the latest and greatest and biggest and baddest, there's the luxury class. These models boast the most features, the highest performance, and the utmost comfort. Plush seating, stereo systems, large swimming decks, and multiple pillions are all pretty common on these high-dollar PWCs.
Selecting The Right Thrill Machine
What Factors Should I Consider When Buying A PWC
If you're completely unfamiliar with the jet ski space, it can be difficult even knowing what factors you should consider when shopping. Knowing this from firsthand experience, we've broken down these key areas in this aguishly digestible mini guide to the most important areas to review when shopping around for a jet ski.
Vehicle Type: As touched on in detail directly above, personal water craft come in many different styles. If you don't already have a particular type in mind, your best bet is almost certainly to consider your budget and your intended use, and allow these pivotal areas to serve as a jumping off point for your search, as where and how you plan on utilizing the vehicle should clue you into which variety will be most conducive to your personal wants and needs.
Size & Dimensions: Just like with modern-day motorcycles, PWCs come in a huge variety of shapes and sizes, from compact single-passenger performance-focused models to massive fully-loaded vessels capable of carrying an entire family of four. We suggests reviewing the available models within the particular segment that you're interested in, as this should help narrow down which size of PWC will serve you best.
Number Of Passengers: Another major area to consider when buying a PWC is the number of passengers that a model can accommodate, as this will massively narrow down your search. It's also worth pointing out that there are quite a few PWCs on the market that are offered in multiple seating variations.
Engine & Power: As the heart of the PWC and the element that's responsible for its propulsion, it's hard to overstate the importance of a jet ski's powertrain. When delving this area, you'll want to review an engine's displacement (I.e. size), number of cylinder, and whether it's naturally aspirated, turbocharged, or supercharged. In recent years we've also seen a growing number of PWCs that come outfitted with fully-electric powertrains. Additionally, you'll also want to look into the power figures offered by each engine, as a PWC's horsepower and torque output give an objective sense of a model's performance capabilities, including its acceleration and top-speed.
Extras & Amenities: While a PWC's on-the-water performance should trump pretty much every other areas, it's still well worth looking into each model's respective ammenities, as this is another area in which these vehicles can massively vary. Not unlike cars or motorcycles, some PWCs boast much more spartan designs with barebone amenities, while others come fully loaded with state-of-the-art displays, factory-installed sound systems, and sealed onboard storage.
Available Add-Ons: Whether you plan on fishing, towing surfers into waves, or pulling a wakeboard, there's a wide range of different factory accessories and add-ons all intended for different specific uses. If you're purchasing a PWC with the intent of taking on any activity like this, you'll definitely want to explore both the available add-ons from the manufacturer, as well as the aftermarket items that exist for a given PWC. 
Sea-Doo SPARK TRIXX
Pros
Affordable PWC offering ample thrills at a great price
Powered by an Austrian-built Rotax 900 ACE HO engine
Made by legendary PWC company
Features excellent bang for your buck
Equipped w/ Sea-Doo's Intelligent Brake & Reverse system as standard
Has multiple power delivery modes including "wheelie mode"
Cons
Not as high-performance as costlier models
Limited storage & weight capacity
Best Value Pick: Put simply; the Sea-Doo SPARK TRIXX is the PWC-equivalent of a naked hooligan motorcycle, specifically designed to perform all manner of tricks on the water (hence the monicker). Powered by an Austrian-built Rotax 900 ACE HO engine that generates 90hp and built around a lightweight Polytec composite hull, this nimble PWC boasts an excellent power to weight ratio that's more than sufficient for getting the nose up, while step wedges make it easy to show off on the water. Despite the minimalist nature of this model and its sub-$8K MSRP, it nonetheless comes fitted with a multi-way adjustable handlebar riser and Sea-Doo's Intelligent Brake & Reverse (aka "iBR") feature as standard. In addition to a closed-loop cooling system that's designed to prevent damage from saltwater, the SPARK TRIXX's inline-three also features multiple power delivery modes, including a dedicated "wheelie mode."
Engine: 899cc Inline-Three
Power: 90hp
Length: 110"
Weight: 428lbs
Top Speed: 48mph
Hull Material: Polytec
MSRP: $8,199
Yamaha SuperJet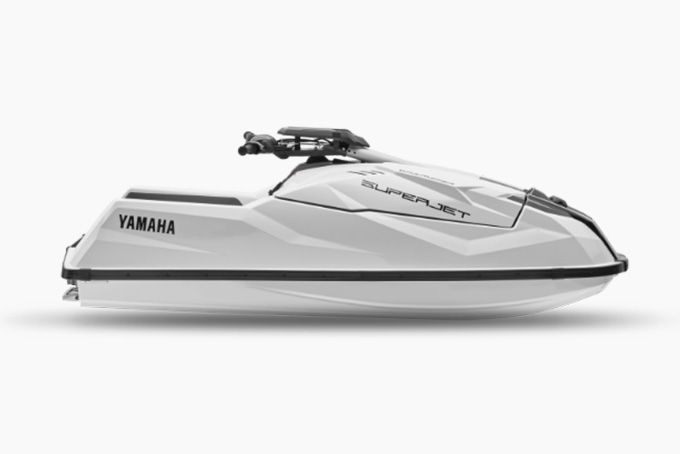 Pros
Modern take on Yamaha's original stand-up PWC
Constructed around VaRTM Fiberglass hull
Powered by 100-hp four-stroke TR-1 marine engine
Widely viewed as being superior to Kawasaki's Jet Ski SX-R 160
Offers ultra-nimble performance
Cons
No longer powered by two-stroke engine
Best Stand-Up Pick: It was just over 30-years-ago that Yamaha unveiled its original Superjet PWC model, and after an extended hiatus, the Japanese marque has now returned the iconic standup Waverunner to production for the 2023 model year. For the modern incarnation of the Superjet, Yamaha has replaced the predecessor's carbureted 73hp 701cc two-stroke twin mill with a retuned version of its TR-1 marine engine, while the old Superjet's SMC deck and hull have been swapped out in favor of redesigned VaRTM Fiberglass units. A padded foot tray and handlebars that offer 50mm (or 2") of play allows for a comfortable rider's quarters, too. Despite the updates, the 2023 model retains the wild character of its predecessor, while upping its reliability and lessening emissions output. This also means the control issues of the first model persist, though that's admittedly just part of the Superjet's unruly nature.
Engine: 1,049cc Inline-Three
Power: 100hp
Length: 95.7"
Weight: 375lbs
Top Speed: 54mph
Hull Material: VaRTM Fiberglass
MSRP: $10,499
Yamaha EX Limited
Pros
Japanese-made Lite Recreational model offering amazing reliability & performance
Hull made from Yamaha-exclusive NanoXcel2 material,
Large opening on top provides easy access to engine
Benefits from features borrowed from Yamaha's s costlier flagship Waverunner
Cons
Heavier & more expensive than Sea-Doo SPARK
Best Lite Recreational Pick: Yamaha's EX Limited is a popular and potent lite recreational class PWC that offers solid performance and even better bang for your buck. Backed by Yamaha's famous reliability, the EX L is powered by the Tuning Fork Company's high-output TR-1 marine engine that sends 110 horses to the water via a 144mm high-pressure pump with a stainless steel impeller. The latest version of the EXR is built atop a hull constructed from Yamaha's NanoXcel 2 fiberglass-based Sheet Molding Compound (or "SMC)", which is the same material utilized on the Hamamatsu manufacturer's flagship Waverunner. Coupled with an updated engine tune, the lightweight hull material allows for an impressive top speed of 54mph. Docking the EX Limited is also a breeze, thanks to the use of Yamaha's RiDE dual throttle system, which includes a supplementary throttle lever on the left handlebar that controls reverse thrust.
Engine: 1,049cc Inline-Three
Power: 110hp

Length: 123.6"
Weight: 540lbs

Top Speed: 54mph

Hull Material: NanoXcel 2
MSRP: $10,599
Kawasaki Jet Ski Ultra 310LX-S
Pros
The most powerful Kawasaki Jet Ski ever made w/ over 300hp on tap
Uses same engine platform as Ninja ZX-14R motorcycle
Loaded w/ bells & whistles including TFT display
Benefits from use of Eaton Twin Vortices Series supercharger
1,890lbs of thrust on tap allows for impressive 70-mph top speed
Cons
High performance & suite of amenities come at high price
Best Performance Pick: When Kawasaki was looking to gain a stranglehold on the PWC industry, it knew it needed something special at the heart of the vessel, so Team Green turned to its world-famous two-wheeled division, borrowing the engine architecture from the firm's Ninja ZX-14R sport-tourer to ultimately deliver the Ultra 310LX-S. In addition to gaining a little bit of extra displacement, the four-banger that powers the 310R gets a high-volume intercooler and an Eaton Twin Vortices Series Roots-type supercharger that together allow the engine to generate a class-leading 310hp. All that power equates to 1,890lbs of thrust, which can propel the 1,047.4lb Jet Ski to speeds of just shy of 70mph. The 310LX-S also sports an unmistakable competition-inspired appearance, from its angular fiberglass hull design to the "Kawasaki Green" and black-colored race livery that adorns it. There's also a Smart Learning Operation (or "SLO") mode that limits power for novice riders while learning.
Engine: Supercharged 1,498cc Inline-Four
Power: 310hp
Length: 132.7"
Weight: 1,047.4lbs (Curb)
Top Speed: 67mph
Hull Material: Reinforced Fiberglass
MSRP: $19,299
Yamaha FX Limited SVHO
Pros
Full-sized flagship luxury model w/ stellar performance & amenities
Powered by 250-hp supercharged 1.8L Super Vortex marine engine
Benefits from completely-redesigned deck & hull
Features unique gear-mounting system
Offered w/ enormous number of optional accessories & add-ons
Cons
Add-ons & accessory packages come at steep prices
Best Luxury Pick: Another industry-leading luxury-class PWC, Yamaha's FX Limited SVHO is a full-size flagship Waverunner that underwent a major overhaul in 2019, gaining a revised powertrain and a new deck and hull design made using the company's NanoXcel 2 material. The FXLSVHO is born out of race-derived technology but features a slew of top-shelf amenities and appointments, including cruise control, a no-wake mode, pull-up cleats for easy docking, a 4.3" CONNEXT touchscreen display, and even a custom-designed Yamaha cooler that stows away in the bow compartment. Kicked along by a massive supercharged 1.8L Super Vortex marine engine, the FX LI SVHO also gets an accessory package that includes a unique gear mounting system, a Garmin fishfinder, and a pair of waterproof wireless Bluetooth speakers. The FXLSVHO also features a code-locked ignition to prevent theft and misuse, as well as the ability to set "acceleration profiles" that limited power for younger or novice pilots.
Engine: Supercharged 1,812cc Inline-Four
Power: 250hp
Length: 140.9"
Weight: 822lbs
Top Speed: 70mph
Hull Material: NanoXcel 2
MSRP: $19,999
Taiga Motors Orca Performance Carbon
Pros
Cutting-edge all-electric PWC
Crafted around carbon fiber hull & body
180-hp electric powertrain allows for 65-mph speeds
Only requires service every 5 years
Brimming w/ tech & connectivity including Bluetooth, GPS, & Wi-Fi
Battery offers 2 hours of ride time & can receive 80% charge in only 20 minnutes
Cons
Expensive price
Limited ride time
Best Recreational Pick: The Orca is another modern take on a fully-electric PWC model, this time from Canada's Taiga Motors. Starting from $15,000, the 120hp base-model Orca packs a 20Wh battery, a 31-mile range, and a 56mph top speed, while the upgraded 180hp Performance-spec gets a 25Wh battery, 37-mile range, and 65mph top speed, plus there's a lightweight carbon fiber-hulled Carbon-spec that starts from $24,000. The Orca features a slew of modern, technologically-driven features such as GPS, LTE, Wi-Fi, and Bluetooth-connectivity, allowing the Orca to receive over-the-air firmware updates, a waterproof phone and device storage bay, adjustable power delivery modes, and brake and reverse functions. Good for two hours of riding time, the battery can also receive an 80% charge in as little as 20 minutes. A significant part of what makes this model shine is the minimal need for maintenance, with the fully-electric powertrain only requiring basic servicing after five years of use.
Engine: Electric Motor
Power: 180hp
Length: 117.6"
Weight: 588lbs
Top Speed: 65mph
Hull Material: Carbon Fiber
MSRP: $26,500
Strand-Craft V8 Wet Rod
Pros
Hot rod-inspired PWC built w/ spare-no-expense ethos
Powered by Corvette-style, 300-hp all-aluminum supercharged 6.2L V8
Loaded w/ premium audio system & massive 15″ display
Hull has teak wood deck w/ carbon fiber inlays
Cons
Extremely heavy
Massive 200″ length greatly limits handling
Expensive price
Best Exotic Pick: Strand-Craft's V8 Wet Rod is something of the ultimate yacht toy. Measuring over 16' in length, this behemoth PWC takes the luxury class to new heights, with a beautifully designed and constructed hull and deck composed of carbon fiber. The most interesting aspect of this ultra-high-end PWC is its engine, which is a Corvette-style, all-aluminum supercharged 6.2L V8 that generates a whopping 300hp. Standard features also include a 15" touchscreen display, LED lighting throughout, a battery switch, a premium sound system, an under-seat cooler, and the customer's option of a two-tone livery. There's also the option for a V8 Turbodiesel engine, an underwater camera, carbon fiber inlays, a teak wood deck, and a GPS system, just to name a few. The use of side RAM-air intakes and dual-exhausts that exit at the midway point of the port and starboard sides give this model a thoroughly hot-rodded feel, too.
Engine: Supercharged Aluminum 6.2L V8
Power: 300hp
Length: 200"
Weight: 1,250lbs (Curb)
Top Speed: 65mph
Hull Material: Carbon Fiber
MSRP: $49,000
Tarform Raye
Pros
Made by a Brooklyn-based electric motorcycle startup
Body & hull design modeled after hydrodynamic shape of the Manta Ray
Designed using eco-friendly manufacturing & materials
Powered by proprietary 89.5-kW electric water jet propulsion system
Bodywork offered in carbon fiber or proprietary biodegradable flax seed weave-reinforced composite
Cons
Very expensive price
Limited ride time
Best EV Pick: Founded in 2016, Tarform is a Brooklyn-based EV upstart that built its name on the back of its fully-electric Luna cafe racer and scrambler bikes. More recently, however, the company announced that it had applied research and development from its electric motorcycles to the creation of a fully-electric personal watercraft dubbed the Raye. Utilizing biomimicry to achieve its design, the Tarform Raye's shape was largely inspired by the Manta Ray, and is crafted from the buyer's choice of either carbon fiber or from the same proprietary biodegradable flax seed weave-reinforced composite that the bodywork on the company's motorcycles are made form. The Raye is powered by a proprietary 89.5-kW electric water jet propulsion system that allows the PWC to achieve speeds of up to 43.44 knots (50mph). Compatible with both Level 1 and Level 2 charging, the Raye's onboard battery pack affords up to two hours of ride time per charge.
Engine: 89.5-kW Electric Waterjet Propulsion
Power: 120hp
Length: N/A
Weight: N/A
Top Speed: 50mph
Hull Material: Carbon Fiber or Biodegradable Flax Seed Weave-Reinforced Composite
MSRP: $68,000
Honorable Mention
A Spare-No-Expense Pick From A Supercar Tuner
Mansory Black Marlin 550
MANSORY is a luxury automotive tuner based in Germany, known for taking already exotic, high-performance super and hypercars and cranking them up to 11, bestowing the elite vehicles with bolstered powertrains, custom bodywork, and aero-kits. And it's this same formula that was used to create MANSORY's ridiculously exclusive Black Marlin 550 PWC. Starting with Sea-Doo's already extremely-competent RXT-X 260RS, MANSORY has massaged the 1.5L Rotax engine to now generate an absurd 550hp which translates to speeds on the open water of over 80mph. The supercar equivalent of a PWC, this industry-leading—and quite frankly race-grade—speed is largely owed to the shedding of a significant amount of weight through the use of carbon fiber construction. On top of the bonkers blown engine, the Black Marlin also gets its own unique aesthetic design, which clearly takes ample influence from the German tuner's supercar body kits.
Engine: Supercharged 1,494cc Inline-Three
Power: 550hp
Length: 139″
Weight: 833lbs
Top Speed: 80mph+
Hull Material: Carbon Fiber
MSRP: $62,600
The Best ATVs To Hit The Trails
Interested in chasing some on-land thrills? Then be sure to cruise over to our guide to the best ATVs for a curated selection of today's latest and greatest side-by-sides- UTVs, and four-wheelers.