Over the last few years, it's become abundantly clear that electric vehicles represent the future of automotive transportation. With looming government mandates across the globe, practically every major OEM is currently shifting to an all-electric lineup. And while EVs have traditionally been fairly exorbitant, the ongoing "electric revolution" has more recently given way to a host of increasingly competitively-priced daily-drivable EVs — the best of which we'll be counting down today in this guide to the best affordable new electric cars you can buy.
Alongside highlighting our choices for the best accessible EVs currently in production, we'll also be delving into what factors one should consider when shopping for a new electric car, and how to find the model that's right for you. It's also worth noting that the word "affordable" is somewhat subjective, so for the sake of this article, we've limited our picks to models with starting MSRPs of under $40,0000. So, with that said, let's get into it.
Affordable EV Shopping 101
The Six Most Important Factors To Consider When Buying a New Electric Car
Though there are countless areas one can review when shopping around for a new EV, we've broken down half a dozen of the most crucial areas to consider before pulling the trigger on your purchase.
Range & Weight: One of the biggest downsides to EVs is the fact their batteries tend to be incredibly heavy. For this reason, it's definitely worth looking into the curb weight of any model that you're potentially considering. Additionally, one of the biggest concerns most buyers have with EVs is their lack of range. Fortunately, range anxiety has drastically lessened over the last few years alone, as modern electric cars have been boasting increasingly impressive autonomy figures.
Style: New electric cars come in a wide variety of different styles. Without the need for a traditional grille and radiator, quite a few EVs feature sleek-looking, largely smoothed-over noses and front ends — an aesthetic that's increasingly become the norm on new electric cars. With that said, there are also quite a few new electric cars that don't instantly announce themselves as being of the EV variety, sporting a more traditional look.
Charging Time: Unlike petrol-powered cars that can be refueled in a matter of minutes, EVs tend to require markedly longer charging times. And while these times will vary depending on the class and type of charger being used, it's still extremely important to look into a given model's recharge time(s).
Onboard Tech & Connectivity: As fairly state-of-the-art cars, new EVs tend to come loaded with a host of high-tech features such as onboard camera systems and connectivity to smartphone apps. Considering that these pieces of tech do account for a portion of a new vehicle's price, this is another area that's important to consider when shopping.
Power & Performance: While EV's horsepower figures tend to be mostly on par with petrol-powered models, the same can't be said for their torque output. Not only do EVs generate markedly more torque than gas models, but they produce their torque instantly, not requiring a driver to be in the sweet spot of an engine's powerband. When coupled with the vehicle's weight, power figures also play an important role in determining performance capabilities such as top speed and 0-60mph times.
Storage Space & Passenger Seating: Just like with regular cars, EVs come in a wide variety of configurations, from small two-seaters with minimal storage to seven-seater family haulers brimming with cargo space. We'd recommend reviewing your personal needs as this should help narrow down what vehicle configuration will best lend itself to your life.
Chevy Bolt EV
Despite being one of the cheapest electric cars currently in production, the Chevrolet Bolt EV comes loaded with a surprising amount of state-of-the-art tech and amenities. On top of offering a range of nearly 260 miles and a 0-60mph time of 6.5 seconds, this American-made EV boasts a 10.2" diagonal color touch-screen equipped with the Chevrolet Infotainment 3 System, as well as an 8" digital driver display, an optional onboard Alexa system, wireless Apple CarPlay and Android Auto compatibility, and connectivity to the myChevrolet Mobile App that offers remote access to vehicle functions and diagnostics. When using DC charging, the Bolt EV can also receive 100 miles of range in only 30 minutes. Chevrolet also offers the Bolt EV with an available Dual Level Charge Cord that lets users switch between Level 1 (120-volt) and Level 2 (240-volt) on the fly. 
Power: 200HP & 266FT-LBs
Range: 259 Miles
Weight: 3,589LBs
0-60MPH Time: 6.5 Seconds
smart EQ forfour
A more spacious and practical, four-door version of the original smart car, the smart EQ forfour is a compact EV that was engineered specifically for life in the city. Constructed around a Tridion safety cell, the smart EQ forfour is powered by a high-voltage battery that comes backed by an eight-year warranty. What's more, the battery pack only offers a range of 78 miles — which is more than enough for most commutes — however, requires only 40 minutes for a complete recharge. Other highlights of this model include an active brake assist, crosswind assist, smart roadside assistance, a radar-based energy recovery system, planned pre-entry climate control, an ECO mode, an 8" touchscreen display, and connectivity to the smart EQ control App.
Power: 80.5HP &118FT-LBs
Range: 78 Miles
Weight: 2,645.5LBs
0-60MPH Time: 12.7 Seconds
Nissan LEAF
First introduced in 2010, the Nissan LEAF was one of the earliest mass-produced electric cars to hit the market. And while the gen-one LEAD undeniably had a few kinks it needed ironed out, the latest version of the car has not only remedied most of these issues, but has also seen its range and performance capabilities hugely improved, with the LEAF now offering 236ft-lbs of torque, an 8.4-second 0-60mph time, and a range of nearly 150 miles on a single charge. And, while the base model LEAF comes outfitted with a 40kWh battery, Nissan does give buyers the option of upgrading to a 60kWh cell that raises its range to 212 miles. Despite its sub-$30,000 MSRP, the LEAF also gets a number of features that are typically reserved for more premium EVs such as one-pedal driving and automatic emergency braking with pedestrian detection. 
Power: 147.5HP & 236FT-LBs
Range: 149 Miles
Weight: 3,509LBs
0-60MPH Time: 8.4 Seconds
Fiat 500 Hatchback Icon
The Fiat 500 Hatchback Icon is an ultra-compact commuter car that punches well above its weight, with solid performance and a bevy of cutting-edge tech all sold in a sub-$30,000 package. Riding on burnished 16″ alloy wheels, the 500 Hatchback Icon boasts a body-color-matched interior with a Technowood dash, a 10.25" touchscreen infotainment display, fabric seats derived from marine plastics, and an available JBL Premium Audio mastered by Bocelli. Additional tech on the car includes automatic braking, attention assist, lane departure warnings, and one-pedal driving. Not only can this 500 variant achieve an 80% recharge in only 35 minutes, but 5 minutes of charging yields an additional 31 miles of range. Fiat also gives buyers the option of opting for a wearable pebble stone smart key that's made from Durabio — an advanced bio-based material. 
Power: 118HP & 162FT-LBs
Range: 198 Miles
Weight: 3,009LBs
0-60MPH Time: 8.5 Seconds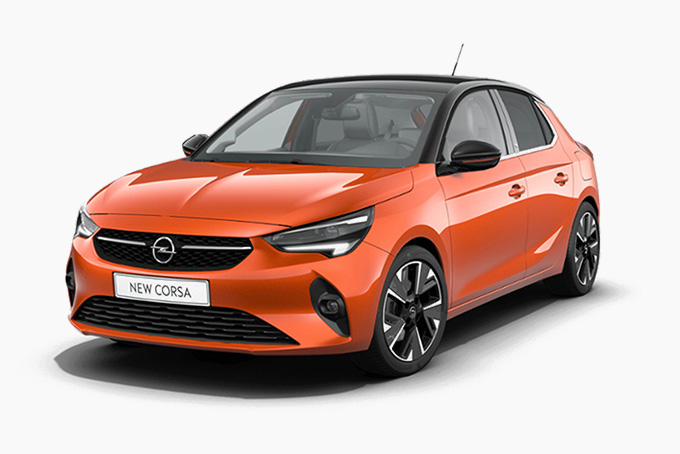 Opel Corsa-e
Rolling on 17" bi-color silver and gloss black five-spoke alloy wheels, the Opel Corsa-e is an ultra-preppy German-made hot hatch-style commuter car that's as fun to drive as it is sustainable. Kicked along by an electric powertrain, the Corsa-e generates 136hp and 192ft-lbs of instantly-accessible torque, allowing the 2,564-lb EV to reach 60mph from a complete standstill in just over 8 seconds. The Corsa-e's battery affords a range of more than 200 miles and can charge up to 80% in only half an hour, too. Opel also didn't skimp on tech when designing the Corsa-e, and has bestowed the car with regenerative braking, vehicle data monitoring, onboard wireless charging, a high beam assist, a panoramic rearview camera, keyless entry and start, front and rear parking distance sensors, rain-sensitive windscreen wipers, a trio of drive modes (Sport, Normal, and Eco), and a 10" color touchscreen with GPS navigation and Apple Car Play and Android Auto compatibility. 
Power: 136HP & 192FT-LBs
Range: 209 Miles
Weight: 2,564LBs
0-60MPH Time: 8.1 Seconds
Mazda MX-30 EV
The Mazda MX-30 EV is a modern crossover SUV that was designed for daily driving and commuting. The Mazda's battery offers a range of 100 miles and is capable of charging from 20% to 80% in 36 minutes. This base model crossover also gets a powered moonroof, an active driving display, and Mazda Radar Cruise Control with stop-and-go capabilities. And, for only $3,000 over the base model, Mazda also offers a Premium Plus-spec of the MX-30EV that comes loaded with a 360-degree monitor, a 12-speaker Bose sound system, and rearview monitoring with a dynamic lane feature, all as standard. With its more spacious seating setup and ample cargo space, the MX-30 EV is also a stellar family hauler and grocery getter. The MX-30 is also one of the more traditional-looking models on this list, with an appearance that doesn't scream EV.
Power: 143HP &
Range: 100 Miles
Weight: 3,655LBs
0-60MPH Time: 8.3 Seconds
Hyundai Kona Electric SEL
Another immensely practical choice especially for those with families, the Hyundai Kona EV is an environmentally-friendly commuter-focused electric SUV. Equipped with nearly 300ft-lbs of torque on tap, the Kona EV is powered by a 150-kW (201-hp) electric motor that enables it to do 0-60mph in 8.9 seconds. With that said, the vehicle was primarily designed with utility in mind, rather than as a high-performance SUV. As such, it features ample cargo space and a wealth of genuinely useful features for commuters such as an 8" touchscreen display, a safe exit warning system, and Apple CarPlay and Android Auto integration. And, while it's $8,500 more than the base model SEL-spec — which places it outside of our targeted price range — Hyundai does offer a markedly more premium version of the Kona EV with the $42,500 Limited variant that gains a 10.25" touchscreen, smart cruise control with stop-and-go, a heated steering wheel, and leather seats. 
Power: 201HP & 291FT-LBs
Range: 258 Miles
Weight: 3,715LBs
0-60MPH Time: 8.9 Seconds
MINI Cooper SE Electric
One of the fastest-accelerating cars on this list with a 0-60mph time of 6.9 seconds, the MINI Cooper SE Electric is another peppy and fun yet practical commuter car with a compact footprint that makes it perfect for life in the city. This electric hot hatch sports all-LEd lighting, a circular central infotainment display, model-exclusive wheels, and a bevy of tech including a front collision warning system with city collision mitigation, an Active Driving Assistant, and a steering wheel equipped with haptic feedback. Additionally, not only does the MINI offer a 114-mile range, but its battery can also charge up to 80% in only 36 minutes (when charging at 50kW speeds). The electrified MINI also retains the thoroughly iconic retro-inspired appearance of the regular gas-powered version of the Cooper. 
Power: 181HP & 199FT-LBs
Range: 114 Miles
Weight: 3,143LBs
0-60MPH Time: 6.9 Seconds
Honda e
The Honda e is an adorable and quirky-looking Japanese-made Kei car that boasts an ultra-unique and unmistakably neo-retro-inspired appearance that borrows design cues from the '80s era Honda City. The compact EV commuter car features a powertrain that cranks out 154hp and 232.3ft-lbs of torque — enough to propel the 3,085-lb car from 0-60mph in 8.3 seconds. Despite its utilitarian nature, the e was actually engineered with peppy performance and sharp handling in mind, and as such features a perfect 50/50 weight distribution, short overhangs, and a low ride height. The Honda e also offers a 137-mile range and can reach an 80% charge after only 31 minutes of being plugged in (on a 50-kW charger). It is worth mentioning that the e isn't sold in America — though this may eventually change as the U.S. increasingly embraces electric vehicles. 
Power: 154HP & 232.3FT-LBs
Range: 137 Miles
Weight: 3,085LBs
0-60MPH Time: 8.3 Seconds
Kia Niro EV
Coming to the end of our list, we have the Kia Niro EV. Unsurprisingly, as the most expensive model on this list, the Niro EV boasts the best specs and features of any vehicle discussed thus far. This includes a 239-mile range, a power output of 201hp and 291ft-lbs of torque, and the ability to fire off 0-60mph runs in just 6.7 seconds. The Kia's battery can also gain an additional 100 miles of autonomy after only 30 minutes of charging (on a 100-kW DC fast charger). Other highlights on the Kia Niro EV include a sleek exterior dsign, a 10.25" touchscreen display, 53 cubic feet of cargo space, a voice-command navigation system, Bluetooth connectivity, onboard wireless charging, and heated seats — all as standard items. Kia also stands behind the EV with a generous best-in-class warranty of 10 years of 100,000 miles.
Power: 201HP & 291FT-LBs
Range: 239 Miles
Weight: 3,854LBs
0-60MPH Time: 6.7 Seconds
Honorable Mention:
Honorable Mention
A High-Performance Pick
Kyburz eRod
Best described as an all-electric, Swiss-made take on the Ariel Atom, the Kyburz eRod is a barebones roadster-style true driver's car that sees creature comforts and amenities taking a back seat to raw performance. The eRod is powered by an electric motor that makes 60.3hp and over 100ft-lbs of torque. And while these figures might not sound too impressive on their own, however, when coupled with the car's 1,322-lb curb weight they allow for a seriously exhilarating experience behind the wheel. Good for a 75-mph top speed, the car draws from a 96-V, 228-Ah, 21.08-kWh battery that offers a range of almost 130 miles on a single charge. For those interested in an EV that's genuinely fun to drive while still being easy on the planet — and accessibly priced — the Kyburz eRod is a perfect choice. 
Power: 60.3HP & 103.2FT-LBs
Range: 129.25 Miles
Weight: 1,322LBs
0-60MPH Time: N/A
The 8 Best Affordable Used Electric Cars Available Right Now
Interested in going electric but aren't in a position to shell out $25K to $30K on a brand new EV? Then be sure to cruise on over to our guide to the best affordable used electric cars available right now for right fantastic all-electric rides that can be had for a fraction of the price of a new EV model.