Gaming is one of the pastimes where change isn't only expected but is highly warranted. Though often polarizing, the cyclic shift in the world of video games is merely another glorious sign of digital progression, with next-generation consoles opening doors for incredible visual capabilities and immersive worlds unlike any we've seen in the past. While we've entered yet another year in which E3 will not be held in person, the wide-spanning community of gamers is still here to ensure that we have all the information we need for the most anticipated video games of 2022.
2021 merely served as the onset of next-gen releases, as the two most coveted consoles hit the market at the tail end of an otherwise tumultuous 2020. Luckily, 2022 is paving the way for some major releases to light up just about every respective console owner's face, and these are the 30 that we're most excited to play ourselves.
Pokémon Legends: Arceus
January 28th
While Pokémon GO has shifted the way many view the franchise entirely, the series will always be more than a simple mobile game.  Coming off of the rather familiar-feeling Sword and Shield pairing, as well as the entirely familiar ports of the iconic Pearl and Diamond games of the mid-2000s, Arceus looks to deliver something we're yet to see in the world of Pokémon: an entirely open one. Set in the franchise's illustrious Sinnoh region, the starter Pokémon to choose from this time around are Rowlet, Cyndaquill, and Oshawott, each of which derives from their own respective installments of the Color series. Although Nintendo has claimed that the forthcoming game is not an open world, its entire visual language and sense of expansiveness recall much of what we saw with Breath of the Wild — and we all know how that turned out.
Genre: Action RPG
Developer: Game Freak
Platform(s): Nintendo Switch
OlliOlli World
Feburary 8th
As the third and largest installation in the OlliOlli series thus far, Roll7 is looking to expand on what they do in a big way. Fusing 2D LittleBigPlanet-esque graphics with the world of nostalgic weekday afternoon cartoons, OlliOlli World takes you to the world of Radlandia — hilarious, we know. Lighthearted in every way imaginable, this upcoming sports platformer brings back the simplistic idea behind skating games with user-friendly controls and colorful backdrops.
Genre: Sports
Developer: Roll7
Platform(s): PS4, PS5, Xbox One, Xbox Series X/S, Nintendo Switch, PC
Serving as an easy choice for the more anticipated games slated to release in this year's first quarter alone, Sifu is an impeccably detailed beat 'em up game based entirely around martial arts. As a kung fu student looking to avenge his family's murder and kill the assassins responsible, the game takes place in modern China and boasts well over 150 varying forms of attack. However, magic is also an existing concept throughout this world, making this journey of vindication even more of an obstacle course. Garnering immense inspiration from Jackie Chan's emblematic kung fu films, this is a surefire pick that any fighting fan shouldn't second guess picking up.
Genre: Action
Developer: Slocap
Platform(s): PS4, PS5, PC
Crossfire X
February 10th
With immensely popular origins among the PC FPS community, the iconic CrossFire franchise is finally garnering the console treatment, and it looks spectacular. Starting as a widely-accessible, free-to-play game back in 2007, CrossFire X is the full-on port of this online classic and is exclusive to Microsoft's consoles. High-octane and thoroughly cinematic, Crossfire X serves as a great reintroduction of the classic PC series. While putting WarZone down can be incredibly difficult for avid players, Xbox owners and FPS enthusiasts should take note of the fact that there is a new shooter to look out for — well, relatively new.
Genre: FPS
Developer(s): Remedy Entertainment and Smilegate Entertainment
Platform(s): Xbox One, Xbox Series X/S
Horizon Forbidden West
February 18th
The forthcoming PlayStation exclusive has been in development for about as far back as we can remember, but it will finally be seeing the light of day in just over a month from now. Guerilla Games invites players to take on a deteriorated take version of the West Coast, from a demolished San Francisco to a treacherous Yosemite Village, each of which is filled with rich, jaw-dropping detail. Along the way, meet an eclectic variety of tribes and battle against a multitude of machines that have seemingly populated and overtaken our world. Top all that off with an epic score by way of Joris De Man and The Flight, and you've got yourself an instant Game of the Year contender.
Genre: Action RPG
Developer: Geurilla Games
Platform(s): PS4, PS5
Demigods have taken individual fragments of the Elden Ring, and it is now your priority to restore order within the world. This open-world game is filled with a vast amount of dungeons and oversized enemies all from the mind of George R.R Martin. Set in gloriously vast landscapes, the anticipation that this game has garnered is highly warranted merely by glancing at the screenshots. Create your path throughout this breathtaking adventure as you make your way through a surfeit of swamps and dauntingly fantastical castles.
Genre: Action RPG
Developer: FromSoftware
Platform(s): PS4, PS5, Xbox One, Xbox Series X/S, PC
As one of the most anticipated games announced alongside Sony's PlayStation 5 presentation about a year and a half ago, the latest in the revered Gran Turismo series looks to deliver on everything gearheads could ask for. Initially meant to be released last year, Gran Turismo 7's development experienced a screeching halt akin to that of much of the world as we knew it. Nevertheless, all that extra time went to good use, as the game features a baffling 420 cars at the very least, some of which include a modern-day Taycan Turbo, a late-'90s Lamborghini Diablo, a 1989 BMW M3 Sport Evolution, the emblematic 1954 Mercedes-Benz 300 SL Gullwing, the timeless 1953 Aston Martin DB3, a 19– sorry, we may have veered off track a bit. Speaking of which, the latest and greatest racing simulator features over 90 of them (tracks, that is), each of which has dynamic weather conditions.
Genre: Racing
Developer: Polyphony Digital
Platform(s): PS4, PS5
If you ever envisioned a distorted rendition of the American Frontier, this game puts it to fruition. Weird West is the result of what would've gone down had this symbolic era's most notable names obtained supernatural powers. Revolving around five different bounty hunters, this interactive RPG grows more unique with every given detail, though we are chomping at the bit to get more from what's been a quiet rollout thus far. Originally released for PC, current-gen console owners will get a kick out of the fact that this gun-slinging port will only be coming to PS4 and Xbox One.
Genre: Action RPG
Developer: WolfEye Studios
Platform(s): PS4, Xbox One, PC
S.T.A.L.K.E.R. 2: Heart of Chernobyl
April 28th
When we say this game is a decade in the making, we aren't exaggerating — as a matter of fact, we are being conservative. The well-received third game in the brooding S.T.A.L.K.E.R. series was released as a PC exclusive way back in 2010, with the fourth being announced not so long after in the same year. Believe it or not, this is the very same fourth installment that was once slated to release in 2012. 12 years of anticipation have managed to summate in a murky, post-apocalyptic shooting game that is bound to live up to its predecessors and will surely be even better to play on a larger screen. Plus, after all the talk that surrounded HBO's 2019 Chernobyl miniseries, this franchise is bound to spark some newfound fandom.
Genre: FPS
Developer: GSC Game World
Platform(s): Xbox Series X/S, PC
As yet another Square Enix-published PlayStation exclusive, we can expect nothing short of incredible from the forthcoming world of Forspoken. The spacious game revolves around a young woman named Frey, a native New Yorker who has been transported to the ethereal world of Athia. This open-world game allows players to transport anywhere at any time with immense ease, but this epic adventure doesn't look to be very rudimentary outside of that. Make use of magic along the way, fight behemoth-sized creatures, and tread spiraling roads before venturing back to the big city.
Genre: Action RPG
Developer: Luminous Productions
Platform(s): PS5, PC
Garnering a massive and worthy reboot, the Saints Row series is looking to start things off with a fresh take for next-gen consoles, seeing as they're yet to make their mark on the PS5 and Series X. Providing players with a much more customizable array of options for their character, the game takes place in the fictional Southwestern town of Saint Illeso and offers a near-endless number of side missions and paths to explore, all of which look to be rather rootin'-tootin'– or so they say.
Genre: Action
Developer: Volition
Platform(s): PS4, PS5, Xbox One, Xbox Series X/S, PC
Having been announced at E3 way back in 2018, there are few ways to describe the immense waiting period that the developers have forced fans to endure. Regardless, as Bethesda's first new world to be created in roughly 25 years, this is what gamers should've seen coming from them. Vast astral landscapes, rewarding gameplay, and an enriching narrative are just the start of what we can expect from this enigmatic new release. Set in the year 2310, Starfield has been described by its director as "Skyrim in space," which is an immensely broad concept to escape in, but one that all Xbox owners simply can't wait to immerse themselves in this coming fall.
Genre: Action RPG
Developer: Bethesda Game Studios
Platform(s): Xbox Series X/S, PC
Said to be filled with "somber tapestry" by its developers, that is sheerly an iota of the bleak, near-tangible horror we can expect from Ebb Software's Scorn. Simply put, the entire game hinges on the idea of being lost in a world you have never seen before — not simply a new place, but an entirely different world constructed out of nothing but flesh and bones. With a wide variety of customizable skill sets, make your way through intricate puzzles while battling alien creatures. Realistically, there aren't many things to do that are more suitable for Halloween.
Genre: Horror
Developer: Ebb Software
Platform(s): Xbox Series X/S, PC
There comes a point in every man's life where he must ask himself, "How many more times can they re-release G.T.A. 5?" Well, to the chagrin of countless gamers and the delight of many others, the award-winning game that was released before the PlayStation 4 even surfaced is being ported to PlayStation 5 and Xbox Series X in the next few months. At the end of the day, there's only so much to say about this standard-setting installment that critics haven't described ad nauseam over the past eight years, but next-gen owners looking to step into the shoes of Franklin, Michael, and Trevor will get their chance soon.
Genre: Action
Developer: Rockstar Studios
Platform(s): PS5, Xbox Series X/S
Meandering along your local street is bound to result in the appearance of a stray cat. You may have seen him before, which forces you to ponder even more what the animal does daily. Well, some wonder while others act on it, the latter being BlueTwelve Studio and their gloriously designed window into the life of a stray cat. Set in a futuristic cyberpunk-like world overrun by robots, view it from a feline's eyes en route to helping the kitty find its family.
Genre: Adventure
Developer: BlueTwelve Studios
Platform(s): PS4, PS5, PC
Kirby and the Forgotten Land
Q2
It's safe to say Kirby hasn't gotten the respect he deserves when it comes to his very own franchise. Sure, the beloved pink puff is overused in Super Smash Bros., the face behind countless side-scrollers, and even the main protagonist of an early '00s cartoon, but Kirby is yet to see the light of day when it comes to starring in a game fit for the new age. With Nintendo's forthcoming release, the hungry fella gets the chance to roam an abandoned world made up of lonesome shopping districts and lush mountainsides. Finally, we get to look forward to a Kirby platformer developed with a modern-day console in mind, whether or not you managed to pick up Nintendo's new OLED offering of the Switch.
Genre: Platform
Developer: Nintendo EAD
Platform(s): Nintendo Switch
LEGO Star Wars: The Skywalker Saga
Q2
LEGO and Star Wars are as synonymous with one another as peanut butter and jelly nowadays. Simply put, you can't have one without the other making admirable builds of each worthy moment. Since the beloved collection of LEGO Star Wars games first hit consoles in 2005, and a sequel based on the first six films released shortly thereafter, the series has garnered a worthwhile reputation. So it just wouldn't be right if the Skywalker Saga in its entirety didn't receive a fully-revamped brick makeover. Bringing back a similar style of combat that was used in the original pair of games, the game will let you relive the saga from A New Hope to The Rise of Skywalker by way of the legendary Danish toy factory.
Genre: Action Adventure
Developer: Traveller's Tales
Platform(s): PS4, PS5, Xbox One, Xbox Series X/S, Nintendo Switch, PC
It only seems right to follow one beloved, expansive franchise with another. The world of Harry Potter is illustrious in every sense of the word, with lore still being added to the series with new spin-offs, as well as this particularly long-awaited game that fans have been begging for. Set in the late 1800s, roughly a century before the chosen one's arrival to the famed School of Witchcraft and Wizardry, Hogwarts Legacy invites players to dictate their destiny by selecting their house. Throughout this RPG, take on a variety of magical beasts, hone potion-making skills, then feel free to stroll through Diagon Alley, Hogsmeade Village, and the dauntingly mystical Forbidden Forest.
Genre: Action RPG
Developer: Avalanche Studios
Platform(s): PS4, PS5, Xbox One, Xbox Series X/S, PC
Similar to the aforementioned mistreatment of Kirby, the remiss approach that Sega has taken in regards to their mascot's seemingly ceaseless series of games has been equally in question. Luckily, everyone's favorite hedgehog is getting a vast land to speed through here, shedding those ultra-linear roads he's been forced to run on for decades. This fall, for the first time in franchise history, Sonic the Hedgehog will have an entirely open world to himself: Starfall Islands. Surrounded by lush fauna throughout a variety of different environments, this looks to serve as Sega's long-awaited answer to the open-world prominence that has taken the gaming world by storm. While not much has been said about it yet, it sure looks to be quite the adventure.
Genre: Platform
Developer: Sega
Platform(s): PS4, PS5, Xbox One, Xbox Series X/S, PC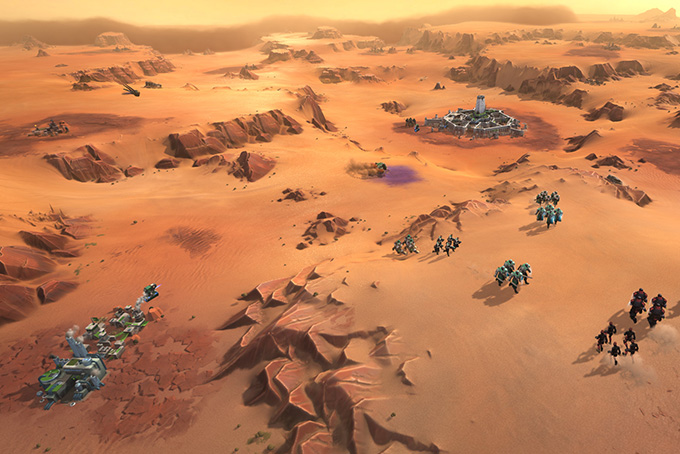 While many are still tempering themselves coming off the hype of the long-awaited and well-received film remake, the Dune franchise is adapting itself to an entirely separate medium of entertainment. That's right, the dauntingly dense novels and polarizing movies have led up to this detail-enriched strategy game that throws players directly into the heart of Arrakis. In this world, nothing is more coveted than the awe-inspiring power of spice, capable of extending lives and expanding minds as you venture through this detailed universe.
Genre: Strategy
Developer: Shiro Games
Platform(s): PC
Another game that has been in discussion since the PS5's formal introduction, the upcoming installation in the God of War series looks to be as epic as all that preceded it. Taking place three years removed from the events of their gloriously received reboot back in 2018, the season of Fimbulwinter is in its waning moments as it gradually leads into the era of Ragnarok, infamous for its brutal battles and the deaths of numerous noteworthy figures like Thor and Odin. It's nearly been four years since we swung Kratos' mighty axe, and we are most definitely looking forward to doing so in full-fledged 4K.
Genre: Action Adventure
Developer: Santa Monica Studio
Platform(s): PS4, PS5
Whenever it comes to the dawn of a new Batman film, the internet often asks "how many more times do we have to see Bruce Wayne's parents get murdered?" However, in Gotham Knights, the tables turn entirely, taking place in a world where Batman is no longer alive to save his beloved city. Based on four different playable characters, take the city on as Robin, Batgirl, Nightwing, and Red Hood. As expected, each respectively significant figure from the DC comic boasts their array of combat tactics, making this journey en route to saving Gotham City all the more authentic, albeit sans Batman.
Genre: Action RPG
Developer: WB Games Montréal
Platform(s): PS4, PS5, Xbox One, Xbox Series X/S, PC
Kerbal Space Program 2
TBA
Luckily for the lighthearted, Starfield is not the only intergalactic game that's hitting shelves in 2022. Capitalizing on its predecessor, this sandbox space simulation is surprisingly accurate, as its developers even consulted a pair of astrophysicists to make sure of that. While the Minion-adjacent characters look pretty hysterical and the game's free-flowing take on the cosmos may come across as a tad bit gimmicky, this forthcoming sequel looks to provide much-improved visuals of the universe — plus, you might even learn something!
Genre: Space Flight Simulation
Developer(s): Intercept Games and Squad
Platform(s): PS4, PS5, Xbox One, Xbox Series X/S, PC
The Legend of Zelda: Breath of the Wild 2
TBA
It's truly mind-boggling to think that Breath of the Wild is over four years old, but that only adds to the anticipation of its enigmatic sequel. Reprising his role of director is the revered Hidemaro Fujibayashi, who has had a hand in the beloved series for a sliver over two decades at this point, also directing the newly-ported Skyward Sword and DS-exclusive Phantom Hourglass. While there is very little information available, what has been confirmed by the game's producer is that the sequel seeks to venture into the skies above Hyrule. Needless to say, even the slightest word is enough to make fans of the Triforce salivate.
Genre: Action Adventure
Developer: Nintendo EAD
Platform(s): Nintendo Switch
This visually impressive action game boasts a bevy of monsters and old-timey towns to explore in their entirety throughout playing. Based in a 19th-century Victorian-inspired setting, terrain shifts from snowy mountaintops to deep-sea ventures and just about everything in between. Described by its developers as "somewhere between Heaven and Hell," it's safe to say we are in for quite the adventure upon exploring this whimsically melancholic world accompanied by a great score.
Genre: Action Adventure
Developer: Neostream Interactive
Platform(s): PS4, PS5, Xbox One, Nintendo Switch, PC
The Lord of the Rings: Gollum
TBA
As yet another book-turned-film-turned-video-game adaptation, Gollum has been in development for quite some time now, and the latest preview unveiled at the 2021 Game Awards blew attendees away. As a character who is known for enduring a near-insurmountable sum of dangerous situations, that is likely what the game will be composed of, as it takes place before the events of both The Lord of the Rings and The Hobbit. Expect the opportunity to put yourself in the iconic corrupted hobbit's shoes at some point in 2022.
Genre: Action Adventure
Developer: Daedalic Entertainment
Platform(s): PS4, PS5, Xbox One, Xbox Series X/S, Nintendo Switch, PC
Mario + Rabbids Sparks of Hope
TBA
Considering the only tidbits of Mario information that Nintendo has offered up fans to relish in through 2022 is the plumber's long-awaited animated film and this new game, anything with his name attached is always worth mentioning in this space. This upcoming sequel looks to harp on the Rabbids' mightily-successful initial invasion of the Mushroom Kingdom from a few years back. Reveling in the same turn-based combat that made the hilarious critters' own games so playfully addictive, Mario and his crew now have to stop the hex that's been placed on the sparks. One clear takeaway from this is the fact that Mario has pulled off hopping from one galaxy to the next in the past decade and a half with questionable ease.
Genre: Tactical RPG
Developer: Ubisoft Milan
Platform(s): Nintendo Switch
Few franchises have provided as much inspiration for the gaming world in its entirety as Super Smash Bros., as its fun-loving, fighting format has easily managed to transfer itself to other IPs. Most recently, the Nickelodeon world stepped into the ring with a game of their own, and now MultiVersus looks to provide beloved Warner Bros. characters with the very same treatment. Sadly, Tom & Jerry are solely playable as a duo and cannot fight one another, but there remains a noteworthy blend of iconic superheroes and modern-day cartoon figures.
Genre: Fighting
Developer: Player First Games
Platform(s): PS4, PS5, Xbox One, Xbox Series X/S, PC
For roughly over a decade, there have been no sports games more anticipated than the latest installment in EA's beloved Skate series. Garnering years' worth of speculation, the upcoming iteration is expected to be unveiled at some point in the new year. With truly no information aside from a handful of avid Skate 3 streamers and diehard fans having seen genuine gameplay, there is not much more to share aside from the fact that the award-winning series is making its return. While it may not serve as a form of genuine exercise, we couldn't care less. As far as the public has last heard from the game's developers, they're "working on it."
Genre: Sports
Developer: Full Circle
Platform(s): TBA
While Fortnite may come across as the most kid-friendly shooter in the world considering just how many children play it, Splatoon takes the crown in that category and is immensely fun regardless of its age-appropriateness. Based in Splatsville, the third installation transports players to an entirely new setting with many of the same features that kept them so enthralled with the preceding games.
Genre: 3rd Person Shooter
Developer: Nintendo EAD
Platform(s): Nintendo Switch
30 Most Anticipated Movies of 2022
Of course, video games aren't the only source of entertainment we have to look forward to in the new year. With a gluttony of games comes along our comprehensive guide to the most anticipated films you've simply got to check out in 2022.