There was a time when parents largely believed that video games were brain-meltingly evil. Thankfully, in the period since their inception, numerous studies and cultural immersion has proven that to be incorrect. Now, after decades, video games are largely accepted as a form of entertainment, even verging on eclipsing more traditional means.
That also means that the category is largely expanding – both in overall quality of offerings and in sheer numbers of available games. And that can make it really hard to pare down what's worth playing and what is better left on the shelves. Lucky for you, we've gone to great lengths to put together the following list of the 30 most anticipated games slated to come out in 2018. Whether you have a Switch, PC, Xbox One, PlayStation 4, or otherwise, there's something on this list for you.
Release Date: March 30th
We hate to say it, but the survival-horror genre has gotten a little stale, as of late. Too many developers are relying on the same tropes: cabin in the woods, zombies, etc. But that's exactly why Agony manages to stand out so much from the crowd – it turns the genre on its head. This survival-horror game, you see, has a very different setting. In it, you're not running from corporeal beasts; you're trying to escape Hell itself.
Release Date: Q4
If you're not familiar, BioWare is responsible for three groundbreaking action RPG franchises: Mass Effect, Dragon Age, and Star Wars: KOTOR. Now, they're trying their hand at something slightly different. Sure, Anthem looks like its going to have some of the classic RPG elements, like custom character leveling and specialization. But, it's also supposed to be a massive open-world adventure title. Equal parts MMORPG and shoot-em-up 3rd person action, we have high hopes for this one.
Bloodstained: Ritual of the Night
Nintendo Switch, PC, PS4, Xbox One
Release Date: March
With the explosion in popularity of platforms like Kickstarter, IndieGoGo, and more, we wouldn't be surprised to start seeing a wealth of crowd-funded games, like this one. A spiritual successor to the Castlevania franchise, this hack-and-slash action-adventure dungeon crawling side-scroller looks very polished for something not coming from a major studio. But, indie games are more and more looking like the wave of the future. If this one is any indication, we're ready for the change.
The Call Of Cthulhu
PC, PS4, Xbox One
Release Date: TBA
One of the many games to be delayed from 2017, The Call of Cthulhu has been in development for more than 4 years now. That's not odd in and of itself, but the fact that so little information has emerged about the game is a bit unusual. All the same, this H.P. Lovecraft-created property is ripe for the survival-horror genre and should be one of the best entries in said genre, so long as this game is created with the love and attention to detail it deserves. Bonus points if the developers at Cyanide lean into the RPG elements – like character customization and upgrading – like they say they are.
Code Vein
PC, PS4, Xbox One
Release Date: TBA
Similar from a gameplay standpoint to the Dark Souls franchise, but with a perhaps softer anime-inspired art style, Code Vein is perhaps a heavy nod to Devil May Cry. That's compounded by its action RPG format and vampire themes. And while it certainly borrows heavily from its inspirations, there's not necessarily anything wrong with that – as all of them are games worth their weight in both content and gameplay. The anime influence will certainly turn a number of people away, but we imagine there's a plenty large enough audience that will love this one from start to finish.
Crackdown 3
PC, PS4, Xbox One
Release Date: TBA
This long-awaited Microsoft-exclusive title was one of the many games to get pushed back from 2017 to 2018. And while that delay is definitely disappointing, it hasn't lessened our anticipation. If anything, we're glad the studio is taking the time to make sure they got this one right – probably partly the result of the widespread negative reviews of the number 2 entry in the series. Still, the GTA-meets-super-soldiers concept behind this one has enough potential to keep it toward the top of our must-play list.
Release Date: TBA
While the survival-horror game genre is pretty flooded with zombie-themed games, that doesn't mean there isn't room for more. Case in point: Days Gone. Set in the high desert of the Pacific Northwest, this game looks a lot like a mashup of Red Dead Redemption 2 (specifically the Undead Rising DLC) and The Last of Us, with a sprinkling of Sons of Anarchy. Basically, if you ever wanted to play an open-world adventure game based on The Walking Dead, this is the game for you.
Death Stranding
PlayStation 4
Release Date: TBA
There is still very little known about Hideo Kojima's first project since leaving Konami. Really all that we do know is that it stars actual film-caliber actors Norman Reedus (The Walking Dead) and Mads Mikkelsen (Rogue One). We also know that it's supposed to be an open-world action game – likely a bit like Metal Gear: The Phantom Pain – and that there are some deep connections and themes involving water, the permanence of character actions, and aging/deterioration. We're not sure exactly how this is going to all fit together, but Kojima is a master of his craft, so there's little worry that it won't meet expectations.
Detroit: Become Human
PlayStation 4
Release Date: TBA
Heavy Rain, which came out in 2010, was one of the best arguments for video games as a form of entertainment more like film than something to be played in an arcade or casino. It brilliantly meshed a deep world and story with player-driven interaction. And now, that same studio has put their efforts into Detroit: Become Human – a neo-noir sci-fi thriller that looks to have been heavily influenced by the Blade Runner franchise. The demos we've seen so far look absolutely gorgeous, verging on being almost too realistic. Nonetheless, we're looking forward to it.
Dragon Ball FighterZ
PC, PS4, Xbox One
Release Date: January 26th
With its action-packed fast-paced fight scenes, the Dragon Ball series has always been ripe for video game adaptation – and it's seen a dozen or so games of varying type already. Still, just as we look forward to every entry of Street Fighter and Mortal Kombat, we're eager to see new characters, mechanical changes, and more offered by every subsequent Dragon Ball game. This one, with its wide-ranging character roster and up-to-date graphics is no exception.
Extinction
PC, PS4, Xbox One
Release Date: March 31st
If you liked Attack on Titan or Shadow of the Colossus, then there's a pretty good chance that you'll enjoy or at least appreciate Extinction. Part hack-and-slash adventure game and part fast-action puzzle game, this thing puts you in control of an elite class of human warrior who is tasked with defeating a race of 150-foot tall ogres. It requires players to figure out ways to cleverly disarm, dismember, and kill their vastly larger opponents in real-time. This interesting synthesis of a number of existing gaming tropes and gaming mechanics should make for some interesting combat, and we hope that the story is there to match.
Far Cry 5
PC, PS4, Xbox One
Release Date: March 27th
Thanks in part to the developers' willingness to take some slight risks in both form and function (we're looking at you Far Cry Primal), Far Cry has carved out a nice little niche in the action-adventure game space. The 5th official entry in the series seems to be a step back to the more familiar run-and-gun playing style, but the environment is refreshingly new. In this one, players will get to explore a fictional town in the mountains of Montana, USA – which looks to be a promising jaunt into unsettlingly familiar territory.
Release Date: TBA
It's been the better part of a decade since the last installment of the hack-and-slash franchise, God of War, came out. Thankfully, they're bringing back Kratos in all his bloody glory, except this time things are a little different – he's older and has a son to tag along on his adventure with him. We're not entirely sure how or if the father-son relationship will play into the mechanics of the game, but we're nonetheless excited to get back into this game's world for another violent romp.
Jurassic World: Evolution
PC, PS4, Xbox One
Release Date: June
If you saw any of the Jurassic Park movies and your first thought was that owning a dinosaur theme park seems like a pretty good idea, then this game is definitely for you. In the same vein as Sim City and Rollercoaster Tycoon, this game allows you to take ownership of and build up your own prehistoric zoo – chock-full of every species seen in the movies (and more than likely a few that weren't). And, if the previews are to be believed, more than a few of your lumbering beasts will break free to wreak havoc on the surrounding visitors and staff. Sound fun.
Kingdom Come: Deliverance
PC, PS4, iOS, Xbox One
Release Date: February 13th
Almost across the board, medieval-themed video games are also loaded to the gills with things like dragons, magic, and other non-existent stuff. But, even without mythological powers and beasts, the dark ages were a pretty thrilling and dangerous time. And that's what is highlighted in Kingdom Come: Deliverance – real hand-to-hand battle simulations sans the mystic arts. In fact, if your character gets injured, you have to actually dress the wound and wait, rather than simply chugging a potion. It helps, too, that the entire world is rendered in excruciatingly crisp HD, so you can really appreciate the clang of swords and crash of shields.
Kingdom Hearts 3
PS4, Xbox One
Release Date: TBA
It sounds odd: meshing together a Japanese action-RPG with the world of Disney. But it's been proven twice-over to be one of the most fun, rewarding, and well-executed mashups of all time – perhaps even the absolute best. Still, despite the wild success of the franchise, this series hasn't seen a brand-spanking-new console entry in almost a decade and a half. That's got fans chomping at the bit to get a piece of this new entry, which looks to be finally ready for release this year. So slap on your best pair of Mickey ears and get ready to play.
Release Date: TBA
If you judged this game by name alone, you might think it another horror-survival title – but you'd be wildly incorrect. In fact, this game has more in common with the likes of Metal Gear and perhaps even Titanfall. It does take place in a catastrophic future, though it is marked less by apocalypse and more by constant warfare. It's got giant robots, big explosions, and at least a little bit of anime-style melodrama. Unfortunately, that's about all we know at this juncture.
Marvel's Spider-Man
PlayStation 4
Release Date: TBA
It has been proven time and time again that comic book superhero, Spider-Man, and his little section of the Marvel universe makes for some extremely satisfying video games. Unfortunately, it has also been proven that Spider-Man games can be incredibly bad. So, it's kind of a coin toss as to whether future entries will be worth playing – but we have a lot of hope for this one. For starters, it's not tied to any of the movies (phew!). It's also become very clear that the publisher, Insomniac Games (Ratchet & Clank, Spyro), is going to great lengths to make sure they've done it right. After all, a good game for us means a big profit for them.
Mega Man 11
Nintendo Switch, PC, PS4, Xbox One
Release Date: TBA
Mighty No. 9 was supposed to be the spiritual successor to the Mega Man franchise we all wanted and deserved. Unfortunately, it ended up being a major dud. And that spelled sorrow for fans of the 2D platforming genre. Thankfully, after a lot of waiting, we're getting a brand new official entry in the Mega Man series this year. And we're very excited to yet again unleash our reinvigorated childhood frustrations on the punishing Blue Bomber puzzlers Capcom loves to throw our way.
Metal Gear Survive
PC, PS4, Xbox One
Release Date: March
Just as there's a lot of anticipation regarding Kojima's new project since leaving Konami, there's a lot of curiosity as to how the Metal Gear franchise will hold up without him. And this new entry has some pretty big footsteps to follow, as The Phantom Pain was one of the best games to come out in the last few years. For what it's worth, Survive looks interesting from what we do know. But it remains to be seen whether or not it can hold up to the high bar set by previous entries.
Metro: Exodus
PC, PS4, Xbox One
Release Date: TBA
We're not sure if Dmitry Glukhovsky ever expected his celebrated sci-fi dystopian book series to be turned into an equally celebrated video game series, but we can imagine he's pretty pleased about it. And we are pleased that this series is getting a third entry – especially one that looks like its going to keep the experience fresh. We can also appreciate the fact that this game is being developed by a Ukrainian firm, as we are wont to believe (and have been proven correct twice over) that they are better equipped to represent the setting in which the game takes place: Russia.
Monster Hunter: World
PC, PS4, Xbox One
Release Date: January 26th
This one is so close we can almost taste it. And, if the hours logged in the beta are to be believed, it's going to be a raucous good time. This action RPG, like entries before it, focuses heavily on the tracking and (obviously) hunting of a series of giant monsters roaming the wilds. What this one offers that prior entries did not have, however, is pretty excellent. Namely larger environments, seamless transitions from area to area, and drop-in drop-out multiplayer for up to 4 people on a global scale. As an added bonus, the creator has stated that, due to the cooperative nature of the game, they will not include any friction-inducing microtransactions.
Red Dead Redemption 2
PS4, Xbox One
Release Date: TBA
There are a lot of loyal GTA fans that would take exception to the following statement: Red Dead Redemption was the best game Rockstar ever produced. And we apologize for presenting you with that fact, if you are offended. If you agree, however, then we have some good news – the next (or, more accurately, previous) chapter in the story of Dutch van der Linde's gang – the primary antagonists in the previous game – is supposed to be coming out sometime around spring of this year. So get your six shooters ready and throw the saddle over your horse. After all, if you're going to be a gunslinging outlaw, you'll need 'em.
Shadow of the Colossus
PlayStation 4
Release Date: February 6th
From the same studio that brought us Ico and The Last Guardian, Shadow of the Colossus was one of the most beautiful games of its time… when it came out 2005. Unfortunately, like many games from back then, it has not aged well. But, that's okay, because a completely remastered version is going to be available in February. And, if we do say so ourselves, it's even more beautiful than it was originally. The one thing we are worried about is whether or not they've taken the time to adjust the gameplay mechanics to make response time better and improve camera control. Still, this game is just asking to be played again.
Skull & Bones
PC, PS4, Xbox One
Release Date: Q4
There are not enough pirate games. There, we said it. Up until this year, the best bet anyone had to play a swashbuckling, rum-drinking, peg leg-having pirate was in Assasin's Creed: Black Flag. For the most part, everything else was woefully executed. But things are looking up for us naval warfare fanatics, as Skull & Bones looks more than promising – it looks absolutely outstanding. Truly, we can't wait to put together a crew of ruffians and sail the seven seas under the Jolly Roger. And maybe we'll do some pillaging along the way.
Soul Calibur VI
PC, PS4, Xbox One
Release Date: TBA
One of the most inventive and innovative fighting game series to date, Soul Calibur is one of the few skill-based one-on-one fighters in which button mashing isn't a viable skill even at the lower levels of play. Sure, that makes it a little less than kid-friendly, but – honestly – young children shouldn't be playing a game with this level of violence anyway. In any case, the next entry in the franchise should deliver some excellent strategic battles and, hopefully, loads of new content.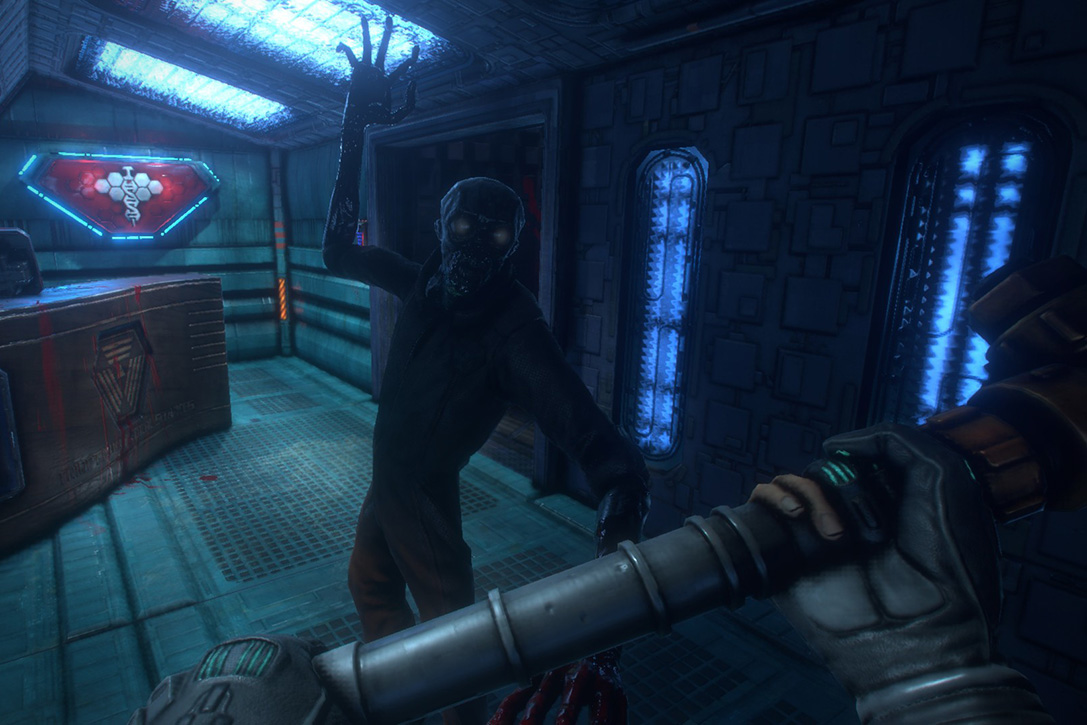 System Shock
PC, PS4, Xbox One
Release Date: TBA
If Doom pioneered the sci-fi shooter genre, System Shock (which originally released in 1994) kicked it up a notch with elements of survival-horror. In fact, it's been said that the Dead Space franchise wouldn't even exist without System Shock. Thankfully, some plucky developers have turned remastering and re-releasing this groundbreaking game into a crowd-funded reality. But, no need to worry if you didn't back the Kickstarter project when it was live, because the wide release will be available for purchase by all. If you like spooky sci-fi, don't skip this one.
Release Date: TBA
Believe it or not, Vampyr is a game in which you play a blood-sucker, but you're under no obligation to kill in order to beat the game. And while we can't imagine anyone will be drawn to a non-confrontational vampire story, the fact that this mechanic was built into the game is impressive on its own – mostly because it's an incredible level of optional user control. If that's any indication of what to expect out of Vampyr, we're looking forward to a largely customizable gaming experience in gothic England. And since it's one of the many games from 2017 that got delayed to this year, we hope they're taking the time to do it right.
We Happy Few
PC, PS4, Xbox One
Release Date: April 13th
Indie gaming has seen a massive jump in popularity in recent years. And that's largely thanks to the efforts put in by smaller developers. It's obvious how much love and effort goes into these games, and that makes them all the more charming. We Happy Few is just such a case. This survival-horror game is exponentially creepy in every detail from its setting, to the NPC designs, to the overarching story and it's clear to see that creating it was a labor of love. And that makes us really anxious to get our hands on it.
Release Date: TBA
There's an argument to be made that games like Little Big Planet got some of their inspiration from Paper Mario. And now, with the upcoming Nintendo Switch Yoshi game, it looks like some of that inspiration has come back the other way. A spiritual successor to Yoshi's Woolly World, this game again focuses on Mario's pet dinosaur in what can only be described as an adorable romp through one of the most complex cardboard dioramas we've ever seen. Best part is, the styling of the game appears to be worked into the mechanics of play.
15 Best Retro Gaming Consoles
Whether you refuse to adopt the next-gen systems or you just want a healthy dose of nostalgia, you can find what you're looking for here on our list of the 15 best retro gaming consoles.