Photo: John Wick 3
Cinema is eternal, or at least as close as we can get to immortality, and each year new talents try to prove themselves worthy to be on the silver screen alongside veterans striving to top their masterpieces. Storytelling is what keeps us sane, and in a packed theater with a film rolling, movies can make some sense of life for at least a couple of hours. You pay for the expensive tickets and put up with the overpriced snacks all to experience the undeniable power of cinema. For some, it's merely an entertaining distraction, but for others, movies are transportive, taking you to moments and emotions that plant themselves in your conscience to bloom and last a lifetime.
There are plenty of films to get enthusiastic about this year. Our comprehensive list is filled with every film with the ingredients to potentially be worth your precious time and hard-earned money. If we could zip to the future and let you know how these films end up, we would, but we have to stick to our detail-oriented cinematic eye. This year, we'll get films with legends reuniting after decades, long-awaited sequels, original stories from breakout directors, epic finales, and more. These are the films that stand out on paper, piquing our interest because of the talent involved at every stage of the production. Grab your smartphone to mark some of these on your calendar because we're confident you'll gravitate toward more than a handful of these flicks over the coming months.
A Beautiful Day In The Neighborhood
Fred Rogers inspired a lifetime of learning and was an amazing representative of the greater good in American society. His TV show Mister Rogers Neighborhood brought hope, wonder, and a positive view of the world to children everywhere, providing a much-needed counter to violent material on the small screen. There's no better person to play the American television personality than two-time Oscar-winner Tom Hanks. Directed by Marielle Heller, this movie about a man's kindness standing tall against cynicism has all the right players to be one of the best movies of the year. Joining Hanks for this film is Chris Cooper, Susan Kelechi Watson, and Matthew Rhys
Release Date: October 18, 2019
Director(s): Marielle Heller
Genre(s): drama, biopic
Ad Astra
The deep, dark unknown realms of outer space always make for an appetizing setting for any film, especially when you have some amazing talents involved in the production. Ad Astra is written and directed by James Gray and stars Brad Pitt, Tommy Lee Jones, and Donald Sutherland. Gray is a capable director and he has some of the best veteran actors to bring this mysterious sci-fi tale to life. The movie follows astronaut Roy McBride's journey to the outer rim of the solar system to find his missing father and discover a mysterious threat to the survival of the human race.
Release Date: May 24, 2019
Director(s): James Gray
Genre(s): sci-fi, adventure
Aladdin
Although the Internet chopped Will Smith's photos as the Genie to pieces, you can rest assured that Smith will be CGI-enhanced in Aladdin. No one can fill Robin Williams' shoes, but Smith is a charismatic actor who's proven he at least deserves a chance. The trailer gives you a reassuring glimpse of how they'll handle this retelling and even if you don't agree with Disney turning their classics into live-action adaptations, the 1994 version of you will probably throw a tantrum if you don't catch this in theaters. Guy Ritchie, the stylish director of Snatch and Sherlock Holmes, is in the captain's chair for this one.
Release Date: May 24, 2019
Director(s): Guy Ritchie
Genre(s): family
Alita: Battle Angel
With an adapted screenplay by blockbuster king James Cameron and Robert Rodriguez orchestrating the film, Alita: Battle Angel should be one helluva ride. Based on Yukito Kishiro's 1990 cyberpunk manga series of the same name, the story follows a young cyborg woman's journey to discover her past while fighting destructive forces. Rosa Salazar will play the title character and she'll be joined by Mahershala Ali, Eiza Gonzalez, Jennifer Connelly, Christoph Waltz, Michelle Rodriguez, and Jackie Earle Haley. Avoiding the standard summer crowd, this sci-fi action flick will hit theaters on Valentine's Day.
Released Date: February 14, 2019
Director(s): Robert Rodriguez
Genre(s): sci-fi, adventure
Avengers: Endgame
Even if you knew what was going to happen because of your comic-book knowledge, Avengers: Infinity War was a harrowing experience for superhero movie fans. Thanos finds peace through chaos and gets to rest after a job well done as the Infinity gauntlet-powered finger-snap slices the population in half. Avengers: Endgame will give us some closure to this epic Marvel Cinematic Universe ride. With Chris Evans giving his supposedly last performance as Captain America, and Robert Downey Jr. not too far behind him, you can expect everything to be left on the floor this time. We'll be devastated to see it all end, but we're amped up for the heavyweight rematch. Bring it on!
Release Date: April 26, 2019
Director(s): Anthony Russo, Joe Russo
Genre(s): fantasy, action
Captain Marvel
The supremely talented Brie Larson, who gave two phenomenal performances in Short Term 12 and Room, earned the role of Captain Marvel. This looks to be both a character piece and a filling appetizer for the big Avengers showdown. It also helps that this flick is set in the '90s ( at least for part of it). Is this Marvel's answer to Wonder Woman? We'll have to see if it can hold its own, as it will be inevitably compared to the Amazon Princess' film. From the trailer, it looks like Captain Marvel is wonderful herself.
Release Date: March 8, 2019
Director(s): Anna Boden, Ryan Fleck
Genre(s): fantasy, action
Fonzo
You can always count on Tom Hardy to go beast mode portraying any character he's given. Well, this time around he's been gifted with the role of the infamous Al Capone in Josh Trank's latest effort. Hardy will be portraying the 47-year old mobster after 10 years of prison, as he mentally declines, suffering from dementia and his haunting, violent past. Hardy was actually supposed to play the mobster in a previous film that ultimately fell through, but thankfully the stars aligned for Fonzo. Experienced in playing several intense, complex characters, Hardy should do a tremendous job.
Release Date: TBA
Director(s): Josh Trank
Genre(s): crime, drama
Ford v. Ferrari
Christian Bale is rightfully picking up a ton of awards for his portrayal of Dick Cheney in Vice, proving once again why he's one of the best actors of our generation. He seems to keep picking winners and this next project looks enticing, especially for automotive enthusiasts. Ford v. Ferrari tells the true story of the two legendary automotive manufacturers' battle to stand victorious at the 1966 24 Hours of Le Mans. Bale will play British born, naturalized American sports car racing engineer Ken Miles and Matt Damon will play iconic American automotive designer Carroll Shelby. James Mangold, who gave us the comic-book classic Logan, is directing this sports drama.
Release Date: June 28, 2019
Director(s): James Mangold
Genre(s): drama, biopic
Godzilla: King Of The Monsters
When the trailer for Godzilla: King Of The Monsters dropped at Comic-Con last year, fans went insane — and rightfully so. The trailer promises that monster heavyweight champ Godzilla will be facing off against the likes of Rodan, Mothra, and his number one nemesis, three-headed King Ghidorah. Judging by the footage we've seen, this flick will be visually extravagant with breathtaking cinematography and CGI. It helps to have Millie Bobby Brown of Stranger Things in the cast, as well as Vera Farmiga and Sally Hawkins. Godzilla is ready to square up against some mega-monsters and we'll be sure to grab popcorn and front row seats to the royal rumble.
Release Date: May 31, 2019
Director(s): Michael Dougherty
Genre(s): action, fantasy
It: Chapter 2
Stephen King's 1986 horror novel is a sprawling nightmare with disturbing occurrences, tragic characters, and other-worldly events. The 1990 TV movie does not hold up well, but thankfully, the 2017 iteration was a major success.  It: Chapter 2 will continue the story of the kids in the Losers' Club, jumping to present time so we can rediscover them as adults as they find their way back to Derry to kill the evil entity known as Pennywise the Clown. The amazing child actors from the first installment will be back for this movie and their adult versions will be played by several talented actors including James McAvoy, Jessica Chastain, and Bill Hader. Andy Muschietti is back in the director's chair and Bill Skarsgard will reprise his role as the ominous, menacing clown.
Release Date: September 6, 2019
Director(s): Andy Muschietti
Genre(s): horror
John Wick: Chapter 3 Parabellum
When all is said and done, Keanu Reeves will go down in cinema history as one of the best action stars of all time thanks in part to the John Wick movies. The last time we saw our favorite assassin aka Baba Yaga, the boogeyman, he was in quite a pickle. John Wick: Chapter 3 Parabellum will pick up right where Chapter 2 left off, as Wick is on the run from just about every hitman and woman in the world. Killing is his art and he's about to sculpt his masterpiece in the third installment of this slick action franchise, containing some of the best hand-to-hand combat choreography and gunplay in cinema. Who are the new cowboys for this rodeo? Anjelica Huston, Jason Mantzoukas, and Halle Berry, who looks just as stunning as ever.
Release Date: May 17, 2019
Director(s): Chad Stahelski
Genre(s): action
Jojo Rabbit
Taiki Waititi will be directing and starring in this film about a young boy named Jojo in Hitler's army who finds out his mom is helping a Jewish boy by hiding him at their home. The only way for Jojo to escape the chaotic life is through an imaginary friend who is envisioned as an ethnically incorrect Adolf Hitler. Waititi will be playing the inaccurate version of Hitler in this WWII satire, which is based on the book Caging Skies by Christine Leunens. He'll be joined by the underrated Sam Rockwell, Alfie Allen from Game of Thrones, and the beautiful Scarlett Johansson.
Release Date: TBA
Director(s): Taika Waititi
Genre(s): comedy, drama
Joker
For many moviegoers, Heath Ledger is the best Joker to ever grace the silver screen, but that doesn't mean another actor can't match his greatness. Joaquin Phoenix is a dedicated method actor who really sinks his teeth into a character and is definitely able to carry a film about the most iconic comic-book villain in history. The film will tell an original Joker story, but we hope it's inspired by the one-shot 1988 graphic novel entitled Batman: The Killing Joke, which gives Joker a fitting origin tale while also presenting him at his maniacal peak. Giving the film even more credibility, the legendary Robert De Niro and Zazie Beetz are playing supporting characters in the Todd Phillips film.
Release Date: October 4, 2019
Director(s): Todd Phillips
Genre(s): crime, drama, fantasy
Men In Black: International
Chris Hemsworth and Tessa Thompson had amazing chemistry in the hilarious Thor: Ragnarok and we're glad to see them back together again, but this time they're saving the world from the scum of the universe in this sci-fi comedy. F. Gary Gray, the director of the hard-hitting Straight Outta Compton, was the shot-caller for this blockbuster, and Matt Holloway and Art Marcum, two screenwriters from Iron Man, penned the screenplay. Based on the trailer, Men In Black: International will have the same slick and light comedic vibe of the original trilogy. Our fingers are crossed for Will Smith and Tommy Lee Jones cameos.
Release Date: June 14, 2019
Director(s): F. Gary Gray
Genre(s): sci-fi, comedy, action
Midsommar
Ari Aster's directorial debut Hereditary(pictured above) is one of the most disturbing, horrific movies released in the past decade, so it's hard to overlook his next cinematic endeavor. There's not much known about the plot other than a young lady unwillingly accompanying her boyfriend on a summer trip where things fall apart. If you've watched Hereditary, then you'll know how insane things can get when they "fall apart" in Aster's mind. Even with that vague synopsis, we're all in. Just like with Hereditary, Aster has penned the script. It also helps to have Will Poulter and Florence Pugh in the cast.
Release Date: August 9, 2019
Director(s): Ari Aster
Genre(s): drama, horror
Once Upon A Time In Hollywood
When Quentin Tarantino writes a script, he pulls from his museum of film knowledge, hyper-violent imagination, and pop culture interpretations to create incredible stories with swagger for days. He doesn't crank out movies, so when he makes one, it's always a must-watch pick for the year. Once Upon a Time in Hollywood is about a faded TV actor and his stunt double's journey to become stars in Los Angeles during the 1969 Helter Skelter timeframe. Directed and written by Tarantino, the film stars Leonardo DiCaprio, Brad Pitt, Margot Robbie, Al Pacino, Kurt Russell, Dakota Fanning, and Emile Hirsch. Plenty of actors in this film will play real-life celebrities, such as Steve McQueen and Bruce Lee.
Release Date: July 26, 2019
Director(s): Quentin Tarantino
Genre(s): comedy, drama
Pet Sematary
With the success of the movie It, we shouldn't be surprised that Stephen King's classic novels are getting adapted into movies again. The 1989 version of Pet Sematary was mediocre at best with a few noteworthy moments, but the story definitely deserves a second chance. There are plenty of missed opportunities in the '80s version and we're hoping the 2019 Pet Sematary flick will do more with the material, which presents the possibility of coming back after death. Of all the novels he's written, King has stated that Pet Sematary is the only one that genuinely sent chills down his spine. The trailer looks sinister and the cast, which includes John Lithgow and Jason Clarke, is solid.
Release Date: April 5, 2019
Director(s): Kevin Kolsch, Dennis Widmyer
Genre(s): horror
Rocketman
Although bio-pics are usually cookie-cutter affairs, the trailer for Rocketman, which tells the story of music legend Elton John, looks gorgeous and seems to be taking a different approach. Taron Egerton, star of the Kingsman movies, will be playing The Rocket Man himself and looks very fitting in the role. It's being advertised as a "musical fantasy" about the life and times of Elton John, so we're hoping it ditches the biopic formula altogether. Director Dexter Fletcher's last film was Eddie The Eagle, which was an indie hit, so the film has a solid director at the helm. The film also stars Bryce Dallas Howard, Richard Madden, and Jamie Bell.
Release Date: May 31, 2019
Director(s): Dexter Fletcher
Genre(s): biopic, drama
Serenity
Director and screenwriter Steven Knight proved he has a knack for thrillers with his film Locke, which had us on the edge of our seat, even though the entire movie took place in a car where Tom Hardy's character makes phone calls for the whole runtime. Well, Knight is coming out with another thriller, but his time with a bigger budget. The intriguing plot revolves around a fishing boat captain and his ex-wife who tracks him down to ask for a serious, life-changing favor. The film stars Matthew McConaughey, Anne Hathaway, Djimon Hounsou, and Diane Lane.
Release Date: January 25, 2019
Director(s): Steven Knight
Genre(s): thriller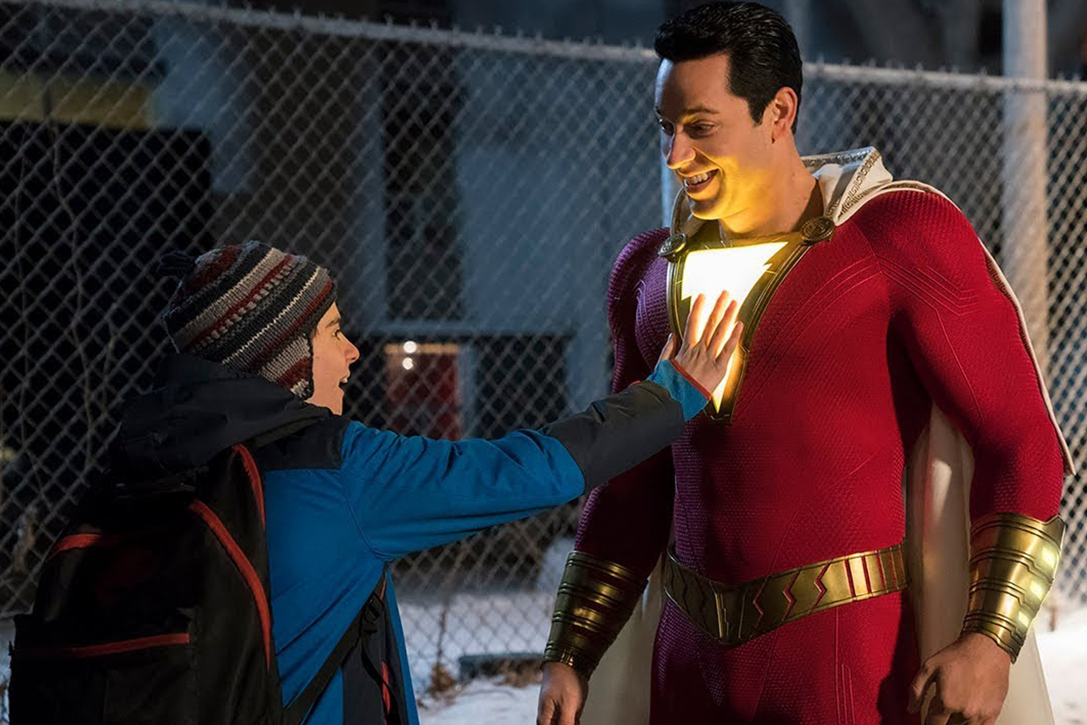 Shazam!
Most of the DC movies, starting with Man of Steel, have been struggling to keep up with the Marvel flicks. However, with Wonder Woman and Aquaman on deck, we can see how they might be able to turn things around. Shazam! tells the tale of a 14-year-old foster kid who gains the ability to turn into an adult superhero. It feels like Tom Hanks in Big mixed with Superman and although it might sound a bit silly, the trailer looks very promising. Zachary Levi will be playing the title character and Asher Angel stars as the young teen who's blessed with the superhero transformation power. The cast is rounded out by the always reliable Mark Strong and Jack Dylan Grazer, who did a terrific job playing Eddie in Stephen King's It.
Release Date: April 5, 2019
Director(s): David F. Sandberg
Genre(s): fantasy, comedy, action
Spider-Man: Far From Home
The same cast and crew from Spider-Man: Homecoming is back for the sequel and the trailer looks very promising. Tom Holland proved in his first Spider-Man flick that he was the best actor so far to play Spidey. This time around, Spider-Man will be traveling around Europe for a school trip when Nick Fury intervenes to have him team up with Mysterio to take care of a new threat. And, if you haven't heard already, Mysterio, who is one of Spider-Man's most notable villains, will be played by the extremely talented Jake Gyllenhaal.
Release Date: July 5, 2019
Director(s): Jon Watts
Genre(s): fantasy, comedy, action
Stars Wars Episode IX
The new trilogy will come to a close this December, and if you're a Star Wars fan, this will be part of your Christmas festivities. Star Wars: The Last Jedi had its flaws, but it was a bold, daring installment with some hard answers to questions presented in The Force Awakens. J.J. Abrams was given directorial duties, and we're hoping Episode IX will be a mix of the first two films in this new trilogy. We're not sure where Abrams will take the story next, but we hope to gain some worthy arcs for Rey, Finn, Poe, and Kylo Ren. We're sure once the trailer drops everyone on the Internet will implode from excitement and every second will be analyzed. There's really no need to explain why The Force is strong with this one.
Release Date: December 20, 2019
Director(s): J.J. Abrams
Genre(s): fantasy, adventure
Terminator (untitled reboot)
As of right now, Terminator and Terminator 2: Judgement Day are the only films that should exist in the self-aware killer robot fantasy world started by James Cameron. True Terminator fans have been waiting for a legitimate sequel since 1991 and this looks like the year it will actually happen. Produced by James Cameron and directed by Deadpool's Tim Miller, the Terminator reboot will reunite stars Arnold Schwarzenegger and Linda Hamilton for the first time since Terminator 2: Judgement Day (or since filming scenes for the T2-3D: Battle Across Time attraction). Film junkies went nuts when a photo of Linda Hamilton as Sarah Connor was released not too long ago. It seems as though the Terminator franchise is back.
Release Date: November 1, 2019
Director(s): Tim Miller
Genre(s): sci-fi, action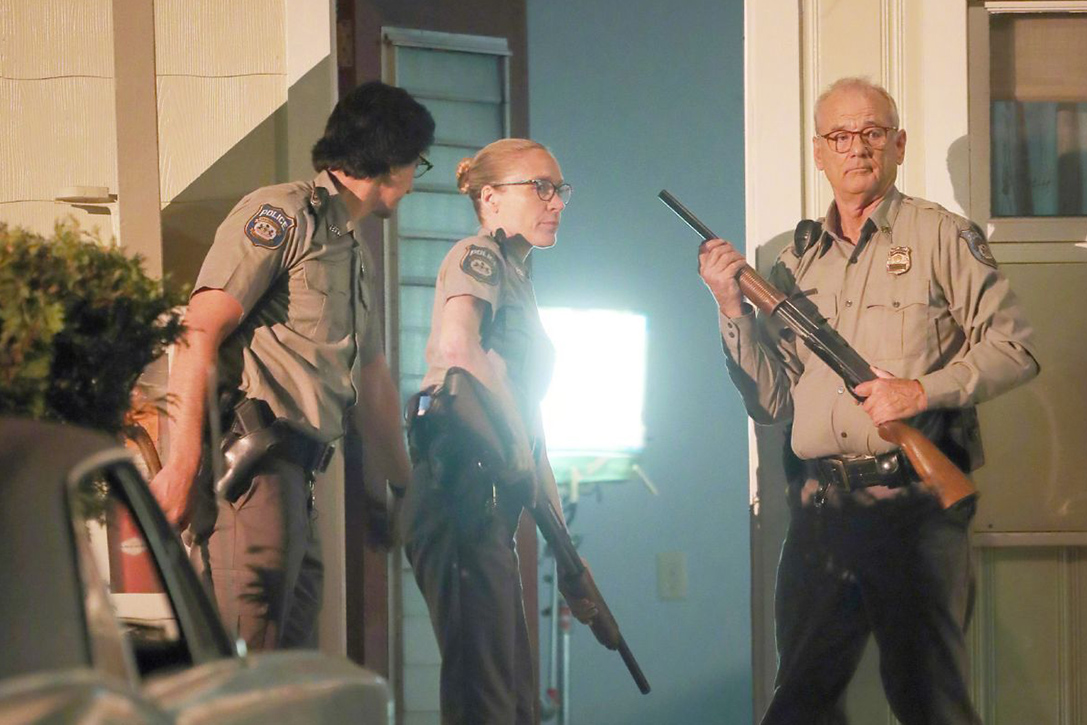 The Dead Don't Die
Indie film legend Jim Jarmusch has directed a collection of offbeat, artistic films. However, his latest offering seems to his most mainstream film yet. The Dead Don't Die is a zombie comedy starring Bill Murray, Adam Driver, Steve Buscemi, Tilda Swinton, and Chloe Sevigny. If you've seen Zombieland then you've probably been waiting for Murray to be in another zombie flick for longer than five minutes. Murray states that he won't be playing a zombie, but the script is hilarious. We'll take the comedy legend's word for it.
Release Date: TBA
Director(s): Jim Jarmusch
Genre(s): comedy, horror
The Irishman
Martin Scorsese and Robert De Niro are one of the best duos in cinema history. When they team up, they usually make cinematic fried gold, as you can see with Taxi Driver, Raging Bull, and Goodfellas. It's been over two decades since they've created a film together (the last one being Casino) and now the band is back together. Yes, even Joe Pesci is in on this one and they've got Al Pacino onboard too, which is the first time the legend has ever worked with Scorsese. Need one more reason to keep your eyes on this one? Fine. It's a gangster flick about hitman Frank Sheeran and the murder of Jimmy Hoffa. If you didn't know already, gangster films are kind of Scorsese's bread-and-butter.
Release Date: TBA
Director(s): Martin Scorsese
Genre(s): crime, drama
The Lion King
The 1994 animated movie The Lion King is one of our all-time favorite Disney movies. The current trend of making "live action" remakes of Disney classics has been a hit-or-miss affair, which is worrisome. But with Jon Favreau sitting in the director's chair, Donald Glover playing Simba, Beyonce voicing Nala, and James Earl Jones coming back to reprise his role as Mufasa, we can't help but get excited. Just watching the trailer turns back time momentarily to when things were much simpler and the biggest worry was conflicting times for cartoons. The "live action" remake of The Lion King has everything right on paper, and we're rooting for the cast and crew to deliver, even if it means having to watch Mufasa get trampled by wildebeests all over again.
Release Date: July 19, 2019
Director(s): Jon Favreau
Genre(s): family
Toy Story 4
The first of the series was released in 1995 and revolutionized computer-animated movies. We know the characters, we thought we received the last hurrah with the third installment, but Pixar has decided to breathe life back into one of the most beloved animated franchises of all time. Tom Hanks is back voicing Woody and Tim Allen will once again play Buzz Lightyear, as Andy's former toys will embark on one last trip. Joining the cast for this new adventure is Keegan-Michael Key, Jordan Peele, and Keanu Reeves. Details about the plot haven't been released yet, but Pixar probably has something heartwarming in store.
Release Date: June 21, 2019
Director(s): Josh Cooley
Genre(s): family
Uncut Gems
Directors Benny and Josh Safdie came out with a gritty crime thriller starring Robert Pattinson entitled Good Time back in 2017, which felt like the product of a young Martin Scorsese. You could feel the filthy, cold air in your lungs watching the film, as the clock chopped away the seconds with a razor sharp blade. There's not much known about Uncut Gems, but we do know it's an American crime drama directed by a pair of guys who know how to build tension and make you care about flawed characters. Adam Sandler, in a rare dramatic role, stars in the film alongside Lakeith Stanfield and Pom Klementieff.
Release Date: TBA
Director(s): Benny Safdie, Josh Safdie
Genre(s): crime, comedy
Us
Jordan Peele took all of us by surprise with his directorial debut, as Get Out was an Oscar-winning psychological horror hit. Peele is back with a creepy sophomore film called Us packed with a talented cast including Lupita Nyong'o, Winston Duke, and Yahya Abdul-Mateen II. The twisted story seems to come straight from a well-orchestrated nightmare, as a family on vacation has to deal with eerie visitors who look exactly like them. Peele is a tremendous The Twilight Zone fan and this film seems to be inspired by the classic sci-fi TV show. After watching the trailer, we'll never hear Luniz's "I Got 5 On It" the same way again.
Release Date: March 22, 2019
Director(s): Jordan Peele
Genre(s): horror, thriller
Velvet Buzzsaw
Dan Gilroy and Jake Gyllenhaal gave us the closest thing we'll ever get to a modern-day Taxi Driver with Nightcrawler. The dynamic duo is back together in Velvet Buzzsaw, a film about the contemporary art world scene in Los Angeles and a vengeful supernatural force. The trailer looks insane and Gyllenhaal looks like he's brought his A-game once again, playing a meticulous art critic, although we don't actually think he's ever phoned-in any performance. This Netflix original horror film will also star Toni Collette, Rene Russo, and John Malkovich.
Release Date: February 1, 2019
Director(s): Dan Gilroy
Genre(s): horror, mystery
The 20 Most Anticipated TV Shows Of 2019
Just like the big screen, the small screen will see plenty of action with new and continuing shows. Check out the 20 most anticipated TV shows of 2019 and keep up with the ever-growing world of entertainment.