To say that 2020 was a rollercoaster of a year is perhaps putting it too lightly. There's also no denying that it had a tremendous and, in some cases, devastating effect on the movie industry — with movie theaters shutting down indefinitely, productions being delayed, stars and crew catching COVID-19, and more. While delays and cancellations became the norm for some studios, others powered through and picked up right where they left off.
For all of us, 2021 may end up being another disappointing and frustrating year across the board. However, that's not going to stop us from looking forward to big-screen entertainment — even if those screens are a bit smaller this go-around (now's as good a time as any to set up your home theater). And that's why we've compiled the following list of flicks currently slated for release. They might not all come out as planned and some may very well end up getting pushed to 2022, but these are the 30 most-anticipated movies of 2021.
The King's Man
February 12th
Matthew Vaughan's Kingsmen series has resulted in a refreshing, albeit somewhat sophomoric spin on the sometimes-stuffy super-spy action-thriller genre. And while we're certainly looking forward to more of Eggsy's story, we're also keen to take a deep dive into the eponymous agency's origins. And that is exactly what The King's Man offers. Situated squarely in the middle of WWI, this tongue-in-cheek period-piece stars the likes of Aaron Taylor-Johnson, Gemma Arterton, Ralph Fiennes, and many more. And, if the trailer is to be believed, it should be a fun, explosion-filled romp through an otherwise dreary time.
Director(s): Matthew Vaughan
Genre(s): Action, Adventure, Comedy
Rating: R
What gets us the most excited about Antlers isn't so much the unique, lore-laden plot or the overwhelming sense of old-world dread put forth in the trailer, but rather the involvement of Guillermo Del Toro as a producer. After all, he's the genius behind creepy-but-cool titles including Pan's Labyrinth, The Devil's Backbone, and Cronos. Even without his name, however, this spooky mystery looks to be a promising, stylized, bone-chilling one with the potential to garner the same acclaim as a similarly-styled masterpiece: Hereditary. Here's to hoping!
Director(s): Scott Cooper
Genre(s): Horror, Mystery
Rating: R
Ghostbusters: Afterlife
March 5th
There was an attempt at rebooting the classic '80s Ghostbusters franchise back in 2016 — but it didn't go very well, getting panned by critics and fans alike and losing roughly $70 million in the process. This next swing, however, shows a much greater amount of promise. For starters, it's being helmed by Jason Reitman, the son of Ivan Reitman — the director of the original film. It will also mark the return of Sigourney Weaver, Dan Aykroyd, Ernie Hudson, and Annie Potts as their characters from the first two films. Pair that with the addition of Paul Rudd, Finn Wolfhard, Carrie Coon, Mckenna Grace, and more, and this spooky comedy is shaping up to be a solid return to form with some new faces and themes.
Director(s): Jason Reitman
Genre(s): Comedy, Fantasy
Rating: PG-13 (Likely)
Raya and the Last Dragon
March 12th
Most Disney movies are at least watchable and they've got a better-than-average track record of putting out great films. However, when you incorporate the brand's signature blend of drama, warmth, comedy, and absolutely gorgeous animation into a story that takes place in a unique mythology-inspired setting, that's when they really hit the sweet spot. That looks to be the case with Raya and the Last Dragon. Inspired by Asian culture and set in a reimagined Earth, this is definitely a story that will resonate with lovers of fantasy and appears to be something that children and adults alike will enjoy — even if it doesn't entirely break the mold.
Director(s): Don Hall, Carlos López Estrada, Paul Briggs, John Ripa
Genre(s): Action, Adventure, Family, Fantasy
Rating: PG (Likely)
The Many Saints of Newark
March 12th
Rumors of an upcoming Sopranos movie have been floating through the ether for some time now. However, this prequel has now been confirmed for well over a year and was even set for a September 25th, 2020 release date. Obviously, that didn't come to fruition thanks to COVID-19, but the movie is still in the pipeline — this time with a release date of March 12th, 2021. This will actually be a prequel to the HBO show and is starring none other than Michael Gandolfini, son of James Gandolfini, in the role of a young Tony Soprano. If that gives you Godfather II vibes, you're on the right track. Joined by Jon Bernthal, Vera Farmiga, Ray Liotta, and so many more, this flick boasts a blockbuster-level cast lineup and should perform well with those that love the mob/crime genre.
Director(s): Alan Taylor
Genre(s): Crime, Drama
Rating: R (Likely)
Sony's track record with Spider-Man and superhero films has been somewhat dismal, especially post Spider-Man II, but they've seen recent successes — critically with Into the Spider-Verse and monetarily with the Venom spinoff starring Tom Hardy. This Jared Leto-starring flick about a lesser-known villain known as Morbius, the Living Vampire is likely to be bedfellows with the latter film, but there's still plenty of reason to be excited about it. For starters, Leto is joined by the likes of Matt Smith, Michael Keaton, and Jared Harris. But this is also a rare opportunity to give life to a character not quite as well-known as Spider-Man's other rogues — which gives the creatives behind the movie a lot more freedom to play around and make it interesting and unusual. It remains to be seen if they can pull it off, but we have high hopes.
Director(s): Daniel Espinosa
Genre(s): Action, Adventure, Drama
Rating: PG-13 (Likely)
The Fast & Furious franchise isn't exactly known for having spectacular or even entirely cohesive stories. Thankfully, that's not why we watch them. Rather, we plop our butts in those seats to see fast driving, cool cars, big explosions, and broken physics. And if the rumors are to be believed, the 9th entry in the main storyline will have all of that and more in spades. Along with the return of Vin Diesel, Michelle Rodriguez, Tyrese Gibson, Ludacris, and even Jordana Brewster, this entry also marks the return of Charlize Theron as the villain Cipher — although the part she plays remains to be seen, as this is also a franchise known for flipping villains into heroes and vice versa. Perhaps the biggest question to be answered, however, is: will Dom Toretto and company actually go to space, as is rumored?
Director(s): Justin Lin
Genre(s): Action, Adventure
Rating: PG-13
Of all the movies that were slated for a 2020 release only to be pushed to 2021, No Time To Die was probably the most anticipated and, therefore, the most disappointing to hear about. Thankfully, the delay hasn't pushed this James Bond film — the fifth and, presumably, final appearance of Daniel Craig as the famed superspy — too far into the future. Of course, Craig is only one of the many reasons we're looking forward to this big-budget, high-octane, action-thriller. Others include the addition of Ana de Armas, Rami Malek as the big bad, Lashana Lynch as the new 007, and the return of franchise favorites including Ralph Fiennes as M, Jeffrey Wright as Felix Leiter, and — most surprisingly — Christoph Waltz as Ernst Stavro Blofeld. Besides, you can't really ever go too wrong with a Bond flick, right?
Director(s): Cary Joji Fukunaga
Genre(s): Action, Adventure, Thriller
Rating: PG-13
In the 1990s, the video game Mortal Kombat was brought to the big screen for the first time. While it's become a cult hit it was, objectively, not great. The sequel even less so. Since those two, there have been rumors of a reboot and even a series of spectacular shorts released online under the Mortal Kombat: Legacy moniker. However, the rumors are finally no longer just rumors, as James Wan is bringing the ultraviolent fighting game back to the big screen for 2021. Apart from the casting news, little information has been made available. As far as we're concerned, however, the available news is more than enough to get us pumped up and looking forward to brutal battles and gruesome onscreen Fatalities. Oh yeah, we should probably mention that the filmmakers are anticipating a hard R-rating.
Director(s): Simon McQuoid
Genre(s): Action, Adventure, Fantasy
Rating: R (Likely)
A Quiet Place Part II
April 23rd
There's no denying that the first A Quiet Place was an unadulterated, stand-out hit — in fact, it was one of the highest-grossing horror films ever made and still sits at #21 overall. This follow-up is part prequel, part sequel, and marks the return of Emily Blunt, Millicent Simmonds, and Noah Jupe as the Abbotts. It also sees the addition of big names including Cillian Murphy and Djimon Hounsou and marks the return of John Krasinski both as a star and the writer-director. We anticipate this follow-up will dive deeper into the lore of the first film, perhaps explain more of the universe's lore and, undoubtedly, will have plenty of spine-tingling, nerve-wracking scares — both of the jump and slow-burn varieties.
Director(s): John Krasinski
Genre(s): Horror, Drama, Sci-Fi
Rating: PG-13
Last Night In Soho
April 23rd
Based on his filmography and the photos that have been released of the film so far, Edgar Wright's Last Night in Soho looks like a fun romp through 1960's London with the same flair as Wright's other films — like Baby Driver, Hot Fuzz, and even Scott Pilgrim vs. the World. However, if the synopsis is to be believed, it should have a much darker edge, even leaning into the horror end of the spectrum more so than Shaun of the Dead. And that makes for a very intriguing prospect. Pair that with the casting of Anya Taylor-Joy and Matt Smith as the two lead roles, and this particular film has all the makings of a dark horse cinematic masterpiece. Of course, that's kind of what Wright has become known for these days.
Director(s): Edgar Wright
Genre(s): Drama, Horror, Thriller
Rating: N/A
In a less-than-shocking twist, 2020 was the first year without a major MCU title release, as Black Widow ended up getting pushed to 2021 with the coronavirus outbreak to blame. However, the studio is unlikely to push this prequel again, so we're very much expecting to see it come the beginning of May. In case you've forgotten (it has been a while, after all), this movie stars Scarlett Johansson, Florence Pugh, Rachel Weisz, David Harbour, and numerous others in a flick that presumably sees Johansson pass the proverbial torch to Pugh for the next phase of the MCU. The movie is also set to bring Taskmaster, a longtime Avengers villain, into the cinematic universe, though it remains to be seen if this is a one-shot character or a part of a larger story.
Director(s): Cate Shortland
Genre(s): Action, Advnenture, Sci-Fi
Rating: PG-13 (Likely)
Godzilla vs. Kong
May 21st
Sometimes, we just want to go to the movies to unplug. We don't want to think. We don't want to feel. We just want big-budget entertainment. And that's the likeliest outcome with Godzilla vs. Kong — a film that could be the most epic monster movie since Pacific Rim. If the last entry in the American Godzilla franchise is any indication, this flick is going to look spectacular, especially in IMAX, and should feature wanton destruction of godlike proportions. Of course, we're also tempering our expectations regarding the storyline. While the first Godzilla and even Kong: Skull Island had decent stories, that's not what we're here for. We want to see a giant gorilla duke it out with a fire-breathing lizard and anything else that comes along with it is just an accouterment to the main event.
Director(s): Adam Wingard
Genre(s): Action, Sci-Fi, Thriller
Rating: PG-13
You might think that the Saw franchise has been done-to-death at this point, no pun intended. After all, there were a whopping eight entries in the ultraviolent horror series — all of which came out between 2004 and 2017. Well, Spiral takes place in the same universe, but it's actually a spin-off — meaning it isn't a part of the titular serial killer's story. That opens up the possibilities quite a bit, which is aided by a cast list that includes Chris Rock, Samuel L. Jackson, and Max Minghella (The Handmaid's Tale). Lovers of bloody horror will likely be excited, but we're more here for the lore and the psychological aspects of this one — which we're hoping toes the line a bit closer to Seven than the later Saw films, which could be called glorified murder porn.
Director(s): Darren Lynn Bousman
Genre(s): Crime, Horror, Mystery
Rating: R
The Conjuring: The Devil Made Me Do It
June 4th
James Wan's Conjuring series has been one of the more refreshing horror franchises from the last several decades, following fictionalized tales about real-life paranormal investigators Lorraine and Ed Warren. This entry, produced but not directed by Wan, marks the third main-series entry in the franchise and is said to be based on one of the most terrifying real-life experiences of the Warrens during their active period. This entry, like the previous two, sees both Vera Farmiga and Patrick Wilson return as the Warrens and should elicit the same spooky dread as its silver-screen brethren.
Director(s): Michael Chaves
Genre(s): Horror, Mystery, Thriller
Rating: N/A
Information as to the concept and plot of Disney-Pixar's Luca only just became available. But that hasn't stopped us from getting on the hype train, as the Pixar wing of Disney Studios has been consistently putting out spectacular films since their first-ever release, Toy Story. This one, as is so often the case, is a unique and original tale that takes place on the Italian Riviera and concerns the friendship of a human and a sea monster disguised as a human. Little other information has been released, but there's enough reason to be found in the studios and their respective pedigrees to look forward to this title.
Director(s): Enrico Casarosa
Genre(s): Adventure, Family
Rating: PG (Likely)
Top Gun: Maverick
July 2nd
The long-awaited sequel to everyone's favorite high-octane flick about Navy fighter pilots was actually supposed to come out in 2020 — but, like so many things, the pandemic put the kibosh on the original release date. Now, Top Gun: Maverick is slated for a release just before July 4th of 2021, which is about as appropriate a time as any. There are a lot of unanswered questions to be had in this one — not least of all how Maverick is still flying after the events of the first movie. But we're hoping at least a measure of them can be answered come the July 2nd release. The movie also stars John Hamm, Jennifer Connelly, Miles Teller, and sees the return of Val Kilmer as Iceman.
Director(s): Joseph Kosinski
Genre(s): Action, Drama
Rating: N/A
Space Jam: A New Legacy
July 16th
The original Space Jam didn't really resonate with critics, but that didn't stop it from becoming a massive hit amongst '90s kids everywhere. That combination makes for shaky ground when it comes to the sequel — it could be a tremendous follow-up and it could be a horrible disaster. Unfortunately, it's all but impossible to tell until we start seeing reviews and the movie comes out in theaters or to rent. However, the involvement of LeBron James — presumably fitting in where Michael Jordan left off — has set high expectations. That's compounded by how long rumors of the flick have been floating around. One way or another, we're interested in seeing what comes next.
Director(s): Malcolm D. Lee
Genre(s): Adventure, Comedy
Rating: N/A
A fan favorite amongst frequent Disneyland attendees, Disney's Jungle Cruise ride has always existed as a sort of footnote amongst the other properties being turned into big-budget film franchises, like Pirates of the Caribbean. However, the film studio has finally taken this strange, retro ride to the big screen in the appropriately-named Jungle Cruise movie — starring Dwayne Johnson and Emily Blunt. If the cast is any indication, this flick will likely be a massive hit at the box office and, based on Disney's track record, there's a good bet it will be fun for the whole family.
Director(s): Jaume Collet-Serra
Genre(s): Action, Adventure, Comedy
Rating: N/A
The Suicide Squad
August 6th
The first Suicide Squad movie, which came out back in 2016, was a disaster from start to finish — which was a massive shame, considering how much promise there was within the premise. However, its follow-up, helmed by none other than James Gunn (the mastermind behind Guardians of the Galaxy). Better still, it looks like Gunn was given free rein to get as weird with it as he wanted, which led to a far more bizarre cast of characters from the strangest corners of the DC universe and, therefore, a final product that's much harder to pin down. However, the studio is so confident in this new direction, that they've already announced a TV show spin-off — specifically one starring John Cena's Peacemaker. The Suicide Squad is going to be bizarre beyond compare, but that may very well be an extremely good thing.
Director(s): James Gunn
Genre(s): Action, Adventure, Fantasy
Rating: R (Likely)
When it was revealed that Jordan Peele was working on a spiritual reboot of the Candyman franchise, we were tickled pink. After all, Peele has been working wonders in the horror genre, especially through stories that tackle modern social issues. Based on the lore of Candyman, we expect the same acerbic observations and we're hoping to be pushed past our comfort zones. It definitely helps, too, that the main character is played by Yahya Abdul-Mateen II, who you may know from his brilliant performance in HBO's Watchmen limited series. All told, this reboot is definitely shaping up to be one of the most unique horror films in years.
Director(s): Nia DaCosta
Genre(s): Horror, Thriller
Rating: R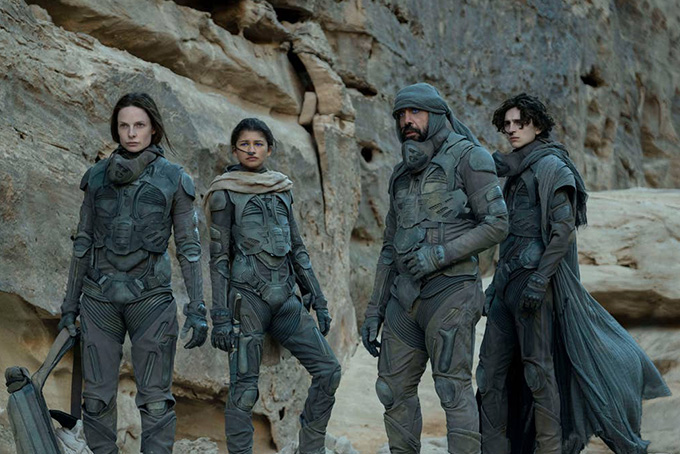 Frank Herbert, may he rest in peace, penned the original Dune book that took the world of sci-fi literature by storm. So, it should carry some weight that Herbert's son has come out and said that Denis Villeneuve's upcoming film "will forever be the definitive film adaptation." High praise aside, this interpretation is a long time in the making and definitely bodes well that its bedfellows include the likes of Arrival and, perhaps more importantly, Blade Runner 2049 — both considered science-fiction film masterpieces and both the work of Villeneuve.
Director(s): Denis Villeneuve
Genre(s): Adventure, Drama, Sci-Fi
Rating: PG-13
If all goes as planned, 2021 looks to be the year of Tom Holland. As of now, he has three pretty major titles all slated for a release, including Uncharted. Based on the award-winning, best-selling PlayStation-exclusive video game of the same name, this film serves as a prequel to the games and highlights just how hero Nathan Drake came to be. If you're thinking this movie is going to be an awful lot like an Indiana Jones redux, you're probably on the right track. However, the video games' formula has worked thus far and, while good video game movie adaptations are few and far between, the cast list seems promising and it's also unlikely Sony is going to put out a sub-par film based on one of its most successful franchises.
Director(s): Ruben Fleischer
Genre(s): Action, Adventure
Rating: N/A
Halloween Kills
October 15th
Though the film, a follow-up to the concisely-named Halloween from 2018, still has months and months before its release, Halloween Kills is already having praise showered upon it by none other than the franchise's biggest star, Jamie Lee Curtis. While it's probably best to take it with a grain of salt, she hasn't pulled her punches in the least — referring to the sequel as a "masterpiece." Penned by director David Gordon Green alongside Danny McBride (the duo also worked together on the 2018 film), this entry takes place only moments after the end of its predecessor and will be followed by a third and final film. One way or another, we're looking forward to seeing what happens to Michael Meyers and his iconic white-painted William Shatner mask.
Director(s): David Gordon Green
Genre(s): Horror, Thriller
Rating: R
There have actually been two G.I. Joe live-action movies — one in 2009 and another from 2013 — but they weren't exactly masterpieces, despite the involvement of Channing Tatum, Duane Johnson, Dennis Quaid, Joseph Gordon-Levitt, Ray Park, Sienna Miller, and more. However, there's still a lot of hype around the spin-off Snake Eyes movie. Perhaps this is because it concerns every 1980s kid's favorite all-black-clad ninja action figure. Or maybe the reason is that they're actually hiring actors of Asian descent to play characters of Asian descent this go-around. Either way, even if the story isn't all it's cracked up to be, there's definitely plenty of reason to think this big-budget, martial arts, military action flick will keep your eyes glued to the screen.
Director(s): Robert Schwentke
Genre(s): Action, Adventure
Rating: N/A
To say that the Marvel Cinematic Universe has gotten strange is, well, the understatement of the decade. After all, we're talking about a superhero-focused franchise that now dabbles in time travel, intergalactic adventures, a multiverse, and more. Well, Eternals isn't going to change that, as this entry in the MCU concerns an ancient and immortal alien race that's been living on earth for thousands of years in secret facing off against an equally ancient and immortal collection of villains called the Deviants. It's a big, bold comic adaptation — to be sure — but a cast list that includes Angelina Jolie, Kumail Nanjiani, Salma Hayek, Kit Harrington, and more definitely speaks to its potential.
Director(s): Chloé Zhao
Genre(s): Action, Adventure, Drama
Rating: N/A
Mission Impossible 7
November 19th
If Tom Cruise's latest on-set diatribe has proven anything, it's that he's absolutely dedicated to his craft — both creatively and as a means of supporting the entirety of the crew that works on his films. Even if you don't care for the Scientologist himself, that bodes well for the overall quality of his movies. It's also safe to say that the Mission Impossible franchise is all the better for it, especially when you look at the franchise's latest history of success — both story-wise and monetarily. We're not 100% sure what the 7th entry has to offer just yet, but there's plenty of reason to believe that this fully-loaded super-spy thriller will be, at the very least, enjoyable.
Director(s): Christopher McQuarrie
Genre(s): Action, Adventure, Thriller
Rating: N/A
Spider-Man 3
December 17th
Perhaps you haven't been paying attention to the casting of the latest entry in Tom Holland's Spider-Man franchise, but it looks like the creative minds behind the project are pulling no punches — gathering formerly-involved actors from across every corner of the previous timelines in what appears to be a formation of the comic's aptly-named Sinister Six villain troupe. With open-season on time travel and the multiverse, thanks to the culmination of the Infinity War saga in Marvel's Endgame, there's no telling just how big, bad, and possibly confusing this latest entry will be. However, the MCU has seen few duds — especially lately — and there's no reason to start doubting it now.
Director(s): Jon Watts
Genre(s): Action, Adventure, Sci-Fi
Rating: N/A
The Matrix 4
December 22nd
If you thought that The Matrix Revolutions was the end of Keanu Reeve's Neo and his computer-hacking, kung-fu-learning squad, you (like everyone else) were entirely wrong. Sadly, this new entry — to be written and directed by Lana Wachowski (of the original trilogy) — will not see the return of Lawrence Fishburne. But Carrie Moss is also returning and the cast is getting additions like Johnathan Groff (Mindhunter), Priyanka Chopra (Quantico), and Neil Patrick Harris (Starship Troopers). Seeing as how the last flick all but wrapped-up the saga, all bets are off regarding what this one will entail. We will, however, hold out hope that Hugo Weaving's Mr. Smith makes an appearance, seeing as how he's one of the best on-screen villains of recent decades.
Director(s): Lana Wachowski
Genre(s): Action, Sci-Fi
Rating: N/A
Originally, Ryan Reynolds's Free Guy was supposed to come out in July of 2020 — but the coronavirus tossed a wrench into the works. As such, it ended up getting pushed to 2021 and it has yet to see a hard release date scheduled. However, it does appear that the movie is all but finished and should be released sometime this year. That's good news, as this video game-themed flick — which looks like a strange combination of Ready Player One, Wreck-It Ralph, and Deadpool — is almost definitely going to be a lot of fun, even if it isn't something we've never seen before. That's definitely aided by Reynolds's keen comedic prowess and an impressive cast and crew, which sees Reynolds and Taika Waititi reuniting for the first time since Green Lantern and even includes a posthumous appearance by everyone's favorite game show host, Alex Trebek.
Director(s): Shawn Levy
Genre(s): Action, Adventure, Comedy
Rating: N/A
The 10 Best Entry-Level Home Theater Systems
We're not entirely sure when theaters will be open — or if we'll feel comfortable utilizing them for the foreseeable future. Thankfully, there are plenty of ways to enjoy movies elsewhere. That includes in the comfort of your own home, which is a far simpler prospect with one of the best entry-level home theaters-in-a-box.