These days, smartphones are ubiquitous in our daily routines. Whether you're whiling away the hours scrolling through social media or you're pulling out your device for a quick snap on the camera, your phone is among the more heavily-used items on your person. As such, it quickly becomes a dumping ground for dirt, grime, and any number of microbial tagalongs. It's enough to make even the most casual hygiene adherent's skin crawl.
So how do you remedy such an unsavory problem? Your best course of action is to hit your phone with a one-two punch, starting with a thorough clean and finishing it off with a spin through the sanitizer. If you're diligent in your efforts, you'll not only give yourself peace of mind; you'll also keep your phone looking factory fresh. Below, we've broken down the process into just a few simple steps, tailored specifically to Apple devices, with recommendations included along the way. So do yourself a favor and have a read to see how best to clean and sanitize your iPhone.
Your Phone Is Your Prerogative
Key Differences To Keep In Mind
For the most part, cleaning and sanitizing your iPhone is a pretty standard process across the board. Whether you're stuck with a model five generations too old or you've splashed some cash on the latest and greatest, the principles to keep in mind are much the same. However, it's worth considering the different design elements that Apple has incorporated into its smartphones over the years, from mere aesthetic updates to total functional overhauls.
Finishes: On the iPhone 11 Pro and 11 Pro Max, as well as on the iPhone 12 Pro and 12 Pro Max, the back glass comes with a special textured finish. With normal use, the glass may show signs of wear. At first glance, it may even resemble scratch; in most cases, it's actually material transfer from objects that have come in contact with your iPhone. These types of marks should buff out no problem with a bit of elbow grease.
Water-Resistance: Since the introduction of the iPhone 7 and 7 Plus, Apple has been making its phones with built-in IP67 water-resistance (IP68 for the iPhone 11 and newer). In practice, this means that they're resistant to splashes and can be submerged in water for up to 30 minutes without damage. That being said — while you're safe to use most cleaning products on your iPhone, don't treat its water-resistance as an invitation for recklessness. With time, rubber gaskets and other waterproofing features will wear down, and Apple's warranty doesn't cover water damage.
Screen Coatings: iPhone screens come with an oleophobic (oil repellent) coating that makes them resistant to fingerprints. On the iPhone 8 and later, Apple has included this coating on the front as well as the back glass. It's worth noting that although this coating will wear away over time, harsh cleaning products will accelerate the process.
Ports: With the announcement of the iPhone 7 came the loss of Apple's headphone jack. Sure, it may make for a bit of a headache come time to listen to music, but it also means fewer points of failure. Even still, be careful when cleaning around any openings — water-ingress is not welcome.
Getting Into The Nitty Gritty
Cleaning Your iPhone
It's best to clean your iPhone immediately if it's been exposed to anything that could stain or damage it. Per Apple's website, you should be particularly wary of substances like dirt, sand, ink, makeup, detergent, acids, and lotions. Whether you're performing a routine clean or an emergency response, the process is as follows:
1. Prepare For Cleaning: Before you get to work, it's important to ready your iPhone for cleaning so that you don't incur unnecessary damage in the process. First, turn your phone off and make sure to disconnect any cables, chargers, or cords. You don't want any electrical current to come into contact with liquid cleaning supplies, and keeping your phone powered down will ensure that you aren't activating the touchscreen while you clean. Afterward, remove cases and other accessories. While they protect your iPhone from daily wear, they'll only get in the way come time to hit the nooks and crannies.
2. Remove Excess Material: With your phone properly prepared, it's time for an initial dry pass. Begin by gently wiping away any surface debris with a soft microfiber cloth — it'll only make your work harder once you throw cleaning supplies into the mix. Next, use a can of compressed air to clear out the speaker grills, lightning port, and other hard-to-reach places. If you're having trouble getting into the seams between the display glass and the frame, you can use a toothpick to dig out any remaining dirt and dust. (Be sure to do so gently.)
3. Detail Work: Having taken care of the big stuff, you should now turn your attention to the fine details. Cotton swabs will be your best friends here. Simply dip a swab in a bit of your chosen cleaning product (we like rubbing alcohol) and trace around the edges of your phone, being sure to hit the buttons, the ring/silent switch, and any other crevices that could use a good clean. Less is more in this case — you don't want to use too much liquid or else it'll wear down your screen's coating.
4. Wipe Down: When you're done, take a dry microfiber cloth to your phone to remove excess alcohol and any remaining dust or dirt. It also gives you the opportunity to give your phone a once-over (now that it's clean) to look for existing problem areas.
What You'll Need
The Goods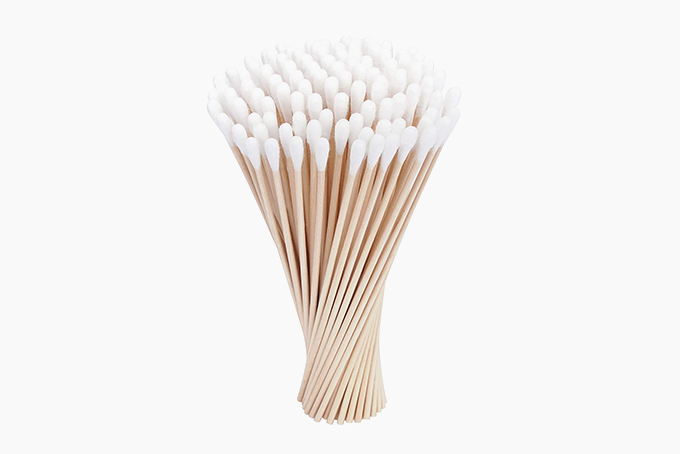 Tifanso Cotton Swabs
Sold in packs of 300, these cotton swabs are safe to use for everything from wound treatment to firearms maintenance. In other words, a little dirt on your iPhone doesn't stand a chance.
MagicFiber Microfiber Cleaning Cloth
Made of extremely soft microfiber material, these cleaning cloths absorb and remove dust, oil, smudges, and fingerprints. With no risk of scratches, streaks, or lint, they're an essential component of any electronics cleaning kit.
WHOOSH! Screen Cleaner
Specifically designed for use with electronics screens, Whoosh boasts a formula backed by Dr. Curis White, a leading expert in biochemistry with over 50 years of industry experience.
Falcon Dust-Off Compressed Air
Nothing compares to canned air when it comes to getting dust and lint out of your electronics' hard-to-reach places. Save yourself the headache and grab a bottle — it's good on computers, keyboards, and mice too.
Disinfecting For A Deeper Clean
Sanitizing Your iPhone
On any given day, our hands come into contact with countless different surfaces, picking up hundreds of thousands of microorganisms in the process. With so much as a press of the power button or a tap of the screen, you can easily transfer all of those germs to your phone. As such, smartphones have the potential to be nasty little devices; on average they're about 10 times dirtier than most public toilet seats. Given how the year has gone thus far, it's in your best interest to disinfect your iPhone. Cleaning is a solid first step, but following it up with good sanitizing ensures total microbial elimination.
1. Prevention Is Everything: If you're looking for a formidable first line of defense, it's best to minimize your iPhone use when out in public. Doing so will lessen your risk of exposing it to unwanted germs and other microbes in the first place, saving you the trouble of having to sanitize your phone as frequently. For instance, keep your iPhone in your bag or car when heading to the store — you won't be as inclined (or able) to reach for it. Going analog is another good idea, with shopping lists and card payments being easy ways that you can cut down on your phone use.
2. Ready It For Sanitizing: Assuming that you've been following our guide up until this point, your iPhone will already be barren of its case and chargers. If not, go ahead and remove any peripherals. You'll want your phone's surfaces clear of disruption so that you can hit it from every angle. Germs will build up anywhere you give them a chance to — if you're not thorough with cleaning each individual item (phone, case, charger) all of your work will be for naught.
3. Wipe Away Worries: Per Apple's website, you're safe to use disinfecting wipes to sanitize your iPhone. Isopropyl alcohol makes for another great choice, as it's powerful enough to kill anything that might be hiding on your phone, but not so strong that it'll ruin your iPhone's oleophobic coating. That being said, be careful about letting excess moisture build-up, and don't ever apply alcohol directly to your phone's display. It's also worth noting that you have to hit every surface if you're aiming for an iron-clad defense.
4. Make It Germ-Free With UV-C: Ultimately, there's no better way to disinfect your iPhone than by using a UV-C sanitizer. Offering 99.999% germicidal efficacy, these devices harness the power of short wavelength ultraviolet light in order to rid your phone of unwanted bacteria and viruses. Whether you spring for a generic wand or a phone-specific design, it makes a good addition to your arsenal.
What You'll Need
The Goods
Clorox Wipes
A good bet if you want an all-purpose cleaner, Clorox wipes are endorsed by both Apple and Google as an effective method of sanitizing your phone.
70% Isopropyl Alcohol
Easily one of the best liquid disinfectants to use on your phone, 70% is right at the sweet spot in terms of efficacy and screen safety.
PhoneSoap Pro
An improvement on their classic PhoneSoap design, the Pro model boasts twice the bulbs for half the cleaning time, disinfecting your iPhone in as little as 5 minutes.
The 12 Best Smartphone Sanitizers
Having learned the art of cleaning and sanitizing your iPhone, be sure to check out our guide to the best smartphone sanitizers. We've but scratched the surface of the many options available.