As we head into the best time of year to meander outside of our cozy homes, the age-old question of "where am I going to sleep (while on this trip)?" echos ominously through our minds. Obviously, it's not the first thing we ponder when heading outdoors for that epic weekend getaway — but it's an important reminder that the season of "tent living" is upon us. Unfortunately, if you're a beginner in the outdoor space, and obtusely-acquainted with the many offerings available today, finding the perfect expeditionary dwelling might come as quite the shock. Not only do you have to focus on finding the tent that's right for your preferred climate, location, and camping style, your search will likely lead you toward a troublesome quandary regarding the most important attribute of all: the aesthetic of your outdoor living space.
If the acquisition of a single, genre-defining tent was as simple as it sounds, there wouldn't be a handful of well-known manufacturers vying for your hard earned cash — and while many escapist structures look as if they sport the same fabrics, styles, and silhouettes from an observer's point of view, there's a bevy of information that should be known (and aspects that should be considered) when picking up your first tent. That's where we come in. Below, we'll walk you through the prominent questions and answers associated with our favorite outdoor dwelling, including the need for differing textiles depending on terrain and usage, ratings for weatherization and temperature adherence, and different factors that play into the climate you're looking to camp within. Factors such as weight, interior capacity, amenities, and overall construction are also included in the buying process, making things even more controversial. Thankfully, we've established a listing of what to look for when heading to your favorite outfitter for the all-inclusive camper's abode.
Discerning Your Needs
Where & Why
To figure out what kind of tent you're looking for, we have to dive into some very distinct topics. There are a number of variables that go into buying a new tent, and if you're a first-timer, there are specific trains-of-though that you'll need to foster in order to ensure your happiness. Whether you're hoping to decide on your shelter through an understanding of terrain, temperature, climate, or capability, we've outlined a few of the most common factors below.
Terrain
The first thing you'll need to think about when buying a new tent is the type of terrain you're hoping to use it on. It's best to be realistic with your expectations. After all, honesty is the key to success and can save you a ton of heartache, time, and money in the long run — especially when it comes to a destroyed, torn, or otherwise "incapacitated" shelter. Before you head out to Red Rock and throw your favorite, single-ply tent on an abrasive surface, take a long, hard look at the areas you're planning to go. The soft sands of the desert may call for a lightweight, single-ply fabric that can keep things airy and comfortable; similarly, during an expedition up to the peak of your favorite, snow-capped mountain, that same piece of equipment might not fare as well. It's important that you search for something that utilizes durable fabrics, exceptional build qualities, and (if you can find it) some sort of ripstop nylon, canvas, or polyester to keep things moving in the right direction.
Temperature
As we've stated above, understanding (and adapting) to the temperature of your prospective camping location is of utmost importance. This often means that we'll be whittling our choices down to three different types of tents: 3-Season, 3-4 Season, and 4-Season. As redundant as it may seem, these three iterations of outdoor abode are quite different in their constructions, capabilities, and resistances. We'll outline each variant in detail, below.
3 Season: These tents are the perfect choice for those who live in a moderate (to temperate) climate, blending minimalistic attributes and a lightweight orientation to keep you on the move during your expeditionary adventures. Not only do 3-Season tents boast the lightest carrying weight of the three types, but they also sport wide, open-ended mesh panels that allow for exceptional airflow. If you're searching for a platform that you can pack and carry with ease, while also being able to stand up to most hinderances in moderate temperatures, 3-Season tents are going to give you the best bang-for-your-buck.
3-4 Season: These tents were devised to bridge the gap between the lightweight, summer-ready offerings of the 3-Season, and the heavy-duty orientation of the large, 4-Season tent. Combining the most sought-after aspects from the two, this middle-of-the-road example works best when utilized in mild to temperate climates, but can also serve as the perfect companion during spring and late fall. They don't offer as much ventilation as their 3-Season counterparts, and often, they garner more weight due to the use of alternative-ply/heavier-ply fabrics. If you're expecting to head outdoors during the transitionary periods of the year (like fall and spring) the 3-4 Season tent will likely meet your expectations.
4 Season: These heavy-duty variants are built for inclement use, and are rated for environments where seasonal weather is more radical than your average expeditionary campsite. These examples fare best in areas where low temperatures, adversarial weather, and fierce, gusting winds are the norm. As you might expect, the tradeoff for the acquisition of a strong, stable, and sturdy 4-Season tent comes in the addition of weight and overall packability, making them an investment that should only be considered if you're an avid adventurer who's looking to traverse the world's toughest terrain.
Climate
When it comes to climate, we'll once again refer to the different seasonal tent styles. Each shelter, whether it be 3-Season, 3-4 Season, or 4-Season, features its own rating for inclement use. As you'd expect, the 3-Season tent is catered toward the elements commonly associated with summer, while the 4-Season is regularly used by adventurers who are looking for a dwelling that can withstand harsh cold fronts. Below, we'll speak on the capabilities of each.
3 Season: These tents fare best in climates that are mild, moderate, and temperate. This means that they're oriented toward the late-spring/summertime camper, and as such, they work best alongside warm temperatures where thick-ply construction, minimalized airflow, and heavy-duty fabrics aren't as prevalent. These lightweight structures can (and will) stand up to rainfall, and depending on the type of fabric that they utilize, they'll help you to "weather the storm" during light (to moderate) downpours, and even in light snow.
3-4 Season: These tents are the perfect middle ground between the two alternative styles, giving you access to weather-ready fabrics, an exceptional weight-to-capability ratio, and heat retention that fares well during the colder months of the year. While they aren't created to withstand harsh winds, snows, rains, and other inclement weather, they meet the expectations of travelers who are looking for a mid-weight dwelling that can outperform many 3-Season tents in terms of sheer durability. These tents feature fewer mesh panels, and more robust construction than their 3-Season counterparts, giving you peace-of-mind if you frequent high-elevation sites where you'll have to battle against snow and wind gusts.
4 Season: These tents bring campers the ultimate in inclement weather deterrence. From the get-go, these specialized tents were designed to battle heavy snow loads, ferocious winds, and uncommon elemental hinderances that come along with the world's harshest terrain. While these tents can, hypothetically, be used during any time of the year, their heavy-duty constructions and minimal exposure to the elements makes them a force to be reckoned with when it comes to inhospitable weather. These days, weight isn't as much of an issue as it used to be — thanks, in large part, to the innovation of materials and construction principles; but in the old days, 4-Season tents were burly, weighty beasts that had to be packed by the world's elite adventurers. If you're looking for a do-it-all platform that can stand up to any climate, and you don't mind carrying "a little bit extra," the 4-Season tent will be right up your alley.
Buying The Right Tent
Form & Function
Now that you're thinking of what kind of climate you'll be venturing into the most, it's time to look at a few common denominators that first-time tent buyers often run into. Below, we'll touch base on topics like size and weight, interior capacity, amenities, and overall construction, giving you some valued insight into the things that comprise a shelter, and reasoning behind why you should factor them in when heading to your favorite outfitter.
Size & Weight
First, we have size and weight. These are obvious factors that can make (or break) their decision to pick up the first would-be tent that they see. To calculate a roundabout figure for the weight of a tent, we'll take a look at how many people will be occupying the shelter. The rule of thumb is: for every individual that the dwelling can accommodate, a weight of less (but no greater) than 2.5 pounds is the preferential range you should be looking for. This way, you can focus on the tasks at hand, and remain cognizant of your footing, weight distribution, and overall composure while hiking. Obviously, this is a benchmark weight that can be added (or subtracted) from, depending on your overall weight, height, ability, and athleticism — but for most, this will provide a perfect starting point for the entire setup (including poles, fly, and shelter). Keep in mind that, depending on the number of people you're adventuring with, you can easily split the weight of the different components by divvying them up between individuals, allowing you to pack in a larger, more robust variant.
Capacity
It might not seem like a prevalent issue, but the capability of your tent is also defined by the capacity of its interior. If you're looking for a single person tent, you need to evaluate whether or not you'll be able to fit both yourself and your gear into the tent, while maintaining a healthy, uncramped space. A confined, uncomfortable living area is the last thing you want to worry about while trying to rest up and recharge for an early departure in the morning. Likewise, if you're traveling with a number of other individuals, and you're going to be sharing a tent, it's ideal to give one another adequate personal space. Keep in mind that, they too, have gear, clothing, and items that they'll need to stow; so be courteous of one other, and pick up a tent that can accommodate a variety of different loadouts.
Amenities
With smart devices, mobile GPS, and other components becoming more and more prevalent during off-the-grid expeditions, it makes sense to look for a tent that can provide you with a number of different quality-of-life options/amenities. Whether you're looking for slats for storage, hanging options for cables, clothing, lights, or peripherals, or a way to keep your gear safe from inclement weather, the addition of compartments and utilitarian amenities can make your life on the trail a whole lot easier. If you're the type of person who likes to keep things organized, safe, and secure, be sure to look for a tent that features a number of IPX (or waterproof) rated compartments — padded, or otherwise. You'll save yourself a lot of trouble by focusing on these attributes from the get-go, instead of finding out the hard way when all of your gear is wet, soggy, and destroyed.
Construction
When it comes to tent construction, there are a number of different types, styles, and variants of fabric that are used. Although there are a handful of choices that manufacturers have opted to utilize in recent years, three standout textiles have become the primary foundation for modern tents. Below, we'll look at them in a little more detail.
Nylon: The first (and one of the most common) types of materials used in tent construction is nylon. The benefit of this wondrous material is it's affordability, allowing manufacturers to implement a lightweight (but durable) textile into mass-produced shelters. While this material is strong, it's more susceptible to tearing and damage, especially when it comes to prolonged use in harsh sunlight. Because of this, smaller tents that don't see repetitive use will benefit the most from its inclusion. Luckily, "ripstop" nylon has become one of the industry's mainstay fabrics in recent years, giving you a more durable, waterproof textile for lightweight implementation. Look for a ripstop rating if you're going to head down the path of nylon.
PVC Canvas: PVC "Canvas" is commonly used in the construction of tarps, making it a go-to material for companies that are looking to capitalize on its durable capabilities. This textile is the perfect constituent for dwellings that regularly face prolonged exposure to harsh elements like wind, water, and rain, providing a near-impregnable barrier between you and the inclement environment. You'll often find it paired with a traditional canvas to protect you and your belongings from the harsh realities of the world — but be warned, its durability comes at a price; namely, in the form of additional weight.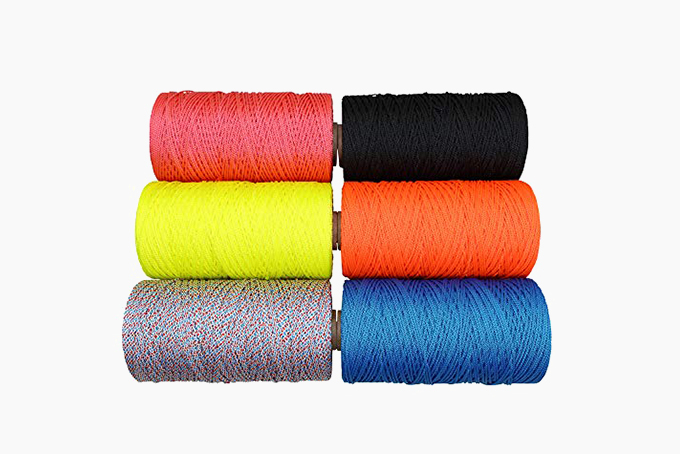 Specialized Polyester: Specialized Polyester is the most common textile used in tent construction, boasting affordable, lightweight attributes that make it perfect for packing, folding, and carrying. It's been tailored to stand up to a number of different climates, and can even feature waterproof attributes, should you find the right kind. This lightweight material has quickly become a mainstay in the industry — and, although it doesn't last as long as some of its more durable counterparts, you'll be hardpressed to find a more affordable variant that can stand up to a variety of elements.
Our Recommendations
Finding The Perfect Shelter
Winter Tents
Winter tents are made to face harsh storms, heavy snowdrifts, and inclement winds, meaning that they're the perfect, heavyweight option for avid explorers. Here are three of our favorites.
Big Agnes Shield 2
Big Agnes is a well-known name in the outdoor space, and their two-person Shield 2 tent is a cut above the rest when it comes to winter-ready shelters. This four-season mountaineering tent is made with a heavy-duty, single-wall design that boasts ultralight nylon, three-layer waterproofing, and breathable fabric that will keep you warm in inclement weather.
Black Diamond Eldorado
Black Diamond is another renowned name in mountaineering, and the company's two-person Eldorado is a testament to their prestigious heritage. Durable ToddTex single-wall fabric and a compact mountaineering design cater to taller adventurers who are looking for extra room to store gear and belongings while incorporating all of the weatherproofing qualities of the industry's leading winter shelters.
Hillberg Jannu
The Hillberg Jannu is a strong, lightweight two-person tent that boasts a minimal footprint, but doesn't slack when it comes to the overall construction. It's built with a Kerlon 1200 outer tent fabric and 9mm poles, shining in environments where inclement weather is a regular occurance.
Summer Tents
Summer tents are built to retain their lightweight, airy styling, while also giving you enough support for late spring and early fall endeavors. These tents are best for seasonal campers who are looking for a shelter that can get the job done, without all of the extra weight. Here are three of our favorites.
MSR Papa Hubba NX
MSR's two-person Papa Hubba NX is a tried-and-true summertime shelter, boasting a durable 20-denier ripstop nylon (and 15-denier nylon mesh) construction, a 3-Season orientation, and a 3.5-pound pack weight that makes it a joy to carry on outdoor expeditions. DuraShield Coating and DAC Featherlite NFL poles ensure that you'll be able to face the elements with ease — especially when you're camping on less-than-exemplary terrain.
Marmot Limestone 4P
Marmot's Limestone is a 3-Season, four-person tent that's the perfect middle ground between a compact, two-person shelter, and a much larger party dwelling. It's constructed using water-resistant fabrics, an easy-pitch design, and a 10-pound carry weight — giving you the quintessential shelter for a variety of summer, fall, and springtime expeditions.
REI Co-op Kingdom 6
REI is one of the most prestigious outdoor companies in the industry, and the Kingdom 6 — a six-person, 3-Season tent built with summer in mind — is the perfect companion for any outdoor endeavor. At 21-pounds, this gigantic tent is surely a party-pleaser; perfect for a summer getaway with friends who are willing to help you pack it out.
30 Camping Gear Essentials
Now that you've fostered your understanding of camping's primary component, dive a little deeper with our guide on the best camping gear essentials for the adventurer.