It goes without saying that yoga is a pastime that's much more enjoyable when done with a group. Since that's no longer the only option, with a plethora of smart home gyms and even online classes (yoga and otherwise), the amount of options for staying comfortable while getting in our daily fix from home has risen by a lot. Being one of the more accessible health and wellness activities out there, yoga has a low cost of entry — all you need is a mat. But what's the difference between all of the mats on the market today? Will any mat be just as viable as its counterpart? The truth is, finding a mat for home, whether you use it for yoga or floor exercises, is undeniably simple, but there are a few things that you'll have to take into account. Below, we've outlined the best offerings from around the space, focusing primarily on adaptability, conscious construction, and comfort.
Best Yoga Mats Breakdown
Best Budget Yoga Mat

Gaiam Athletic dynaMAT

Most Attractive

Pendleton x Yeti Yoga Fire Legend

Best Overall

Jade Yoga Harmony

Best for Travel

lululemon Carry Onwards Travel Yoga Mat

Best for Thick Mat

The Kind Mat

Best Cork Yoga Mat

Yoloha Nomad Cork

Best for Preventing Injuries

Liforme Original
What to Look for in a Yoga Mat
Material: Your material choice when picking a yoga mat will change the sensation on both your body and the floor. However, the biggest concern amongst yogis is how the materials affect the environment. Many mats utilize a form of PVC or plastic-based foam, which can be comfortable and more versatile, but you may want to opt for a recycled rubber or cork material instead.
Grip: Grip is important in your yoga mat because it will ensure that your session is most effective. If your mat is sliding around mid-stretch, it can cause injury, let alone be distracting. Most models will feature a grippy underside that will stick to whichever surface you choose.
Size: Not only will the surface area of the mat need to accommodate your body but the thickness of the mat should match your flooring and comfort situation. For hardwood, you may want something a bit thicker. Meanwhile, carpets may just need some smoothness, so thinner mats will be fine.
Open-Cell vs. Closed-Cell Foam
As an umbrella categorization, yoga mats can be separated into open-cell and closed-cell types. Open-cell mats are designed to absorb sweat for higher-intensity sessions, thus sticking even better when wet. The downside is that they also retain bacteria and require more frequent cleaning. Closed-cell mats, however, don't absorb moisture and will provide grip from the unique textures on the mats themselves. These will be easier to clean, lighter, and more flexible, albeit can be slippery when wet.
How to Use a Yoga Mat
Despite the name, yoga mats can be used for yoga stretching, regular stretching, floor workouts like crunches and pushups, and even some sort of meditation if you prefer. A mat typically features a different surface on either side, which can be selected depending on your usage. With some, one of the sides will be reserved for grip so that it clings to the floor better. Others will simply be up to your personal preference for comfort.
Gaiam Athletic dynaMAT
Pros
Very long
Reversible
It's come down a lot in price lately
Cons
Not great for absorbing sweat
Best Budget Yoga Mat: We all know that yoga sessions can get a little bit heated, leading to plenty of perspiration. Luckily, that's where Gaiam's Athletic dynaMAT performs at its peak, thanks to its reversible, dual-sided architecture, textured, non-slip surfaces, and robust length, making it an attractive proposition for guys who are over 5'10". It's even conscious of your sensitivities, arriving as an agitation-resistant PVC offering that places allergies on the back burner. Not to mention, this pick is much more affordable than its contemporaries without losing much performance in the process.
Material: PVC
Open Dimensions: 78″ x 26″
Thickness: 5mm
Pendleton x Yeti Yoga Fire Legend
Pros
Sports the iconic Pendleton patterns
Latex- phthalate-, and heavy metal-free
Anti-tear material
Lightweight
Cons
Not as grippy as some other options
Needs to be dried well or else pattern may rub off over time
Most Attractive: Pendleton's unique approach to clothing and accessories has earned it a spot on many of our style-savvy lists, and today's yoga-inspired selection is no exception. Created in partnership with one of the industry's most respected yoga outfits, Yeti Yoga Co. (not to be confused with the drinkware brand), this unique Fire Legend mat boasts an interesting, blanket-like design, complete with durable anti-tear material, lightweight traits, and an eco-friendly PER construction, meaning that it's free of latex, phthalate, and heavy metals that might be harmful to you and the environment.
Material: Polymer environmental resin
Open Dimensions: 72″ x 24″
Thickness: 5mm
Jade Yoga Harmony
Pros
Two size options
Versatile thickness
Easy to travel with
Great traction underneath
Eco-friendly
Best Overall: There's not much to say about Jade Yoga's Harmony mat, other than the fact that it gets the job done in a simple, intuitive manner, every single time, which is exactly what makes it the best. Add to that a sub-$100 price tag and you've got the best all-around mat for the money. As the brand's most popular (and best-selling) offering, it boasts a lightweight design that's only 3/16" thick, making it an attractive proposition for those who are looking to commute to their favorite gym without having to worry about their cumbersome companion. Since it's relatively thin, it's also great for difficult standing poses, removing some of the soft cushioning of thicker models for a more substantial foothold. There's also a 74-inch version, and the traction on the bottom makes this great on a variety of surfaces.
Material: Natural rubber
Open Dimensions: 68″ x 24″ or 74″ x 24″
Thickness: 4.76mm
lululemon Carry Onwards Travel Yoga Mat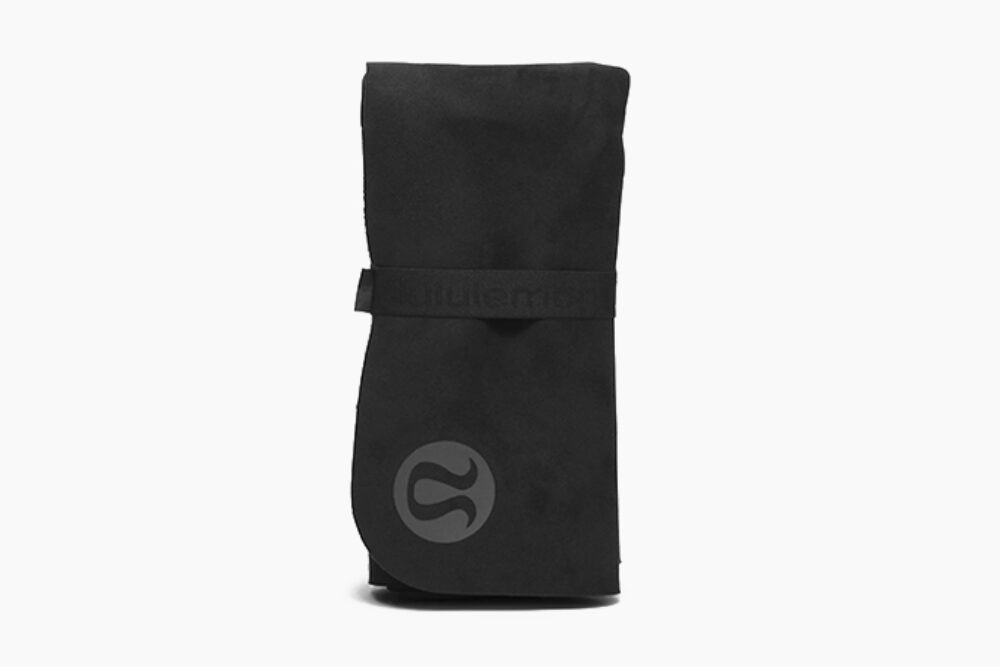 Pros
Folds down to just 13.4″ x 6.5″
Comes with elastic strap for securing when closed
2″ thin is great for standing poses
Cons
Won't grip as well on carpet
Thinness may not be favorable to some
Best for Travel: For many, vacations shouldn't mean time off from our most essential daily rituals. And for that reason, lululemon has a solution for doing your yoga or exercises on the road. The brand is known for its genre-defining athleisure offerings, and when it comes to functional, formidable mats, it's hard to find a single offering that can stand up to the brand's Carry Onwards Travel Yoga Mat. At just 2″ thin, this mat packs down to just 13.4″ x 6.5″ for stowing and comes with an elastic strap for keeping it closed, but then unfolds to be nearly 6ft long. This purpose-built offering features a natural rubber base to provide adequate cushioning wherever you need it most.
Material: 49% Natural rubber, 31% Polyester, 20% Synthetic rubber
Open Dimensions: 71″ x 26″
Thickness: 2mm
The Kind Mat
Pros
Two size options
Very thick at 12.7mm
Triple layer construction makes is very comfortable for those with joint issues
Hypoallergenic and latex-free
Cons
Will be way too thick for some
Best for Thick Mat: The Kind Mat is a technical flagship offering that brings some of the world's cutting-edge materials to the forefront for yoga enthusiasts. It calls upon a patented three-layer memory foam to keep your joints, muscles, and bones from coming in contact with the hard floor while boasting a suite of superior traits — like its slip-resistant neoprene top layer, and skid-proof EVA — to give it a leg-up on its competition. To round things out, the Kind Mat has been crafted to remain both hypoallergenic and 100% latex-free, making it an attractive option for those with sensitivity issues.
Material: Non-skid EVA, high-density memory foam, and water-resistant neoprene
Open Dimensions: 68″ x 24″ or 70″ x 26″
Thickness: 12.7mm
Yoloha Nomad Cork
Pros
Conversation starter
Eco-friendly option
Very lightweight
Cons
Not as morphable as regular foam
Best Cork Yoga Mat: Yoloha's Nomad Cork is one of the more unique mats on our list, solely because of its construction. Instead of relying on hard-wearing polyurethane materials, this interesting alternative takes form via a layer of eco-friendly cork, prompting antimicrobial, and non-slip properties, while still exhibiting an ultra-plush foam base. The best part? Each comfort-focused model is crafted without PVC and latex, keeping allergic reactions to an absolute minimum, and affording you more time to do what you love at the yoga studio.
Material: Cork with PVC- and latex-free foam base
Open Dimensions: 72″ x 26″
Thickness: 4mm
Manduka PRO
Pros
Good in-between thickness
Eco-friendly PVC
Grips well
Very supportive yet comfy
Easy to clean
Best Upgrade: If you're interested in a high-density mat that will stand up to everything you throw at it, Manduka's PRO model should be right up your alley. Not only does this robust mat feature a hefty, 7.5-pound weight that's fairly durable, but it also provides incomparable cushioning, grip, and support, thanks to its OEKO-TEX️ Standard 100-certified construction that's also easy to clean. Like many of the mats on our list, it's been crafted without any harmful substances or materials, giving you peace of mind as you partake in your favorite pastime. At 6.5mm thick, this mat is a solid option for those who don't want something as girthy as The Kind Mat but also don't want anything too thin.
Material: PVC
Open Dimensions: 71″ x 26″
Thickness: 6.5mm
Liforme Original
Pros
Good for amateur yoga practitioners with AlignForMe system
Non-slip
Eco-conscious construction
Cons
Too heavy to travel with
Pricey
Best for Preventing Injuries: Liforme's Original mat rounds out our list as a transformative option that places an emphasis on conscious construction. To ensure that it remains at the forefront of intelligent design, the brand has incorporated a unique "AlignForMe" alignment system, helping to prevent injuries in amateur yoga practitioners. This is amplified by a specially-formulated eco-polyurethane and rubber construction, which gives the mat a PVC-free persona that's kind to beginners and professionals, alike. As an added bonus, whenever you're finished with the mat, or it begins to show its age, you can feel great about disposing of it at your local landfill. Each example is inherently biodegradable, utilizing non-toxic materials to return to the earth after it's done its part to enhance your daily routine.
Material: Eco-polyurethane and rubber
Open Dimensions: 72.83″ x 26.77″
Thickness: 4.2mm
The Best Weighted Vests
If you're looking to amplify your gains when working out or stretching, check out our guide to the best weighted vests.