As far as outdoor gear is concerned, wearable sleeping bags are one of those superfluous items you didn't know you needed until you finally wear one. And for some of us, wearable sleeping bags are completely new – altering the attainable comfort level in cold-weather camping for the better. Picture, if you can, the coziness and warmth of a standard down-feather sleeping bag but with legs, arms, or zippers for your extremities. Here, we find a Michelin-man-esque setup that still provides adequate mobility but with seriously enhanced warmth by the campfire. Not to mention with a built-in hood – a feature often found with wearable sleeping bags – you can practically catch a snooze anywhere.
The best part, as you might have assumed, is these aren't just for campsites either. The versatility of movement can turn an otherwise chilly night on the back patio in a warm social gathering, or a cooler-than-average home into a restful cocoon of coziness. Whatever the instance, wearable sleeping bags are certainly a nifty niche product to be admired and utilized during those colder months. So if you need to know where to start looking, we suggest you begin with the following list featuring the best wearable sleeping bags around.
Best Wearable Sleeping Bags
Best for Morning Hikes

Selk'Bag Lite

Best Budget Option

Poler Napsack

Best Poncho

Therm-a-Rest Honcho Poncho

Best Overall

VOITED Slumber Jacket

Best Upgrade

Sitka Kelvin Aerolite 30
Why Use a Wearable Sleeping Bag?
You can't carry around your bed with you all evening around the house, but when camping, you can certainly find a sleeping bag that stays on your person for as long as you want. Wearable sleeping bags are great for wearing around the campfire at night as you transition to your tent, but they're also useful for those cool mornings that make it hard to get out of bed in the first place.
Most wearable sleeping bags have the same specs as their non-wearable counterparts, except they give you the ability to use your arms and legs, which is great for walking around the campsite, eating breakfast, roasting marshmallows, or going to the bathroom in the middle of the night (if there's a front zipper).
What to Look For in a Wearable Sleeping Bag
Material: Like standard sleeping bags, the material used should be some sort of nylon or polyester, which will be lightweight, durable, and water-resistant.
Insulation: Nearly every option you'll find will have some level of insulation inside, although the warmth rating will vary. More insulation isn't always better, especially if you're camping in the summertime. And if you're eco-conscious, look for bags with synthetic insulation (which will also be more resistant to moisture).
Water-Resistance: Anyone who's gone camping enough times has experienced the feeling of wet dew on your sleeping bag. As with most modern-day sacks, wearable sleeping bags will almost always feature some level of water resistance or even moisture-wicking.
Pockets: If you're using your sleeping bag as a wearable outfit, you should make sure it has somewhere to store your phone, earbuds, or whatever else you'll need to access. If you're planning on venturing out into the woods for a quick morning walk, you'll want to keep certain things on you as well.
Selk'Bag Lite
Pros
Basically a full-body suit; good mobility
Budget-friendly
From the most preeminent brand in the wearable sleeping bag space
Removable booties for sleeping
Elastic hand enclosure option
Cons
It's difficult to size for a full-body suit
Can be tight on larger individuals
Best for Morning Hikes: As one of the brands that started it all, Selk'Bag is known throughout this niche market for its unique puffy suit/sleeping bag combos that feel as comfortable as they look. Plus, their lineup includes all manner of themed wearable sleeping bags as well for the more eclectic individuals. For our purposes though, we stuck with the Lite, providing a fantastic freedom of movement whether you're cozying up to some Netflix or hanging by the campfire. Functioning as more of a full-body suit than a traditional sleeping bag, the Selk'bag Lite is perfect for transitioning into your day with a quick, easy morning hike to stretch the limbs. With a layer of hollow fiber synthetic insulation underneath its polyester shell, it's also temperature rated at 55ºF and is DWR-coated on the outside.
Shell Material: Polyester
Weight: 2.27lbs
Poler Napsack
Pros
Shoulders zip up
Bottom opens and closes with drawcord
Good pocket options
Includes stuff sack for transport
Cons
Kinda big, which is good for tall/large people
Best Budget Option: Compared to the Selk'bag Lite, which is priced similarly, Poler's Napsack is less like a full-body suit and more like a traditional sleeping bag (which just so happens to have holes for your arms and legs). Poler developed this piece specifically for camping, couch chilling, or even the tailgate when the bourbon jacket just isn't enough. It features unique zippered shoulders and a drawcord bottom that you can open and then shorten accordingly for walking/standing/sitting purposes. Each Napsack is also made with a ripstop nylon exterior, is rated to 50ºF, and includes an 18" x 8" stuff sack for easy transport. Likewise, there are two hand-warming pockets and a chest pocket for keeping some extra gear.
Shell Material: Ripstop nylon
Weight: 2.25lbs
Therm-a-Rest Honcho Poncho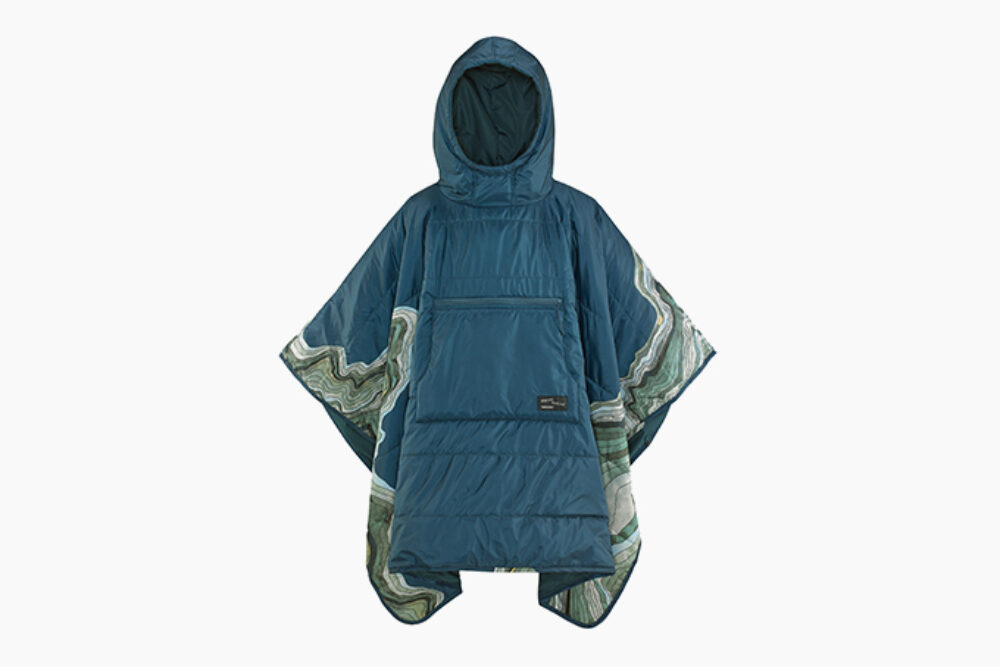 Pros
Good for home use as well
Lightweight
Large front pocket
Stylish
Cons
Head opening a bit small
Hood could use a drawstring
Best Poncho: Ever thought about sleeping inside your poncho when camping? Well, Therm-a-Rest's Honcho Poncho can make it happen. And while we wouldn't recommend using this as a cold-weather option alone, it's more than capable of wrapping you up in the warmer nights of the summer. Sporting several colorways and patterns, this unit weighs just 1.5lbs and is made from 20D ripstop polyester that's both water-resistant and breathable. Insulated with eraLoft polyester hollow fiber synthetics, the Honcho Poncho comes in one size (that fits most) and has a hood and a large kangaroo pocket in the front.
Shell Material: 20D ripstop polyester
Weight: 1.5lbs
VOITED Slumber Jacket
Pros
13,000mm water repellency
Uses vegan insulation and recycled materials
Front zipper helps ith using the bathroom
Roomy
Best Overall: When it comes to imbuing quality products with a sustainability mindset, VOITED is one of the best. Filled with PrimaLoft RISE vegan insulation, Slumber Jacket is made for mobility, warmth, and comfort first and foremost. The outside is made of a 50D ripstop polyester called REPREVE, a recycled material that boasts 13.000mm water repellency and 5.000mm breathability coating. Roomy enough inside that you don't have to use the built-in sleeves when sleeping, this sack also has a retractable foot compartment for walking around the campsite. What's more, the zipper on this bag is in the front, which allows you to leave it on when going to the bathroom.
Shell Material: 50D recycled ripstop polyester
Weight: 2.55lbs
Sitka Kelvin Aerolite 30
Pros
30ºF coldness rating
Roomy
Front two-way zipper
Baffled draft tubes for sealing heat
Cons
Difficult to compress
Only one color option
Best Upgrade: While the other options in this guide are wearable sleeping bags first and foremost, Sitka's Kelvin Aerolite 30 is a standard sleeping bag with wearable capabilities. Built from a DWR-finished 20D polyester shell that's filled with Primaloft Gold Insulation with Cross Core technology, which allows the synthetic to be warm even when wet, the sleeping bag will keep you cozy all the way down to 30ºF with contoured shoulders and hood. However, when you want to use the sack as a mobility unit, you can hook up the shaped toe box for walking and utilize the arm holes for eating breakfast or drinking coffee. What's more, the baffled draft tubes will seal in the heat despite the openings. The middle-placed two-way zipper is also great for when nature calls in the middle of the night.
Shell Material: 20D polyester
Weight: 2.375lbs
The Best Instant Coffee for Camping
If you're in need of a morning pick-me-up when camping, head over to our guide to the best instant coffees to make sure you're never without your caffeine fix.