When it comes to building your own home gym, there always seems to be one issue that comes up more than others: space. Let's face it, weights take up a ton of room, especially the ones that lie horizontally. Dumbbells are an essential weightlifting accessory, yet one that requires a great deal of fluctuation. In other words, you need more than just one or two dumbbells for a proper strength-building routine. And if you ever want to see muscle growth or have any sort of workout versatility, it's extremely necessary to have the wiggle room to move up and down in weight. That's where adjustable dumbbells come in.
If you were to have only one item in your home gym, it should be a dumbbell (or two). Perhaps the most crucial piece of equipment for any workout, these basic training weights allow for an array of exercises and can be used to build up nearly any muscle group. You might not see adjustable weights at your local membership gym, but that's because they have the luxury of space — plus, you're usually not the only one who needs them. When lifting at home, adjustable dumbbells can save you a lot of time, money, and real estate, which is why we've compiled for you a guide to the best adjustable dumbbells you can buy right now.
Best Adjustable Dumbbells
Best Budget Set

Amazon Basics Adjustable Dumbbells Set

Safest Dumbbell

FLYBIRD Adjustable Dumbbell 25lbs

Most Versatile

ER KANG 4-in-1 Adjustable Set

Best for Weight Droppers

Balelinko Steel Adjustable Dumbbell

Best Overall

Core Home Fitness Adjustable Dumbbell Set

Best Smart Dumbbells

NordicTrack iSelect

Best for Bulking

POWERBLOCK Elite EXP Adjustable Dumbbell

Best Upgrade

Bowflex SelectTech 1090 Adjustable Dumbbell

Most Stylish

SMRTFT NÜOBELL 80 Tactical

Best All-in-One Home Gym

JAXJOX InteractiveStudio
What To Look For
Max Weight: The max weight of your dumbbell will solely be gauged on your current capabilities and where you want to end up. If you're looking to eventually be able to curl 60lbs in lower-rep sets, a 50-pound cap will only last you so long. And while there are plenty of things a strong individual can do with a 50-pound dumbbell, you may still want to look at some of the higher options on this list if you're hoping to reach your strength and size limits for your biceps.
Weight Increments: You wouldn't think that 2.5- or 5-pound increments would make much of a difference, but when you're trying to maximize your potential, even the smallest increase in weight can make or break your set. If you're the type of person who likes to journal his progress each day/week, consider dumbbells that can adjust in 2.5-pound increments.
Grip: Like any dumbbell, the grip on the handle will be of utmost importance, especially if you plan on using these every day in your home gym. Comfort is important, but what's even more important is security. The last thing you want is for these bars to come slipping out of your hands. Look for no-slip handles or ones made with knurled steel.
Footprint: The whole point of using adjustable dumbbells is to save some real estate in your home gym, so you won't want a unit that takes up a lot of space. Certain options come with removable plates, so make sure you have room to store them when they're not in use.
Amazon Basics Adjustable Dumbbells Set
Pros
Allows for incremental versatility
Old-school low-tech gym feel
Screw-on threads are secure
Cons
Travel case is a little wonky in transit
Maxes out at 38lbs, but you can find add-on plates
Best Budget Set: As the best budget-friendly option available, Amazon Basics' alloy steel dumbbell set is great for beginners and goes up to 38lbs in total. The plate-style weights allow for more incremental versatility and the plates themselves are housed in a plastic storage case for convenience and space. Going old school with this set of two, you will find much more groundedness in the traditional "low tech" approach and the thread collars are screwed on to ensure a safe lifting experience.
Weight Range: 2.7 to 38lbs
Increments: 2.5 to 5lbs
# of Dumbbells: 2
FLYBIRD Adjustable Dumbbell 25lbs
Pros
Very ergonomic grip
Anti-slip handle
8-point lock prevents falling plates
A good option for light lifters
Cons
Pricey for a single-dumbbell unit
Can get expensive when you get heavier units
Safest Dumbbell: While you're going to want a pair of dumbbells for many workouts, you can still get a lot accomplished with just one. And without breaking the bank, the FLYBIRD adjustable is a great option (sets of 2 are also available). Convenient and user-friendly, this dumbbell allows you to increase weight up to 25lbs in 5-pound increments in a matter of seconds by twisting the handle with one hand. Also available in either 15- or 55-pound options, the FLYBIRD is also one of the safest choices out there, constructed with an ergonomic, anti-slip aluminum alloy handle and 8-point locks for better safety against falling plates.
Weight Range: 5 to 25lbs
Increments: 5lbs
# of Dumbbells: 1 or 2
ER KANG 4-in-1 Adjustable Set
Pros
Can be connected to make a barbell
Straight- or curved-handle options
No-slip grip
Separate kettlebell attachment available
Cons
Bar sticks out a bit too far on the ends
Barbell mode can't use all the plates
Most Versatile: This 4-in-1 set from ER KANG might be tailored for higher reps, but the versatility of these exercises is undeniable. With weights going up to 88lbs in total, these plated dumbbells are great as individual weights, but they can also be connected together to make either a straight- or curved-handle barbell. The connecting rods are positioned toward the outside of the bar for comfort when doing squats, and the no-slip grip is perfect for sweaty hands. A separate attachment can also be used to transform each dumbbell into a kettlebell for a fuller sculpting spectrum.
Weight Range: 5.5 to 44lbs
Increments: 5.5 to 8.8lbs
# of Dumbbells: 2
Balelinko Steel Adjustable Dumbbell
Pros
Monobloc steel construction isn't glued or welded
Plates connect really securely
Non-slip knurled steel handle
A lot of higher-weight options
Cons
10-pound increments are difficult for leveling up
Best for Weight Droppers: This amazing-looking, chrome-plated, mirror-polished dumbbell is also the most durable on the market. Each piece is cut entirely from steel rather than glued or welded together to prevent breaking, and each plate is threaded on rather than held together with a nut. Going up to 40lbs (with 45-, 80-, and 85-pound options also available) in 10-pound increments that stack on top of each other, Balelinko's adjustable steel dumbbells are great for intermediate lifters as well as beginners. The handle is made from non-slip knurled steel that's great for heavier lifting and won't irritate your skin.
Weight Range: 10 to 40lbs
Increments: 10lbs
# of Dumbbells: 1
Core Home Fitness Adjustable Dumbbell Set
Pros
Slim and compact profile
Weights change very quickly
Comfy handle
Housing cradle is a bonus
Relatively fair pricing
Cons
Needs some higher-weight expansion options
Best Overall: Even when opting for adjustable dumbbells, you may want to save a little extra space. Luckily, Core Home Fitness has made its set less bulky than its competitors. Favoring a slimmer, more compact frame with each 5-pound increment, this pair of dumbbells is equal to 20 pieces of equipment in total, going up to 50lbs each, which is great for intermediate lifters. Change the weights in seconds with the twist of the super comfortable grip handle that's perfect for those callused hands, and when you're done, rest the dumbbell in the convenient housing cradle.
Weight Range: 5 to 50lbs
Increments: 5lbs
# of Dumbbells: 2
NordicTrack iSelect
Pros
Weights change via Alexa voice command
Diamond-knurled handles
Square-shaped heads so they won't roll
Stand can hold your smart device
Cons
Great technology, but slow to respond
You can't use manually
Best Smart Dumbbells: Ushering weightlifting into the technological age, NordicTrack has constructed the world's very first Alexa-controlled smart dumbbells. Users can change the weights manually or give a voice command to Alexa, which lets you pick your weight up to 50lbs in 5-pound increments, displaying your choice on a digital screen on top. Sold as a pair, the adjustable weights sport diamond-knurled handles for better grip and control and the square shape ensures these babies won't roll away once you put them down. For those who work out to instructional videos, the housing cradle even comes with a stand to hold your smart device.
Weight Range: 5 to 50lbs
Increments: 5lbs
# of Dumbbells: 2
POWERBLOCK Elite EXP Adjustable Dumbbell
Pros
Goes up in 2.5-pound increments
Offers expansions up to 90lbs
Expansion not too expensive
Square shape won't roll
Super compact considering weight amount
Cons
Limited range of motion for some
Best for Bulking: The look may be unconventional, but this POWERBLOCK adjustable dumbbell is made for the more ambitious weightlifters out there. While the base version goes up to 50lbs, expansions allow for up to 70- and 90-pound add-ons. Pound for pound one of the most compact options you can get (literally), the Elite EXP is an intricate device for the more experienced lifter, allowing you to move up and down in weight in 2.5-pound increments for a more tailored, long-term routine that takes the place of 32 pieces of equipment in total.
Weight Range: 5 to 50lbs (up to 90lbs with expansion kits)
Increments: 2.5lbs
# of Dumbbells: 2
Bowflex SelectTech 1090 Adjustable Dumbbell
Pros
Goes up to 90lbs
Adjusts really quickly
Easy to use
Straight edges allow for smoother pick-up
Cons
Only sold one at a time
Expensive if you buy 2
Best Upgrade: A dumbbell for the true powerlifter, the Bowflex SelectTech 1090 goes from 10lbs up to 90lbs in 5-pound increments. Sold as an individual weight, this user-friendly dumbbell sports a quick-adjust handle for an incredible range that will support almost any type of workout routine from shrugs to flies. The metal plate is encased in a durable molding that won't clank when you set it down and the straight edges prevent rollaways and allow for a smoother pick-up. Bowflex also makes a 52.5-pound version for those who don't need as high of a ceiling.
Weight Range: 10 to 90lbs
Increments: 5lbs
# of Dumbbells: 1
SMRTFT NÜOBELL 80 Tactical
Pros
Sleek appearance
Several color options
Goes up to 80lbs
Compact profile
Cons
Only 2-year warranty
Expensive
Most Stylish: Who says adjustable weights can't look good in your home gym? Another great set for heavy lifters, the NÜOBELL has a sleek forest green design and comes in a set of two. Super durable, they're made from machined steel for big drops and come housed in portable cradles. Changing weights is as simple as turning the handle between the slim plates, with a bar length that changes as you go from 5lbs to 80lbs in 5-pound increments. Arguably the best high-end adjustable you can find, SMRTFT's NÜOBELL 80 Tactical gives you the true feel of a professional gym in your own home.
Weight Range: 5 to 80lbs
Increments: 5lbs
# of Dumbbells: 2
JAXJOX InteractiveStudio
Pros
Stand precludes you from having to bend over
You can join live classes
Comes with touchscreen
Adjusts with quick push of a button
You can track progress and see stats on app
Cons
Expensive
Unit doesn't include $39/month membership
Best All-in-One Home Gym: Home gym culture is evolving, and fast. JAXJOX's Interactive Studio is at the forefront. With an all-encompassing smart gym, this total workout machine goes beyond just having a pair of adjustable dumbbells to recreate the full gym experience at home by allowing you to join live classes or go at your own pace. However, perhaps the understated highlights of the setup are the adjustable dumbbells that fit on either side of the touchscreen at the center. Flat on one side and rounded on the other three, each DumbbellConnect starts at 8lbs and moves up to 50lbs in 6-pound increments with a quick push of a button. Even better, you can track your progress and stats on the accompanying app. And what if the full IntetractiveStudio is overkill for your situation? In that case, you can always opt to purchase JAXJOX's 16-in-1 DumbbellConnect Adjustable Dumbbells separately.
Weight Range: 8 to 80lbs
Increments: 6lbs
# of Dumbbells: 2
The Best Training Shorts for Men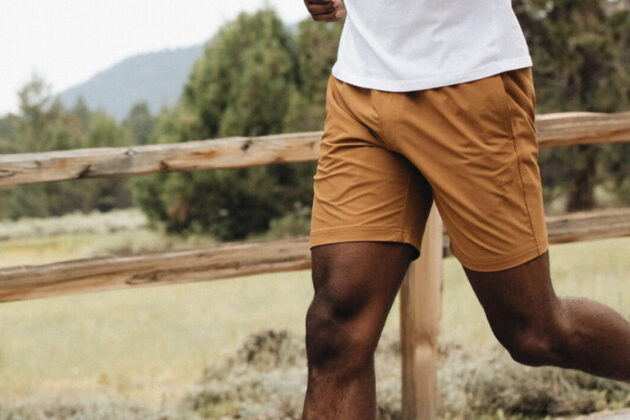 After building your home gym to perfection, the next step is getting the attire just right. If you desire comfort and durability, check out our guide to the best gym shorts for men.