If you grew up loving the great outdoors, there's a fairly good chance that your love developed through experiences you shared with your family. That probably also means your parents enjoy hiking, camping, and the like to this day. Even if they don't, you may still want to share your appreciation with them. And Father's Day could be a great time to make that happen.
Whether the dad in your life is a seasoned explorer with hundreds of hikes in his history or you just want to encourage him to get out and get some fresh air every so often, this guide was made to help manage that. From simple, pocketable tools to some of the most high-end apparel available now, there's a perfect Father's Day gift on our outdoor-focused guide below. Happy trails!
Gerber ComplEAT Camp Cooking Tool
A comprehensive and compact camp cutlery set, Gerber's ComplEAT boasts a nesting design that expands into a quartet of tools. That includes a spork, spoon, multi-tool (can/bottle opener, veggie peeler, and package opener), and a dual-sided high-temperature nylon spatula with a silicone oversold. The whole kit can even turn into tongs to keep your fingers safe when pulling food out of your favorite camping cookware.
Victorinox Limited Edition Pioneer Swiss Army Knife
As far as pocketable multi-tools are concerned, few are as classic or consistently useful as Victorinox's Swiss Army Knives. And this one, which is quite similar in its features to the original army-issued device, is one of the best and most iconic. It boasts Alox textured handle scales, eight built-in stainless steel tools, and its small enough to attach to your keychain.
GCI Outdoor Freeform Zero Gravity Lounger
It's no easy feat to try and get your dad's favorite recliner out to the campground. Of course, you don't have to struggle with that if you get him the GCI Outdoor Freeform Zero Gravity Lounger. Made from durable materials like steel and Textilene, this camp chair was built to survive the outdoors, yet still comfortably reclines for ultra-comfy stargazing. As an added bonus, it has a drink slot and phone pocket.
TOPS Knives Baja 4.5 Reserve Edition Fixed Blade
Perfect for hunters and survivalists alike, the TOPS Knives Baja 4.5 Reserve Edition Fixed Blade is a bushcraft knife boasting a beautiful, limited-edition black-and-tan colorway. It's also crafted from 1095 steel and canvas Micarta, measures up at a manageable 9.25″ in total and comes with its own leather sheath.
Filson x Merrell MQM Trail Runner Boots
A match made in heaven, Filson and Merrell are two of the best outdoor brands around today — both with their own extensive histories and contributions to the industry. Now, they've teamed up on an ultralight, ultra-tough pair of trail running boots. They also boast GORE-TEX waterproofing, a protective TPU toecap, and air cushion heel, and more.
YETI Roadie 24 Cooler
YETI's Roadie 24 was already one of the best small rugged adventure coolers on the market, but the recent redesign has solidified its claim to the throne. Now, this beverage and food hauler is 10% lighter, 20% more capacious, and boasts 30% better insulation than ever before. For reference, it boasts room for up to 18 beer cans.
Patagonia Macro Puff Camp Blanket
Patagonia's Macro Puff Hoodie is one of the most legendary cold weather jackets around. And now, the brand has taken the same materials and technologies and turned that legendary jacket into an equally-impressive camping blanket. Perfect for camping trips or backyard relaxation on your outdoor furniture, this packable blanket is hard to beat.
Mountain Hardwear AMG 55 Pack
When spending a good amount of time out on the trails and peaks of your favorite mountains, having a backpack that can handle the trek is of tremendous importance. Thankfully, that's exactly what the ultra-tough, ultralight Mountain Hardwear AMG 55 Pack was built for. It also comes with a 55L capacity (as the name suggests), an aluminum support frame, and even features the ability to haul your skis for those winter adventures.
POLAR Grit X Outdoor Smartwatch
Complete with onboard GPS, a full-color touchscreen, a massive amount of built-in fitness tracking features, and mil-spec durability, the POLAR Grit X smartwatch is one of the most capable outdoor high-tech timepieces around. Not to mention, its the lightest one with built-in GPS on the market. And that makes this a formidable tool for outdoor adventure.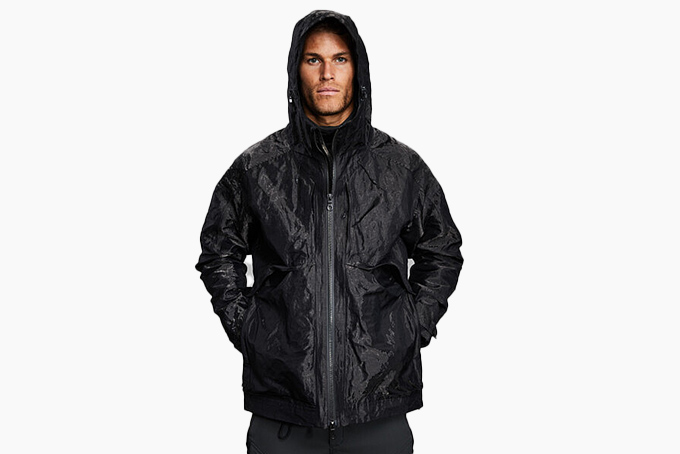 Vollebak Full Metal Jacket
Vollebak makes some of the absolute best future-facing apparel in the world, and their latest endeavor, the Full Metal Jacket, is no exception. This incredible coat was made with 65% copper content, which is said to be disease- and bacteria-resistant — making it perfect for the present state of the world. It also happens to be waterproof, breathable, and comfy as all get-out.
The 14 Best Outdoor Adventure Magazines
Though shelter-in-place orders are easing up around the world, there's still a lot of time before we figure out this new "normal" — which could affect people's abilities to get outside. But that doesn't have to stop you from planning and dreaming. Figure out your next destination with one of the best outdoor adventure magazines.