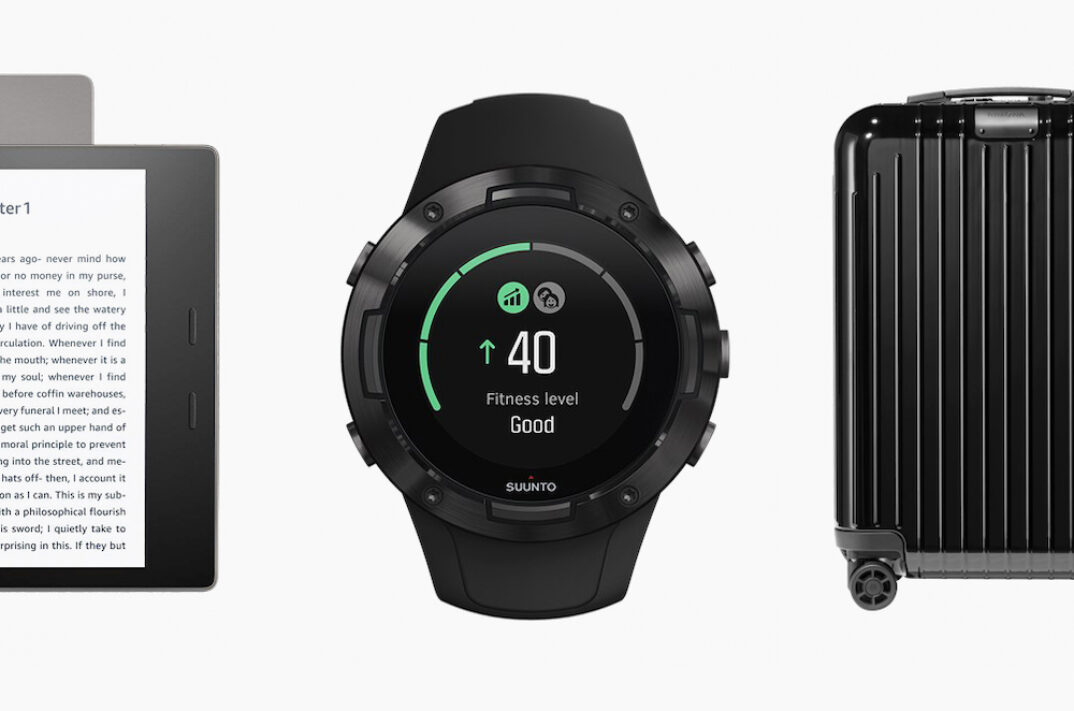 When it comes to the work ethic of the traveling man, the drive to close the deal doesn't end at the doorstep. Sometimes, in order to foster relationships, pursue interesting business endeavors, and open the door for future opportunities, he'll find himself on a mission to different areas of the world — traveling by train, car, plane, or cycle. For the guys whose lives are spent counting mile-markers and frequent-flyer points, there's nothing more valuable than a great set of travel gear — organizing, orienting, and securing all of your important peripherals for prepared arrival.
Whether you're heading to work on your daily commute, or hopping on a flight for an international trip, our guide to the top gifts for the jetsetter will give you a quick rundown regarding the most important pieces of gear to take on the journey. From durable pens and dopp kits, all the way to technologically efficient smartwatches, the traveling man needs a dependable set of everyday essentials to keep things running smoothly. So, if your dad is one of the few who spends his life on the road, be sure to show him how much you care by helping him to perform his best while he's away.
Field Notes Space Pen
The Space Pen has become a must-have accessory for the on-the-go traveler, boasting a handsome design that can withstand heavy abuse while flying, driving, and commuting. Fisher, the leading manufacturer of the world's greatest Space Pen, has joined forces with Field Notes to bring consumers a branded edition of the company's precision-fitted tungsten carbide ballpoint, outfitted with thixotropic ink and a famous cartridge system that puts the well-balanced writing utensil within arms reach.
Anker 60W PIQ USBC Charger
Anker is one of the industry's leading portable power proprietors, and with the brand's 60W PIQ USBC Charger, the ability to keep all of your devices in working order has become far easier. Boasting a universally-accepted high-speed charging system that works with everything from mobile phones to USB-C laptops, the PIQ is designed to provide an all-in-one solution for travelers looking to hone in on expedient charging capabilities. With a size 15% smaller than an out-of-the-box MacBook charger, Anker's interesting gadget gives you all the power associated with larger systems, without the extra bulk.
Aesop Departure Kit
When you're tacking on the frequent flyer miles, it's important to keep your hygiene in check. Thanks to Aesop's aptly named Departure kit, which features seven of the company's renowned men's grooming products, it's easier than ever to look your best in the midst of heavy mileage. A classic collection of moisturizers, balms, washes, and pastes ensure that you uphold your professional appearance while on the road, giving you the confidence (and nourishment) you need to stay on top of your game.
Banale Omni-Pillow
In the same light as hygienic travel, ensuring you get adequate rest while traveling is the key to success. Banale's Omni-Pillow is the all-encompassing solution for those who are looking for mid-commute comfort, boasting a 3-in-1 orientation that's equal parts pillow, topper, and neck support. The Omni's adaptable silhouette forms to your body using specially adapted memory foam, while a compact, foldable construction fits easily with the rest of your important luggage. Better yet, if you're strapped for space, the Omni-Pillow can attach to the exterior of your backpack for quick access.
Filson Rugged Twill Travel Kit
Filson continues to put out some of the best USA-made travel products in the industry, and the company's Rugged Twill Travel collection sets the bar for the on-the-road dopp kits. Durable bridle leather and hard-wearing twill come together to reinforce the fully-lined offering, helping to keep your essential gear organized wherever you go. Waterproof construction and a rustproof, solid brass zipper enclosure work alongside the kit's four-pocket design to stow a variety of items, ensuring a dependable, compact offering that won't let you down when the going gets tough.
Kindle Oasis
If you're on the road for an extensive amount of time, you're bound to burn through a gratuitous amount of media. Instead of spending all of your spare time looking at your mobile devices for social stimulation, Kindle's Oasis reader supplies an intellectual approach to your mid-trip time allotment, allowing you to learn, explore, and expand your mind through the written word. A large, seven-inch display provides the perfect, anti-glare surface for reading, alongside a durable IPX8, waterproof construction that gives you peace-of-mind when reading in a variety of locations. Better yet, the Oasis comes with Audible — a new system that hosts the world's largest selection of audiobooks — ensuring that you'll never run out of stimulative reads while you're traveling.
Suunto 5 GPS Sportswatch
Suunto's 5 GPS Sportswatch brings all of the best qualities of timekeeping to one dependable platform. It boasts a handful of utilitarian functions, including health tracking features, workout and fitness measurements, and GPS capabilities to track, document, and reference your recent routes. This athletically-inclined watch keeps track of the things that you don't, helping you to focus on the goals you've set for yourself, without all of the hassles associated with traditional documentation.
Master & Dynamic MW65 Headphones
Master & Dynamic are committed to bringing consumers the best quality audio accessories, and their MW65 Headphones certainly don't disappoint. This commuter-oriented audible device is the perfect companion for traveling, boasting the company's lightest over-ear design while retaining the great depth and clarity associated with high-end headphones, thanks to custom 40mm Beryllium drivers. Active noise-canceling technology and a minimalist design principle make these minimalistic offerings a go-to choice for those who are looking for great audio quality while on-the-go.
Rimowa Essential Lite Cabin
When you spend the majority of your time flying from one place to another, it's a good idea to invest in a dependable luggage carrier to keep all of your important items safe. Rimowa has made a name for itself in the hardshell baggage space, and the company's Essential Lite Cabin roller is the perfect, compact offering to fulfill all of your carry-on needs. The Cabin brings portability and durability to the forefront, giving commuters a great-looking piece of travel gear to make sure everything arrives in style.
Olympus OM-D E-M10 Mark III Digital Camera
When you're headed to a new locale, you'll want to capture a few memories while you're there. Olympus' compact OM-D E-M10 Mark III Digital Camera gives you the ability to stow, access, and utilize a well-performing photographic device, without all of the bulky additions of a larger camera platform. It features an easy-to-understand user interface, intuitive settings, and specialized image stabilization that can work wonders on stills and 4K video.
30 Best Business Wardrobe Essentials
If you're traveling for business, there's nothing better than maintaining a professional appearance wherever you arrive — head over to our guide on the 30 best business wardrobe essentials to read up on the handsome style pieces that'll have you dressing for success.