Technology is more and more an inextricable part of our everyday lives. And while, for most people, that means your smartphone is a part of your everyday carry, there are some of us that dive a little bit deeper into the world of all things high-tech. From folks that work in IT, to those who build computers (either as a hobby or a vocation), to those of us that just like to tinker around and figure out what makes things tick – our passions are often reflected in our EDC gear. And that makes perfect sense, as it is these tools that continue to allow us to further our careers, curiosities, and passions. With this in mind, we've put together this week's pocket dump to represent what a technologically-inclined person might carry around on any given day – whether that means having the ability to swap out a graphics card or just being ready to charge your phone on-the-go.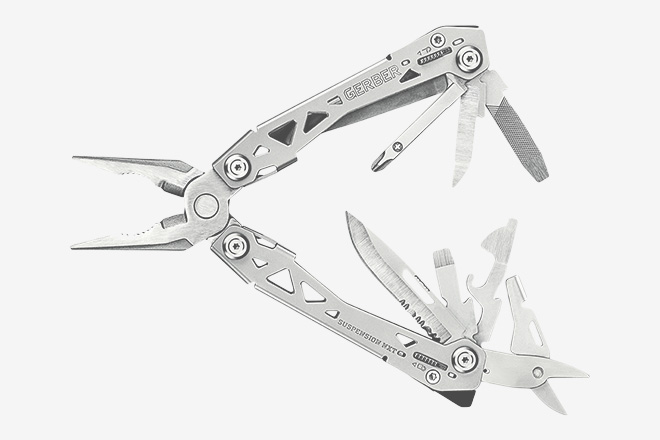 Gerber Suspension-NXT Multi-Tool
A slimmed-down more EDC-friendly version of the brand's ever-popular pocket multi-tool, the Suspension-NXT is built from sturdy skeletonized stainless steel, features 15 built-in tools (ranging from spring-loaded pliers, to a complement of drivers, to a bottle opener, and more), and weighs just 6.7 ounces total.
Nomad Lightning Carabiner
The perfect way to keep your keys secure without crowding your pockets, this keychain carabiner is sturdy and lightweight – thanks to its construction of stainless steel and Dow DuPont polycarbonate. But it also has another trick up its sleeve: a hideaway Lightning cable, allowing you to keep your iPhone fully charged no matter where you go.
Seagate Expansion Portable Hard Drive
For some folks, the hard drive on your laptop, phone, or PC is enough to get you by – and it doesn't need to be moved. For others, having a huge amount of storage is an absolute necessity, and it needs to be mobile. If you fit into the latter group, then the Seagate Expansion portable hard drive is right up your alley. Offering a minimum of 1 terabyte, this pocketable hard drive is a superb digital storage platform.
Samsung Gear S3 Frontier Smartwatch
High-tech enough to satisfy even the biggest technophile, but tough enough to survive even the most hardcore of outdoor adventures, Samsung's Gear S3 Frontier Smartwatch is the ultimate ruggedized smartwatch for the modern man. It's built to military-grade standards, is compatible with both Android and iOS smartphones, and features a unique and easy-to-use rotating bezel menu system.