A subregion of the largest continent in the world, Southeast Asia is a vast expanse of lands, peoples, and cultures whose impact have reached to every corner of the globe. And while it's hard to properly gauge that impact, a measure of it can be gleaned by the fact that many sought-after varieties of coffee hail from the area — even the slang term, Java, is derived from the island of the same name. Interestingly, it's also the locale from which the karambit knife was developed. A staple in both the tactical and everyday carry communities, these curved blades were based on the claws of tigers and originated as farmers tools before becoming the fighting knives we know today. It's this sweeping impact on the rest of the world that led us to put together this week's pocket dump. Done up in coffee-inspired colors and featuring a unique take on a karambit blade, this pocket gear is simultaneously beautiful and robust — just like Southeast Asia.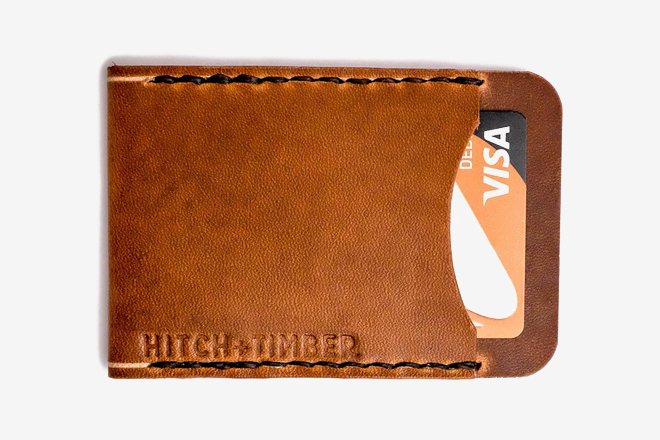 Hitch & Timer Flat Jacket Wallet
Handmade in the USA from premium American leather, this simple, straightforward, gorgeous minimalist everyday carry wallet can hold up to eight cards and has a center pocket perfect for stashing a couple of bills. And it's still slim enough to slip into your front pocket, even when fully loaded. It's an heirloom-quality piece of EDC that should serve you for generations if you so desire.
Benchmade 1100 Tactical Pen
Bold in its appearance, yet subtle in its functionality, Benchmade's 1100 tactical pen is crafted from machined aluminum — making it both remarkably sturdy while still keeping the weight low. It also houses a Fisher Space Pen ink cartridge which can write upside down, underwater, or in zero gravity. But the cherry on top of the cake is that the pen tip is actually hidden under the tail cap, whereas the other end is actually designed to be used in self-defense and emergency situations.
CRKT Provoke Morphing Karambit Knife
The first knife ever to feature the Kinematic deployment technology, CRKT's Provoke is not so much a folding karambit as it is a transforming one — as it actually collapses into itself to close, which helps alleviate the risk of getting your fingers caught in-between the handle and blade. It's also built from high-end D2 steel and has an aluminum handle.
Tsovet SVT-FW44 Watch
Beautiful, simple, and straightforward — Tsovet modeled their SVT-44 watch after those used by soldiers in the field during WWI. Except this one has some modern bonuses not found in its predecessors. That includes a Swiss quartz Ronda 513.1 movement, a stainless steel 44mm case, 100 meters of water-resistance, and a handsome brown leather band.