Every single person's everyday carry loadout is likely going to be unique in some way, because that's the nature of the world: people require different tools at their disposal. But there are a few universal essentials we believe everyone should keep on them. They include a wallet, knife and/or multi-tool, a pen (and something on which to write, like a pocket notebook), and a wristwatch. While that sounds a bit limiting, it actually opens you up to a world of possibilities, thanks to the diversity of solid brand offerings on the market. This week's EDC pocket dump is an illustration of one such gathering comprised of a group of stylish, simple offerings that are as reliable as they are handsome.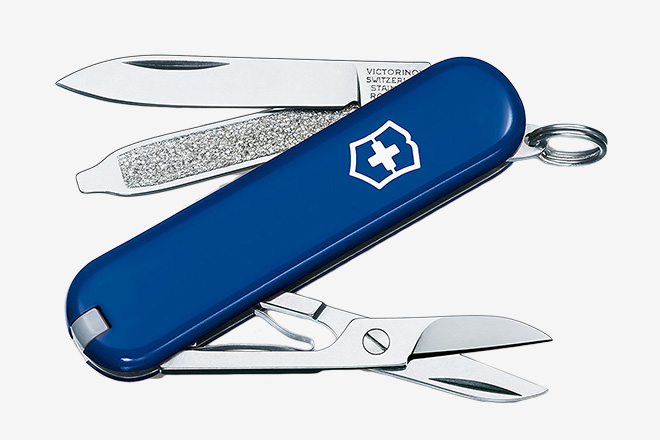 Victorinox Swiss Army Knife Classic SD
One of the all-time best pocket multi-tools in existence, the Swiss Army Knife never disappoints. This one, while small, still offers plenty of functionality – including a knife, scissors, a file, a screwdriver, and more.
Griffin Pocket Tool Mini
Measuring up at just 3 inches in length and weighing 0.5 ounces, this 9+ function multi-tool can easily fit on your keychain or carabiner and, since it's just one piece of solid stainless steel, you don't have to worry about it breaking through normal use.
Everyman Grafton Pen
Proof positive that sometimes the most basic can also be the best, Everyman's Grafton EDC pen is made from durable anodized aluminum, is compatible with Pilot G2 and Fisher Space Pen refills, and features a simple clicker-style deployment.
Pioneer Carry Molecule Card Wallet
Made from 10XD Ripstop – a fiber that's literally 10 times stronger than steel – this front-pocket minimalist wallet has enough room for 6 cards and some folded bills. And it will likely outlast you.
Tsovet SVT-FW44 Watch
Inspired by and showcasing the styling of a classic WWI infantryman's watch, Tsovet's SVT-FW44 EDC watch is powered by a reliable Swiss Ronda movement, features a hardened mineral crystal, is housed in a tough stainless steel case, and comes with a comfortable and handsome leather band.