Feb 28, 2018
Category: Everyday Carry
Presented By
Red and black is a classic combination that's equal parts style and bite. In fact, we're pretty sure that's why Ferrari uses it on all their wonderful cars. But, thankfully, the distinct colorway isn't solely relegated to the automotive world. Look hard enough and you'll notice it on some of the most iconic things across pop culture, from the Stranger Things logo, to Darth Vader and his lightsaber, to the uniforms of a number of different sports teams (Atlanta Falcons, Chicago Bulls, Arizona Diamondbacks, New Jersey Devils, etcetera). You can even imbue it into your everyday carry, should you so desire. Don't know where to begin? Well, this week's pocket dump is a pretty good starting point.
Dango T01 Tactical Multi-Tool Wallet
Boasting a capacity of 12 cards and a wad of cash, and featuring a 14+ function multi-tool insert, Dango's T01 Tactical wallet is one of the most capable cash and card carriers we've ever come across. It's also constructed with top-grain leather, aerospace grade aluminum, and mil-spec bolts – so you know it's tough as nails, as well.
Quiet Carry Bandit Titanium Keychain Knife
Measuring up at a grand total of just 3 inches, this tiny titanium and AUS8 steel EDC knife is more than small enough to fit on even the most crowded of keychains. And it still has a built-in backlock to keep the blade secure when in use.
Fisher Space Pen Trekker
All of Fisher Space Pen's USA-made writing utensils are formidable offerings – but this one has a few added perks that make it a tough outdoor-ready EDC pen. They include a snap-off posi-lock cap, a rubber comfort grip, a stainless steel construction, and the including of both a carabiner and paracord lanyard attachment.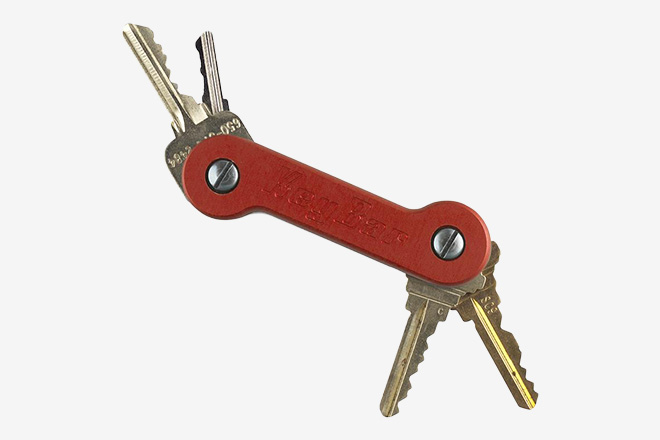 Keybar Aluminum Key Organizer
Lightweight and super sturdy, this pocket organizer can fit up to 12 keys inside of it – and will get the job done entirely without jingling, even when in use. It also comes with a key fob loop (in case your car requires one), has a removable titanium pocket clip, and is made here in the USA.
HiConsumption is reader-supported. When you buy through links on our site, we may earn an affiliate commission. Learn more