The world is a big place, and that makes it hard to make an argument for staying in one place for too long. So we're not going to. Instead, we want to encourage you to do the opposite. Take impromptu trips whenever you can. And when time allows, take longer, bigger trips to the furthest corners of the Earth. Just make sure, when you do, to keep sturdy adventure-ready gear in your pockets, so you can make the most of it all. Whether jet-setting to the jungle or just taking a hike at your favorite State Park, that's what this week's pocket dump is about: exploration. The world is a beautiful place. Go see more of it.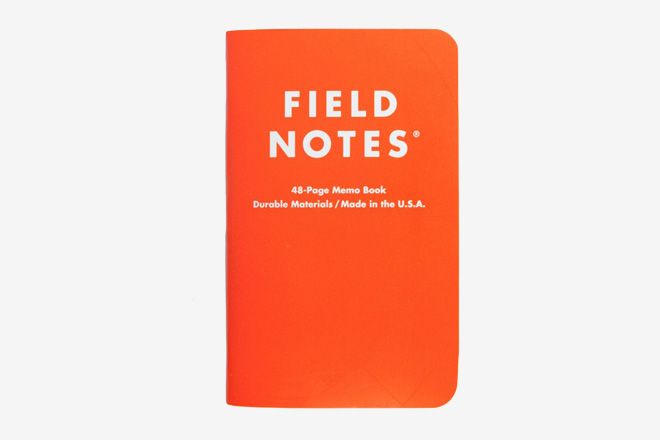 Field Notes Expedition Pocket Notebook
Literally built to survive Antarctic conditions, this USA-made pocket notebook features pages that are water-resistant, can withstand extreme temperatures, and will even stave off tearing. These 48-page notebooks also come in a pack of 3.
CRKT Ruger Bolt-Action Pen
Not only does this bolt-action pen feature a novel deployment system, but it also features a sturdy machined aluminum body and a Fisher Space Pen ink cartridge – meaning it can write upside-down, in zero gravity, and underwater.
Casio G-Shock G-Aviation Twin Sensor Watch
A member of G-Shock's G-Aviation family, this beefy shock-proof adventure watch features all the normal features you'd expect out of a Casio G-Shock and more – like 200m water-resistance, a thermometer, a digital compass, and a 31-timezone world timer. This is a badass wristwatch that can handle anything you can throw at it.
Benchmade Mini Crooked River Hunting Knife
Based on the larger Crooked River hunting knife, this more pocket-friendly version is perfect for the EDC enthusiast and outdoorsman on the go. It features a high-quality CPM-S30V stainless steel blade mated to a sturdy stabilized wood handle. And, between them, you'll find Benchmade's signature AXIS lock.