With Spring in full-swing and summer fast approaching, we should be about halfway through the northern migration of the majestic monarch butterfly – an event that has been called "one of the most spectacular natural phenomena in the world." They might seem delicate, but these airborne insects are actually quite robust. And they'd have to be, in order to fly some 6,000+ miles annually (there and back, of course). It's this determination and triumph of spirit, as well as their distinct orange and black coloring, that has led us to create this week's everyday carry pocket dump as an homage to these impressive bugs. It, too, is far more robust than you might expect at first glance and would suit you well, should you decide to take a long journey this season or any other.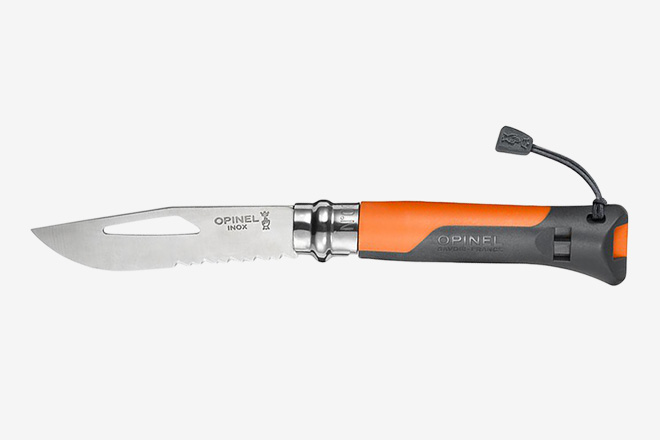 Opinel No. 8 Outdoor Survival Knife
This impressive folding blade is what happens when you take more than a century of knife-making experience and apply it to survival gear. With a partially-serrated Sandvik steel blade mated to a shock, temperature, and water-resistant handle (with built-in emergency whistle, this is a formidable cutting tool through and through.
6oz Classic Flask
The perfect vessel for storing and transporting your spirit of choice, this 6-ounce stainless steel food-safe flask is a simple-yet-beautiful everyday carry accessory. It also comes with a handy canvas carry case, for an added touch of style and a little extra grip.
Olight M1X Striker Flashlight
The Olight pedigree speaks volumes on its own in the everyday carry world, but this tactical flashlight has a little extra that puts it ahead of the pack. For starters, it has an impressive range of 0.5-1,000 lumens and a maximum runtime of a whopping 360 hours. On top of that, the aluminum construction and toothed bezel make this a formidable self-defense torch.
Shinola The Runwell 41mm Watch
Another in a long line of superb timepieces, Shinola's Runwell wristwatch is the perfect balance of style and simplicity, with its striking Arabic numeral markings, 60-second sub-dial, and stainless steel case. And the whole thing is brought together by a classy leather strap, making this a superb accessory for any occasion.