We love the color black. It's timeless, sleek, can be aggressive or subtle, and looks good at all times of the year. It certainly doesn't hurt, either, that just about every stellar piece of gear, whether it's everyday carry or not, comes in the shadowy colorway. And while you don't have to be a covert operative in order to haul around this week's loadout, it certainly fits the bill. This week's blacked-out gear exemplifies just how versatile obsidian finishes can be. Yes, this gear is built so tough it could go through hell, but its appearance is also sophisticated enough that we wouldn't completely rule out carrying it outside a special-operations context — even if your day-to-day adventures include traveling for business or an office gig. If we've said it once, we've said it a thousand times: you can always bet on black.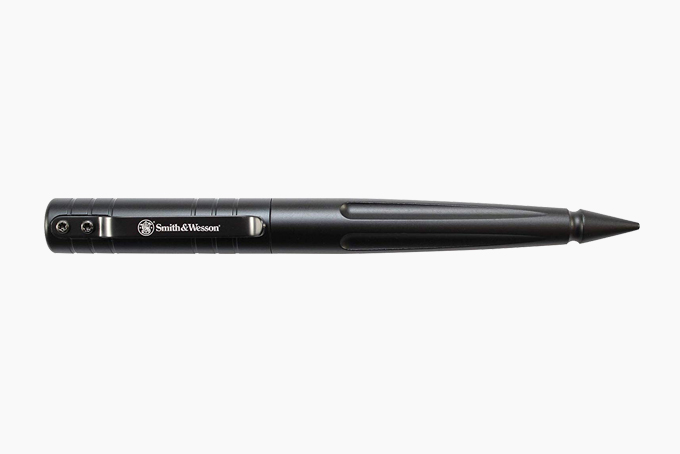 Smith & Wesson SWPENBK Tactical Pen
Yes, this brand — which is most famous for their firearms — actually makes a wide range non-ballistic gear. That includes things like pocket knives, duffel bags, and even writing utensils. The one you see before you is crafted from aerospace-grade aluminum, has a screw-off cap, and is compatible with Schmidt P900M Parker-style refills. Better still, it can also be used for self-defense applications.
Armatus Vita Kydex Travel Wallet
Subtle in its styling cues, Armatus' Vita Travel Wallet is actually made from mil-spec materials, including its ultra-tough Kydex exterior, strap, and button closure. The exterior is also waterproof, which helps to protect your passport, documents, and even an EDC pen from the elements. Best of all, it's made here in the USA.
Spyderco Autonomy Automatic Knife
While not everyone lives in a place where it's legal to carry an automatic knife, those that do have the option of pocketing this spectacular example from Spyderco. Boasting a sturdy sheepsfoot blade crafted from H-1 steel — a material that's completely impervious to saltwater corrosion — and G-10 scales, the automatic mechanism of this knife can actually be serviced without the need of tools or disassembling. It's also made in the USA and won a Most Innovative American Design award at the 2012 Blade Show.
Luminox Navy SEAL Steel 3252.BO Watch
In 1993, the Assistant RDT&E Officer for the Navy SEALs, Nick North, was on a hunt for the perfect watch for night missions. He found Luminox and, together, they created this watch — which has been used by the Navy's toughest operatives for two decades. This blacked-out variant is water-resistant to 200 meters, has a Swiss automatic movement, and features a sturdy stainless steel case with a matching link band.