It's hard to say if Matt Groening had any idea just how influential and far-reaching his Simpsons characters would be when he first conceived of them in the lobby of producer James L. Brooks' office. But sure enough, they've grown from a segment on The Tracey Ullman Show into a full-blown cultural phenomenon and one of the longest-running sitcoms of all time. Undoubtedly, a portion of that success has to be credited to everyone's favorite troublemaking misfit, Bart Simpson. With his blasé anti-authoritarian attitude, spiky yellow hair, and long list of catchphrases — Bartholemew JoJo Simpson has seeped into our collective consciousness much in the same way Bugs Bunny, Mickey Mouse, and few others have before him. And while we'd hardly suggest any of those characters have a direct connection to the world of everyday carry, Bart did, in his earlier days, haul a slingshot around in his back pocket. And it's that simple and singular piece of gear that has inspired this week's pocket dump.
Hella Slingshot
Meshing traditional construction methods with modern beauty, the Hella Slingshot is that childhood toy all grown up and gorgeously refined. Completely handmade, each slingshot is crafted in San Francisco from genuine forked tree branches — meaning every single one is unique. And they also come with a durable latex band and a leather pouch for slinging BBs, marbles, rocks, or whatever else you can find.
Rogue Industries Front Pocket Wallet
Most bifold wallets are designed to hold your cash and, therefore, create unsightly rectangular bulges when put into your front pocket. Unlike the competition, the USA-made Rogue Industries Front Pocket Wallets are still made to hold your cash and up to 12 cards, but they're also designed to fit perfectly into said front pockets. On top of that, they come in your choice of genuine, premium bison or moose leather in three different colors. And they have RFID-blocking tech built right in.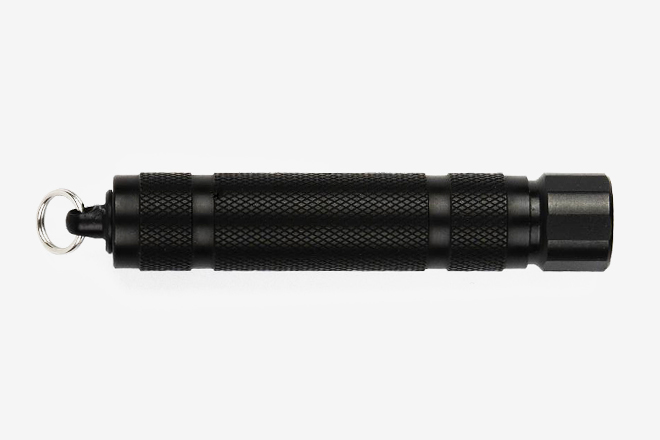 Peak LED Solutions El Capitan Flashlight
Made specifically to be used by professional adventurers, Peak LED Solutions' El Capitan Flashlight is a rugged, well-built, and versatile portable torch that's as handy in the city as it is out on the trails. Constructed in the USA from anodized aluminum, it features an indestructible polycarbonate window and water-resistant sealed openings for plenty of weather resistance. And it functions with multiple battery chemistries, including alkaline AA, lithium AA, and NiHM.
Opinel No. 8 Ebony Wood Knife
An absolutely stunning special edition of one of the most iconic pocket knives of all time, this beautiful cutting tool is constructed from a combination of 12C27 Sandvik stainless steel and genuine Ebony wood. And it's mated together with the brand's signature Virobloc safety ring to keep it securely closed or deployed, depending on whether you're actively using it or stashing it away. Perfectly sized and shaped for excellent ergonomics, this is a masterful take on a classic folding knife.