Gone are the days when a pair of jeans and some well-to-do hiking boots qualify as wintertime cycling gear, and we know as well as anyone that the introduction of technical gear into the snow-clad mountain biking space means that you need to snag the best gear you can get your cold little fingers on. When the drop in temperature signifies more than just an incumbent need for insulated peripherals, but a dive into the intimidatingly deep world of bicycle manufacturers and safety-gear mavens leaves you a little bit mortified, it's our turn to lead you in the right direction.
While there are a million and one reasons to ensure that you're ready to take on the wintery environment, it's doubly important to remember that mountain biking adds a number of stresses and challenges to the equation (some of which, your body may not be trained to handle). In order to combat this, we've compiled a dignified list of cycling gear that's durable, dependable, and ready for rugged outdoor adventure when the temperatures dip. The less time you spend worrying about your body temperature and sensitive body parts, the more you'll find that exploring some of the world's most mesmerizing snow-covered landscapes will undoubtedly lead you down a path of prosperity. Below, we've outlined some of the best offerings for insulated outerwear, protective gear, and general upkeep to ensure you're longevity on the trail — so, take a break from daydreaming about your next cycling trip, take some well-informed mental notes, and show up to your next wintery-wander well prepared.
ALTURA Progel 2 Waterproof Glove
ALTURA's Progel 2 gloves want to keep you as insulated and dry as possible — featuring a full wind and waterproof construction, alongside a silicon palm and winter cuff construction to seal in warmth. Strategically placed Progel pads keep your hands protected from the elements, while the inclusion of silicon provides a non-slip surface for the ultimate in dexterous grip. The glove's elongated cuff system stops elements from penetrating the space between your hand and jacket, alongside a Progel palm construction that provides exceptional durability and added comfort.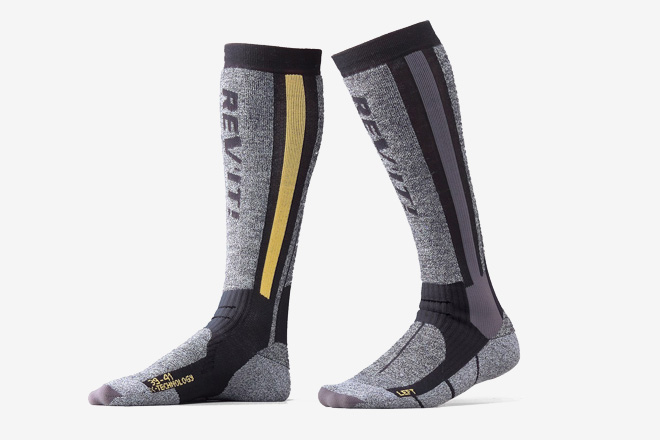 Rev'It! Tour Winter Socks
Rev'It! is on a mission to keep your feet dry and warm with their Tour Winter socks. They feature a moisture wicking technology that keeps troublesome perspiration away from your skin, ventilation channels to keep your feet cool, dry, and comfortable in less-than-desirable conditions, and a pure Marino wool for extra insulation. On top of above-average warmth and comfort, the Tour's anatomically shaped footbed adds extra support for hard-packed winter riding applications.
Fox Launch Enduro Elbow Pads
Fox has more than enough experience when it comes to safety gear, and their soft, lightweight Enduro elbow pads do the job well. For the more flexible riders out there, an articulated, perforated neoprene chassis promises a best-in-class range of motion, while an abrasion resistant elbow and forearm padding ensure 360-degree protection. The Enduro's lightweight forearm stretch panel allows for a bunch-free padding system and features a unique silicone gripper inside the top hem to prevent movement during long outdoor excursions.
SCOTT Prospect Goggles
Scott's Prospect goggles straddle that fine line between amazing design principles and drab safety apparel. Offering riders with a massive field of vision with their NOFOG anti-fog treatment, the unique lens lock system and articulated outriggers combine with a generous three- layer molded face foam for the perfect fit, no matter your facial properties. As a bonus, a set of less "flashy" clear lenses are included with your purchase, should you feel the need to swap.
Dakine Anthem Knee Pads
Dakine's Anthem knee pads are primed and ready to protect one of your most sensitive areas. Utilizing a 3D-molded CE certified foam knee protector and DK Impact energy-absorbing foam technology, the pads face the eventuality of impactful knee carnage head on. A padded area on the lateral and medial side of the Anthem offers extra protection, alongside an easy on/off feature that allows you to keep your shoes on while gearing up. Interior patella support and pre-curved ergonomic patterning bring the pad system into another level of form-fitting safety wear, while a silicone gripper keeps the pads from moving around during use.
Muc-Off 8 In 1 Cleaning Kit
It's inevitable that your bike is going to get dirty during your mid-winter adventure, and Muc-Off, one of the most prominent names in bicycle care, has introduced the 8-in-1 cleaning kit to keep your steed in optimal performing condition. The kit includes everything from a NanoTech bike cleaner, expanding microcell sponge, and soft washing brush, all the way to more intricate items like a detailing brush, claw brush and two-prong brush for niche cleaning purposes. It also comes with a top-of-the-line bike spray and storage tub so you can perform cleaning duties on-the-go — perfect for any outdoor cycling enthusiast who wants to maintain his gear during prolonged outings.
Northwave Fahrenheit Wool Jersey
Northwave's Fahrenheit wool jersey was built with the winter warrior in mind. Utilizing a dual-layered, two-way stretch fabric that keeps your body dry and moisture free, alongside a woolen outer layer and fast-drying polypropylene inner layer, the Fahrenheit is the go-to piece of outerwear for any serious cold-weather. It also features a tried and true YKK zip system, a mock turtleneck collar that seals in warmth, and a silicone elastic waist gripper that provides an exceptional seal — keeping the winter elements at bay.
Giro Timberwolf Cold Weather Helmet
Giro is a trusted name in head protection, whether it be cycling, skiing, or snowboarding. Their impeccably designed Timberwolf cold weather helmet can be utilized for all three sports, but thanks to its light, low-profile Stack Vent technology and an In Form fit system (for easy adjustment with gloved hands), it's a must-have piece of gear for the winter bike rider. On-the-fly adjustable thermostat control vents and a brushed fleece liner with removable ear pads offer the ultimate in comfort and adaptability during the coldest times of the year.
Camelbak Powderhound 12 Insulated Hydration Pack
Camelbak's hydration gear is a lifesaver in the truest sense of the word, and with winter providing its own set of complications, the brand has designed their Powderhound 12 insulated hydration pack. A Crux reservoir delivers 20% more water to the user per sip and features an ergonomic handle that allows for easier refilling, coupled with a user-friendly on/off lever that helps prevent leaks. To battle winter's harsh elements, a Snowshed back panel,
Therminator harness and insulated drinking tube partition ensure that your water stays fully accessible. An adjustable sternum strap and removable stability belt help to secure the pack over a variety of terrain, while a secure pocket system makes room for all your winter essentials.
EVOC Stage 12I Team Backpack
EVOC might have made a name for themselves with safety gear, but their Stage 12l Team backpack puts their name on the map as one of the go-to suppliers for expedition essentials. Complete with an air flow contact system that offers exceptional back ventilation, a brace link for variable adjustments, and a separate tool compartment that provides quick access to your most-needed tools, it's an all-around solution for a wide variety of applications.
Revelate Ranger Frame Bag
Revelate prides themselves on making some of the most rugged bike bags around, and their Ranger frame bag offers two-times as much abrasion resistance as any standard VX material. It comes with a zip-stretch construction that pairs a bomber/wetsuit style molded-tooth zipper and malleable Cordura panels to reduce stress in key areas of the bag. A selection of #10 molded tooth zippers, urethane coated tape pairs, and RevX-PAC panels ensure that the bag will stand up to all the abuse you can put it through, all while keeping your important gear safe from harm.
NiteRider Lumina OLED 1200 Boost
NiteRider'sLumina OLED 1200 Boost system is a step above the rest when it comes to luminance. Featuring a new Collimator lens that distributes an even, widespread beam, and a special boost mode that helps the bicycle light unleash maximum LED output, the Lumina OLED lights the way in the darkest environments. Complete with five separate light levels and four daylight flash modes, the CREE LED operates at 6000k, while a multifunctional OLED screen provides the user with operational information. On top of its insane luminance, the 1200 Boost utilizes an FL1 standard IP64 water resistance that makes it perfect for those less-than-exemplary rides.
PEARL iZUMi Summit AmFIB Bike Pants
Pearl Izumi makes top-of-the-line athletic gear for professional cyclists around the world, and their Summit AmFIB bike pants are a perfect example of their commitment to excellence. Utilizing an ELITE AmFIB softshell fabric that offers wind and water protection, a thermal fleece fabric with water-shedding PI Dry technology, and a snapping front waist closure with zip fly, the Summit pants provide exceptional warmth and moisture protection. Complete with an external waist adjuster, two-zip security hand pockets, and a zipped pocket on the thigh, Pearl Izumi has tailored their formidable leg-protectors with a mountain bike specific fit and BioViz reflective striping for low-light applications.
Leatt Jacket DBX 5.0 All-Mountain Ink Jacket
Leatt has been in the action sports apparel game for quite some time, and their DBX 5.0 All-Mountain Ink jacket is a testament to their experience within the space. Featuring a three-layer HydraDri shell, a waterproof/breathable composition, and a dirt, water, and stain resistant fabric coating, the DBX is the all-in-one answer to your outerwear needs. It utilizes a water-resistant zipper enclosure, hidden reinforced stitching, and a tailored fit for riders who like to switch between padded and unpadded loadouts. An integrated magnetic hood system pairs with the garment's three-point, fully adjustable hood, and reflective printing for nighttime use.
45NRTH WÖLVHAMMER BOA Shoes
45NRTH is questioning the authority behind traditional cycling gear, and their Wolvhammer BOA shoes are a step in the right direction. Featuring a real rubber outsole with hyper grip technology, an Aerogel embedded midsole that allows riders to utilize custom insoles without giving up the boot's warming qualities, and a BOA closure with a gusseted tongue, the Wolvhammer shoes are undeniably technical. On the exterior, full-grain leather and a ballistic nylon shell provide a waterproof membrane for intimate proximity with the elements, while a dedicated D-ring on the toe box pairs with Bergraven Gaiters and an all-leather toe cap for above average protection.
GoPro HERO7 Black
GoPro is a staple among outdoor enthusiasts everywhere, and we all know that unless something was caught on film or photographed, it never really happened. To avoid this, GoPro decided to introduce their HERO7 Black, a top-of-the-line 12MP 4K action camera that's waterproof down to 33 feet and features voice control, touchscreen capabilities, 8x slow-motion capture, GPS, HDR shooting capabilities, and live stream/wifi connections. If you've held off on grabbing an adventure capturing device in the past, now's the time to pick up the perfect companion for your outdoor endeavors at a very reasonable price.
10 Best Fat Bikes For Winter
Now that you're ready to face the elements, head over to our comprehensive guide on the best fat bikes for the ultimate rundown on snow-ready steeds.