For some, there are few rivals in life to hopping onto a trusty gas powered steed, loading up camp gear and survival essentials, and heading out for days of uncharted travel. These hearty souls are known as adventure motorcyclists, and for those daring enough to set out into the great unknown, there is a litany of speciality apparel, gear, and gadgets that make sure a comfortable time is had on the trail.
With dual sport and adventure riding becoming one of the fastest growing segments of the motorcycle industry, there is no shortage of custom tailored options to meet the needs of the novice to expert backcountry riders. Brands are offering products specifically designed to the riggers of spending day after day traveling from highway to high country, and subtle accoutrements that will feel like luxuries during the nightly recuperation sessions. Take a look below at our top selections for adventure motorcycle essentials to find the perfect needed accessory before packing up your bike to head out on your next multi-terrain rally.
Riding Apparel
Outfit your person
While it is easy to convince yourself that the bike is the most important piece of equipment that you'll use when on an trip into the wild, the truth is your body is the most vital tool that you'll use, and you'll use it a lot. When spending an extended amount of time in the saddle traversing the wilderness, your body is going to be subjected to stresses that you may not see under normal conditions, and your riding apparel needs to be up to par if you plan on getting back on the bike again for another long day of burm busting. As with any technical garment, there are many options to choose from when selecting the perfect gear to get yourself suited for the ride, but these are our top selections for essential adventure riding equipment.
REV'IT! Dominator GTX Gloves
When spending an ungodly amount of time behind a set of handlebars your hands are going to take a serious amount of abuse from shock, vibration, and friction, and there is nothing that can put a stop to your trailblazing quicker than painful paws. Knowing how crucial palm protection can be, Rev'it has done their best to keep your claws comfy during the long haul with their Dominator GTX riding gloves. Built from leather given a water resistant treatment, the Dominators feature a Gore-Tex liner that is intended to keep your mittens dry during unfavorable weather while allowing them to breathe when the going gets hot. Equipped with hard shell knuckle protection, these gloves also provide excellent protection in an ejection type event, helping guarantee you make it home from every adventure.
Alpinestars Corozal Adventure Boot
Just like riding any type of two wheeled transportation, ankle and foot protection are especially necessary on the unexpected terrain you will cross when riding your adventure bike. Alpinestars has decades of experience cobbling boots specific to every discipline of motorcycle riding and their Corozal Adventure Boots draws from these years of research and refinement. Differing from boots intended for specific on or off-road riding, the Corozal focuses on keeping the functionality of the boot simple while cutting down on weight that add to fatigue during a long day on the trail. Lateral support inhibits ankle roll while in the boot and a polymer plate provides a sturdy shield against shin strikes. Built with Alpinestars proprietary Drystar breathable membrane, the Corozal boots will keep your fit high and dry no matter how many river crossing your route accidentally takes you across.
Shoei Hornet X2 Helmet
In years past it has proven difficult to find an adventure ready skid lid that performed as well on the highway as on the dirt with dual purpose variants inevitably forced to make compromises that hinder effectiveness one way or another. Shoei has attempted to crack this nut before with their DS helmets close to hitting the mark, but their revised Hornet X2 is a multi use helmet that hits rider's needs right on the head. Designed with considerations to all riding conditions an adventure touring enthusiast might see, the Hornet X2 is built from a multi-ply matrix AIM+ shell that houses a dual-Layer, multi-density EPS liner that keeps the helmet ultra light without skimping on any safety. Intake and exhaust vents keep the rider from getting a hot head, and the locking full face shield ensures this lid will be good to go in any weather condition.
Klim Badlands Pro Jacket
When spending hours on end in the same gear, just to wad it up to use as a pillow, then strap it back on for another long day in the saddle, it is important to select a garment that is going to feel good each time you put it on, day in and day out. Klim has been making bombproof outerwear for use by those touring by snowmobile or motorcycle, so they know a thing or two about gearing up for rough conditions, and their Badlands Pro Jacket is the wonderful fruit bore from all that hard labor. Constructed form layers of Gore-Tex laminates, clad with panels made from Karbonite ripstop material, and infused with D3O internal armor, the Badlands is one tough coat that surely will stand the test of motorcycle time. Covered in pockets inside and out, the Badlands Pro is an essential piece of outerwear that you'll never leave home without.
Bike Gear
Outfit your whip
While almost any dual sport style bike can conceivably be altered to accept the adventure lifestyle, there are some hard fast standard pieces of equipment that you are going to want to make sure your rig is ready with for before heading out on the open trail. From the obvious to the inconspicuous, there is a never ending wish list of gadgets and gear that can be strapped to your motorcycle to enhance the experience of blazing through the unknown. Not all products will be universal fit, and a host of modifications will require MacGyver style adaptations to produce the desired effect, but here are our top picks for contraptions necessary to make the most of your two wheeled adventures.
Bikemaster Dual USB Charging Port
Nowadays, pretty much everything you will need out on the trail that requires electricity to operate can be charged with the omnipresent USB port, though you'll be hard pressed to find any of these connectors while deep in the backcountry. Though there are many ways to rig up your own system, Bikemaster has put together their Dual Port USB Charging adaptor so you can add this indispensable piece of modern technology anywhere on your bike. Using a simple wiring harness that can be mounted directly to your 12 volt ignition battery, the USB port can be mounted from handlebars, tucked away under the seat, or slotted into any panel that seems convenient. An inline fuse keeps the system safe from current spikes and a water resistant cap assures no foul play in inclement weather.
Wolfman Wolfy Tool Roll
Carrying the complete set of tools specific to your adventure rig is a must have for anyone venturing off into the great unknown, because just like death and taxes, the only thing you can count on during an extended motorcycle adventure is there is going to be some mechanical issues. With each bike specifying a different list of tools necessary to perform even mundane tasks, having the perfect carrying case to hold your steel service utensils is crucial, and the Wolfman Wolfy Tool Roll is the perfect satchel to get the job done. Individually segmented into 11 slots secured by elastic trim, the Wolfy Tool Roll has enough space to carry everything you'll need on the trail and coils up to occupy a minimal footprint when packed with the rest of your gear.
RAM Mount X-Grip Handlebar Phone Mount
While some areas are going to require the old school method of mapping terrain on a trusty sheet of paper, a lot of your navigating on the beaten path can be accomplished using your trusty smartphone. While reaching into your pocket to access your phone while riding presents numerous hazardous, RAM Mount has developed a universal phone mount called the X-Grip which is a spring loaded clamp that holds your phone in pretty much any position. Using a ball and socket type joint that allows unhinged movement for your electronic device, the base mounts to the handlebars of your bike using a simple U-bolt style anchor, providing easy installation to any cylindrical surface. Adding your smartphone to your handlebars makes for easy navigation, but also decreases the likelihood that you'll accidentally pick up a call from the wife when your out with the boys.
Giant Loop Gas Bag
Nothing will put the kibosh on your dirt trail adventuring quicker then an empty fuel tank, because with no gas, there's no thrash. Carrying an empty fuel canister can be a real bummer for those looking to pack wise as gas cans are a major no-no for storing anything other than petrol, so Giant Loop has come to the rescue with their collapsible Gas Bag Fuel Safe Bladder. Constructed of ballistic nylon that houses layers of welded film to create the liquid tight bladder, each bag is pressure tested in post product to ensure it will hold the go juice when you need it most. Offered in 1, 2, 3, and 5 gallon sizes, just choose the volume that is right for your adventure and pack away your Gas Bag with the hopes that you'll never stray too far from a petrol station to need it.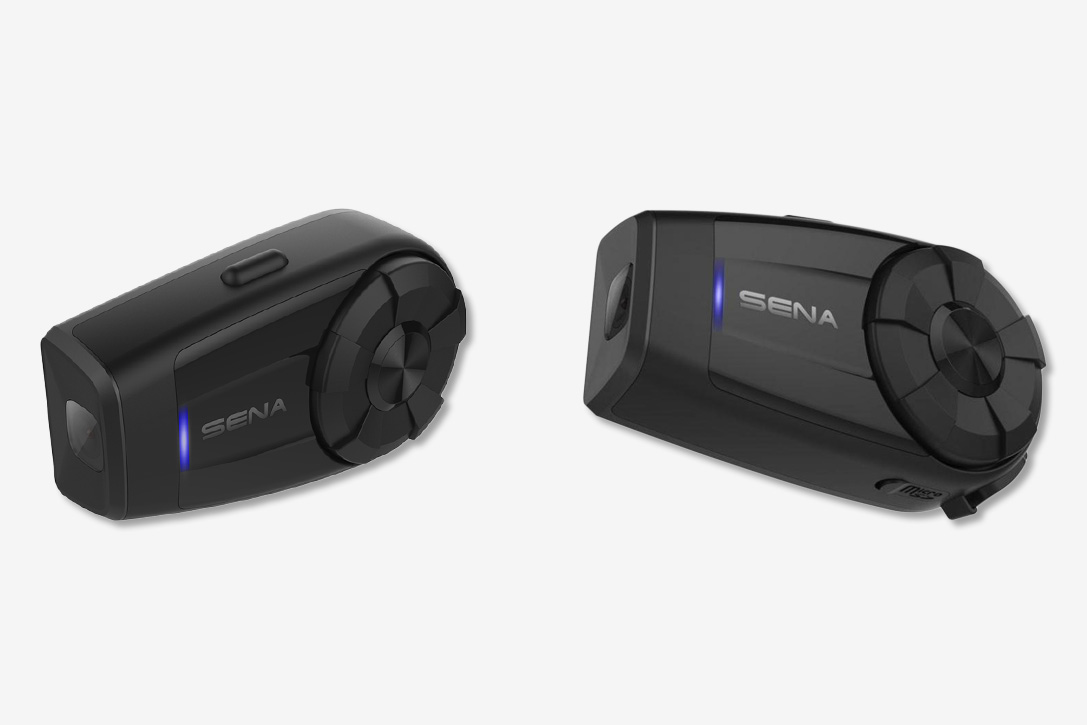 Sena 10C Evo Camera And Communication System
Keeping in contact with your partners on the road or trail can be life saving under dire circumstances, as nobody intends to get lost, but it happens all the time. With a huge variety of helmet mounted communication devices available today, the Sena 10C Evo ratchets the device up a couple notches by integrating a bluetooth camera to the unit for image capture to go along with the on-road chatter. The intercom connects up to four riders across 1-mile of terrain, while integrations to your smartphone allow for streaming audio and turn by turn directions to be funneled directly into your helmet. Video capture is easily accomplished with external controls on the 10C Evo unit, and audio recording from the intercom allows for real time narration from the rider, making sure you'll never miss one of those Instagram worthy clips you are always bragging to your friends about.
Mosko Moto Reckless 80L Luggage System V2.0
The make or break moment for any fledgling adventure motorcyclist comes when trying to load all of the necessary gear onto the bike. Some two wheelers come equipped with cargo carrying capacity, but a lot of motorcycles are delivered sans hard attachment points for luggage that can carry meaningful volume. Mosko Moto has developed a rack-less luggage system for those lacking adequate mounting locations, and the Reckless 80-Liter V2.0 system is their full decked out package. Made up of three PVC dry bags constructed with welded seams, the system slings over the tail end of the motorcycle and lashes down with nylon webbing, allowing the unit to mount to any shape or size motorcycle. An endless amount of internal and external pockets, Molle attachment points, and roll top compartments provide ample storage and mounting surfaces so you will be sure that no compromises need to be made when picking out prizes at a roadside gift shop.
The Best Adventure Motorcycles
Putting the horse before the cart by checking out the goods before you've got a bike? If so, check out our top picks for adventure motorcycles to find out which bike is calling your name.