When you're "going for a run," you're usually sticking to the same route, running at the same pace, and covering the same distance. Following the same game plan for a little while is fine, but if you want to level up as a runner, it's best to introduce some novelty and variety to your workout plan. Running is more than just putting one foot in front of the other in long strides at a quick pace. There's a variety of styles you can utilize to improve your endurance and explosive power.
After you've mastered a comfortable run routine tailored to your rhythm, it's time to upgrade your road work routine. After thorough research, we've compiled a list of the seven types of running you can add in your workout rotation so you can reach your athletic peak. By varying your running styles, you'll refine a wide range of muscles and increase your strength and stamina overall. Lace-up your favorite running shoes and prepare for seven new challenges.
Primer
Before You're Off To The Races
Before trying any of the seven running styles mentioned in this guide, you'll want to get comfortable running on a weekly basis. Jumping right into these seven styles might not be the best look if you don't run on a consistent basis. We highly recommend that you set up a meeting with your primary physician to come up with a workout routine that incorporates one or several of these running styles to see if your level of athleticism is a good fit. As with any new workout routine, you'll want to start off slow and gradually turn up the intensity. After all, quality takes time, which is the case with most things of worth in the world. Remember to stretch out your muscles carefully before and after each running session, so you don't destroy your body and make it susceptible to injuries.
Types of Running
Seven Methods To Stay Sharp
1. Base Run
Out of all the styles on this list, the base run is the most simple and straightforward style. A base run is running at your natural pace, which will vary depending on your level of fitness. When you're doing a base run, you shouldn't be struggling or out of breath. The goal here is to build up aerobic capacity and get used to the act of running without stopping. Of course, if you're just starting out in the running lifestyle, you won't be able to run as consistently as others. If that's the case, stick to the base run style for at least a few weeks so you can build up your stamina to move on to something more challenging. Building a solid foundation as a runner starts by mastering this style.
2. Fartlek
The term fartlek is Swedish for "speed play." Although the name of this running style is undeniably silly, it will help you increase your endurance in running or other sports, including boxing and basketball. The fartlek method of running is similar to interval running but differs in that it's unstructured. During a fartlek, you set a visual marker and run at a faster-than-normal-pace until you reach it. The fartlek method of running is more challenging when you're running with a group, as you can alternate leaders to choose different visual markers and vary the pace. When alternating leaders a fartlek group run, you'll benefit from the unpredictability of the exercise. It's a stress-free style of running that will improve your mind-body awareness.
3. Hill Repeats
If you want to keep up the intensity to an 11, hill repeats will require maximum effort. Find a fairly steep hill that requires effort to run to the top. You'll start at the bottom and sprint to a very top or to a location near the peak. After you've reached the top, jog back down and repeat the process. The distance should be shorter than your typical running route, but the high-intensity sprint combined with the steep incline will make it a brutal workout that will break you down so your body can rebuild itself to become stronger. Incorporate hill repeats in your workouts to build superior endurance, allowing you to dig deep during clutch moments and prevail when others slow down and fade away.
4. Interval Run
During an interval run, you'll be switching between low-moderate running and high-intensity running. The ultimate goal of interval running is to condition your body to take a break without stopping the workout. As your body expends energy, you'll start slowing down to a walking pace or stop completely to catch your breath. Interval run training will prevent you from slowing down to a walk, allowing you to improve your marathon running skills. When you hit beast mode in the intense intervals, try to push yourself and maintain the same energy until your time is up. You can choose how long the intervals last, but make sure to transition back to a normal pace gradually. Keep the duration of each interval relatively short during your first few times out there.
5. Progression
Taking it up a notch compared to the base run, the progression style will have you running at your natural pace until the very end where you'll finish at a faster pace. This running method will help you generate speed when done persistently. The progression run approach is moderate in difficulty, but you will see the difference in your performance after regular practice over a period of time. You can also use this method of running to improve your performance in other sports, as you'll get used to your base pace and develop the ability to bring the heat and hit the turbo button later down the road. And you'll develop the mentality for finishing strong in every sport you play.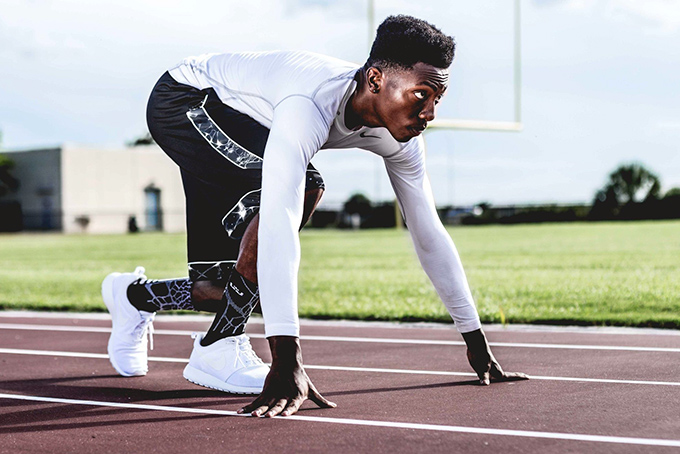 6. Sprints
Sprinting is a simple, but effective running type that athletes in any sport can benefit from. Even if your goal is to improve as a long-distance runner, sprinting can help tremendously. By sprinting, you'll build muscular strength and explosive power, allowing your body to burst into a higher gear of action when needed. For marathon runs, sprinting helps by conditioning your body to run for a certain distance without tiring as quickly. You can try 100-meter sprints and see how fast you can cross the finish line each time. Or you can do a basketball sprint exercise dubbed "suicide sprints" on a basketball court where you run to certain spots on the court and back to the start until you run the length of the court.
7. Tempo Run
A tempo run has you moving at a challenging pace that you can maintain for a long duration of time. You use your tempo run stride during long-distance events, such as half or full marathons. During a standard long-distance run, temp running takes up the middle chunk of your journey in between the warmup and cool-down portions. The tempo run type is used in many other runs, including interval and fartlek running, and is similar to a base run with more vigor. When you're utilizing a tempo style run, you are producing effort at your anaerobic threshold or slightly above it, allowing your body to use more glycogen for energy. The tempo run should take you just outside your comfort zone where you notice your breathing, but you're not gasping for breath. By perfecting the tempo run, your muscles will assimilate to the exercise, allowing for a slow build-up of lactic acid in your muscles, so you don't fatigue as quickly.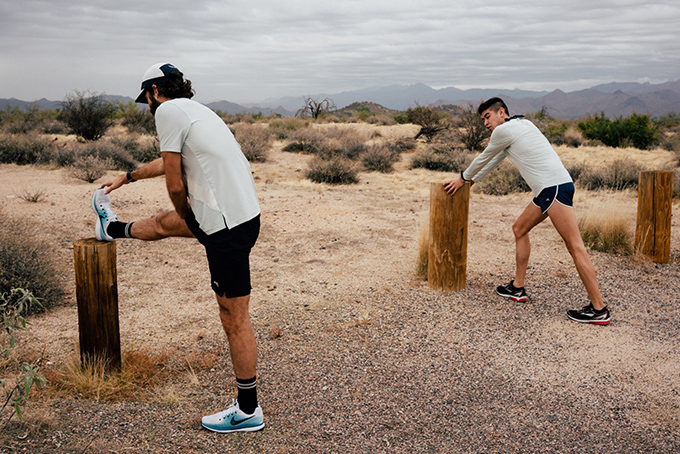 Recovery
Rest And Refresh
After incorporating any of the seven types of running we've discussed here, we recommend a solid cool-down session for ideal recovery. If you go for a run and carry on with the rest of your day without a cool-down or post-workout recovery routine, it will take your body longer to reset and the potential for injuries increases. There are certain steps you can take to get your legs and body relaxed and start the process of recovery. We've taken the time to compile a brief list of running recovery tips for you to consider:
After your run, a 10-minute walking session is beneficial in slowing down your gears and decreasing your heart-rate.
A cold water bath will help your muscles relax and start the recovery process.
Five minutes of foam roll drills for your legs and back will help to loosen up your muscles.
Basic stretches for your hip flexor, calves, and hamstrings will decrease soreness and chance for injury.
Wearing compression shirts and tights will help to increase your blood flow for faster recovery of your muscles.
Running Gear
Get A Head Start
To help you utilize the seven types of running styles, we've compiled a list of gear that you can benefit from as you upgrade your attributes as a runner. Having the proper gear will allow you to perform at your peak level and help you crush your running goals, leading you to climb the ladder of athleticism steadily. Although there's an endless amount of running gear on the market, the five products you see here are top-tier essentials to consider when your clocking in the miles on a weekly basis. The list will at least give you an idea of what to look for when getting started in the running lifestyle.
Rogue Fitness Foam Roller
Made in America, the Rogue Fitness Foam Roller is the best recovery tool to throw into your gym bag. It's made with high-quality molded Expanded Polypropylene (EPP) foam for extraordinary durability and noteworthy comfort. With superior construction, this foam roller holds its shape and provides you with consistent, deep-tissue therapy, so you can recover faster and feel fresh when you get back to the track or gym. The roller comes in various sizes, including the 36-inch Ultra Firm HD version. Loosen up your muscles and roll out your knots with this must-have recovery tool.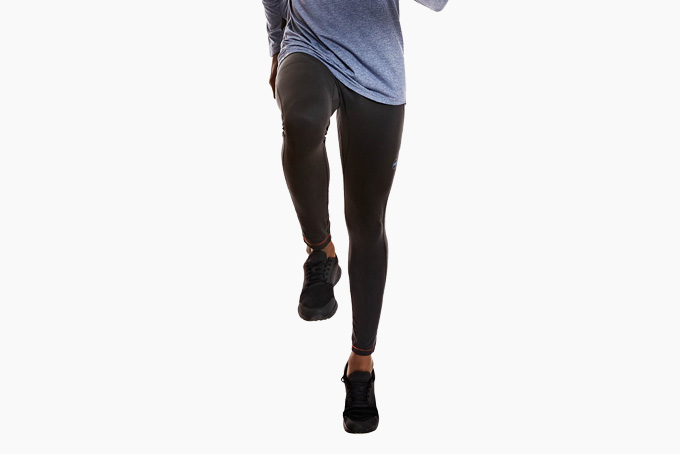 Run Janji M's Odyssey Tights
Run Janji's M's Odyssey tights pack plenty of warmth and protection, helping your legs recover properly. Of course, you can also use them during your run to keep circulation steady. The breathable, moisture-wicking running tights are made with a blend of polyester and spandex for a form-fitting feel. They also have a brushed interior fabric for unrivaled softness, keeping your skin comfortably with each stride you take. The tights are made with a back zip pocket for your smartphone, ankle zips, reflective marks on the ankles, ladder stitch hems, and an elastic side stash pocket for your key.
Tracksmith Session Shorts
The 7-inch Tracksmith Session Shorts offer reliable mobility and stretch no matter which of the seven running styles you're practicing. Built for comfort and speed these running shorts can handle any type of workout regardless of the intensity of the routine. They're made with lightweight four-way stretch nylon and elastane blend and offer UV protection, breathability, and moisture-wicking. It also has a pocket in the liner for energy gels, your credit card, or your key, in addition to an external pocket that can hold your smartphone. And it has a Polygiene anti-odor antimicrobial fabric that refuses to budge no matter how the intensity of the pace.
UA HOVR Velociti 2
Step up your running technology with the UA HOVR Velociti 2 shoes, featuring record sensor technology that tracks, analyzes, and stores nearly every running metric under the sun. The lightweight, breathable shoes provide you with a zero-gravity feel thanks to HOVR technology, assisting you in maintaining energy return. It also features engineered mesh uppers, full-length molded EVA sock-liners to eliminate slippage, Micro G midsole rims for explosive take-offs, and high-abrasion rubber placed under the heels to soften ground contact. Slip these running shoes on your feet and feel the springy difference when compared to other running shoes on the market.
Garmin Forerunner 945
If you're looking for a GPS running watch, the Garmin Forerunner 945 has everything you need to gather data to improve your stride. You can store up to 1,000 of your favorite tunes on this watch and connect it to Bluetooth-enabled technology for phone-free listening. As far as performance-monitoring, this GPS watch will track your VO2 max, recovery time, aerobic and anaerobic training effects, acclimation status, and much more. It also has full-color onboard maps to guide you on each runs you never get lost in your outdoor journey. On a full charge, the Forerunner 945 lasts up to two weeks in smartwatch mode, up to 60 hours in UltraTrac mode, and 10 hours in GPS mode with music.
20 Best Running Gadgets To Fine-Tune Your Technique
Now that you've introduced fresh new running workouts into you routine, it's time to take it up another notch. Check out our picks for the best running gadgets to fine-tune your technique and break your personal record.