Heading out to the trail during a worldwide lockdown can be a bit daunting, but that doesn't mean that it's entirely out of the question. Sure, there is a menagerie of complex conversation surrounding whether or not people should really be utilizing social outings following the onset of COVID-19, and many of them rely on logical, well-founded arguments. But, while staying in your home might be the best course of action to ensure that both you and your fellow man are taking adequate precautions to keep one another safe from the virus, it goes without saying that the world's "outdoorsy" denizens are going to get a bit stir-crazy.
Now, we're not condoning for everyone to leave their homes and congregate at the nearest trailhead. Instead, we're going to break down the process of preparing, partaking in, and finishing your next outdoor excursion, all while taking preemptive measures to provide the best experience possible for you, and everyone else in nature. Below, we'll run through what you should do to prep for the journey, what you'll need to bring with you to the trail, and the steps you'll need to take to practice proper preventative etiquette while you're enjoying the great outdoors.
Why Is Nature So Important?
Jumpstart Your Heart
By now, you probably have a firm grasp of nature's influence on our health, our moods, and overall productivity. But for those who need a bit more concrete evidence, we can turn to respected outlets like the Georgetown University Medical Center, who have published studies supporting the role of sunlight and exposure to outside influences as primary contributors in the production of vitamin D, as well as critical immune system responsiveness. In short, our ability to head outdoors and enjoy our surroundings is a vital component of everyday life and one that shouldn't be overlooked due to the current situation.
Of course, that doesn't mean that you should run outside without taking the proper precautions. Alongside the rules set forth by the CDC and other health organizations, there are a handful of ways that you can take to the trail while remaining relatively safe, including, but not limited to, the guidelines that we've decided to aggregate below.
Preparing For The Trip
Preemptive Measures
Before you head outdoors for you next weekend getaway, there are a few things that you're going to pick up. You want to be as proactive as possible when it comes to the sanitization and cleanliness of your trail-faring gear, as well as any items and accessories that you might bring with you to enhance the experience. This goes for both pre- and post-hike regimens, and shouldn't be passed off as an unimportant part of the process.
What You'll Need:
-Alcohol Wipes
-Sanitizers
-Hand Soap
-Face Masks Or Barriers
Clorox Disinfectant Wipes
Alcohol and disinfectant wipes are an essential part of any outdoor kit during the outbreak, thanks to their versatile use as both an on-skin deterrent and an adequate preventative measure for any surface you'll have to touch while out and about. These also serve as an effective way to wipe down apparel and accessories that you take with you on the trail, meaning that you won't expose your home or vehicle to possible contaminants.
Purell Advanced Hand Sanitizer
As a universal recommendation from both health officials and any local deterrence agency, hand sanitizers should also be a priority for any outdoor excursion. Not only do these alcohol-based cleansers help to rid your hands of any contaminants and germs, they give peace of mind to those around you, showing that you're cognizant of their health. Taking proper sanitization measures before, after, and during any outdoor adventure is a vital component of health and safety, whether they be for you, your family/friends, or acquaintances on the trail.
Fulton & Roark Bar Soap
If all else fails, there's nothing quite like a traditional bar of soap. For centuries, the cleansing and cleaning staple has served to fend off abnormal bacterias and contaminants, meaning that as long as you have some form of water or alternative liquid, you'll be able to lather up. Be sure to follow all of the traditional recommendations when it comes to cleansing with soap, including the utilization of luke-warm water, and the universally-understood "20-second rule."
Disposable Face Masks
Whether they be medical-grade variants like the N95 face mask or homemade examples as simple as a bandanna or common household fabric, shielding your body's respiratory system from in-air particulates is one of the most important steps you can take in your quest to adequately prepare. That being said, there's both an ethical, and moral quandary that you must recognize when it comes to the acquisition of viable barriers, including the availability of masks for medical professionals and first responders in your area. If you must buy, buy in small quantities. A nation- and world-wide shortage of adequate filtration systems and masks should be at the forefront of your decision-making process when shopping or searching.
Abide By Rules & Regulations
Stay Informed
Now that we've got that out of the way, let's delve into some of the more misunderstood guidelines surrounding outdoor excursions in tandem with the COVID-19 virus. When heading to your favorite destination for some rest and relaxation, be sure to check any and all outlets for information beforehand. Many trailheads and national parks can be accessed online, giving you a better understanding of the longstanding rules and regulations surrounding said trail, effective hours of operation (due to COVID-19) and any other information you might find pertinent before heading out. If the area's hours have been shortened, or if the area itself is closed, respect that decision. We understand the frustration that a ruined outing might cause, which means that being proactive, as well as understanding, is the key to success.
If you do find that your favorite trailhead or national park is open for business, be sure to abide by any strict guidelines set forth by the area, including opening/closing hours, safety precautions, and additional rules set forth to deal with the influx of visitors due to the current situation. One of the most important aspects of being outdoors during this crisis is the recognition of inherent complications for medical and first responders. Take care, ensure that you (and others) are being respectful of the trail and those around you, and avoid dangerous situations, as to not overwhelm your area's medical teams and facilities.
Practice Proper Trail Etiquette
Six Feet Of Space
Traditional trail etiquette isn't a far cry from today's COVID-19 separation guidelines, but due to complications with the spread of the virus, specific standards have been set forth to keep people as safe as possible. First, a distance of at least six feet between you and the next trail-goer is recommended, with nine feet being an adequate standard prescribed by many health organizations and individuals. If you're in a party, ensure that this distance is respected at all times. When coming in contact with another group (or solo hiker), be courteous of their space — practice the same distancing here as you would with your in-party acquaintances.
If there's a party in front of you, maintain a distance of at least 20 feet, giving both you and the other group peace of mind, as well as personal space. If you're downwind from another individual or group, elaborate on this distance to promote good-faith and a feeling of security for those who might be worried about in-air particulates. It might go without saying, but keeping your hands out of your face, and most importantly, your nasal and oral cavities, is of the utmost importance. Be sure to annotate any exposed areas of skin for post-trip sanitization, and keep a mental log of different surfaces that you've touched or come in contact with during your outing.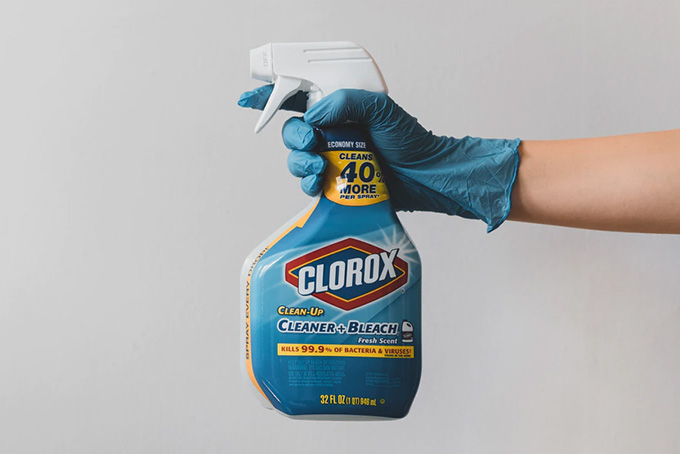 Post-Trip Procedure
Vigilant Cleaning
After a successful day outdoors, you'll want to take the proper precautions to sanitize and wash any clothing, gear, or items that may have come in contact with another surface. We understand that this is a vague rule to abide by, so we recommend that you make things easier for yourself, and follow proper sanitization guidelines for each article of clothing, footwear, or gear item within your loadout.
Before stepping into your vehicle, ensure that your shoes and other articles of clothing have been thoroughly wiped-down or cleaned with a disinfectant of your choice, ensuring that particulates aren't carried into your home. Leave your footwear outside the door of your abode, if possible, and place your clothing in a separate hamper or laundry container to keep fresh garments safe from exposure. Last, but not least, prioritize a quick shower to cleanse your body's exposed areas of any lingering contaminants, paying extra attention to any surfaces that may have come in contact with external influencers on the trailhead.
Following these guidelines, you'll create an informed foundation and starting point in regard to safety while heading outdoors. Remember, preemptive measures might be tedious and complicated, but in the end, you'll have a much higher chance of remaining healthy and able, allowing you to enjoy your favorite outdoor areas with a clear and concise mindset.
How To Clean A Camping Tent
Traveling to and from your favorite outdoor areas during the COVID-19 crisis doesn't always have to be such a "doom and gloom" situation. Following your next essential outing, make sure to keep your home free of the virus by following our quick guide on how to clean a camping tent, ensuring that you'll be able to enjoy the weekend escapades to come.