No matter what industry, as the years tick on, innovations and advancements typically see antiquated technologies and products superseded by more modern offerings. While this rule is true 95% of the time, there are a small handful of heritage brands that continue operating today, almost exactly as they did a century ago. And few companies encapsulate this ethos better than Lodge Cast Iron: a family-owned business passed down from generation to generation and backed by American craftsmanship and ingenuity.
For over a century, Lodge has been setting the standard in the cast iron skillet and pan sectors, going from a fledgling foundry, to an American household name. Over the years Lodge's wares have become must-have kitchen items and essential camping gear kit. And with such an expansive history, it can be difficult to fully wrap your head around the company, its history, and its product range. So, to help you get better acquainted with the makers of the only full line of American-made cast iron cookware, we've pieced together the complete guide to Lodge Cast Iron skillets and cookware.
From Blacklock To Lodge
The long and rich history of Lodge Cast Iron
The story of Lodge dates back to the mid 1870s when one Joseph Lodge — the company's namesake — and his wife, Anna, relocated to Pittsburg, Tennessee to start a new life. Just under two decades-later in 1896, Lodge founded the Blacklock Foundry, an outfit primarily dealing in cast iron cookware. Each year after its inception, Blacklock's success grew along with the business itself.
Everything continued to go smoothly until May of 1910, when a fire broke out at the foundry, decimating the facility and leveling it to the ground. An undeterred Joseph Lodge proverbially brushed himself off, before diving right back into the business, this time founding a new operation located only a stone's throw from the ashes of Blacklock. This new company was even more successful than the first, and despite Lodge's style of cast iron skillets and pans exploding in popularity, becoming common household items, the Tennessee-based outfit nonetheless managed to carve out a solid reputation for itself as the leader in this sector.
As order volumes steadily increased over the next several decades, it became increasingly clear that Lodge's fully-manually run facility was in need of some updating. So, in the early 1950s, Lodge pivoted from a hand-pour operation to one using an automated molding process, allowing them to produce their wares in much greater numbers without compromising on quality. The company remained in good order as the years went on, though it was decided that Lodge could use some newer, more contemporary branding, so in 1973 the firm unveiled its now iconic logo which remains in use today.
Everything continued chugging along as usual, until the turn of the millennium, at which point Lodge really started focusing on innovating. 2002 saw Lodge unveil its Pro-Logic range, which marked the very first pre-seasoned (oiled) production cast iron skillet — a trait that would soon after become an industry standard. In 2005 Lodge introduced its new range of indoor-kitchen-focused enamel ware in an effort to launch a new array of items to compliment the company's existing wares. These new painted offerings also squarely took aim at the more expensive competitor's offerings coming out of Europe.
2013 was another big year for Lodge, as that was when it rolled out its carbon steel cookware line. Comprised of various skillet models, these new items weighed considerably less than the typical cast iron items, making it highly conducive to camping and other off-the-grid activity. Another noteworthy year for Lodge was 2017 when it opened a new, 127,000 square-foot factory that enabled the heritage brand to increase its overall manufacturing capacity by a whopping 75% — clearly demonstrating the steadily-increasing demand for Lodge's old-school offerings. Lodge's latest release however, is its Chef Collection, which is a higher-end product range intended for more daily use.
The Extended Lodge Universe
The different Lodge offerings currently available
Throughout Lodge's illustrious 110-year history, the company has produced a wide array of products. While its bread and butter has always been its skillets and pans, Lodge has done a good deal of diversifying its ware, offering everything from specialty items and kitchenware designed for daily in-home use, to serveware and painted stoneware. During the Great Depression, Lodge even dabbled in producing cast iron garden gnomes and animal figurines in a bid to keep the factory open during those rough economic times. Below, we'll delve into Lodge Cast Iron's various product categories, as well as the iconic company's essential staples.
Oiled Cookware
What is a pre-seasoned pan or skillet?
Since 2002, Lodge has been bestowing its various pans and skillets with an oil treatment that's referred to as "pre-seasoning." This multistep process consists of (vegetable) oil that's applied to the cookware at the factory using an electrostatic spray system before being baked into the items at extreme temperatures, enabling the oil to penetrate the iron's pores, ultimately affording it a natural, non-stick finish and a unique flavor. This process also helps to mitigate rust, while also affording the metal an attractive black patina.
Classic Skillets & Pans
The OG Lodge offerings
Though today, Lodge's range of made-in-America products is fairly expansive, there are a handful of items that remain long-time best sellers for the Tennessee business. Aside from the metallurgy technology and manufacturing techniques used to create them, these pans and skillets have changed very little from when they were originally released roughly a century ago. Put simply: these are the products most closely associated with Lodge.
Lodge Cast Iron Skillet
The original cast iron skillet is Lodge's longtime flagship halo product. Nearly identical to the pieces produced a cool century ago, this pre-seasoned item is available in a slew of sizes ranging from 3.5" up to 15", and with or without a matching lid. And like all Lodge products, this cast iron skillet is an heirloom-quality product that can be passed down to future generations .
Lodge 10.5″ Square Cast Iron Grill Pan
Perfect for whipping up greasy spoon breakfasts or slow-cooked culinary masterpieces, the Cast Iron Square Grill Pan is another timeless staple from Lodge. Cast grooves allow for attractive grill marks in your food while also providing a means of draining for grease. It's teardrop handle eyelet and open small "helper" handle also enable it to be easily tethered to a backpack, roof rack, or motorcycle pillion. Lodge also offers a silicone hot handle holder for this item. too.
Purchase: $20
Lodge Cast Iron Deep Skillet
A modified take on Lodge's classic skillet bestowed with taller, 3" deep walls. And while it's still plenty competent for pan-fry-style cooking, this item's cast iron construction allows it to heat its contents incredibly evenly. Whether you're looking to sear, sauté, simmer, braise, bake, roast, or fry, this thing does it all. Like the rest of Lodge's classic lineup, the Cast Iron Deep Pre-Seasoned Skillet only gets better with age.
Lodge Cast Iron Dual Handle Pan
Sold in 10.25", 12", and 17" sizes, the Cast Iron Dual Handle Pan is another Lodge classic that's been utilized by outdoorsman since before the the days of prospectors and pioneers. Ultra-rugged and adorned in the Tennessee outfit's signature black patina, this Lodge item can be used on everything from gas and electric stovetops, to BBQ coals and campfire flames. The lack of a long-handle also allows it to lend itself particularly well to travel, making it a favorite amongst backpackers and tourers. The dual "helper" handles also make strapping it down to a rack or bag a cinch and its dual pour-spouts afford it a little extra utility.
Lodge's Dutch Ovens
Deep and covered cookware
Capable of easily withstanding the prolonged open-flame of a campfire, Dutch ovens were some of the earliest pieces of cookware used by American pioneers. Extremely rugged, Lodge's Cast Iron Dutch ovens are another offering that remains almost entirely unchanged. These camp-ready units are offered in a variety of sizes and specs, including models for indoor and outdoor use, and painted and bare-metal variants.
Lodge Enameled Cast Iron Dutch Oven
Available in five sizes ranging from 1.5 quarts up to 7, this elegant lodge offering (seen here in "Caribbean Blue") takes the company's rugged and classic Dutch oven and adorns it in one of ten different color enamels applied in dual layers. Offering stellar heat distribution and bestowed with a snug-fitting lid that keeps moisture sealed inside, the dish features an interior that's lined with porcelain, eliminating the need to "season" the inside surfaces.
Lodge Griddles
Stove & Fire-Top Cooking
Affording markedly more real-estate than your average skillet, these large rectangular items are perfect for cooking bigger amounts of food. Capable of being placed over hot coals, a campfire's flame, or an indoor stove top, these griddles are offered in flat versions, as well as grooved versions that are pitched for grease draining.
Lodge 16.75" Grill/Griddle
The 16.75" Grill/Griddle takes Lodge's signature construction technique, material, and craftsmanship and applies it to a generously-sized reversible grill/griddle hybrid, with one side boasting a flat — albeit rough — face and the other sporting a grooved setup. And, like the 10.5" Square Cast Iron Grill Pan, this reversible griddle is pre-seasoned and can safely be used on stovetops and open flames alike.
Modern Lodge Offerings
Pro-Logic, Chef Collection, & Carbon Steel
While Lodge's cookware empire was undeniably built on its heritage offerings, that hasn't stopped the company from innovating in recent years. Some of the later products to be released by Lodge include the company's more modern Pro-Logic items, which feature redesigned shapes, revised handles connected at much steeper angles, and are pre-seasoned. The Carbon Steel range is another modern take on Lodges traditional offerings, with this items being composed of noticeably lighter, carbon steel. The Chef's Collection is another recent addition to Lodge's lineup, and is designed to stand up to years of in-home everyday use.
Lodge Chef Collection Cast Iron Everyday Pan
One of Lodge's top-shelf offerings, the Cast Iron Everyday Pan from the Chef Collection, like its monicker suggests, was designed to be utilized in the kitchen day in and day out. Priced markedly higher than the Tennessee brand's other similarly-sized skillets and pans, the Everyday Pan is made from a lighter, more high-end metal. Boasting a more elegant appearance than Lodge's typically-rustic wares, this item still maintains the brands tradition of ultra-hardwearing cookware that's built to last several lifetimes.
Lodge Pro-Logic Cast Iron Skillet
First released in 2002 when the brand introduced its factory pre-seasoning treatment, the Pro-Logic Cast Iron Skillet— which is offered in 10" and 12" sizes — is a major departure from Lodge's traditional skillet design with much more delicately sloping walls, and redesigned "helper" and main handles handles — the former of which swoops upward while the latter bends back. And though it's admittedly a much more modern take on Lodge's century+-old design, it's still backed by the same rugged cast iron material that the company built its name on.
Lodge Carbon Steel Skillet
The Carbon Steel lineup is another more recent offering from Lodge. As implied by the name, these products are composed of a steel that boasts a carbon content of up to 2.1% by gross weight, ultimately enabling these items to be made in much lighter forms without compromising on the strength or structural integrity of the pan. And, just like with the Pro-Logic range, the Carbon Steel lineup features a revised design, with much thinner walls and a completely-new handle.
Camping & Outdoor
Off-the-grid artisan cooking
Lodges roots lie in hardwearing heritage pans and skillets that were extremely conducive to outdoor use, and while advancements over the last century have hugely changed how we prepare and eat food while traveling or on the go, Lodge nonetheless still produces a handful of items specifically made for use in the great outdoors, from camping to tailgating to overlanding.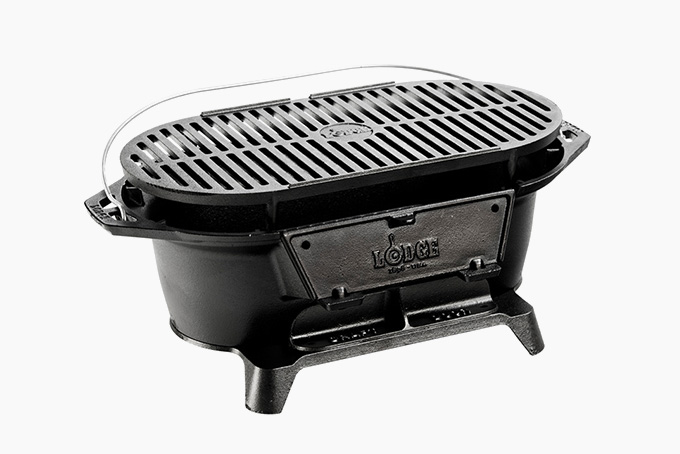 Lodge Cast Iron Sportsman's Grill
An immensely popular item for tailgating, the appropriately-named Sportsman's Grill is a mobile hibachi-style charcoal. Offering two adjustable heights, the product features a swing-up carrying handle and a flip-down door allows charcoal to easily be placed inside the grill. The one downside to this item is its rugged cast iron construction does leave it on the heavier side, relegating to to car camping, overhanding, and other drive-in activities.
Lodge Deep Camp Dutch Oven
Sold in 2, 4, 5, 6, 8, and 10-quart sizes, the Deep Camp Dutch Oven sees Lodges traditional cast iron Dutch oven and treats it to a more outdoor-oriented redesign. Paired with (an included) cast iron lid, this heavy-duty piece of cookware can be heated directly over a campfire or suspended above a flame via its swiveling handle. It's three-legged base also allows heat to travel underneath it while cooking, ensuring a distribution of heat just as solid as the rest of Lodge's Dutch ovens.
Lodge Cast Iron Cook-It-All
True to its name, Lodges Cook-It-All crams a 6.8-quart wok/skillet and a reversible 14" grill/griddle into a single cast iron item. Not only does this large piece of cookware allow for a wide range of versatility, but it also enables you to cook in both the 6.8-quart inside while simultaneously grilling on its 14" grill/griddle that doubles as the top of the Dutch oven-esque offering. Even the bottom of the unit can be flipped upside down and used as a small grill or heating trey.
Short & Sweet
Lodge's Deserts & Specialty Items
Lodge's use of cast iron metals and traditional manufacturing techniques have resulted in the brand releasing a handful of specialty items, most of which are focused around foods from the sweeter end of the spectrum. And, not only are these products that you might not be familiar with, but several of them are used for producing some delicacies that are equally little-known.
Aebleskiver Pan
Translating to "apple slices" in Danish, this unique piece of cookware takes Lodge's Pro-Logic Cast Iron Skillet and imbues it with an inlay of seven spherical sections to make Aebleskiver – a traditional pastry from the Netherlands, often filled with fruit and commonly referred to outside of its country of origin simply as "pancake balls."
Lodge Cast Iron Mini Cake Pan
Another classic Lodge product of yesteryear, this item applies the company's formula to a seven-section miniature pan for making cupcakes, cornbread, biscuits, and other deserts or baked good recipes. Whether camping or at the house, this product delivers the same hallmark even heat distribution as the rest of Lodge's wares, allowing it to generate delicious foods.
Primer: How To Season A Cast Iron Pan
Interested in delving further down the cast iron rabbit hole? Well, it's hard to think of a better jumping off point than our complete guide to how to season a cast iron pan in which we explore  the unique qualities of cast iron cookware, what its benefits are, and how to properly clean it