If you take a bird's eye view of certain industries, you might find that there is a brand that stands apart from the rest of its competition — usually for a multitude of reasons that includes styling, technology, unique branding, and even the marketing voice. One of the most obvious examples of this can be found in the tech sector: Apple. But they're just one of the many examples across the entire spectrum of consumer products — which also includes the likes of Nike, Tesla, Rolex, and more.
Dyson stands alongside all those companies, as this British brand has earned a sterling reputation at the pinnacle of the home appliance industry for its deep catalog of exceptional vacuum cleaners. However, a closer look at the brand tells perhaps a more intricate story — that this brand is far more than just good vacuums. It's with this in mind that we've taken a deep dive into this brand's history, as well as its suite of offerings, in the following complete buying guide to Dyson products.
A Brief History Of Dyson
Far More Than Just A Vacuum
Like many innovative companies throughout history, Dyson started with the need to solve a problem. You see, back in 1978, founder-to-be James Dyson was trying to do something quite simple: vacuum his home. Much to his dismay, he found that the vacuum he owned was becoming clogged with dust and debris and, therefore, had a diminished performance over time. Rather than simply admitting defeat, this ingenious engineer decided instead to apply centrifugal principles and technology — what the brand refers to as "cyclone" tech — to a series of prototypes (5,127, to be exact) over the course of the next five years. It was then that the world's first-ever bagless vacuum (known as the G-Force back then) was born. Interestingly, the very first Dyson-branded vacuum would be the follow-up to the G-Force and is credited as the world's first vacuum to maintain 100% suction 100% of the time.
This dedication to constant innovation would earn Dyson a coveted spot at the top of the heap that is the vacuum industry. But the brand would also expand into other categories, propelled by the same innovative, entrepreneurial spirit. Today, Dyson products can be found in over 65 countries around the world, and they've expanded into the realms of air purifiers, lighting, haircare, and more. Dyson, at one point, even considered building cars and constructed a working prototype — although the project has since been shut down. Still, there's no denying Dyson's ongoing commercial and technological successes, which have even translated into the James Dyson Foundation, a charitable organization that helps supports both teachers and students in the realm of the sciences.
Air Treatment
Breathe Easy
While it might not look like it, due to their lack of blades, Dyson actually offers a collection of air-purifying tower fans which, like all of the brand's offerings, are amongst the top options on the market. Of course, that also comes with a high entry price, though you'll certainly get quite a lot for your money. We've outlined the trio of options below.
Dyson Purifiers
Dyson doesn't do simple tower fans; it's just not the brand's style. As such, even their basest model of tower fan also does double-duty as an air purifier, with the ability to remove a whopping 99.97% of pollutants and allergens as small as 0.3 microns from any space. And, they've been reengineered to offer 50% cleaner air than ever before — even now boasting the ability to remove odors, fumes, and even formaldehyde (a dangerous chemical you might not even realize is floating around in your home). Granted, $400 might seem like quite the investment for an entry-level device, but these are also designed to last for years and years without losing efficiency.
Dyson Purifier Heaters
Like the standard purifying fans made by Dyson, the brand's Purifier Heaters offer all the same air-cleaning technology — meeting the stringent HEPA H13 standards for allergens and bacteria — and numerous other handy features. An upgrade to the 2nd tier even grants users access to real-time pollutant reporting accessible via an onboard LCD screen and/or the accompanying app. But what really sets these apart from their "lesser" siblings is that these also have built-in heating elements — meaning they can help cool down your spaces on warm days and warm them up on cool days, lending them even more year-round utility.
Dyson Purifier Humidifiers
The final, highest tier of Dyson tower fan-purifiers is the Purifier Humidifier which, like its siblings, is offered in multiple tiers — two, in this case. Also like its siblings, it has much of the same base technology built in to keep your home cool on command and to keep your air as fresh as a remote mountain glen. These ones, however, also have a built-in humidifying system that can help keep your home's humidity levels balanced at all times — not too dry, not too sticky. Furthermore, they can actually self-clean, eliminating any bacterial and/or mineral buildup as a result of humidifying, and the upgraded tier also has integrated formaldehyde-cleaning technology.
Cordless Stick Vacuums
Magic Wands
For small spaces, awkwardly-shaped rooms, and/or areas with narrow corridors, Dyson has crafted a collection of cordless stick vacuums that still utilize the brand's signature cyclone tech, but in a much more storage- and maneuverability-focused package. If you don't have the space for a full-sized upright vacuum, this is the section for you.
Dyson Omni-Glide
According to the brand itself, this is Dyson's "slimmest, most maneuverable vacuum for hard floors," making it the perfect way to utilize the company's signature cyclone, 100%-suction-100%-of-the-time technology in smaller spaces. Put simply: if you live in a small apartment, this is probably the Dyson vacuum for you. It also boasts an omnidirectional head and low overall weight for greater ease of use, and it comes with a charger base and a single Combi-crevice tool to get in those pesky corners.
Dyson v8
Although it looks like some strange hybrid of a power drill and a leaf blower, the Dyson v8 is actually a fully wireless cleaning machine that boasts a battery life of 40 minutes per charge with zero loss in performance over that period. And while the standard edition was made to handle even pesky pet fur (which easily can clog lesser vacuums) and comes with a whopping five included accessories alongside its charging system — including a swappable motorized brush head and other attachments — it can also be upgraded to the "Absolute" edition that comes with two alternative head attachments and more.
Dyson Cyclone v10
Similar in format and capabilities to the v8, the Dyson Cyclone v10 is also upgraded in some fairly significant ways from its younger sibling(s). This includes, most notably, a battery life of 60 minutes without any power loss — which is a marked 20-minute increase, ideal for those that want to be absolutely certain the cleaning is done right the first go-around. That's not all, of course; this stick vacuum also boasts Dyson's Torque drive cleaner head, which is their most powerful to date. Of course, if that's not enough for you, you can always upgrade to the next tier up for around $50 and get another cleaner head for hard flooring.
Dyson v11 Animal
If you're looking at the v11 Animal and thinking to yourself, "this looks an awful lot like the v10," you'd be right on the money — they're quite similar in many ways. In fact, the v11 comes with the same ultra-powerful Torque head. The difference, however, is in the fact that this one — like its name suggests — was made for households that have pets in them, meaning it was made to handle hair and dander without getting clogged up and has more animal-friendly attachments.
Dyson v15 Detect
Here's where things really start to ramp up for the brand's cordless stick vacuums. You see, the v15 Detect is worlds ahead of its more inexpensive siblings. For starters, this one comes equipped with a laser sight attachment that helps better illuminate even the most microscopic of dirt and dust particles. But that's not all; it also counts and measures the particles on its own and can inform you of what's been cleaned on the integrated LCD display. And that still isn't all; as a final, important point, we have to also mention that the v15 Detect is the brand's "most powerful vacuum with whole-machine HEPA filtration," making this perhaps the best for those with allergies or a cleanliness obsession.
Dyson Outsize
For many, the big downside to Dyson's stick-style vacuums might just be that they require emptying much more frequently than traditional upright vacuums. Well, the innovative brand has an answer for that problem, as well, in their Dyson Outsize. As its name suggests, this stick vacuum is a good deal larger than its counterparts. In fact, it has a full-sized cleaner head and a full-size dustbin, while still conforming to the stick format of its smaller siblings. But that's not the only upgrade; it can also run for 120 minutes straight with 100% suction and can be upgraded to a higher tier that includes the High Torque XL cleaning head (standard) and a second laser-guided anti-static head for superb cleaning of hard surfaces.
Upright Vacuum Cleaners
Push It Real Good
The bread-and-butter of Dyson's catalog, the brand's range of upright vacuum cleaners are both what Dyson is known for, as well as its founding category. As you might expect, the following selections represent some of the best, most efficient home cleaning devices available anywhere. And if you can afford one, we highly suggest picking one up. Don't settle for the rest; buy the best.
Dyson Ball Multi Floor
Interestingly, this vacuum is actually one of Dyson's least expensive products, clocking in at just $300 starting. And while it's on the low-end of the brand's tech spectrum, it's worlds better than its closest competition from outside of Dyson's catalog. Complete with two swappable attachments, this vacuum offers 100% suction all the time — no matter how full the dustbin is — and is even certified to be allergy- and asthma-friendly. It even has a washable filter that should last the functional life of the vacuum, meaning you'll never need to replace it.
Dyson Ball Multi Floor 2
As the name suggests, the Dyson Multi Floor 2 vacuum you see before you is an upgraded version of the entry-level option. And while it looks quite similar, it does have a few important things that separate it from its less expensive sibling. The biggest difference-maker is that the 2 version comes with an upgraded suction technology called Radial Root Cyclone, which Dyson touts as being able to pick up more microscopic dust than any other cyclone-equipped vacuum. For the clean freaks that want to stay extra sanitary, this is the vacuum for you.
Dyson Ball Animal 2
The last of the standard upright trio, this vacuum has the same technology and capabilities as the Dyson Multi Floor 2 — the coveted Radial Root Cyclone — but also comes with a bevy of attachments not found elsewhere. The reason for this is that, as the name suggests, the Dyson Ball Animal 2 was made specifically for homes that have pets in them. That includes (but is not limited to) a carbon fiber soft dusting brush, multi-angle brush, mattress tool, tangle-free turbine tool, and more. Now, you can stop worrying about all that fur and pet dander, because this vacuum will have no trouble sucking it all up.
Dyson Cinetic Big Ball Animal + Allergy
The mack daddy of all the upright Dyson vacuums, the Cinetic Big Ball Animal + Allergy is the ultimate solution for pet owners with sniffly noses, so to speak. This remarkable — in both its ability and its intimidating price tag — vacuum offers superior suction, unrivaled cleaning ability, no loss of power regardless of how full the dustbin is, and it comes with a bevy of attachments to help clean every dark corner of your living spaces. For those rare few for whom money is no object, this is the vacuum to get.
Dyson Big Ball Multi Floor Canister Vacuum
This one is for everyone that likes the maneuverability of Dyson's stick vacuums but prefer the ability of the brand's larger upright vacuums to suck up loads more dirt, dust, and debris. It's a happy medium that few will need, to be sure, but the offer is standing for those few — namely people with awkwardly-shaped spaces and/or pesky staircases that often need vacuuming. In fact, this vacuum actually comes with a specific staircase-cleaning head attachment, alongside a more standard turbine head and a Combination Tool that is part detailing wand and part small brush. This vacuum also has an impressive 50″ reach with 360-degree articulation, it's certified asthma- and allergy-friendly, and more.
Task Lighting
Bright Ideas
One of the more esoteric categories that the brand has gotten into, Dyson's foray into lighting solutions has no less been impressive and impactful. In fact, all of their lighting-focused offerings are remarkably innovative and long-lasting — boasting effective lives of six decades or more and a bevy of clever, useful, human-friendly technologies and features.
Dyson Lightcycle Morph Lamps
We spend a lot of time indoors. And while there are many ways to make things a little easier and healthier, people sometimes forget how important good lighting is. Dyson hasn't forgotten, which is probably why they built their Lightcycle Morph Lamps — which are available in both floor and desk versions. These smart lamps have the ability to actually adapt to their environment, brightening and dimming when necessary — with light designed to mimic the rays of the sun. They can also be adjusted to output more ambient lighting by magnetically attaching the lighting element to its stand, which is ideal for setting the mood, especially at night. And you can control them from an included smartphone app, setting a routine or adjusting on the fly. And that's just a few things that make these lamps great.
Dyson Lightcycle Desk Lamp
The Dyson Lightcycle Desk Lamp might actually be the most advanced, intelligent, long-lasting lighting solution on the market. For starters, it has an industrial, minimalist style that's sure to please lovers of Bauhaus design. But what really helps set itself apart is its formidable list of tech-focused features — including a lifespan that's good for 60+ years, auto-adjusting tech to simulate natural light that's better for your eyes, app-controlled personalization, and even blue light regulation to help you wind down when it is time for bed. If someone could actually magically harness the power of the sun and put it into a lamp, it would probably still pale in comparison to the Dyson Lightcycle.
While, at first glance, it might seem odd that Dyson has entered the haircare business, it actually makes a lot of sense. In fact, if you take a gander at the brand's hairdryer, you might notice that it looks quite a bit like the Dyson air-purifying fans — which is not an accident or coincidence; they use similar principles and technology. Of course, the rest of these offerings aren't slouches either, earning numerous accolades.
Dyson Hair Dryer
If it weren't so powerful, efficient, and long-lasting, Dyson's Hair Dryer might seem like a hell of an investment with its $400 entry price. However, if you actually look at all the technology this device has to offer — like a motor that's six times faster than other leading hairdryers, a Cold Shot button that immediately turns off the heating element, and anti-static tech to help eliminate frizz. Saying this is just another hairdryer is kind of like saying a Bugatti Chiron is just another car.
Dyson Airwrap
Like a haircare-focused Swiss Army Knife, the Dyson Airwrap is the brand's ultra-innovative take on styling tools. That means it can work as multiple brushes, a curling iron, and even serves to help add volume to the user's hair. Better still, it can do all of that without subjecting your locks to extreme heat — which means it's both more effective and healthier for your follicles and strands.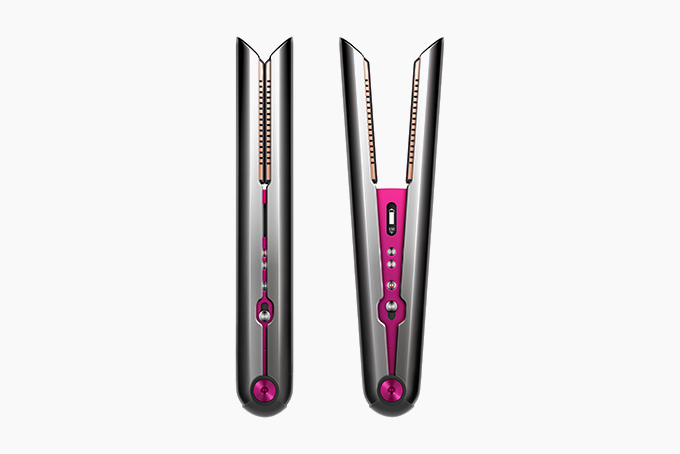 Dyson Corrale
Proof positive that Dyson is all about innovation, the brand's Corrale — its take on a classic hair straightener — has won a bevy of accolades for its formidable advancements. For starters, this straightener is cordless — which immediately sets it apart from the vast majority of its competition (if you can even call it that). It also has manganese copper alloy plates that are designed to flex around the user's hair for more consistency and efficiency. Put bluntly, this is the Tesla of hair straighteners.
Accessories & Support
Complete The Package
As you probably suspect, Dyson's offerings come prepackaged with all the accessories needed to operate them properly. However, if you need a replacement part for some reason, you can easily contact Dyson for a replacement through the brand's Support page or by visiting a Dyson store. Sadly, these accessories do not appear to be sold separately, but the brand should be forthcoming with any necessary information and assistance therein.
Business
Industrial Installations
Along with its customer-facing products, Dyson also offers its services on a more industrial scale to businesses. And while this does include the brand's consumer products, Dyson also offers other products and services, including (most notably) bathroom hand dryers. If you have a business, large or small, reach out to Dyson for more information on its business-focused offerings.
The 15 Best Smart Appliances For Your Home
Now that you've got the scoop on Dyson's lineup of products, you might be looking to upgrade other parts of your living situation. In that case, you're in the right place because our guide to the best smart home appliances is loaded with clever, helpful household gear.