Having spent the bulk of 2020 in varying stages of lockdown and/or social distancing, it's been pretty difficult for a lot of people to find ways to keep up their fitness routine. Of course, that might be because the bulk of gyms are still closed indefinitely. But it could also be because people haven't yet opened up their mind to the possibility of trying out different types of exercise aside from traditional machine-based cardio and weightlifting.
As buzz-worthy and new-age as it may seem, yoga is a tremendously effective form of exercise for increasing strength, stamina, and flexibility, as well as managing pain, stress, and more. That goes even further if you practice regularly and push yourself beyond your limits over time. Of course, as is the case with any kind of workout regimen, getting it right often starts with equipping yourself with appropriate apparel and equipment. And that's what we've got here for you today: the 20 best pieces of men's yoga gear so you can go stretch, find your center, and perhaps achieve a true zen-like state.
Manduka Mat Renew Yoga Mat Wash
With all the sweat, skin, dust, dirt, etcetera, your yoga mat can get pretty disgusting quickly. But you can remedy that by using this simple spray-bottle wash. It's all-natural — meaning no harsh chemicals — but will help eliminate odors and bacteria so you can get back to your workouts without a noseplug.
Bombas Gripper Ankle Socks
Especially for working out in an actual studio with other people, walking around barefoot maybe isn't the best idea — unless you're a fan of slipping and sliding on sweat and/or exposing yourself to foot fungus. You can avoid that with these low-profile Bombas socks. Better still, they have a grippy bottom to ensure you don't lose your footing regardless of how complex your poses are.
Pro-Tec Athletics Resistance Bands
One of the simplest ways to up the difficulty of your yoga practice, these resistance bands will add a bit of a challenge to any exercise. They're made from stretchy latex and come in three resistance levels (light, medium, and heavy) so you can up the ante and avoid those pesky plateaus.
Gaiam Yoga Blocks
Strangely, people often look at yoga blocks as beginner's tools. And while they can definitely help you when you first get into yoga, they're just as valuable to full-blown professional yogis for more challenging poses, deeper stretches, and more. They're also ultralight, durable, and they come in pairs.
lululemon No Limits Stretching Strap
As opposed to resistance bands, the lululemon No Limits Stretching Strap isn't designed to have any give. Rather, it helps you get deeper stretches in poses where you might need a little more assistance — like behind your back or reaching down toward your toes. It's a remarkably useful piece of yoga gear, especially for how inexpensive it is.
YogaPaws Elite Gloves
Even if you have an oversized yoga mat, the surface area your mat covers is probably fairly limited — which can be problematic for those with longer arms in some poses and can leave you with your hands touching the bare ground. Whether you work out in-studio or outside, you can ensure you get a good grip on any surface with these gloves. Not to mention they'll keep your hands better protected against abrasions, cuts, and filth.
Mack Weldon Silver Boxer Brief
Especially for those that frequently workout, undergarments can be a breeding ground for gross and even potentially dangerous bacteria. However, if you wear these Mack Weldon Silver Boxer Briefs while you exercise, their silver thread with its antimicrobial properties will keep that bacteria at bay and will even help fight off unfortunate odors.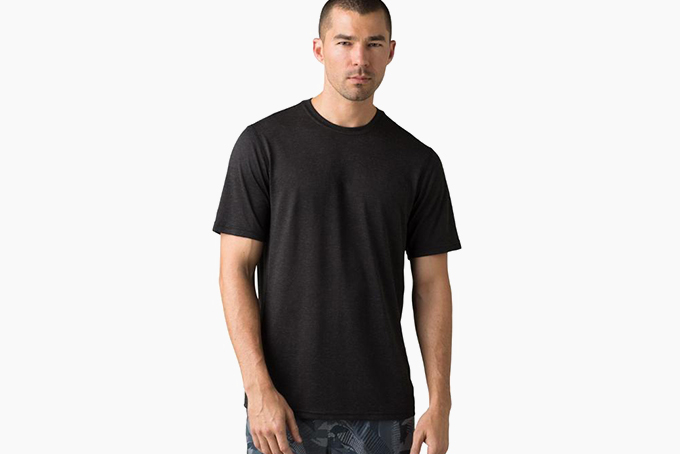 prAna Prevailor Shirt
Since yoga is all about a wide range of motion, wearing comfortable clothing that can handle tough poses is a near-necessity. And that's why we like the technical properties of prAna's Prevailor Shirt. It's lightweight, breathable, sweat-wicking, odor-resistant, and was built from a unique combination of recycled polyester and hemp — meaning it's even a bit sustainable compared to much of its competition.
Under Armour ColdGear Armour Compression Leggings
It might sound a bit hokey, but there are actually some serious potential benefits to the idea of wearing compression leggings while you practice yoga. So the story goes, they can increase the blood flow to your limbs, increase overall performance, and even help shorten recovery time. And they don't get much better than these technical cold-weather leggings from Under Armour.
Hydro Flask Water Bottle
As is the case with any workout, you absolutely need to stay hydrated while you practice yoga. That being said, you probably don't want to spend too much time fiddling with a water bottle cap, which is why this one with its easy-to-use sport cap is perfect for workout out. It will also keep your water icy cold for hours and hours, which makes for a refreshing sip every time.
Ten Thousand Interval Short
Especially in the warmer months, gym shorts are a workout essential — regardless of your exercise of choice. And the Interval Short from Ten Thousand is perhaps one of the best pairs out there right now. Their versatility is unmatched, they have secure pockets for whatever you need to stash, they aren't clingy yet still offer moisture-wicking properties, and they're ultra-breathable.
Bramble Outdoor Yoga Towel
There are two major reasons you might want this yoga towel. The first and most obvious is for wiping away your dripping sweat, helping keep yourself more comfortable while you push your limits. The other is as an alternative to a traditional mat when you might not be able to use one — as in the case of beach yoga, for instance. It's absorbent, made from 100% recycled polyester, and comes in a trio of gorgeous prints.
Nike Dri-FIT Yoga Pants
With the mercury steadily dropping as we head into winter, it's time to stash your gym shorts and opt for some cozier bottoms, like the Nike Dri-FIT Yoga Pants you see here. They're comfy, warm, breathable, durable, stretchy, and are still machine-washable.
Brazyn Morph Bravo Collapsible Foam Roller
As with every type of workout, recovery is an inextricable and extremely important part of yoga. But it's managed quite easily with a foam roller, like the Brazyn Morph Bravo. Not only can this sturdy roller help you work out those knots and relax your muscles after a long yoga session, but it collapses down for simpler storage between workouts and even potential travel — for those jet-setting yogis out there.
Vibram KSO EVO Cross Training Shoe
Standard sneakers do not make for a good yoga session in most cases. But you might not always want to be barefoot, either — especially if you're practicing yoga outside in your backyard, around the campfire, out on the trails, or wherever else. Thankfully, the Vibram KSO EVO Cross Training Shoes split the difference with their five-finger format, durable and grippy outsoles, and machine washability.
lululemon The Reversible (Big) Mat
Probably the most compulsory piece of yoga gear around, everyone knows you need a mat to do yoga properly. But some of them are a bit too small for our tastes, which is why we like the lululemon offering you see here. It boasts an absorbant polyurethane top layer, a grippy rubber base, an antimicrobial additive to fight off bacteria, and a much larger usable surface area than most other yoga mats on the market — making it great for larger bodies.
mantisyoga Retreat Duffel Pack
One of the biggest downsides to trying to use average backpacks for practicing yoga is that they're not well suited to hauling a yoga mat. Thankfully, the folks at mantisyoga also noticed this issue and crafted the perfect technical backpack for yoga retreats. This hybrid backpack-duffel bag is actually intended to carry your mat and all your other yoga gear and has enough internal space for a week's worth of apparel and equipment. It even comes with a separate floating pocket for any dirty clothes and/or stinky footwear.
Apple Watch Series 6
Whether you exercise or not, the Apple Watch Series 6 is pretty much unmatched in the smartwatch space. Of course, it's also one of the all-around best fitness trackers with a ton of built-in modes — including those suited especially to the practice of yoga. Mate that with its suite of available styles and strap materials, like those made for active exercise, and it's clear to see this is likely the ultimate yoga watch.
Theragun Pro Percussive Massager
While people tend to associate yoga with stretching, rather than strength-building, we promise that a proper practitioner will discover that there is a ton of muscle work in yoga. As such, those with deeper pockets might be interested in a percussive massager to help work out knots after those tougher strength-focused sessions, like the industry-leading Theragun Pro you see here. This recovery device is top-notch.
Mirror Home Gym
On the surface, this looks like a basic full-length mirror — which has benefits in regards to working out, like helping check your form. However, this device actually hides a fully-featured standalone home gym, including guided workouts from genuine professional trainers, fitness tracking, and so much more. And that makes it perfect for small apartments, in-home pandemic workouts, and so much more.
The 10 Best Yoga Mats
Almost definitely the most compulsory piece of kit for practicing yoga, a mat has the potential to make or break your workouts — and, as such, they're a pretty personal piece of gear. Find the perfect one for you on our list of the best yoga mats.