Dedicated runners get their miles in regardless of the weather, even in the freezing cold. Sure, you can get some miles in at the gym, but sometimes it isn't convenient to swing by the sweatbox. If your schedule is often full, your only reasonable option is to get in a few miles by covering the ground around your neighborhood. The winter chill stiffens up your muscles and causes them to cramp, so running in just your shorts isn't recommended, which is why we've decided to round up the most efficient winter running tights from trusted fitness brands.
Compression tights for running are beneficial because they help with blood flow and keep your muscles warm for optimal functionality. In our search for the best cold-weather running tights, we sought out moisture-wicking pairs made from materials that will help keep your legs heated to ensure a natural, comfortable stride on those cold, gloomy days. We're confident you'll find a pair on this list that will keep you moving during this wintry weather.
The North Face Warm Tights
The North Face is no stranger to cold weather and their compression tights for running are built to withstand chilly conditions. They have a next-to-skin fit and feature knit fabric with 'FlashDry Eco' fibers for sweat-wicking action so you don't freeze out there. They also have anti-odor capabilities, an elastic waist, flat-locked seams, and mechanical stretch to keep up with you when you hit turbo. These are recommended to be worn as base layer tights.
Adidas AlphaSkin 360 Seamless Tights
No matter how you run or which level of intensity you're powering through for your workout, the Adidas Alphaskin 360 Seamless Tights will move with you. These tights boast a snug, locked-in feel, getting rid of any friction between the material and your skin. They have a seamless construction, allowing you to stay comfy during the challenging inclines or long stretches of your run. If you're looking for a natural feeling pair of compression pants, these Adidas tights will hug your legs and keep them warm.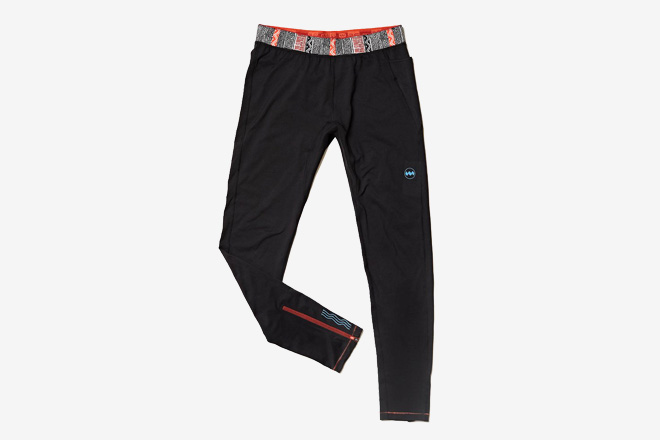 Run Janji M's Odyssey Tights
These stealthy compression tights by Run Janji are built for warmth during cold-weather runs. The breathable M's Odyssey moisture-wicking winter running tights are made of 87% polyester and 13% spandex. Aside from keeping your muscles warm and reliable on a wintry running session, these running tights are built with everything you need, including ankle zippers, reflectors on the ankles, brushed interior fabric for comfort, ladder stitch hems, and a zippered back media pocket. Layer them with a pair of running shorts or sport them solo.
Nike Power Tech Running Tights
Providing you with excellent stretch and support, Nike's Power Tech Running Tights feature Dri-FIT technology to wick sweat away from your body, keeping you dry when it counts. They hug your body securely and have silicone prints on your quads and calves to support you as you test your endurance skills on your morning run. The compression tights also have a zippered pocket on the back with a vapor barrier to safeguard your small essentials from sweat. And with the embossed graphics, you'll add some style to your running gear.
BioSkin Fit Mazama Running Tights
These durable tights by BioSkin Fit are made from a combination of high-quality materials to help you chase your personal record (PR). Best worn as a base-layer with running shorts for full-length leg compression, these winter running tights will give you an edge while you're running during the winter season. For your convenience, they have an oversized back pocket for an energy bar or your keys, in addition to ankle zippers to help you slip them on easily.
UA ColdGear Reactor Run Tights
With 'ColdGear Reactor' technology, these second-skin running tights are capable of adapting to your level of intensity for the perfect amount of warmth and breathability. The compression tights have a hex-shaped pattern to trap plenty of heat to keep you going out there in the freezing cold, as well as mesh panels right behind the knees for optimal ventilation where you want it. These four-way stretch tights are also sweat-wicking and have anti-odor technology, stopping the growth of disgusting odor-causing microbes.
Asics Lite-Show Winter Tights
Made with soft-brushed fabric for warmth and comfort, these Asics Lite-Show Winter Tights will keep your legs chugging along for cold and windy runs. The polyester tights feature moisture-managing technology to keep you dry, in addition to thermal properties to keep your muscles activated. They also have 360° reflective prints, in case you want to put in some miles at night like a marathon maniac. The Asics winter running tights also feature ankle zippers for your convenience.
Iffley Road Windsor Running Leggings
The always reliable Iffley Road offers a comfy pair of winter running leggings with a design that keeps seams and panels to a minimum to help you get in your running groove. They're made from 80% polyamide and 20% elastane for flexibility, giving you a full range of motion to employ your natural stride on every run. The small details also make these running tights one of the best to get your legs into, such as their internal drawcord and bottom zippers.
New Balance Lynx Tights
Survive the cold temperatures out there with New Balance's Lynx Tights, allowing you to cut smoothly through frosty winds. They're constructed with jacquard knit fabric below the knee for amazing breathability, as well as a blend of polyester and spandex for exceptional freedom of motion. Inspired by the lynx wild cat, which is a night predator, these tights have reflective black details for a stealthy feel. The tights fit like pants around the waist but taper into tights around the calves for ideal comfort.
Salomon Trail Runner WS Tights
For those chilly trails, Salomon's Trailer Runner WS Tights will provide you with reliable wind protection, decreasing the potential of cramping up in the middle of your route. They have a polyester inner and outer shell with an elastane bottom and a back insert made from polyamide. The lightweight running tights also have a flat belt feel, allowing you to move naturally even when you're carrying a pack.
Tracksmith Turnover Tights
If you enjoy running hard and putting in miles even when the weather is trying to freeze you to death, Tracksmith's Turnover Tights are ideal. They're made with Tracksmith's lightweight 'Inverno Blend' fabric, allowing them to feel like a second skin. The micro-nylon and elastane blend will keep you dry and will always have your legs covered, ensuring they're always heated to help get you to the finish line without an injury.
CW-X Endurance Generator Compression Tights
These compression tights feature two-way stretch nylon and lycra at the core joints and muscles for extra support. With 'EXO-Stretch' body fabric, which includes polyester and spandex, these tights will keep your legs dry and cool, pulling moisture to the exterior of the fabric. For comfort, they have a flat seam construction to eradicate abrasion and reduce bulkiness. To help enhance your performance, they have an abdominal support panel to support your core, back, and hips.
15 Best Winter Running Shoes
Now that you have some strong options for cold-weather leg protection, it's time to upgrade your shoes. Check out our picks for the 15 best winter running shoes to keep your toes from freezing.