Heading into the winter season, we know we'll see the backcountry less populated than it was just a few months ago. And while it's tempting to just stay indoors when the weather gets frigid, the benefits and experience of exploring nature are invaluable regardless of what time of year it is.
We're always surprised to discover the number of people who are unfamiliar with the winter hiking space. However, in order to continue trekking in the tundra, it helps to understand the gear necessary to make the excursions more comfortable and enjoyable. To help you better grasp where to look when prepping for your winter adventures, we've compiled this guide to the best winter hiking boots available. And if you're already a seasoned veteran for all seasons, our feature might help you narrow down your options this year.
What To Consider
Cold-Weather Specs
Aside from the comfort and durability desired in any standard hiking boot, there are a few other optimal traits to look for when buying a reliable pair of winter hiking boots.
Traction Similar to standard hiking boots, you'll want some hefty lugs. And to ensure that you stay upright in snowy or wet terrain, your lugs should be on the larger side. Likewise, keep your eye out for outsole construction from the likes of Vibram or another sturdy rubber compound impervious to the likes of wet or sloshy terrain.
Insulation The trait that makes or breaks winter hiking boots is how warm they'll keep your feet. Despite the burn you might feel during the most intense treks, that cold winter air can and will get through to your lower digits if you don't plan ahead. It's not uncommon for insulation to come from brands' proprietary tech but can tap other types such as 3M's Thinsulate or other typically-synthetic materials.
Waterproof Like insulation, a waterproof membrane will help keep your foot warm and dry during the rainy days. This will even help you out in the snow since that snow will eventually melt when you get indoors and any residual powder left on your shoes will soak through to your socks. GORE-TEX is a popular material in boots — winter or otherwise — for a reason due to its ability to be both waterproof and breathable
Xero Alpine
For those who like the barefoot feel out on the trail, check out Xero's Alpine boot, with a wide toe box for spreading your lower digits, a low sole, a lack of toe spring for a natural gait, and a 0mm drop for flat-footed footslogs — yet not without adequate support and traction. Weighing just 15oz each and equipped with a seam-sealed inner bootie for warmth and comfort, the Alpine also sports a fully-waterproof polyester upper that looks like a puffer jacket and has 200g of insulation.
Merrell Thermo Chill Mid Waterproof Boots
Merrell's Thermo Chill Mid isn't quite as ubiquitous in the backcountry as its flagship Moab model, but that's just because these waterproof boots are meant strictly for cold weather. Featuring waterproof polyurethane-coated leather uppers with mesh inlays, the boots will keep your feet warm and dry without overheating them thanks to the 200g M Select WARM insulation, which lessens the bulk while maintaining performance. Like your typical Merrells, they're built for the trail with molded nylon arch shanks, EVA midsoles, and 5mm lugs.
Columbia Fairbanks Omni-Heat
Columbia's revolutionary Omni-Heat tech is applied to its fabrics in order to reflect and retain body heat without adding any bulk to your silhouette. The brand has several boots (and clothing) that feature Omni-Heat but none of them are as optimal for hiking as the Fairbanks, which also sports a versatile Omni-Grip rubber, a waterproof breathable Omni-Tech membrane, and a Techlite midsole for high-energy return and a lightweight feel. At the risk of burying the lede, these boots also feature CORDURA textile uppers for unbelievable resilience to the physical elements you'll inevitably come across in your treks.
Salomon Quest Winter Thinsulate ClimaSalomon
If you want a pair of winter hikers that are warm all around, look no further than Salomon's new Quest Winter boots, boasting a faux fur lining, a ClimaSalomon waterproof membrane, and 400g of insulation without the extra bulk thanks to Thinsulate for warm and dry feet. This winterized take on the brand's standard Quest boots also sport an ADV-C chassis for ultimate flexibility on the trail and an EVA foam midsole for support. Connected to the waterproof, PU-coated leather uppers, the gusseted tongue further prevents debris and slush from getting inside.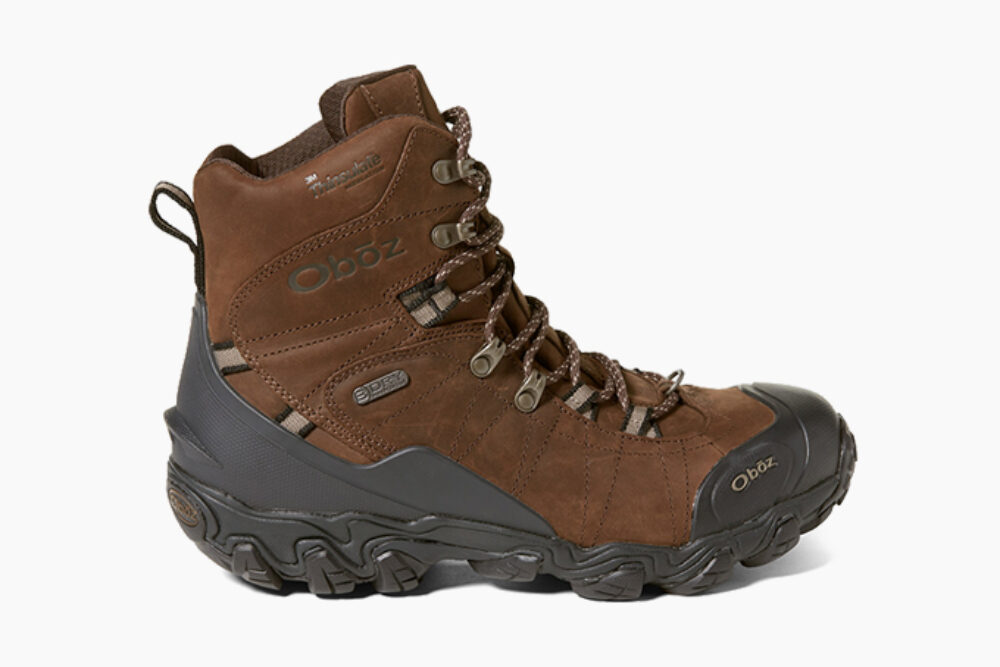 Oboz Bridger 8" Insulated Boots
A go-to slogger for the snowy months, these Bridger 8" boots from Oboz benefit from the brand's B-DRY waterproof breathable membrane, BFit Thermalsport, a wool-topped insole that provides extra warmth underneath your feet, and 200g of 3M Thinsulate insulation. As a hiking boot, the Bridgers give you excellent support thanks to the chunky Granite Peak outsole with directional lugs for any incline, dual-density EVA midsoles, and torsional stability and support from the nylon shank and thermoplastic urethane.
KEEN Revel IV High Polar Boots
Slosh through the snow or slice through the icy air with one of the most popular winter hiking boots around. Featuring a thermal heat shield built into the insole and KEEN.WARM recycled PET insulation between the seams, Keen's Revel IV High Polar Boots have been rated for extremely cold temperatures as low as -40°F. You'll feel totally shielded with these hikers, which provide protection up to your lower calf and keep your feet dry with waterproof uppers and a breathable KEEN.DRY membrane. If you're worried about the stench caused by foot sweat, there's no need to fear — the footbed is infused with safe probiotic anti-odor technology.
Danner Arctic 600
Danner's go-to winter hiking boots are a no-brainer for the cold weather for their comfort and incredible performance. Tapping into the heritage brand's expertise that's become proven by its 90-year lineage, the Arctic 600 is a perennial classic for a reason. Constructed with a healthy dose of Vibram, with the comfy SPE midsoles and traction-built Nisqually Arctic Grip and Arctic Grip AT outsoles, the adventure boots feature stylish suede uppers reinforced by Danner Dry waterproof protection and 200g of PrimaLoft insulation underneath.
Adidas Terrex Free Hiker COLD.RDY
Perhaps the finest part about the adidas Terrex Free Hiker COLD.RDY is that they don't feel like winter boots at all. Made in part with recycled materials, the foot-hugging Primeknit upper is backed by GORE-TEX Duratherm to keep you dry and low-profile COLD.RDY insulation that retains heat while preserving comfort. Despite the slim silhouette, these are hiking boots through and through, with an EVA stabilization frame, an external heel clip, a BOOST midsole, and Continental WinterGrip rubber outsoles.
Lowa Renegade Warm GTX Mid
For nearly 100 years, Bavarian icon LOWA has had innovation on the brain. In that time, mountaineers across the globe have made many a winter trek wearing a pair of LOWA boots, including Jim Whittaker, the first American to ever reach the top of Mt. Everest, back in the '60s. Keeping you protected with GORE-TEX Panda fleece insulation and a climate control insole for warmer days, the brand's new Renegade Warm GTX Mid hiking boots also feature nubuck leather uppers, a Bavarian-inspired loden cuff trim, and Vibram Evo Icetrek outsoles that are safe for indoor floors.
La Sportiva Nepal EVO GTX
Although outdoor footwear giant La Sportiva hails from Italy, the brand's ridiculously hefty winter hiking boots channel, and are named after, the icy environment of Nepal. While catering more towards mountaineering, these boots are arguably the most cold-weather-ready hikers available, given a GORE-TEX membrane and Vibram outsoles with Impact Brake System. However, the magic here may be the abrasion-resistant uppers themselves, made from Idro-Perwanger rough-out leather that's been imbued with 3.2mm of silicone for extreme temperature control and given Vibram rands underneath.
The Best Winter Camping Essentials to Buy
If you're interested in heading out to the backcountry during the colder months, get prepared with our guide to the best winter camping gear to buy.