With the dog-days of summer fast approaching and outdoor excursions become all the more plentiful, it's the perfect time of year for automotive detailing. Whether you're an avid fan of classic cars, majestic modern platforms, or just trying to get your daily driver a little more presentable, your vehicle deserves only the best — especially when it comes to something as generally inexpensive as the right wheel and tire cleaner.
It might seem like an odd thing to worry about, but the truth is, there are a number of automotive cleaners on the market that aren't prone to using high-quality ingredients, especially those in the lower echelon of affordability. To help you navigate the weary waters of tire and wheel cleaning, we've decided to throw together a list of the most trusted formulations around. From lesser-known companies like Aero and TriNova, all the way to industry juggernauts like Chemical Guys and Meguiar's, you'll find an exemplary selection of top-quality cleaners to keep your vehicle looking great, without all of the damaging attributes associated with budget brands.
Aero Cosmetics Wash
Aero Cosmetics biodegradable wash is an affordable tire and wheel cleaner that doesn't skimp on quality, exhibiting a handful of active deterrents against oily, greasy surfaces. This intuitive wash doesn't have an elaborate application process — instead, it's as easy as "spray on" and "wipe dry," giving you an immaculate looking surface without all the hassle of multi-step systems. If you're looking for even more reassurance regarding the cleaner's quality, you'll find peace-of-mind knowing that Aero's Cosmetics Wash meets all of the standards of Boeing's Aircraft cleaning Spec. Exterior D6-17487P.
Eagle One All Wheel & Tire Cleaner
Eagle One brings the company's decade-long history in cleaning products to the tire and wheel realm with the All Wheel & Tire Cleaner, providing a powerful 2-in-1 formula that removes brake dust, grime, and grease with ease. It's safe to use on virtually any surface due to its acid-free nature, giving users an adhesive foam that will cling to any hubcap, wheel, or tire, without the risk of damage. Better yet, the cleaner's alkaline builders work to remove hard-wearing dirt and dust on their own, lifting them from the surface of your tires and wheels before you go in for that final scrub.
TriNova Wheel Cleaner
TriNova's Wheel Cleaner is a one-stop solution for premium dust and dirt removal, utilizing a safe spray that melts away unsightly grime. Aside from returning the "like new" sheen to your favorite wheels and tires, the company's powerful cleaner also works to fight against two of wintertime's adversarial elements — salt and snow — helping to keep your investments in working condition for years to come.
Adam's Deep Wheel Cleaner
Adam's Deep Wheel Cleaner is the perfect product to shed unwanted dust and dirt from your rolling rubbers, utilizing a thick, adhesive formula that'll cling to every surface you can imagine — from stubborn sidewalls to deep crevices, this cleaning formula penetrates deep, hitting all of the right spots in the process. Built to complement the use of high-performance braking systems, Adam's exemplary cleaner melts away unsightly brake dust and metallic contamination with ease.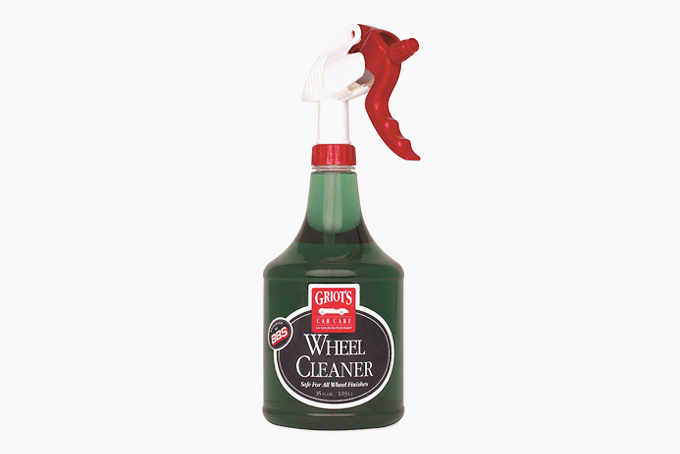 Griot's Garage Wheel Cleaner
Griot's Garage Wheel Cleaner is a premium wash that doesn't slack when it comes to ingredients, utilizing biodegradable properties and cleaners that are safe for virtually every type of wheel and tire. The formula's unique penetrative abilities allow for an excessive clean without the need for any extra steps, utilizing a concentrated solution that will remove brake dust, stubborn road oil, and salt deposits with ease. With companies like Dayton Wire Wheel Company, BBS, and Tire Rack stand behind Griot's Garage Wheel Cleaner, it's safe to say that this premium formula won't disappoint when you use it in your driveway or garage.
Chemical Guys Diablo Gel Wheel and Rim Cleaner
Chemical Guys Diablo Gel Wheel and Rim Cleaner is one of the best solutions in the industry, producing a formidable adversary to conventional dust and grime associated with modern-day brake systems in high-performance cars. The formula's oxygen-rich suspension technology lifts (and isolates) particulates from virtually any OEM, aftermarket, or factory wheel, protecting your painted surfaces in the process. A pH neutral gelatin houses the particulates until you're ready to rinse off the vehicle, providing a simple clean-up process that doesn't include a slew of time-sensitive steps. The result: a spot free, factory-fresh look that'll leave you feeling like a million bucks.
Sonax Wheel Cleaner
Sonax's simplified Wheel Cleaner gets straight to the point with hard-wearing dust, dirt, and grime, penetrating at the source with an acid-free, pH-balanced formula that won't adversely harm your paint, plastic, or metal. To give you a unique visual cue to its cleaning capabilities, the cleaner will gradually turn red as dirt is lifted from your wheel's surface, allowing for safe use and simple cleanup.
MEGUIAR'S Hot Rims Wheel Cleaner
Meguiar's Hot Rims Wheel Cleaner brings the company's Xtreme Cling foam technology to the realm of wheels and tires, clinging to virtually any surface and melting away problematic brake dust, grime, and dirt in the process. Utilizing a solution that's safe to use on a number of factory-painted or clear-coated wheels, this penetrative formula allows you to spray-on and hose-off, without the need for any unnecessary steps. In the end, you'll be left with a brilliantly clean setup that will be the talk of the town at the next car meet.
BLACKFIRE Tire & Wheel Cleaner
Blackfire's Tire & Wheel Cleaner is an advanced formula that's safe to use on nearly every vehicle surface, from polished aluminum and chrome, all the way to anodized and painted wheels. Even if your tires are delicate, the company's refined formula will remove dust and grim without staining (or dulling) your overall finish, leaving you with a gratuitous clean that'll keep you coming back for more.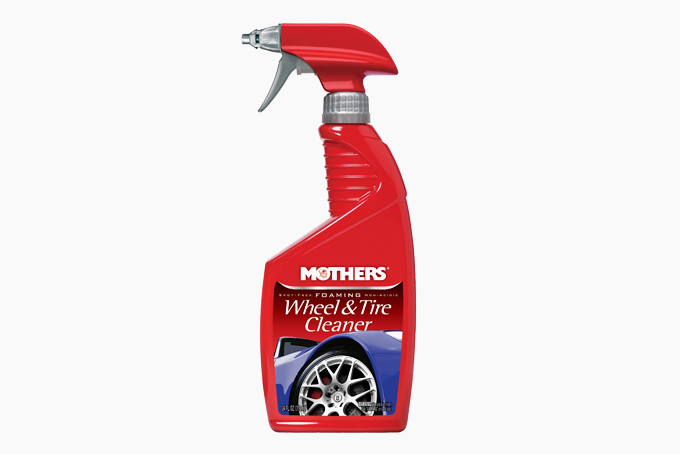 Mother's Foaming Wheel & Tire Cleaner
Mother's Foaming Wheel & Tire Cleaner is a non-acidic formula built to provide a simplistic cleaning process. Everything from black- to white-wall tires can be returned to pristine condition through the use of Mother's safe solution; it even boasts an extensive list of applicable surfaces, including color-coated, clear-coated, steel, chrome, modular, or factory-coated wheels — proving once again that the company's powerful dissolving solution is the quintessential cleaner for everyday use.
15 Best Automotive Books
Now that you've put some effort into finding the best tire and wheel cleaner for your ride, check out our guide on the best automotive books to inspire your mid-summer wash even further.