We live in a world where preparation for widespread disease, pandemic, and viral infection can sometimes seem like a distant reality. But in recent months, we've all witnessed firsthand what neglected readiness might mean. From overburdened medical facilities, struggling frontline workers, and business closures, all the way to social distancing and alternative prevention, there's little that we can do, as citizens, to deter the spread of something like the most recent outbreak. What we can do, however, is take steps to ensure the health of ourselves, and those around us, through the use of readily-available barriers.
It's no secret that, since the onset of COVID-19, there has been an industry-wide plea for help. While frontline workers and medical facilities have warranted a need for medical-grade masks and equipment, it's fallen upon the civilian masses to search for alternative means of protection and prevention. Thus, the clothing industry's largest companies, as well as much smaller outfits, have placed their best foot forward by answering our call. Below, we've outlined a handful of our favorite masks, brands, and manufacturers, all of whom have taken the essential first step toward regulation of in-air particulates, thanks to their production of reusable, non-medical masks. So do your part, protect your neighbor, and dive right into our list on the best washable face masks you can buy right now.
Levi's Reusable Reversible Face Mask
Levi's Reusable Reversible Face Mask is stylish, comfortable, and versatile, thanks to its reversible design, 100% cotton construction, and dual-layer design. Calling upon an adjustable fabric cord for bespoke fitment and security, the Reversible mask has been tailor-made for long periods of wear, which is something that other masks rarely take into account. Better yet, each pack comes with three color-blocked masks, ensuring that you'll always have one for the road whenever you're washing the other two.
Mack Weldon Silver Mask
Mack Weldon trades heavily on the basic side of menswear, but the brand's essential offerings aren't the only thing that it excels at. Take the Silver Mask, for instance. This cleanly-tailored, close-cut mask is a non-medical grade variant, but it'll act as a deterrent for any particulates that happen to be floating in the air, insidious or otherwise. For added effect, the example's durable Supima® cotton construction has taken on trace amounts of real, antimicrobial silver, allowing for protection against inhibitors. Aside from looking great, this mask also includes some interesting characteristics that set it apart from its aesthetic brethren, meaning that it works double-duty for its wearer.
Mystery Ranch Street Mask
Mystery Ranch's utilitarian gear has always been at the top of our list when it comes to purpose-driven essentials, and when the company set out to make the aptly-named Street Mask, it didn't put any of its recognizable traits in jeopardy. Not only does the Street Mask promote a great-looking urban aesthetic, but it's also capable of comfortable all-day wear, thanks to its TPU adjustable band, a deterrent, tight-cell liner, and adjustable nose bridge, offering bespoke fitment for those who want something a bit more personalized. And with colors ranging from neutral earth tones, hot pinks, and bright yellows, all the way to blazing oranges, we're sure that you'll find the perfect mask to complement your daily attire.
Birdwell Birdie Reversible Mask
Birdwell's Birdie Reversible Mask takes a lot of inspiration from the company's recognizable design terminology, offering over nine interesting colorways for the creatives out there. Like many of the masks on this list, it's not a medical-grade example, but that doesn't detract from is purposeful nature. It's reversible, comfortable, and built to last, thanks to its breathable SurfStretch fabric, and allows for semi-personalized fitment due to its intuitive cinch system. You can also feel great about your purchase, considering that for every mask sold, Birdwell will donate to CORE, an organization that prioritizes free testing and health services for high-risk individuals.
Buck Mason Anti-Microbial Prevention Face Mask
Buck Mason is always on our radar when it comes to heritage-inspired gear, and when it comes to the brand's Anti-Microbial Prevention Mask, we'd be lying if we said that its minimalist aesthetic wasn't exactly what we expected from the outfit. Each reusable example boasts a purpose-built construction, calling upon an internal anti-microbial coating to keep your airways protected and semi-secure for over 30 wash cycles. While this isn't a direct replacement, or alternative, for a true medical-grade accessory, it's as close as you're going to get without jumping through hoops or taking much-needed items away from the medical community.
Hyperlite Mountain Gear Face Mask
Hyperlite's Mountain Gear Face Mask was built to take on everyday tasks, whether they be grocery store runs, work meetings, or a trip down the block to your local convenience store. Like most of the company's offerings, there's an inherent focus on utilitarian use, and as such, its designers were put to the test in regard to construction, architecture, and material. The result? A lightweight, but capable variant crated from interlocked micro-polyester boasting the tightest weave on the market, and a skin-friendly DWR coating to deter moisture, droplets, and other inhibitors from entering through the barrier's openings.
Saturdays NYC Fabric Face Mask
Saturdays NYC are a stylish bunch, and when it comes to the creation of one of the genre's best-looking minimalist face masks, there's hardly a company that we'd rather see take on the task. The fact that the barriers are entirely sold out on the company's website is a testament to its hard work, but what makes the mask truly special is its cotton jersey construction, making it more comfortable in terms of consistent facial contact. Plus, for each mask that's purchased, 100% of the proceeds will be donated to the New York City Food Bank, complementing the brand's drive to donate duplicate masks to the Bowery Mission.
Standard Issue Cotton Mask
Standard Issue's Cotton Mask is an interesting variant and a true testament to adaptability. Originally, the company was (and still is) widely recognized for its supple, genre-defining tees, which have since been repurposed for its very own cotton masks. Each example takes on the same 100% ring-spun cotton jersey as its traditional outerwear variants, creating a ribbed barrier that's both subtle, and functional. Better yet, there's even a slide-in pouch area at the mask's front, allowing for disposable filters to be used whenever, and wherever, they're needed.
United By Blue Salvaged Hemp Blend Face Mask
United By Blue is on a constant mission to create some of the best clothing in the industry, and its pursuit of protective accessorization isn't far removed from that endeavor. The brand's Salvaged Hemp Blend Face Mask has been crafted with the utmost care, calling upon a CDC-specified architecture, double-layered construction, and a durable deadstock fabric comprised of organic cotton, recycled polyester, and hemp, to create one of the industry's fines face-worn barriers. While the Salvaged isn't a medical-grade example, it's also outfitted with a slide-in pouch for a filter, allowing wearers to bolster their defenses whenever they please.
Everlane Men's Face Mask
Everlane's simplistic approach to menswear essentials always has us in admiration of their work, and the brand's aptly-named Face Mask is no different. Calling upon its own manufacturing plant in Los Angeles, the company has produced a non-medical example that takes on a number of its distinctive traits, including minimalistic cotton-Lycra, comfortable, close-lay fabric, and a double-layer knit to provide a moderate barrier against in-air particulates. For every mask purchased, Everlane has vowed to donate yet another double-layered example to Feeding America, an organization aiding in COVID-19 relief efforts.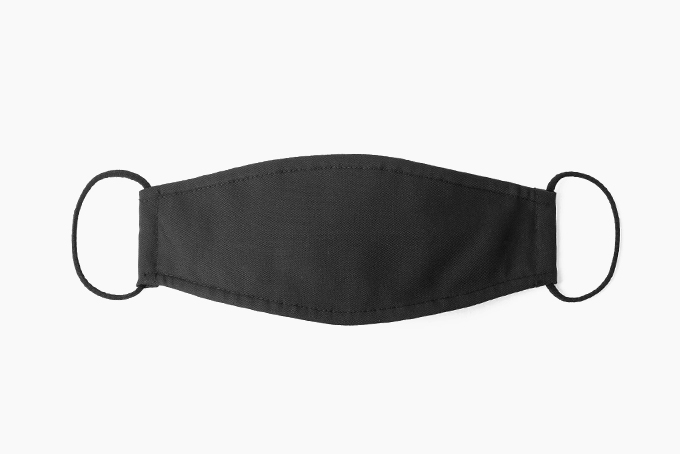 Goodfight Mark 1
Goodfight's Mark 1 mask is an artisanal variant among many of the industry's mass-produced examples. It takes on the same washable, reusable identity as its counterparts, but boasts a unique internal filter sleeve, a simple, one-size-fits-all architecture, and a great-looking aesthetic that pairs well with any number of stylish outfit choices. For those who are a bit more health-conscious, there's also an inner sleeve that allows for the insertion of a replaceable filter, as well as a printable cut & trace guide to help you find the perfect dimensions for proper utilization.
DSPTCH Face Covering
DSPTCH's Face Covering is quite obviously the most over-engineered offering on our list, but when it comes to adequate airway protection, it'll be difficult for you to find a mask that's as formidable. The utilitarian offering is focused on both the filtration of droplets and in-air particulates, as well as the spread of those same inhibitors from the wearer. Reusability is key, allowing adequate use throughout the course of the pandemic thanks to its comfortable elastic band, nylon webbing, and a set of quick-release buckles that help to tailor the mask to your unique facial structure, promoting a firm, secure fit. And, in true DSPTCH fashion, each example has been crated with 100% cotton ripstop and ultra-soft muslin fabric, helping to keep breathability, and durability, at the forefront.
ASRV ViralOff 4-Layer Structured Mask
ASRV's Viral Off 4-Layer Structured Mask is one of the more formidable offerings on our list, thanks to its four-layer protection. Each of the mask's unique layers does something different, with the outer and innermost layers taking on ViralOff® antimicrobial fabric, helping to deter viral activity through interaction with key proteins. In the middle, wearers will find a non-woven, polypropylene barrier, as well as a co-polyamide layer to keep the accessory's pleated design as impregnable as possible, while adjustable ear straps and a cinch fastener help to keep it secure, no matter the circumstance.
Modern American V2 Black Mask
Modern American's V2 Black Mask is here to save the day with its moisture-wicking silhouette, promoting a comfortable, all-day fit that you can take with you on a run, a walk, or to the gym, should you find one that's still in operation. Each variant boasts a sleek, washable construction, and utilizes a full mesh lining to ensure that breathability is never placed on the backburner. Better yet, for every pack that's purchased, Modern American will make a donation to frontline healthcare workers, essential service employees, and other frontline participants, helping to ensure their safety as they put their lives on the line for our benefit.
Rag & Bone Stealth Mask
We're rounding out our list with Rag & Bone's Stealth Mask, and honestly, there's hardly a better option to finish this thing off. Each USA-made mask features a contoured, full-coverage silhouette, adjustable ear straps, and a summer-friendly orientation, courtesy of its upcycled fabrics. Aside from its hand-crafted nature, the Stealth Mask also features premium, high-quality inclusions, calling upon soft twill fabric, subtle pinstriping, and a laid-back persona that's sure to complement your daily attire. For the cherry on top, Rag & Bone has opted to keep all of its manufacturing channels within the United States, supporting the small businesses and individuals who have helped them the most over the past two decades.
The 20 Best Sustainable Gear Brands That You Should Know
If you're into the act of giving back, as well as the promotion of a conscious, well-informed community, head over to our guide on the best sustainable gear brands that you should know, where we outline a few of our favorite game-changing clothing manufacturers.