Walkie talkies have been in existence for more than 80-years, though the advent and utter ubiquity of cell phones have greatly decreased the need and demand for these two-way radios. There are, however, numerous applications in which walkie talkies present a superior alternative to modern smartphones, namely off-grid use and in specific industrial settings. To help highlight the latest and greatest products that this space has to offer, we've rounded up this guide to the best walkie talkies.
While at their core, pretty much all walkie talkies serve the same basic function of allowing person-to-person communication at the click of a button, modern units have made tremendous strides in terms of technology and amenities. This includes access to live weather reports, SOS functions, and smartphone and Bluetooth connectivity just to name a few — all on top of increased, cutting-edge battery lifespans and distance ranges. Because these systems are primarily aimed at outdoor enthusiasts and industrial personnel, rugged construction, mil-spec ratings, and robust waterproofing have also become standard fare on today's generation of walkie talkies.
Radio Lifelines
Why Walkie Talkies Are Still Relevant In The Modern Age
While walkie talkies may appear to be somewhat antiquated, with the widespread availability of smartphones (and cellphones in general), there are numerous areas in which a walkie talkie is a far superior option. For starters, many areas off the beaten path don't receive cell-phone service, making walkie talkies the only real option for communication (outside of purchasing an exorbitant satellite phone). And, unlike smart and sat phones, walkie talkies don't require any kind of paid subscription plan, just a one-time upfront purchase.
Many industrial settings can also hugely benefit from using walkie talkies over regular phones. Being able to quickly relay information at the touch of a button, without having to dial a number, or wait for a receiver to answer the call, is markedly more efficient than placing a 10-second call every few minutes. The average modern walkie talkie is also substantially more durable and water-resistant than most smartphones, making them a better option when headed into the backcountry. There are also cutting-edge walkie talkies that are essentially hybrid devices that contain off-grid GPS maps, two-way messaging, cameras, and other gadgets that one might normally carry separately, allowing for an overall smaller and lighter loadout.
A Sound Purchase
What To Look For In A Modern Walkie Talkie
Today's walkie talkie market has items massively ranging in performance and quality, and as such it helps to have a solid grasp on the areas to factor in when making your purchase. And while there are more technical elements involved, these are the primary aspects you should consider…
Class: There are different kinds of walkie talkies that are designed for use in different applications, though this space can largely be broken down into two categories: short-distance walkie talkies; and long-range walkie talkies. The former is intended for more industrial use at construction sites, factories, race tracks, and large concerts and events, while the latter is aimed at hikers, off-roaders, campers, hunters, and other off-the-grid uses. Walkie talkies are also broken down into VHR (Very High Frequency) and UHF (Ultra High Frequency), which are very seldom compatible with one another, unless a walkie talkie supports both types.
Range & Power: As your lifeline to the outside world, a walkie talkie's range and power are arguably two of, if not the most important factors to consider. Fortunately, these specs are readily advertised on pretty much every available model, and general advancements in smartphones and comms tech have allowed for some impressive range capabilities, usually falling somewhere between 10 and 50-miles. Measured in watts, a walkie talkie's power output ultimately determines how far its signal can reach.
Battery Life: With many walkie talkies being designed for use in the backwoods and mountains, the ability to hold a charge for a prolonged period without needing a refill is extremely important. Enormous strides have been made in battery technologies too, which the modern walkie talkie segment has hugely benefitted from, with some models offering batteries that can last for up to several days at a time. It's also worth noting that many of today's walkie talkies come with rechargeable battery packs, while others run off of store-bought AA or AAA items (though there are also walkie talkies that accept both).
Size & Weight: Just like with modern smartphones, manufacturers have been able to deliver increasingly compact walkie talkies over the last decade, without compromising on performance (in fact, quite the opposite). Today's market even boasts tiny wearable walkie talkies, as well as products with remote microphones and control pads, allowing them to be available and at the ready when needed, and barely noticeable the remainder of the time.
Construction & Durability: Needing to be able to withstand the elements and other abuse and rigors of off-grid use, modern walkie talkies are frequently built with robust, highly-durable constructions. Mil-spec standards aren't unusual to see on today's range of walkie talkies, and the vast majority of models boast an IP (or "Ingress Protection") rating/code, giving any objective idea of waterproofing.
Extra Features: An enormous part of what separates today's walkie talkies from models of decades past is the bevy of available features and smart tech that have that increasingly permeated the two-way radio realm. NOAA weather reports, emergency transponders, GPS trackers and maps, smartphone connectivity, two-way messaging, LCD displays and touch screens, and integrated LED lights and/or cameras are just a few of the amenities available on the latest and greatest walkie talkies.
Cobra ACT120B Chat Tag Curve Wearable Walkie Talkie
Cobra's Chat Tag Curve wearable walkie talkie admittedly doesn't boast that many features or the most cutting-edge performance, though this model more than makes up for that with its wildly compact form and simple and intuitive user interface. The very smallest two-way radio on the market, this pint-sized walkie talkie can easily clip onto a jacket, vest, or backpack – though is also sold with a belt clip — and can be called on through voice prompts, affording it hands-free functionality. Sold in packs of two, this ultra-diminutive radio also features a generous 12-mile range, Roger Beep Confirmation (a noise to denote the end of a transmission or call), and a keystroke tones auto-squelch function. The use of special battery saving technology also allows the Chat Tag Curve's MicroUSB-rechargeable Lithium-polymer cell to last for up to ten hours while in the field.
Range: 12-Miles
Battery Life: 10 Hours
Water-Resistance: PX2
Channels: 22
Power: 0.5 Watt
BaoFeng BF-F8HP
Though it may not look like the most cutting-edge piece of tech, we'd argue that the BaoFeng BF-F8HP very well may be the dollar-for-dollar, best all-around walkie talkie currently on the market. Unlike the simple two-way push-to-talk models, this is a more serious piece of equipment, aimed at trained radio operators. As such, it requires an FCC license to legally operate (more specifically a ham radio or technician license) in the United States. Tipping the scales at just 7.8oz (or 0.48lbs), the radio has an 8-watt output and is powered by a 2,000 mAh Lithium-ion battery. It does pack an enormous number of features and functions, though can admittedly be a little intimidating to learn to operate and will require a lot of time studying the lengthy owner's manual. While the company doesn't cite any specific Ingress Protection rating/code, the BF-F8HP is built around a hardened shell, features rubber covers around the electrical ports to mitigate water-entry, and is backed by a one year warranty.
Range: 10-Miles+
Battery Life: 20-Hours
Water-Resistance: IPX0
Channels: 128
Power: 8 Watt
MOTOROLA T800 Two-Pack
MOTOROLA's T800 model ushers two-way radios into the modern era, taking an already competent walkie talkie model and bestowing it with modern Bluetooth and smartphone connectivity. This model pairs with the MOTOROLA TALKABOUT smartphone app, allowing the walkie talkie to track and share GPS locations, or send text messages. And, on top of the modern tech capabilities, the T800 is a fantastic little two-way radio, offering a 2-mile range in dense urban environments, up to six miles on open water, and as many as 35 miles when off-grid in the mountains. IPX4-rated, the T800 is equipped with a chassis-integrated loop at the bottom of this model's housing also making it incredibly easy to clip the T800 onto a backpack or carabiner. Offering a 25-hour battery life (when using store-bought AA batteries, or 14-hours using the included rechargeable 1,300mAh cell), the T800 also gets vibration alerts, iVOX/VOX hands-free capabilities, and NOAA/EC weather channels and alerts.
Range: 35-Miles
Battery Life: 25-Hours
Water-Resistance: IXP4
Channels: 22
Power: 2 Watt
Uniden MHS75 Marine Radio
Backed by more than half-a-century of research and development, Uniden is one of the most trusted brands in the marine radio game, and the Tokyo-based tech outfit's MHS75 exemplifies the traits that have made Uniden so popular in the first place. Weighing less than 1.5lbs, this rugged and pocketable little marine radio floats and is IPX8-rated — meaning it can be fully submerged in as deep as a meter of water. Designed for use both on and off of the land, the MHS75 packs GMRS and marine (VHF) two-way comms. A large LCD display makes operating this radio a breeze, glow-in-the-dark seals and power keys make it easy to find in the dark, and a power-boost feature offers increased signal, albeit at the cost of diminished battery life. For another roughly $30, the company also sells a range-extending deck-mounted antenna for the MHS75, too.
Range: 10-Miles
Battery Life: 12-Hours
Water-Resistance: IPX8 / JIS8
Channels: All USA, CAN, & INTL Marine Channels
Power: 5 Watt
Cobra ACXT1035R FLT
If you're looking for a solid and dependable set of walkie talkies for off-grid use that contains all the essential functions but none of the superfluous bells and whistles, then you'll definitely want to take a look at Cobra's ACXT1035R FLT series. The radio is equipped with voice-activated transmissions, that will begin airing when speech is detected, and a "rewind-say-again" mode that automatically records the last 20 seconds of any incoming (or missed) audio transmissions, as well as vibration alerts, NOAA weather reports and alerts, and a built-in LED and S.O.S. light. With extremely-rugged (and floating) construction and an IPX7-rating, you'll never have to worry about the ACXT1035R succumbing to the elements, either. A whopping 2,662 channels (with 121 privacy codes) and a generous 37-mile range provide plenty of coverage and autonomy, too.
Range: 37-Miles
Battery Life: 8-Hours
Water-Resistance: IPX7
Channels: 2,662
Power: 2 Watt
Backcountry Access BCA Link 2.0 Radio
When your survival depends on your ability to contact the outside world, you want an objectively bulletproof radio that you know you can trust, and Backcountry Access's BCA Link 2.0 is very much one such item. Specifically engineered as the ultimate recreational mountaineering radio, this second-generation offering boasts increased durability, battery life, and range, now operating at 2 Watts. Powered by a 2,300mAh Lithium-ion battery that can go several days without needing a recharge, this product is also sold with an included remote control pad that easily clips onto a jacket or bag where it can always be at the ready and is outfitted with a "Smart Mic Grill" that is entirely impervious to snow buildup and boasts buttons that were designed to be operated while wearing gloves. The Boulder-based business also stands behind the BCA Link 2.0 with a three-year manufacturer's warranty.
Range: 40-Miles
Battery Life: 40-Hours
Water-Resistance: IP56
Channels: 22
Power: 2 Watt
Kenwood ProTalk Digital NX-P500
Though Kenwood is best-known for its automotive and home speakers and audio equipment, the Japanese brand also produces some equally-top-notch comms devices, like the ridiculously-capable ProTalk Digital NX-P500. Unquestionably one of the finest short-range radios in existence, this 2 Watt item has an impressive range spanning some six miles and as many as 20 floors, all while measuring just 1.07″ x 1.97″ x 3.7″ and weighing only 5.6oz (or 0.35lbs). Furthermore, this high-end short-range UHF radio isn't just extremely-compact, it's also equally hardwearing, with an IP67 rating, and MIL-STD-810 certifications C through G. A 750mW loudspeaker ensures you'll be able to hear the other end of the transmission, no matter how raucous your setting, and—on top of providing up to 15.5 hours of talk time—this radio's 2,000mAh Lithium-Ion battery can receive a full recharge in just three hours. Other noteworthy elements on the NX-P500 include an ultra-easy-to-use and minimalist interface, a 7-color LED indicator, and VOX-compatibility.
Range: 6-Miles (and 20 Floors)
Battery Life: 15.5-Hours
Water-Resistance: IP67
Channels: 6 (UHF)
Power: 2 Watt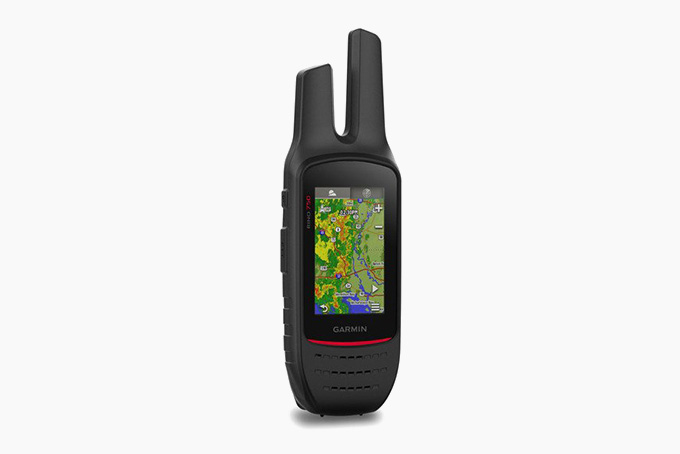 Garmin Rino 755t
Garmin's Rino 755t is a loadout-minimizing gadget that was designed to be the only piece of tech you'll need when headed into the backcountry. Built around a rugged IPX7-rated housing, this all-in-one device features a 5 Watt two-way radio and a 3″ 65K color TFT (240 x 400) color display that can be read in direct sunlight. Weighing only 12.3oz (or 0.76lbs), the GPS and GLONASS-linked 755t can display two-way messaging, NOAA weather reports and real-time weather maps, and regular or topographical on and off-grid GPS maps—more than 100,000 of which come automatically loaded on the device. Capable of recording speed, elevation, and prior routes, this off-grid gadget also features connectivity to the Garmin Connect Mobile app, an emergency alert function, 4.5GB of memory, and an LED-flash and geotag-enabled 8-megapixel, autofocusing camera. Garmin also sells a version of the Rino (750) without the camera or topo maps-functionality for $100 less.
Range: 20-Miles
Battery Life: 14-Hours
Water-Resistance: IPX7
Channels: 22
Power: 5 Watt
MOTOROLA Solutions APX NEXT P25 Smart Radio
MOTOROLA's original APX radio was already a benchmark-setting system in its space, so needless to say, it was a pretty big deal when the company unveiled its modernized APX NEXT P25 smart radio October of 2019. Born out of several thousand hours of research and development, this rugged, "all-weather" touchscreen-equipped comms system was specially designed to be compatible with other cutting-edge technologies — such as SmartConnect, SmartLocate, and SmartProgramming, plus it features cloud and LTE-connectivity, and a highly-advanced proprietary "ViQi" voice control system that allows for lightning-fast communication — such as running license plates or database checks — without having to physically touch any controls. Unfortunately, the APX NEXT P25 isn't available to the general public and is reserved for first responders and law enforcement personnel, though if you happen to fall into either of those categories, this is one radio that's well worth checking out.
Range: N/A
Battery Life: 14-Hours
Water-Resistance: IPX8
Channels: 3,000
Power: N/A
The 8 Best Satellite Phones & Messengers
Want to check out some even more capable off-grid communication devices? Then be sure to check out our guide to the best satellite phones and messengers for a look at today's best gadgets for staying connected while off-the-grid.